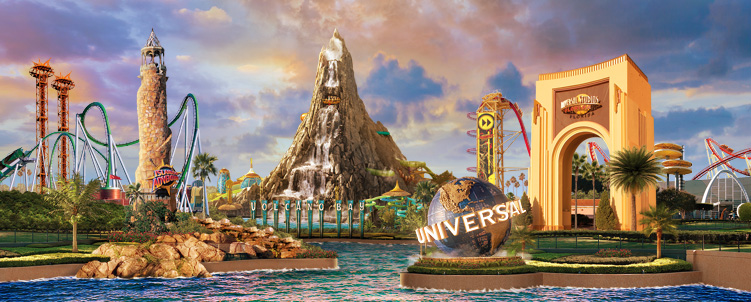 Quick! Everyone freak out! Universal Orlando is making a massive announcement on August 1st at the Orange County Convention Center, according to press invites that went out on Friday.
The automatic assumption is that Universal is FINALLY going to be announcing their new park, that has already started construction (or at least the ground work for it). That's a safe bet, after all…the Convention Center is right across the street from the proposed site. It's logical. But is it the right idea?
The idea for a new park has been floating around since Comcast purchased the 475 acres a few years ago…and there is something happening there, we've gotten footage of dump trucks going in and out. A new park seems all but inevitable. But is that what they're announcing now?
Of course, we're going to break it down and over analyze it. But let's look at a few things. When Universal announced their latest addition, it was done so without big fan fare and a big live press announcement. When the park did announce the first Wizarding World of Harry Potter, it did so with a huge announcement video that was pre-recorded.
So there's history here. There's also a lot more it could be. Partnerships with Universal Orlando and the Orange County Convention Center. The long rumored and permitted transportation system that will connect the airport, and the convention center…and possibly other points along International Drive, that certainly will go across Universal Orlando's brand new property. So much it could be.
But what we want it to be more than anything is the announcement of the brand new Resort. A new park, a new hotel, all the lands. That's what we REALLY WANT IT TO BE! Right?
The new park is rumored to have a 2023-2024 opening date, so that's a good chunk of time away. After all, Universal has a habit of keeping these things close to the vest. Famously, when asked about the construction of Diagon Alley back in 2013, it was called a "parking garage". Yeah, they don't like to share until all the cards are lined up. So it seems a bit early for it.
But if it's not?
Well, we can hope for details on the new park, but likely we'll just get that a new park, a new hotel and the anchors for a new resort are coming. The new park is rumored to have several new lands based on properties such as How to Train Your Dragon, Universal Classic Monsters, the Harry Potter and Fantastic Beasts films, and something else…some little thing…oh yeah! Nintendo.
And Universal really is raring to go, as both the Resort and Comcast is seeing huge growth in the Orlando parks. The Resort opened their latest big waterpark in 2017 with Volcano Bay, and has just gotten started on what is likely to be a stepping stone to both parks with Endless Summer Resorts.
Update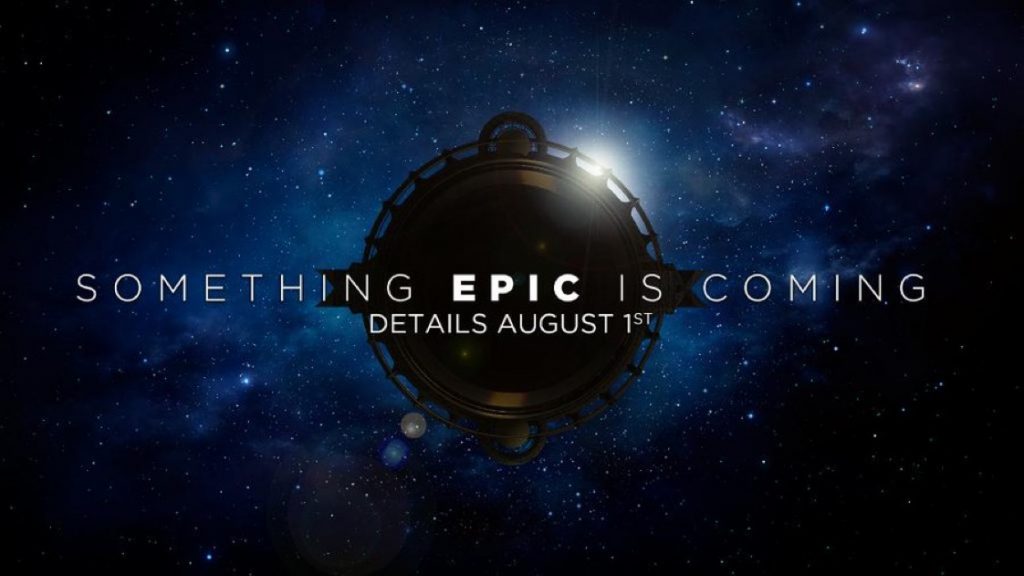 Well that's just about seals it, doesn't it? Universal Orlando just revealed this teaser picture, promised us something "EPIC". If you've been paying attention to the whole process, "Epic Universe" was once on the list of names for a new park. Maybe it still is? Maybe we're going to get Fantastic Worlds in this new resort which is Epic Universe? Let's hope we get even more details before the press release this Thursday.
We can't wait till August 1st to see what will be announced. Stay tuned, we'll have the whole rundown as it happens.
Stay tuned for more from Universal, and be sure to get social with us on Facebook and follow along with us on Twitter @BehindThrills for the latest updates!
For our latest theme park videos please be sure to subscribe to us on YouTube!
For more information about Universal Orlando,including tickets, visit the official website by clicking here!