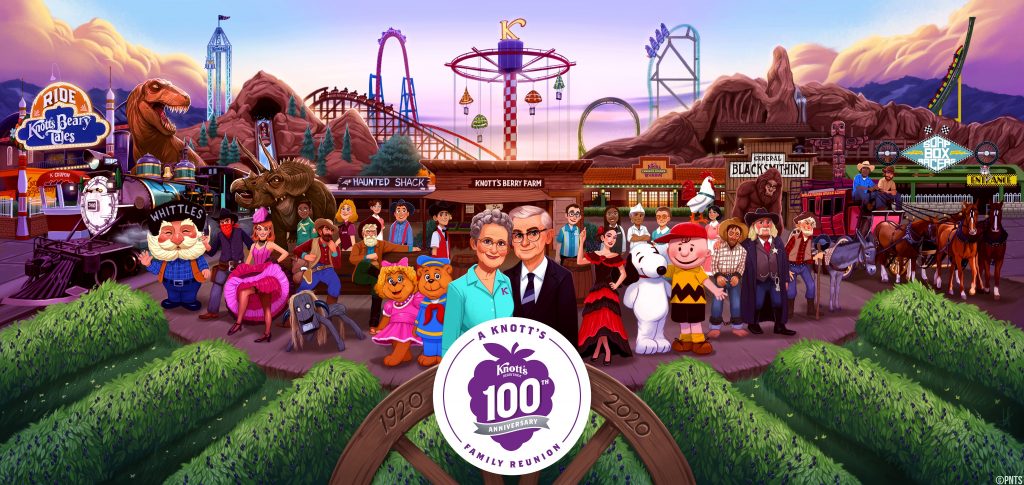 Ah, Knott's. The theme park has become a Southern California staple since it's inception almost 100 years ago. It all started as a berry farm (how clever!) when the Knott family settled in Buena Park. Things really turned around about 1930 when Walter and Cordelia Knott came upon what eventually Walter named the boysenberry – a cross between a loganberry, red raspberry and blackberry – a new hybrid originally developed by Rudolph Boysen, for whom the berry got its name. You'd like to think that the rest is history, but history was just getting started. To make ends meet during the Great Depression, Cordelia Knott started selling jams and jellies made from Walter's boysenberries and in 1934, served her first chicken dinner meals on her very own wedding china, charging just 65 cents.  That tradition remains to this very day, well maybe not the wedding china or the 65 cents, but Knott's Berry Farm still serves that famous fried chicken, along with an assortment of Boysenberry treats.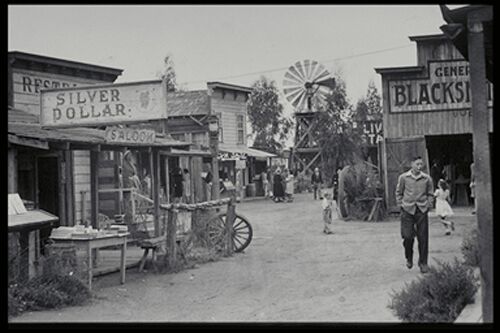 The real fun started when things got very busy, as word traveled about Cordelia's amazing chicken and jams. To entertain the hundreds of customers lining up at the restaurant for a chicken dinner meal, and to pay homage to the pioneering spirit of his grandparents along with his love of the Old West, Walter built a working Ghost Town, eventually becoming the first of Knott's Berry Farm's four themed areas. Slowly Walter brought in relics from other deserted ghost towns and Knott's Ghost Town as it exists today emerged, becoming the heart and soul of the park.  The Knott's vision and imagination led to the creation of the themed areas that celebrate California's vast history and landscape. And from that, the theme park was born.
To celebrate 100 years of Knott's Berry Farm, the park will undergo the biggest celebration in it's history. In the summer of 2020, the park will host the "Knott's Family Reunion".
"The Knott family vision and values led to the birth of Knott's Berry Farm, and through this milestone celebration it is our opportunity to honor the last 100 years of remarkable memories that have shaped our history," said Jon Storbeck, General Manager of Knott's Berry Farm. "The 100th-anniversary celebration embraces the farm's rich history and signifies the importance of the Knott family's commitment to building a place for generations of guests to create lifelong memories."
There aren't a lot of details just yet on what we can expect, but we do know that there will be festive park décor, themed food items, unique entertainment, exclusive merchandise and special surprises along the way, all paying homage to the nostalgia that surrounds the historic theme park. There will be more details as the year unfolds, and as Summer gets closer.
The best way to enjoy all of the fun offered during the 100th anniversary celebration at Knott's along with all of the other exciting Seasons of Fun events is with a 2020 Season Pass. A Regular Season Pass includes unlimited admission in 2020 to Knott's Berry Farm with no blackout dates, and a Gold Season Pass includes unlimited admission in 2020 to both Knott's Berry Farm and Knott's Soak City Waterpark with no blackout dates. Knott's Season passes are now available at the best offer of the year. Regular Passes are $99 or eleven easy payments of $8.00 after an initial payment and Gold Passes are $120 or eleven easy payments of just $9.50 after an initial payment. These offers end on October 27, 2019. Applicable taxes and fees apply. Payment plans are only available at knotts.com.
Stay tuned for more from the Farm, and be sure to get social with us on Facebook and follow along with us on Twitter @BehindThrills for the latest updates!
For our latest theme park videos please be sure to subscribe to us on YouTube!
For more information about Knott's Berry Farms, including tickets, visit the official website by clicking here!