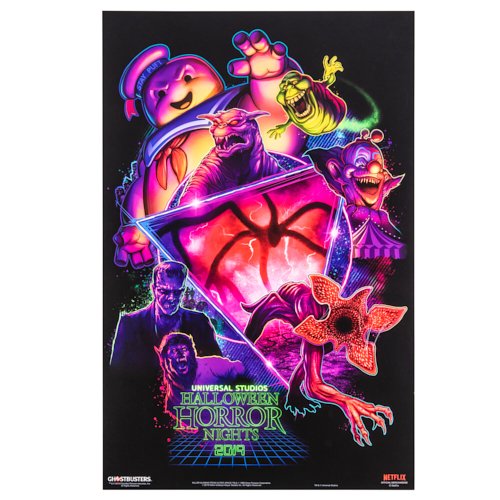 I absolutely love haunt merchandise. I have two whole drawers of my wardrobe filled with various shirts from different haunts. But the problem with all the haunt merchandise is that it all looks like haunt merchandise after a while. HHN 29 is coming, and like the properties that make up the haunted attraction, the merchandise is just a tad eclectic. And it works. From posters, and keychains and yes even t-shirts, this year's merchandise selection is "totally tubular"…okay, can we stop saying that now?
Right out the gate, Universal kind of nails it with this year's drink ware. Remember those old glasses from Hardees with ET? What about the old Burger King Star Wars glasses, and even The Muppet glasses from McDonalds? The merchandising freaks at Universal came up with a HHN line, and it's pretty damn epic. The major houses are all there, from classic Monsters to Killer Klowns, Ghostbusters and even Stranger Things. They all get the classic glassware treatment. Now if we can just keep our stepdad from using them to grow those weird potato vines.
Buttons are all the rage, and these are pretty perfect. 3 Different sets, all with a different theme. All a different house.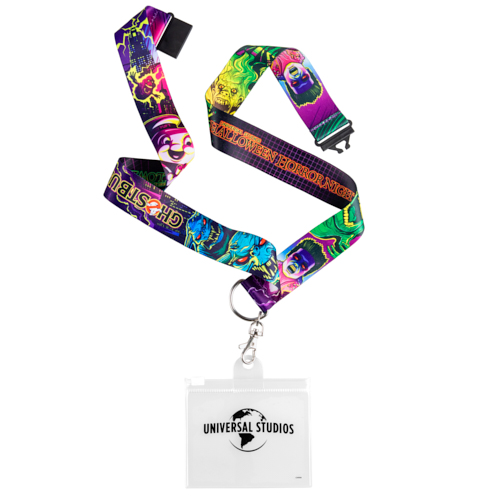 This year's lanyard also steps up in a great way, with an exclusive Ghostbusters theme. We're kind of hoping there's more lanyards in park, but hey, Ghostbusters will guard my keys just as well as Killer Klowns!
Finally, we have an awesome selection of shirts. From Classic Monsters, to Stranger Things, there's tons of different options. This year's house shirt is all kinds of amazing, going away from puffy paint and rocking out the arcade cabinet.
There are tons more different items and designs, we've only highlighted just a few!
Check out the official HHN Merchandise site for more, and to order!
Stay tuned for more from Halloween Horror Nights, and be sure to get social with us on Facebook, Twitter, and Instagram @BehindThrills for the latest updates!
For our latest theme park videos please be sure to subscribe to us on YouTube!
For more information about HHN, including tickets, visit the official website by clicking here!