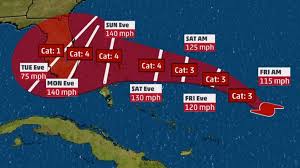 Hurricane Dorian is bearing down on Florida, with an expected impact over Labor Day weekend, if not on Labor Day. The projected path of the storm will have it affecting the Orlando and Tampa theme parks and attractions, which could definitely change your Labor Day weekend plans. We've already seen a slew of closures, cancellations and reschedulings, as well as help for those who might need it.
We'll run down everything we know so far, and will keep it updated as we hear more.
Here's everything so far:
Rosen Hotels Helps
Rosen Hotels and Resorts have been known for stepping up to help the community, and this time is no exception. The hotel chain is offering discount hotel rates for those who will be affected by the storm, and may need a safer place than where they are. The hotels are offering rates starting at $59 dollars to $89 dollars per night, and are allowing pets at no additional fee, as well as free wi-fi. If you need those rates call (866) 337-6736.
Closures
We will update this list as we find out more.
Icon Park: The Wheel at Icon Park will be closed before tropical storm force winds arrive in the Orlando area. The restaurants and shops at the facility will remain open until it's no longer safe to do so, which are usually when Tropical Storm force winds will start affecting the area.
Wild Florida: The Park will be closing early on Saturday August 31st. The last Gator Tour will leave at 11:30 am, with the Gator Park closing at 12:30p.m.
Kennedy Space Center: Open during regular operating hours (9 a.m. – 6 p.m.) on Saturday, Aug. 31. There will be Bus Tours or Special Interest Tours and the Visitors Complex will be closed Sunday, Sept. 1 and Monday, Sept. 2


Postponements
Several events happen in Orlando, we will keep you up to date on any events that are cancelled or postponed.
The Edison: A Gatsby Evening was scheduled for Sunday, September 1st. That has been rescheduled for Thursday September 19th.
Halloween Horror Nights
Many people have asked us what effect this storm will have on Halloween Horror Nights. The answer is none whatsoever. Provided none of the soundstages or houses are damaged in the storm, it will go on as planned. This is not the first time that a storm has hit before the start of the event. In 2004, Hurricane Frances and Jean hit the area and destroyed a scare zone just days before the event started. In 2017, Hurricane Irma ripped through the park, and destroyed the Central Park stage, which was home to Academy of Villains that year. Both times, the event went off without a hitch, and Academy of Villains famously restructured their show to make it fit with the situation. If anything, the storm will make HHN more intense, knowing that not even a hurricane can bring down that evil.
We'll add more as it is released. If you are a park and want to get the word out about closures, or if you see it before we do, please send an email to Staff@BehindTheThrills.com
Stay Safe Florida.
Stay tuned for more, and be sure to get social with us on Facebook and follow along with us on Twitter @BehindThrills for the latest updates!
For our latest theme park videos please be sure to subscribe to us on YouTube!