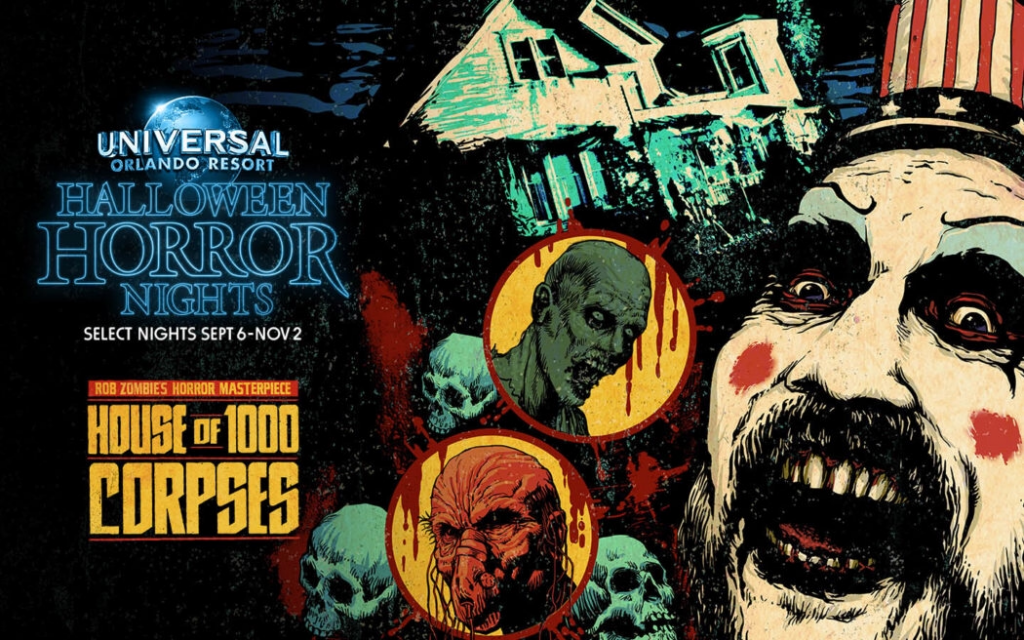 Rob Zombie has become something of a Halloween staple. His movie, House of 1,000 corpses is a cult classic, and has spawned a much better sequel, and a yet another one that's coming later this year. His Halloween movies are flawed, but still great pieces of horror, and his other movies are just flat out gore fests. His House of 1,000 Corpses has been used many times at Halloween Horror Nights in Hollywood, but never in Orlando. So it should come as no surprise that this year, Orlando will finally get to see the Firefly Family, and Captain Spaulding in Person.
That's right kiddies, get yer Tutti F*&%in Fruiti ready. House of 1,000 Corpses is coming to Halloween Horror Nights.
This isn't the first time that Rob Zombie has graced Halloween Horror Nights, but it's the first time that he's been at both Halloween Horror Nights in Orlando and Hollywood at the same time!
The terror will take you into Captain Spauldings Museum, and face to face with Doctor Satan!
Rob Zombie's House of 1,000 Corpses joins Killer Klowns from Outer Space, Ghostbusters, Stranger Things, Universal Monsters, Nightingales: Blood Pit, Depths of Fear and Yeti-Terror of the Yukon in Orlando and kicks off on Friday September 6th.
In Hollywood, the fun starts a week later on Friday the 13th and will include Killer Klowns, Ghostbusters, Stranger Things, Frankenstein Meets the Wolfman, and Holidayz from Hell!
What are you most looking forward to?
Stay tuned for more from Halloween Horror Nights, and be sure to get social with us on Facebook, Twitter, and Instagram @BehindThrills for the latest updates!
For our latest theme park videos please be sure to subscribe to us on YouTube!
For more information about HHN, including tickets, visit the official website by clicking here!