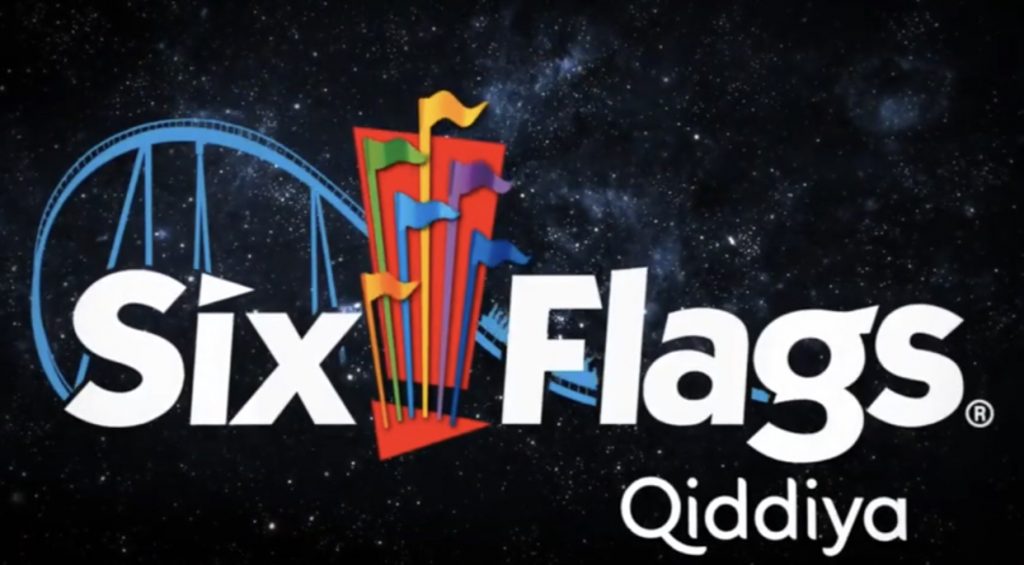 Saudi Arabia is putting all bets on Six Flags as the Qiddiya Investment Group and Six Flags unveiled the plans for their flagship park that will be the first park and one of the key entertainment pieces in a new city just outside Riyadh, and is destined to become the Kingdom's capital of entertainment, sports and the arts.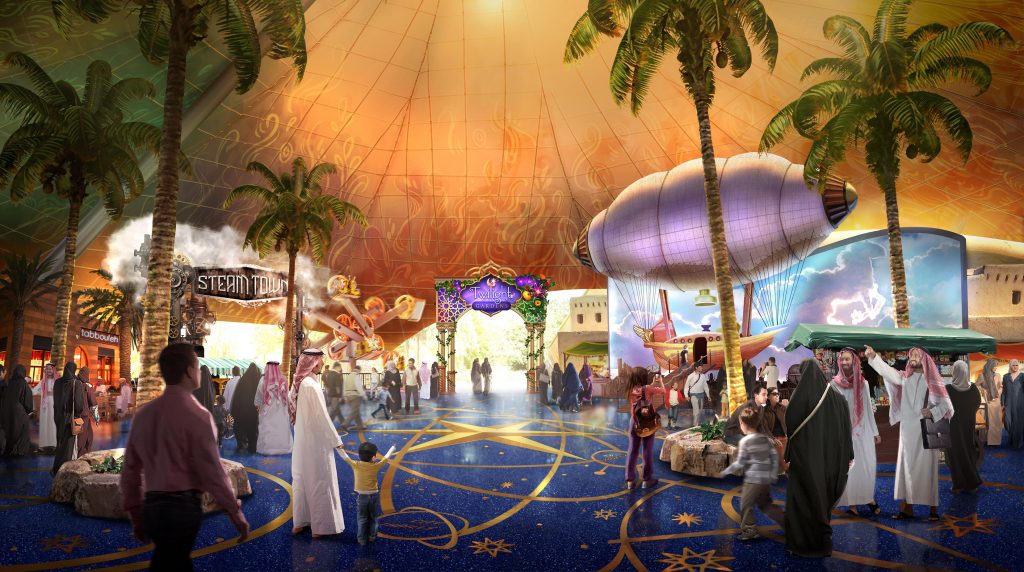 "Our vision is to make Six Flags Qiddiya a theme park that delivers all the thrills and excitement that audiences from all over the world have come to expect from the Six Flags brand, and to elevate those experiences with authentic themes connected to the location. As a place that will create indelible memories and moments of delight, telling stories that resonate with our guests is a central notion that will be evident throughout Qiddiya," said Michael Reininger, Chief Executive Officer of QIC.
Six Flags Qiddiya will be one of the key entertainment features in Qiddiya's first phase when it opens in 2023. The rides and attractions found in each land have been designed exclusively for Qiddiya and include many that will set world records.
"The Six Flags brand began in 1961 when we opened our first park, Six Flags Over Texas, which was themed according to the six flags that once flew over Texas. At Six Flags Qiddiya, we return to that heritage by creating six immersive lands designed for Saudis of all ages who seek family entertainment experiences steeped in their rich culture and history. We are thrilled to be part of a project of such scale and scope and are proud to celebrate this milestone with Qiddiya," said David McKillips, President of Six Flags International Development Company.
The park company also released a video showcasing all the new lands, which will start with a central hub and break off into several distinct lands.
Let's get into the six different lands of the park. Each one will have a unique set of attractions that will set Qiddiya apart from the rest of the Six Flags parks worldwide.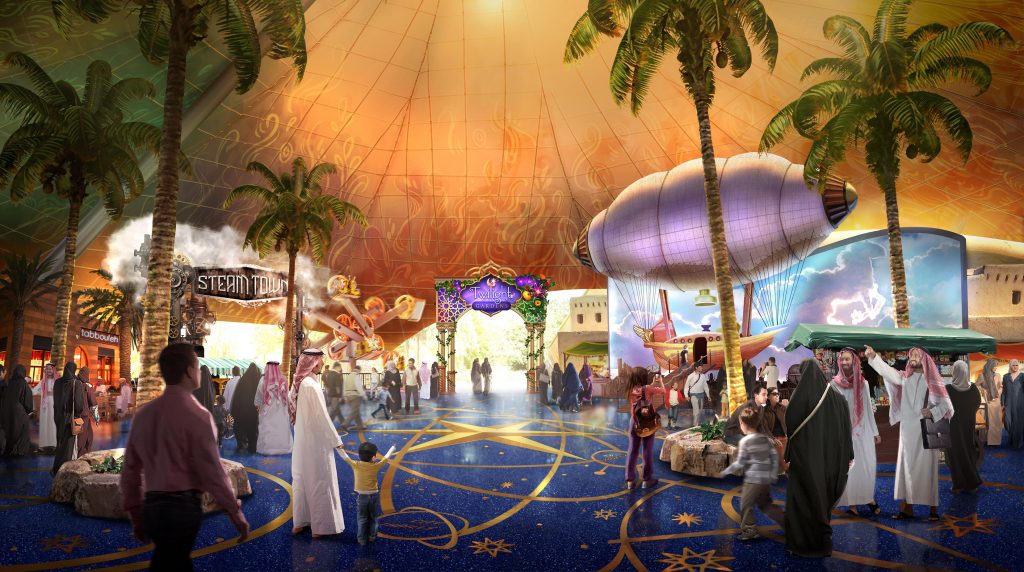 The Citadel is the central hub of the park. It is covered by a billowing canopy form inspired by traditional Bedouin tents. It holds a variety of shops, cafes and restaurants while transforming into an interactive show space throughout the day. From here, guests can pass through portals to enter each of the themed lands.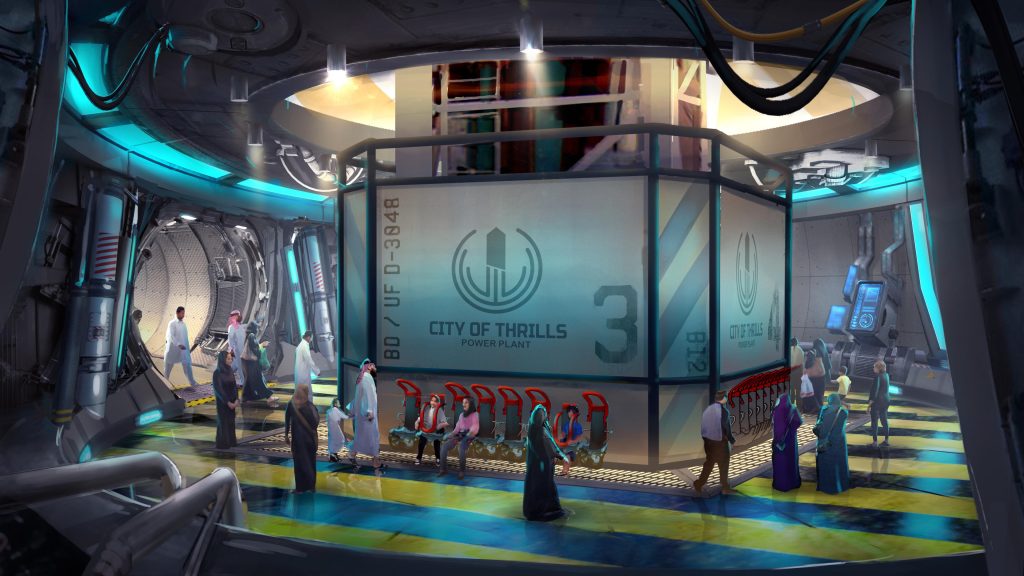 The City of Thrills is the embodiment of Saudi Arabia's Vision 2030; a forward looking, boundary pushing, future city anchored in Arabic design motifs. Here visitors will find Six Flags Qiddiya's most recognizable and anticipated thrill rides. Sirocco Tower will break records with the world's tallest drop-tower ride. That record is currently held by Zumanjaro: Drop of Doom at Six Flag's own Great Adventure, which has a height of 415′ feet. That means that this one would have to push the 420′ mark, at least.
The Falcon's Flight, inspired by the Kingdom's iconic natonal bird is both a symbolic marker of the country's culture and tradition, will be the longest, tallest and fastest roller coaster in the world. Currently the world's tallest coaster is Kingda Ka at Six Flags Great Adventure, standing at a whopping 456′ feet tall. This one will go past that, and will also lay claim for the longest, which is currently Steel Dragon at Japan's Nagahima Spa Land at 8,133 feet. It will also try to top the fastest record as well, which is 149mph.
Take a look:
Alright, so the animation is kind of bad, but it does make the point of what they are trying to do. As the project starts up construction, I do hope they release a better looking ride through. There is no top height listed, but according to the video, the speedometer reaches 240 km/h or 156 mph. It also does that in a drop…which is insane. The forces that your body will go through. If it ends up happening, that will be one intense coaster.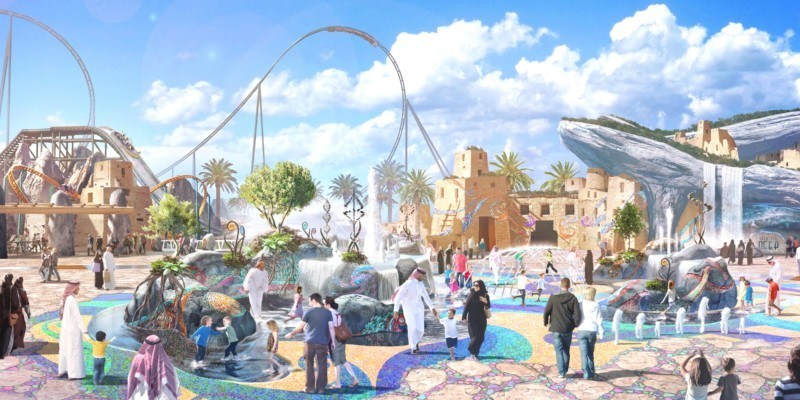 Discovery Springs reflects Qiddiya's unique and timeless relationship between the desert and the sea as its collection of rides and experiences play with elements of earth and water. It is an aquatic wonderland of waterfalls, aqueducts and geysers, as well as exotic plants and trees. This oasis offers visitors relief from the summer heat by creating the feel of a dense rainforest in the middle of the desert. Visitors to Discovery Springs will discover a first-of-its-kind interactive ride called the Sea Stallion, where riders are propelled over rivers, behind waterfalls and through trees along a custom-designed course, as they control the speed and acceleration of their serpent.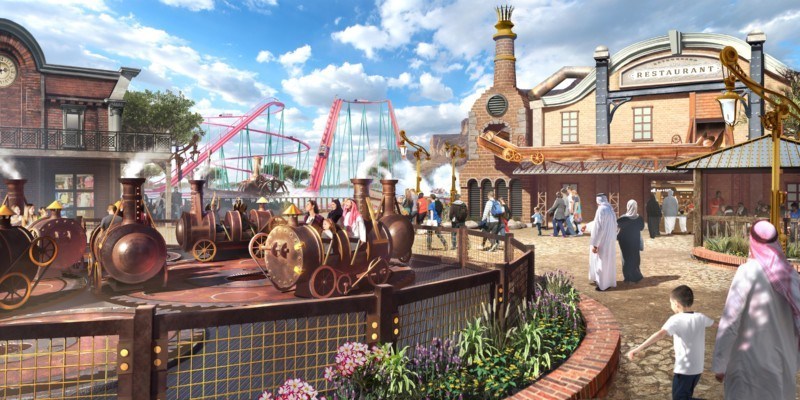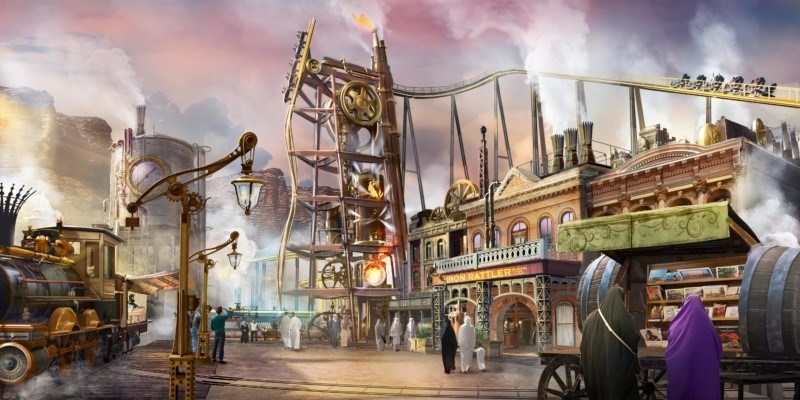 Steam Town is where the past and future collide in a rugged frontier town that is powered by steam and echoes with screams. Themed around mechanical marvels and a collection of dynamic contraptions, the land's signature ride is the Iron Rattler Mine Train. On this ride the best elements of a roller coaster are linked to a hydraulic lift which releases passengers into a freefall plunge through a narrow, steam-filled mineshaft.
Other key features include the Steam Town Falls Water Coaster which combines a roller coaster track with a splashing boat ride, a spinning mechanical ride called the Steel Stampede and a custom-themed climbing structure called the Treehouse Trek.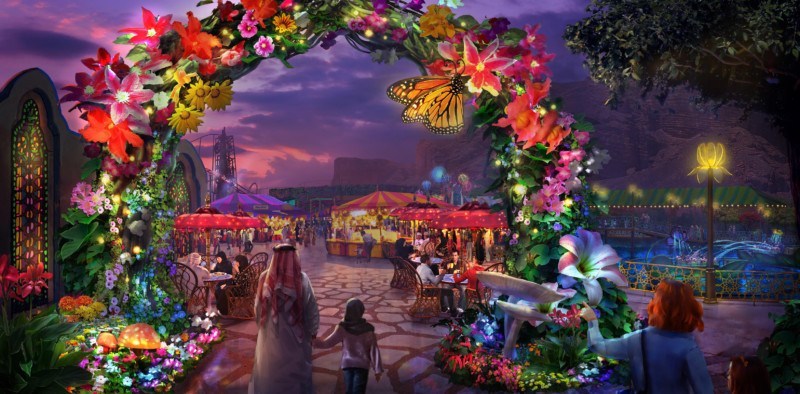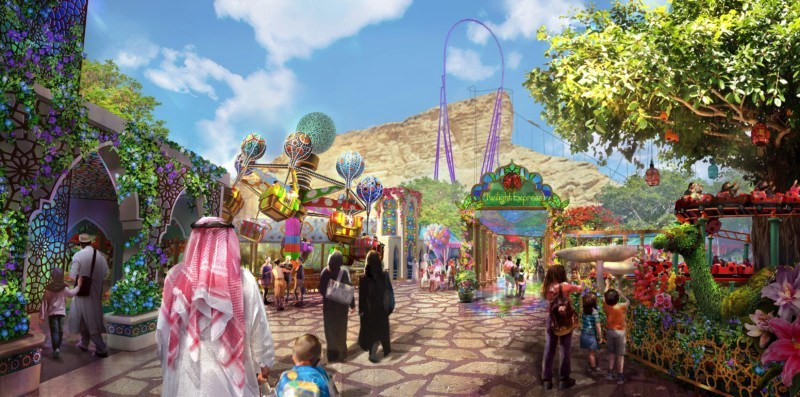 Twilight Gardens is an oversized landscape of the imagination filled with colorful flowers and friendly creatures, all specially designed for younger visitors and their families. This enchanted land's key features include the Twilight Express Coaster, which takes passengers through a majestic garden, the Critter Chase, an interactive dark ride set in a 3D environment, and the Kaleidoscope hot air balloon ride.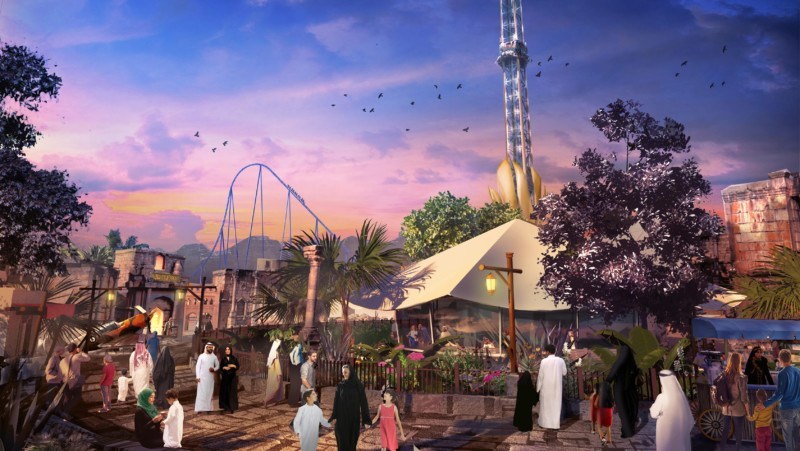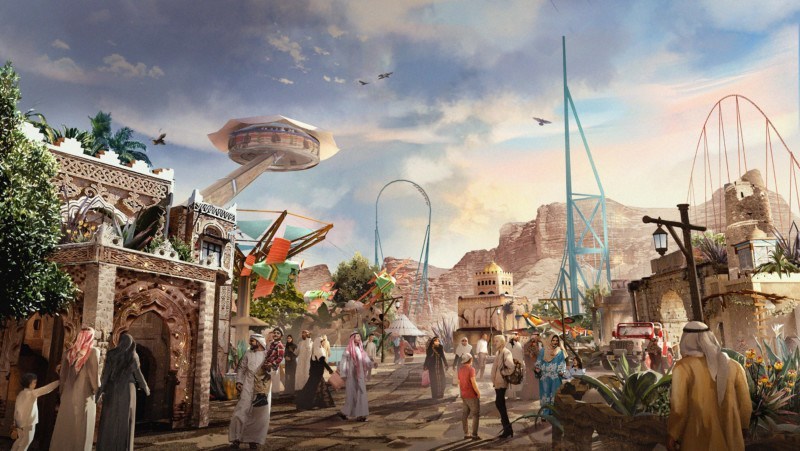 Valley of Fortune is an exciting land of adventure that takes place amidst time-worn architectural ruins of old Arabian masonry, enlivened by the activity and trade of fortune seekers from around the world. This land's signature attraction is Spitfire, a triple-launch coaster, which will take guests into a sky roll before an acrobatic stall and a breathtaking dive back to the valley floor. Other features of Valley of Fortune include Skywatch, a ride where riders are lifted into the sky, the auto-themed Treasure Trail and the Aeromax, a family plane ride that swings and rotates freely over the park.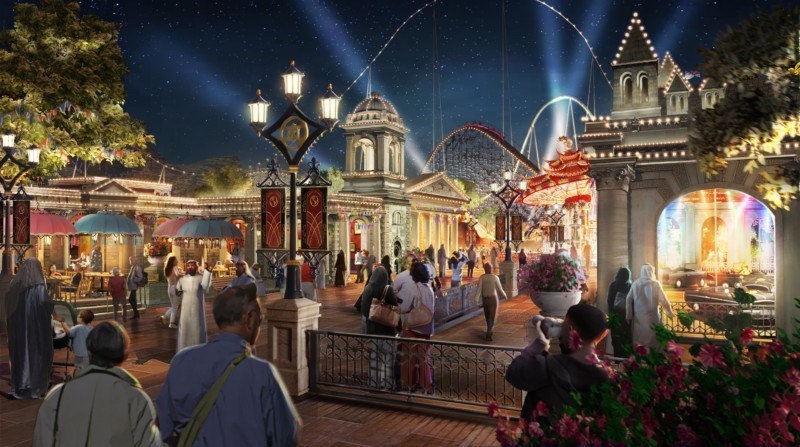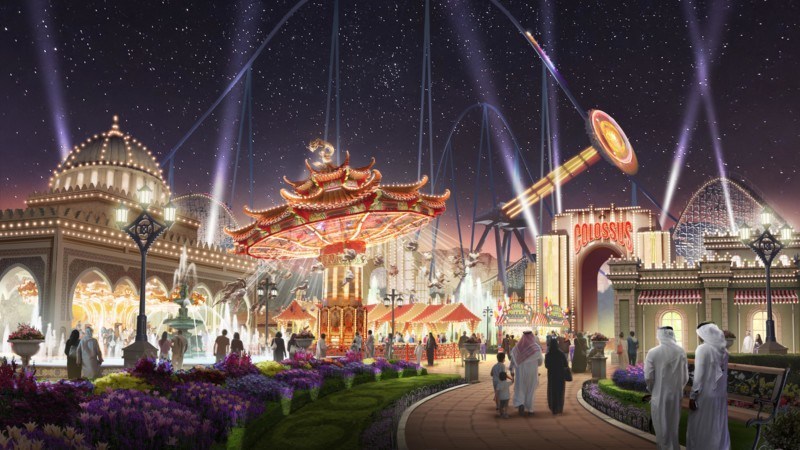 Grand Exposition is a celebration of innovation combining the nostalgia of traditional carnival midways with the greatest feats of science and technology such as the Gyrospin Pendulum, which swings riders to record heights. It is also home to Six Flags Qiddiya's classic and most loved coaster Colossus, a gravity-driven wood-steel hybrid roller coaster which stretches over an 800-metre track. The land also features the Arabian Carousel, where Arabian horses march in a circular parade, the Expo Flyer swinging ride and Automania, with bumper car attractions themed as London cabs.
That certainly is an ambitious new project. The opening date is 2023, which isn't very long for something of this magnitude. A huge take away here is that while most every other park in the area relies on some kind of property or license to sell the park, Qiddiya breaks that mold and is using not only local lore and traditions to sell the park, but as far as licenses, just the Six Flags name. The park will definitely be a rarity in the Six Flags chain. It will also be interesting to see if this park actually makes it to opening, as Six Flags and parks in this region of the world do not have the best track record. Dubai has started and stopped a few times, only to be scrapped entirely very recently. We'll see if Qiddiya has the same fate, or if it's got the magic touch to bring parks to this area.
Stay tuned for more from, and be sure to get social with us on Facebook and follow along with us on Twitter @BehindThrills for the latest updates!
For our latest theme park videos please be sure to subscribe to us on YouTube!