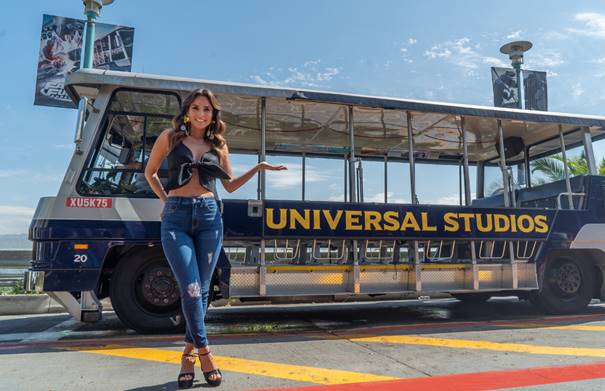 Colombian-born Carmen Villalobos and the star of Telemundo's series "El Final del Paraiso" takes on a new leading role as the video host ofUniversal Studios Hollywood's Spanish-language Studio Tour, providing entertaining insight for guests designed to complement the "live" narration provided by expert Studio Tour guides.
The updated Spanish-language Studio Tour featuring Carmen Villalobos' vignettes will officially begin on Friday, August 30.
"I have always been a fan of Universal Studios Hollywood and amazed at how the Studio Tour gives people a genuine peek at show business in action," said Carmen Villalobos. "We had so much fun filming the segments for the Spanish Studio Tour and I am beyond thrilled to now be a part of this amazing attraction that brings guests just a little bit closer to the magic of Hollywood."
A signature attraction at Universal Studios Hollywood for over 50 years, the world-famous Studio Tour has taken millions of guests behind-the-scenes of an authentic movie and television studio, immersing guests in the exciting and elusive world of movie-making magic.  The hallmark attraction provides remarkable access to movie sets on a working production lot, taking guests onto areas of the studio typically restricted to authorized movie production personnel.
With these three quintessential words—lights, camera, action—which are synonymous with the glamorous world of Hollywood, the Studio Tour leads visitors on a thrilling journey past historic soundstages and famous films sets where some ofHollywood's most memorable movies and television shows were made.
During their 45 minute Studio Tour, guests span a retrospective timeline of favorite films on New York Street, the filming location for such movies as Hobbs & Shaw,Transformers and The Sting; Courthouse Square, made famous in the Back to the Future movies and To Kill A Mockingbird; the cobblestone streets of Little Europe where such films as The Pink Panther and Pirates of the Caribbean, were filmed; Six Points Texas, home to Hollywood's greatest Western films, andCourt of Miracles where Dracula, Frankenstein and The Hunchback of Notre Dame made horror film history.
The world-famous Studio Tour is a featured attraction at Universal Studios Hollywood and is included in the cost of admission to the theme park. Spanish-language tours run multiple times day and it is recommended to visitwww.UniversalStudiosHollywood.com for daily schedules.
Jimmy Fallon, host of NBC's "The Tonight Show Starring Jimmy Fallon," also appears in a variety of entertaining interstitial videos that provide similar contextual insight on the English-speaking Studio Tour.
Carmen Villalobos, one of today's best-known actresses on U.S. Hispanic television, started her career in her native Colombia. Since then, she's appeared in numerous telenovelas, gaining international notoriety for her role in Telemundo's iconic "Sin senos no hay paraíso," in which she played the unforgettable Catalina Santana. The role quickly propelled her to fame and earned her an exclusive contract with the network. She has gone on to participate in multiple productions for the network, including "Niños ricos, pobres padres," "Mi corazón insiste," "Ojo por ojo" and the Emmy Award-winning Super Series™ "El Señor de Los Cielos."
Nine years after "Sin Senos No Hay Paraiso" first aired, Villalobos returned to reprise the role of Catalina Santana in its sequel, "Sin Senos Sí Hay Paraíso." That same year, she was also the co-host for Telemundo's Premios Tu Mundo (Your World Awards). With over 12+ million followers, Villalobos is recognized as a social media influencer.
"El Final del Paraiso" premieres on Telemundo on Tuesday, August 13 at 9pm/8c.
With so much to see and do at Universal Studios Hollywood, the California Neighbor Pass invites guests to experience 175 days of fun for $149 when purchased online. Visit www.UniversalStudiosHollywood.com for more details. Blackout dates and restrictions apply.
Stay tuned for more from Universal Studios Hollywood and be sure to get social with us on Facebook and follow along with us on Twitter @BehindThrills for the latest updates!
For our latest theme park videos please be sure to subscribe to us on YouTube!
For more information about Universal Studios Hollywood, including tickets, visit the official website by clicking here!