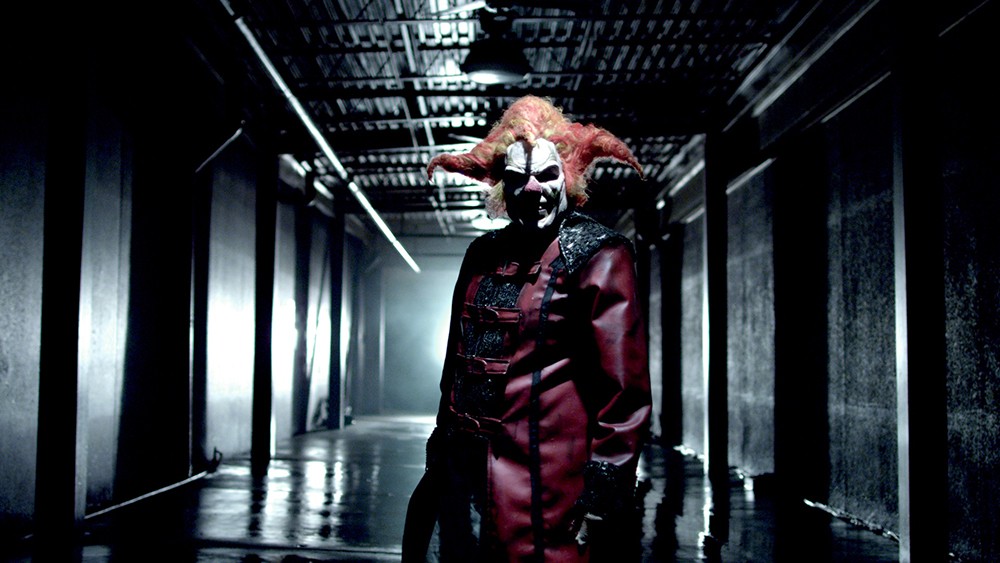 Halloween Horror Nights is just weeks away. As we get closer to the event, we always tend to get sentimental about the old days of HHN, and reminisce about the way things were. Today, however, we were hit with a massive blast from the past, courtesy of Steve Medlin on YouTube. It's one that JAWS fans, and Jack the Clown fans will love!
That's right, Jack the Clown was invading and scaring the guests on the Jaws Ride. Now this was circa 2000-2001. It's common practice now for smaller haunts like Busch Gardens Howl O Scream and Fright Fest at Six Flags to put zombies or monsters on roller coasters, but Universal essentially turned many rides into haunted attractions.
This wasn't the only time either.
You could expect to see various characters popping in and out of queue lines for attractions like Back to the Future, where they would come out of Docs office, and slide in and out of cubicles. Jack popped out after the big scene in Earthquake. And you would even have Jack sliding in and running through the theater on occasion during T2: Battle Across Time.
Jack wasn't the only one either. Green Goblin was part of the fun on Incredible Hulk when Maximum Carnage took over Islands of Adventure. And Darkman was rumored to be featured on Kongfrontation.
Some of the rides themselves were used as haunted attractions back then as well. Universal didn't have the massive tents, so they had to use parts of queue areas to create haunts, and even the attractions themselves. The extended queue of Jaws was quite often used as a haunted house. Kongfrontation not only had actors in the sets as guests passed by, but also was used as a haunted house at least on two occasions. The underside of the attraction was used as a haunted maze, with one year being Nightmare Creatures 2. Nightmare Creatures was a video game series, and though the house used the name, it didn't have much to do with the game at all. Even E.T. had it's queue darkened up with "Alien Forest" for a time.
Poseidon's Fury was also used as a maze in 2005, as Terror Mines, where guests donned miners helmets and went through the attraction that normally holds a pyro show and water tunnel.
So, why doesn't Universal do this anymore? We don't know for sure, but right off the top, we've got to say it has to be a safety issue. From the early days of HHN in the 90's to now, safety regulations have changed dramatically. The other big reason, guests simply want a break from it. Again, we don't know for sure if that's the big reason, but the only safe zones from scares at Halloween Horror Nights (besides the bathrooms) are the rides. If you can survive the walks between the scare zones, the rides are a pretty safe space to get a break from all the action, chainsaws and scares. Believe it or not, there are people that go to HHN that don't like being scared…yeah, I don't get it either.
But, one of the biggest reasons for all that is that the event changed. That happens when something gets popular. It's big, and it gets bigger every single year. This year we have ten houses at HHN 29, five scare zones and two shows. Compare that to only 5 houses and Bill and Ted in 2000. That's a pretty big line up, and a big step up.
While we do miss that little extra, we have a lot more fun now. Speaking of fun, the terror starts on September 6th.
Stay tuned for more from Halloween Horror Nights, and be sure to get social with us on Facebook, Twitter, and Instagram @BehindThrills for the latest updates!
For our latest theme park videos please be sure to subscribe to us on YouTube!
For more information about HHN, including tickets, visit the official website by clicking here!