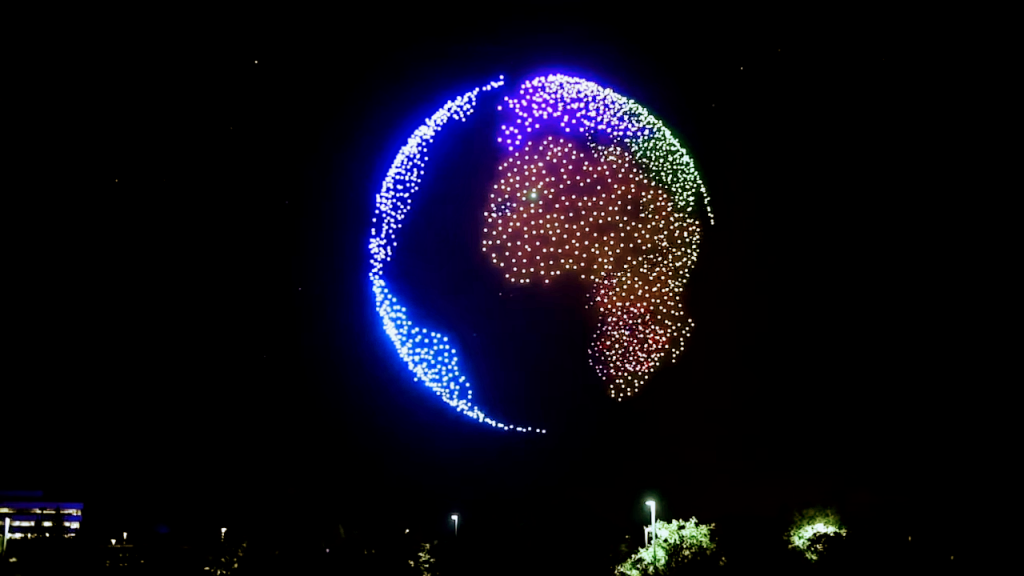 SeaWorld San Diego and Intel plan to team up to produce an all-new drone show that will take place on select nights in February. The show would utilize about 500 of Intel's famous Shooting Star drones to produce a ~5 minute show.
According to documents filed with the California Coastal Commission, SeaWorld and Intel plan to launch a new nighttime drone show at the San Diego park. Intel's fleet of 500 drones will fly over the park and perform a five-minute show. People at SeaWorld and all around Mission Bay will be able to witness the new, awe-inspiring presentation.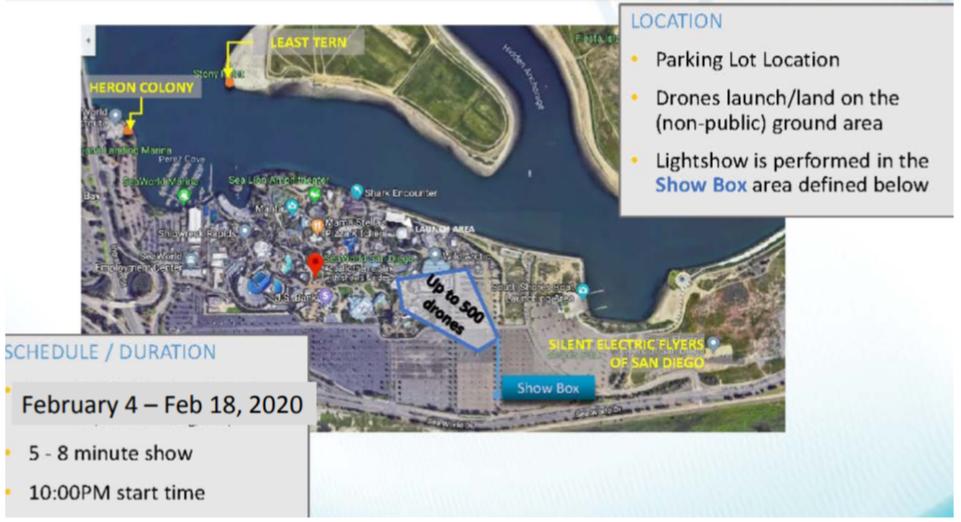 This new partnership with Intel is great for SeaWorld San Diego because it has the potential to create a nighttime show that is both visually stunning and environmentally friendly. Unlike traditional firework shows, drone shows do not pollute the air or water. In addition, they are relatively quiet, which means that nearby animals will not be affected by the noise produced. This new show will have very few, if any, impacts on the environment.
As part of the approval process, SeaWorld will conduct a research study to assess the impact of drone shows on local wildlife since a show like this has never been approved by the Commission before. The bright lights in the sky will be visible to local wildlife, but the impacts associated with it are expected to be far less than those of fireworks. The park will monitor nearby birds to see if they are affected in any way by the drone displays.
Intel has an amazing track record of producing inspiring shows, and this one will be no different. Their drones have performed at venues such as Disney Springs, Universal Studios, and the Las Vegas strip. Looking at previous shows such as the above video filmed at Disney Springs, one cannot help but get emotional by seeing the combination of innovative technology and classic Christmas music.
SeaWorld San Diego has a history of moving towards greener forms of entertainment. In 2017, the park suspended its nightly summer firework shows in favor of Cirque Electrique, a nighttime acrobatic performance. This proposed drone show takes their commitment to a higher level by showing that they are willing to experiment with new, eco-friendly forms of entertainment as part of their "Park to Planet" iniative.
Hopefully, the Coastal Commission will approve the proposed show at their upcoming meeting this month, and if all goes well in February, will allow the park to continue producing drone shows in other parts of the year.
Stay tuned for more from SeaWorld, and be sure to get social with us on Facebook and follow along with us on Twitter @BehindThrills for the latest updates!
For our latest theme park videos please be sure to subscribe to us on YouTube!
For more information about SeaWorld San Diego, including tickets, visit the official website by clicking here!