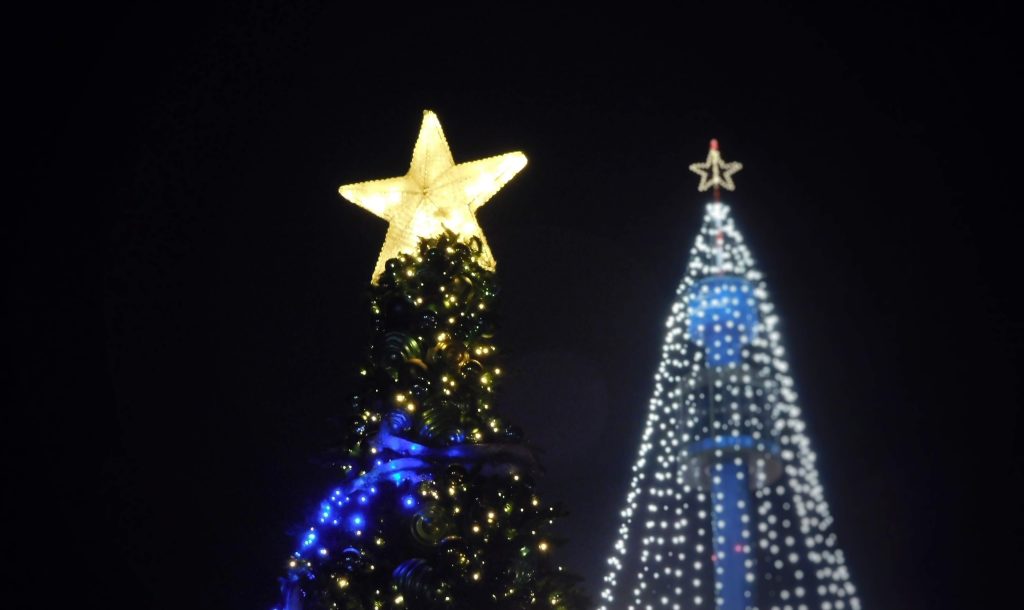 The holidays are a time to celebrate with family, and SeaWorld has one of the best Christmas events in San Diego. With more than one million lights and an all-new assortment of shows and attractions, all members of the family will find something to enjoy. Let's take a look at all the Christmas events that the park has to offer.
Rudolph's Christmastown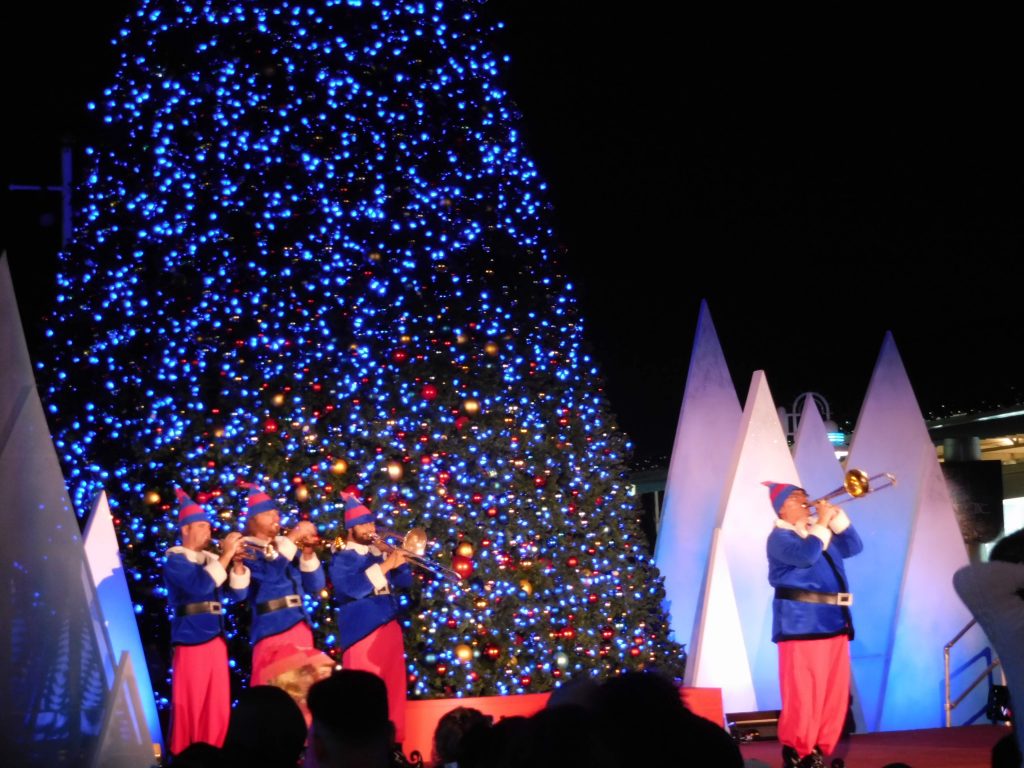 Rudolph's Christmastown is located in the far corner of the park by Wild Arctic and the Penguin Encounter. Here, you can take pictures with Rudolph and Clarice while listening to some of Santa's elves play live Christmas music. The adjacent shop carries all the Rudolph merchandise you could ever wish for, including adult-size Rudolph hoodies! You can also play Rudolph-themed games to win Christmas plush toys.
Sesame Street Christmas Village
The Sesame Street Christmas Village is located next to Explorer's Cafe in the Ocean Explorer realm of the park. Here, you can enjoy hot chocolate, cinnamon rolls, donut holes, and kettle corn while shopping at the largest Christmas store in the park! Hot Chocolate comes at a great price if you buy a SeaWorld-branded cup – only 99¢ for a refill! Kids can meet Santa, Mrs. Claus, and various elves throughout the night, and take pictures in the astounding light tunnel, which features synchronized light shows to Christmas music. At certain points in the night, the elves will put on a musical number, and several Sesame Street characters lead the crowd in singing carols. Don't miss Cookie Monster Santa!
Merry Manta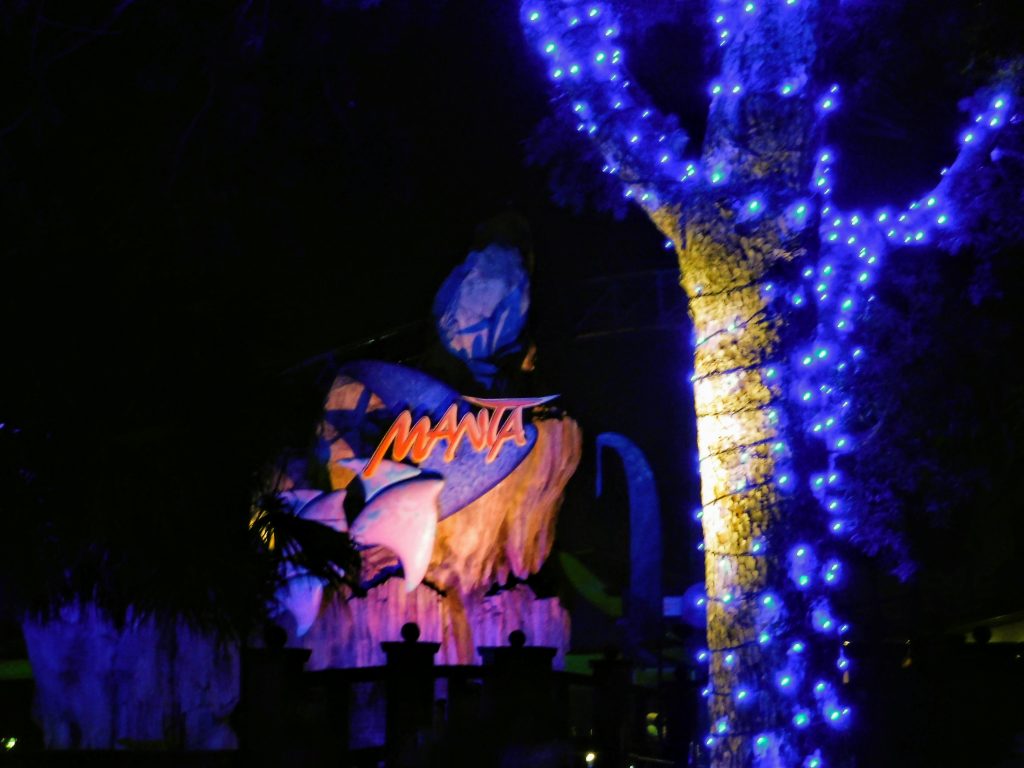 Manta is already an amazing coaster, but it becomes even more awesome during the Christmas season with the Merry Manta overlay! One version of the pre-launch show features dialogue between Santa and an elf about using the roller coaster as Santa's sleigh. Riders launch out as Santa gives a hearty chuckle. The other overlay features the Trans-Siberian Orchestra's Wizards in Winter. After launching out, riders zoom along the track, going past the colorful Manta logo and seeing tons of Christmas trees lit in green and blue. Night rides on Manta are absolutely fantastic!
Clyde and Seamore's Christmas Special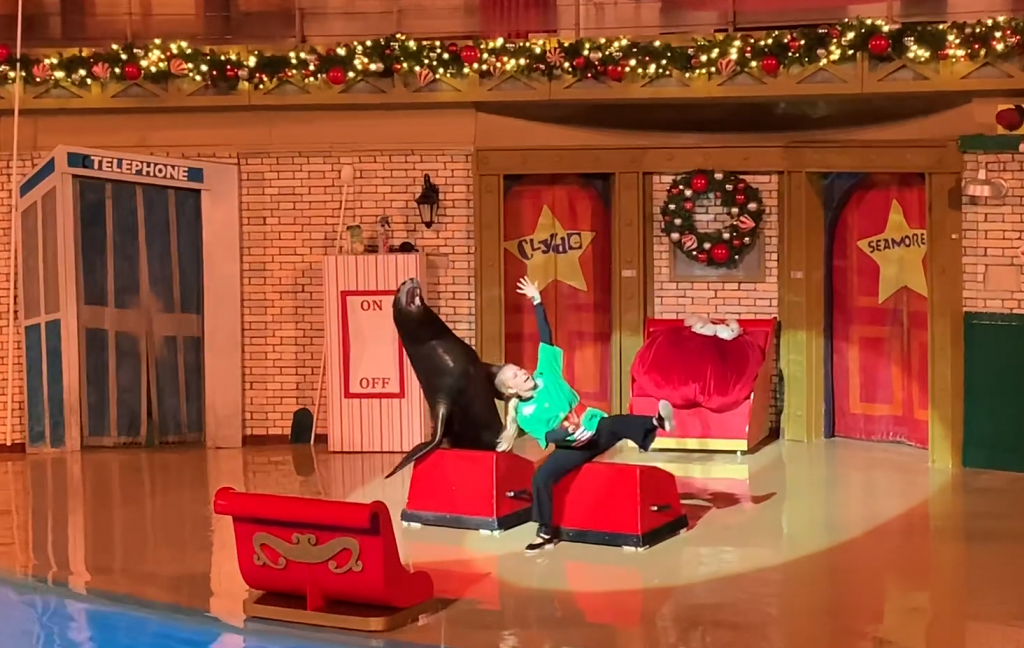 A SeaWorld trip wouldn't be complete without Clyde and Seamore, and the two sea lions have put on a hilarious Christmas spectacular. The show's preshow starring Biff and his "dance moves" is a SeaWorld classic, and the overt roasts from the sea lion trainers show that SeaWorld can laugh at itself, too. We won't mention any specific roasts, but let's just say that they don't mince words for Tidal Twister's unexpected lengthy downtime.
Cirque Christmas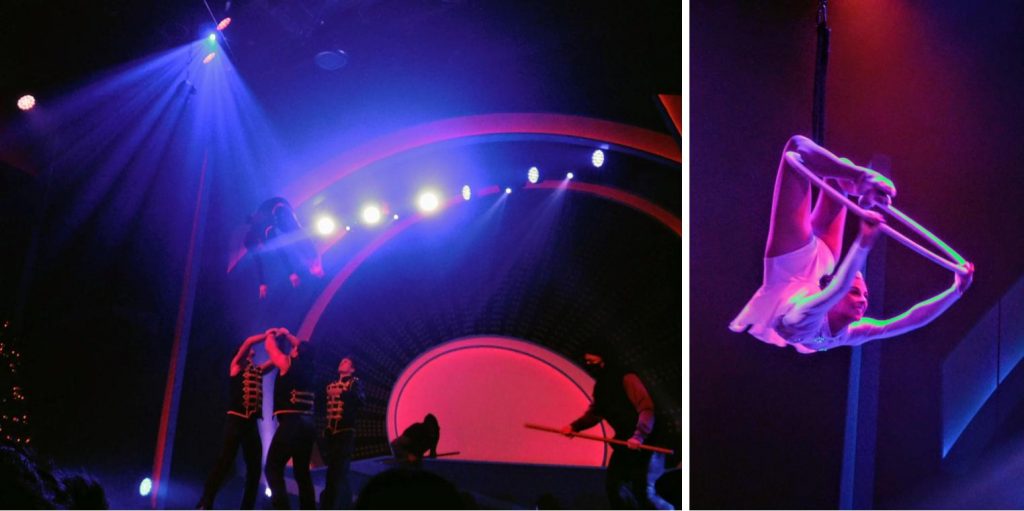 Cirque Christmas is a hip-hop take on the Nutcracker play with creative acrobatic acts thrown into the mix. The show features lyra and Russian bar acts to remixes of classical Christmas songs, finishing with an amazing teeterboard act.
Cirque is a fun and exciting show, but the Mission Bay Theater tends to hit capacity very early, sometimes even half an hour before the show starts. If you're set on watching this 15-minute show, your best bet is to line up as soon as possible.
Winter Wonderland on Ice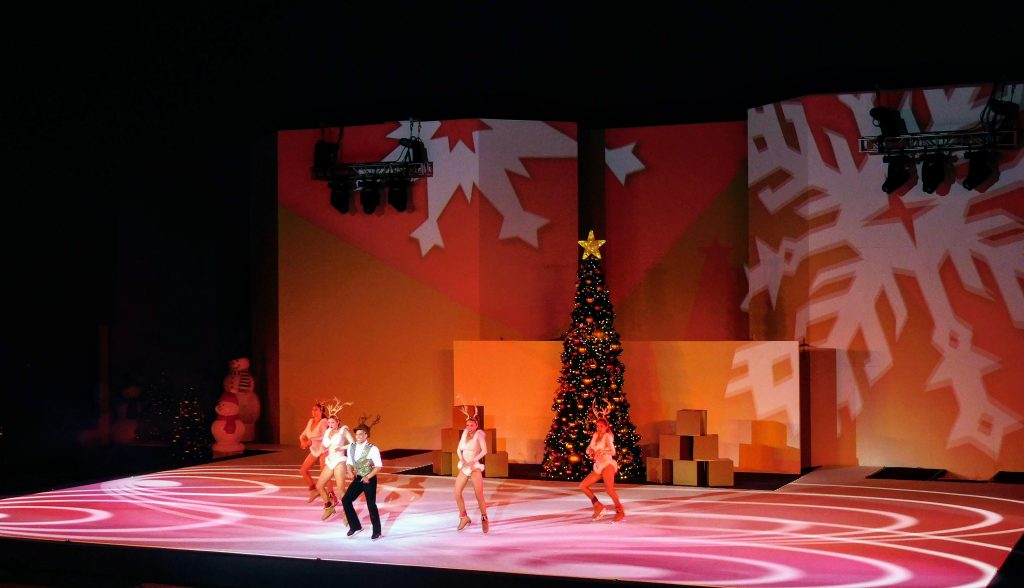 Winter Wonderland on Ice is by far the best show at SeaWorld's Christmas Celebration, and quite possibly one of the best shows ever produced at the park. The show features a team of the world's best ice skaters doing all sorts of crazy moves. It's also pretty lengthy – more than 25 minutes, and features classic seasonal songs like Hot Chocolate from the Polar Express, Sleigh Ride, and Somewhere in My Memory from Home Alone. The amazing performances combined with a projection mapping background and crazy light displays make the show even more festive. It is truly inspirational and enjoyable for the whole family.
This show alone is enough to justify a trip to SeaWorld, so don't miss out on this a spectacular event. SeaWorld's Christmas celebration runs now through January 5, 2020, so make sure to experience all the park has to offer!
Stay tuned for more from SeaWorld, and be sure to get social with us on Facebook and follow along with us on Twitter @BehindThrills for the latest updates!
For our latest theme park videos please be sure to subscribe to us on YouTube!
For more information about SeaWorld San Diego, including tickets, visit the official website by clicking here!