Amusement Parks around the World have announced closures due to COVID-19, the Coronavirus Disease 2019. Here are US-based major theme park announcements and reopening dates as of late March 2020. The situation will be continuously monitored and parks will continue to make adjustments based on Government, State, and County regulations.
Updated March 30, 2020.
Universal Studios USA Resorts: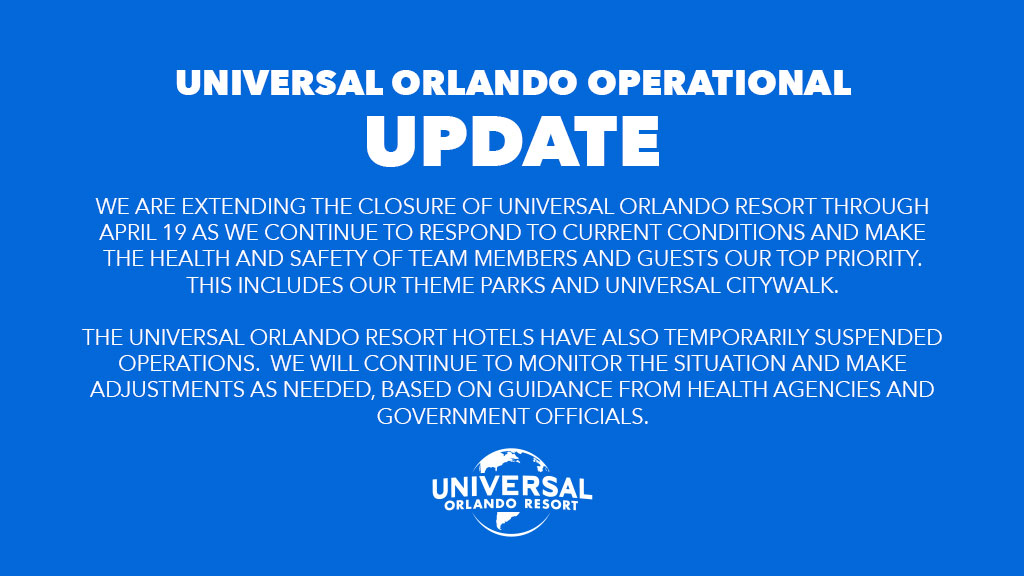 Universal Resorts in Florida and California have announced tentative closures through April 19th for all resort hotels and CityWalk.
---
SeaWorld & Busch Gardens Parks
SeaWorld and Busch Gardens parks have yet to release a reopening date. Some parks are located in areas with "Stay-at-Home" restrictions, such as Virginia (Busch Gardens Williamsburg) which has a tentative restriction through June 10. employees at SeaWorld Orlando have reported to have not been scheduled for work at this time.
---
Walt Disney World and Disneyland Resorts
Walt Disney World in Orlando has sent all College Program students home, a large amount of their workforce. They have also announced closure through April 19th like Universal Studios for both their Florida and California parks.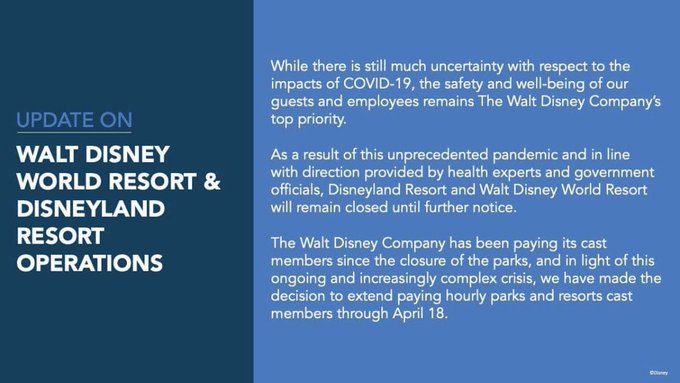 ---
Silver Dollar City, Dollywood, Wild Adventures
These three Herschend Family-owned parks have announced that they hope to reopen in May. "For our loyal 2020 season pass holders, we will be adding additional benefits and operating days to be announced as we get closer to a firm opening date. Our passholders are very important to Silver Dollar City Attractions and to our employees… please rest assured we will take care of you and your family." -Silver Dollar City.
"The coronavirus crisis is unprecedented and based on ever-changing developments, we are constantly reevaluating our options and hoping to open in May," said Brad Thomas, Silver Dollar City Attractions President.

"We are looking daily at all of our options to present an exciting and entertaining 2020 season that is a great experience for our guests, but our first priority is the safety of our employees and guests. We will continue to monitor this developing situation, consult with medical experts and follow official recommendations from public health officials to determine a reopening date and will communicate additional updates as they occur," Thomas said.
---
Cedar Fair (Cedar Point, Knotts Berry Farm, Kings Island, Kings Dominion, and other Cedar Fair-owned parks)
With the many US States that these parks are located, there may be some different opening dates based on the locations of each park, which we will update as we hear more. At the moment, Cedar Fair-owned parks "hope to reopen properties mid-May or as soon thereafter as possible."
---
Six Flags Parks
Six Flags' around the country are closed. The large amusement park chain may open on a park-by-park basis based on location, but at the moment the chain has released this statement: "At this time, shelter-in-place mandates are in effect throughout the United States, Mexico, and Canada; therefore, we are delaying the openings or temporarily suspending operations for our parks until mid-May, or as soon as possible thereafter."
---
Take a look at the eerie scenes at Universal Orlando CityWalk during its final day of operation:
---
Some theme parks in China and Japan have begun to reopen after months of closure as others take steps towards reopening. Shanghai Disney Resort closed earlier this year on January 25, 2020 and has now made initial steps towards reopening, with Shanghai Disneyland's Disneytown reopening select services.
Parks that have reopened include Shanghai Haichang Ocean Park, China Dinosaurs Park, Fuji-Q Highland, Nagashima Spaland, & Legoland Japan, all great news in a step back towards normality during these tough times.
Please check back here for the latest news in park reopening's and announcements related to Coronavirus (COVID-19.)