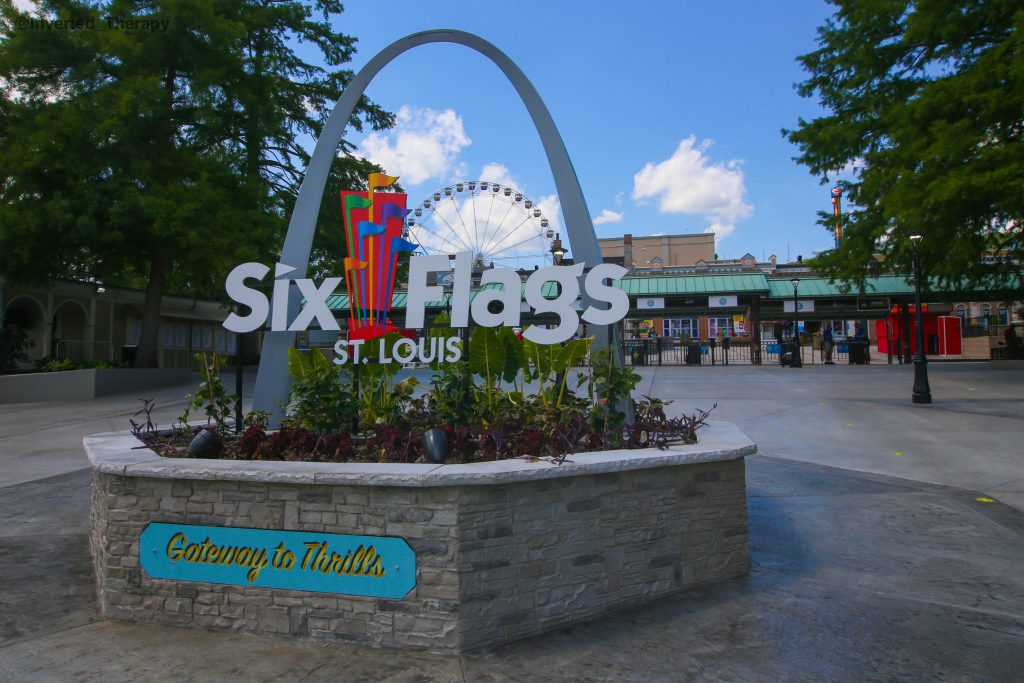 Six Flags St. Louis is one of the least invested in parks in the Six Flags chain. They don't usually get the newest coaster experience, or the best flat rides available. So, I was curious during my visit – would they get the upgrades to safety and security? Would it be a safe visit? Well, on June 25, just a few days after their reopening I was set to find out.
I went online, created a reservation, and headed to the park. The reservation system for Six Flags is fairly simple, taking just a few moments. One thing to note though: without calling in you can only have one park reservation at a time. If you call into guest services they can make multiple for you.
When you get to Six Flags now you will pass through a tent that is very very chilled. This massive tent has a thermal scanner to take your temperature, an unexpected surprise when bigger parks such as Universal or better themed parks such as Silver Dollar City are using hand held thermometers. Immediately following the scanner you will walk through the new and improved metal detectors. For most guests these metal detectors will allow you to walk through without a pause for a bag check. Heavy electronics will still trigger the sensor.
This was my first Six Flags park since the shut down happened in March. I was curious to find out how they were handling cleaning operations. When I visited Worlds Of Fun earlier in the week they were cleaning every ½ hour. This is standard procedure across all Cedar Fair parks I learned. Six Flags was cleaning trains after every single cycle. This, I hope, is not standard procedure. ½ hour seemed like good intervals, this was a bit much. Batman (a clone you find at most Six Flags, and the first ride I came to) was a 45 minute wait with two trains. It was good they had two trains, as we have addressed in the past, but the cleaning after every cycle was making their lines extremely long. This is a learning game we are not at all prepared for it seems.
I made my way from Batman over to Ninja – which was not being clean every cycle? Ok? So there isn't even consistency within the park…got it. Ninja was a walk on, and I found my empty spaced seat on a mostly full train – within the limits of the social distancing.
I made my way over to the Mine train, which was closed, then up to the Boomerang – nothing special to report, just a walk on. I then rode Screaming Eagle – a decent wooden coaster, before heading back toward the front of the park to have lunch at the BBQ place and get a single ride on American Thunder, another mild but decent wooden roller coaster.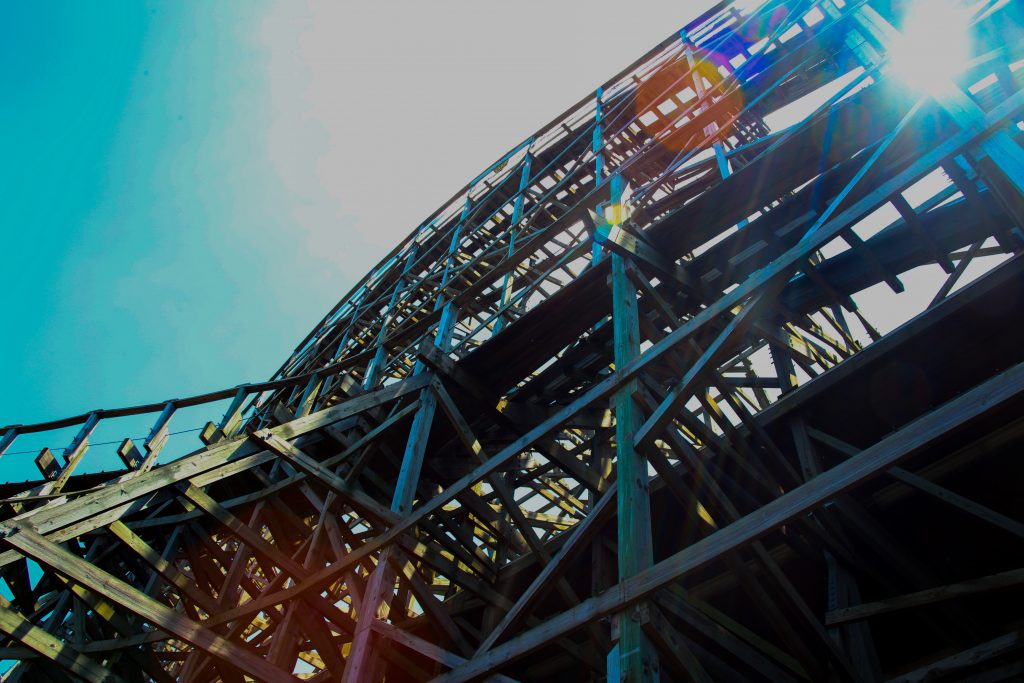 I headed into Mr. Freeze Reverse Blast – an amazing premier ride that I got to ride the clone of in Six Flags Over Texas. I was about to witness something I could never predict though: Six Flags refuses to cycle trains if a guest isn't wearing a mask. Watch this short video below: I would not have believed this if I had not witnessed it.
Since Mr. Freeze went down before I got the chance to ride, I headed over to The Boss. This thing would make an absolutely AMAZING RMC conversion: three massive drop's. I could see RMC featuring their three drop styles on this: one twisted, one straight drop, and a "cranked drop" like the first drop on Iron Rattler that yanks left then right. This was my favorite wooden coaster in the park of the three, but still the one I vote for RMC to take.
I eventually got back to Mr. Freeze. This time I got my ride, and realized they were cleaning after every cycle on this ride as well, but it seemed to only be Batman and Mr. Freeze getting this treatment. These Premier launch rides can only run a single train because of them being shuttle coasters, however the station is set up with dual trains so in theory they could be loading two at once to speed up wait times.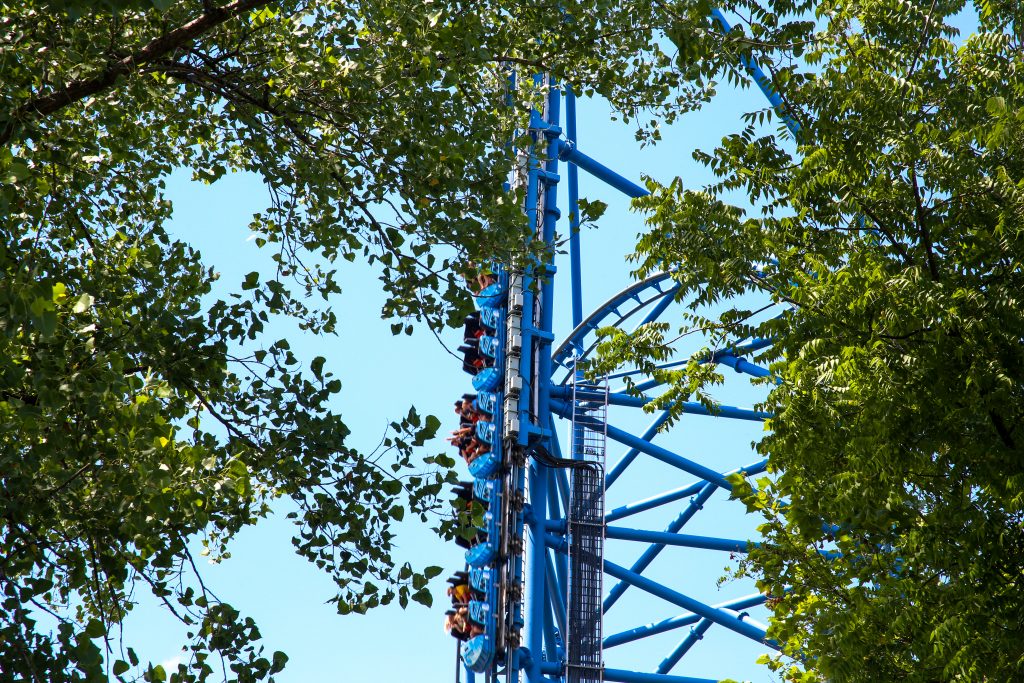 Following Mr. Freeze I rode the spinning coaster, then a single ride on Xcaliber, which may have been the most insane flat ride I have ever ridden. I heard a lot of people saying it was very rarely open, so I will be thankful for that credit.
Overall I didn't find anything really worth re-riding, so I headed out after a single lap around the park, and began my drive to Kentucky Kingdom. Overall this park is decent, but I would say that if you have any other Six Flags closer that you should go there. That is, until RMC The Boss.
Stay tuned for more theme park information, and be sure to get social with us on Facebook , Instagram, Twitter @BehindThrills for the latest updates! For our latest theme park videos please be sure to subscribe to us on YouTube!
Justin Landers is 29 year's old and owns Just Shoot Light Multimedia Productions, a freelance photo and video company involved in the theme park industry since 2013. You can find him on Instagram at @Inverted_Therapy and @Just_Shoot_Light and on YouTube or Facebook.