An hour north of Washington D.C in a small town in Maryland sits Adventure Park USA – a Family Entertainment Center. Most of these family centers have an arcade, mini-golf, maybe go karts? What you don't find at many Family Entertainment Centers however, is two decent coasters. Sure, a lot of them may have an SBF Visa, or maybe a Wacky Worm – but two coasters that are meant for a more of a thrill? That's rare.
So, imagine my surprise when I found out about Adventure Park USA. Home to two decent coasters with compact layouts and more airtime than I expected. The park is certainly worth a stop as you pass through Maryland. They have all the usual suspects of every other Family Entertainment Center (FEC.) You can get your fill of arcade time, with a decent collection of games, and even some VR. Plenty of mini golf to go around for the family. They have a few flat rides such as a scrambler, and some Go-karts as well as a giant slide. They also have a kiddie coaster called Tumbleweed – which has a similar layout to most wacky worms.
Then there's the reasons I stopped: A schwarzkopf called wildcat, and a Zamperla called Wild West Express. Both were surprisingly decent coasters. These two coasters both stand around 50 feet tall. Not tall for a "thrill ride" for sure, but certainly a far cry from a SBF Visa Spinning coaster meant for kids. I was not expecting what I got by any means though. Both coasters share a very similar layout – a compact coaster that is somewhere between a wild mouse and a intense coaster. The drops provide more sustained airtime than a wild mouse, and there are no sections of straight track with sharp turns. The coasters still have a small compact layout throughout though, and don't take up much more room than a wild mouse.
The Schwarzkopf was smooth, just like most of them. Somehow these older Schwarzkopf's maintain a high level of quality ride time. The ejector air coming through the turns was decent. The Zamperla was a huge surprise. Banked drops provide a surprising amount of whip as you are thrown out of the seat and sideways. The coaster allows for some thrilling and unexpected moments throughout it's layout.
One of my favorite things about these Family Entertainment Centers is the ability to purchase individual rides instead of having to rely on an all day band. Being able to get in and grab a few rides for just a few dollars is a great way to spend 30 minutes or so on your way to a larger park. Headed from D.C to Lakemont Park to ride the oldest coaster in the world? This makes a quick stop. Tired of just going to Six Flags America? Head an hour north instead. You won't be disappointed. The park isn't huge by any means, but they still have plenty of space to develop. If the park is willing to put these coasters in, I can't imagine what else they could build, but I could see a bright future. One of my favorite things about the park was that they are also taking the pandemic seriously: Masks are required. Social distancing wasn't hard at all since the park was not busy. In fact, I didn't wait at all for any rides. They are cleaning after each guest rides – something that at most parks would extend the line's but thanks to the low crowds adds nothing to your wait. This park is absolutely worth a quick stop.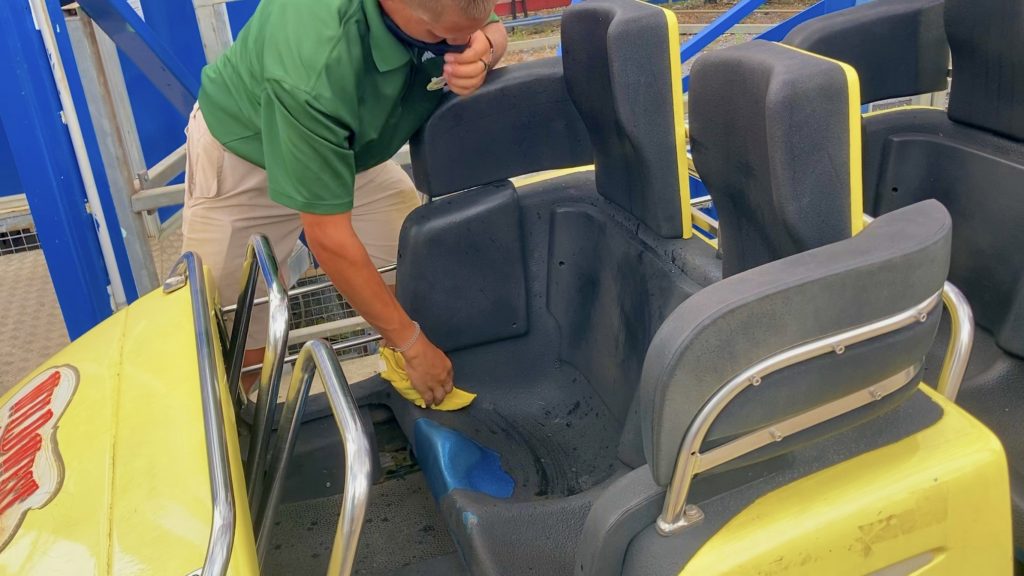 With great procedures, two fun rides, and a friendly staff I can not wait to see what come's next for Adventure Park USA. Next time I pass through the area I will absolutely be making another stop even if it is just for a single ride on each of their coasters.
The Parks Address is: 1113 W Baldwin Rd. Monrovia MD 21770
Their website is:
Www.Adventureparkusa.com

Stay tuned for more theme park information, and be sure to get social with us on Facebook , Instagram, Twitter @BehindThrills for the latest updates! For our latest theme park videos please be sure to subscribe to us on YouTube!
Justin Landers is 29 year's old and owns Just Shoot Light Multimedia Productions, a freelance photo and video company involved in the theme park industry since 2013. You can find him on Instagram at @Inverted_Therapy and @Just_Shoot_Light and on YouTube or Facebook.