SeaWorld San Diego has made an amazing comeback since reopening to the public and passholders as a zoological experience. Over the last few weeks, we have gone to the park three separate times and talked with numerous people to assess what the park is like and how well safety measures are being enforced.
SeaWorld is currently running its Halloween Spooktacular event, which features physically distanced Halloween dance parties, Cookie Decorating with Cookie Monster and Elmo, fall flavor-inspired menu items and yes, CANDY! Spooktacular runs Thursday through Monday until November 2, 2020.
Starting on November 5 and running through the 12th, SeaWorld is putting on the Red, White and Blue Salute to recognize the men and women who have served in our armed forces. On November 13th, Christmas Celebration debuts, which is one of our all-time favorite theme park events!
Tickets for Spooktacular are on sale now at SeaWorldSanDiego.com. SeaWorld is offering one child, aged 3 to 9, free admission with one full-paid adult admission through November 1! Annual Pass Members and Fun Card holders also receive free admission to Spooktacular and must make a reservation to visit the park. Guests are encouraged to purchase their date-specific tickets and make reservations soon because space is limited.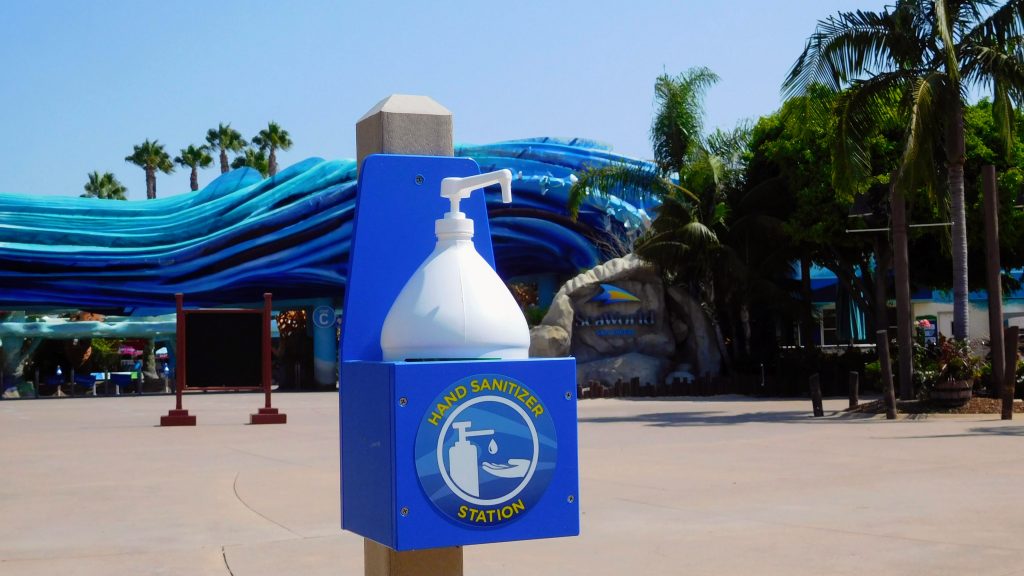 Entering the Park
All guests entering the park will undergo a temperature scan. A state-of-the-art scanning system is in place that checks temperatures automatically. All you have to do is walk through the large blue tent at the entrance. There are markers before and after the temperature screening tent to ensure that everyone is social distancing. There are also tons of hand sanitizer stations around the entrance area. If you get to the park an hour or two after opening, there are usually little to no lines whatsoever at the entrance.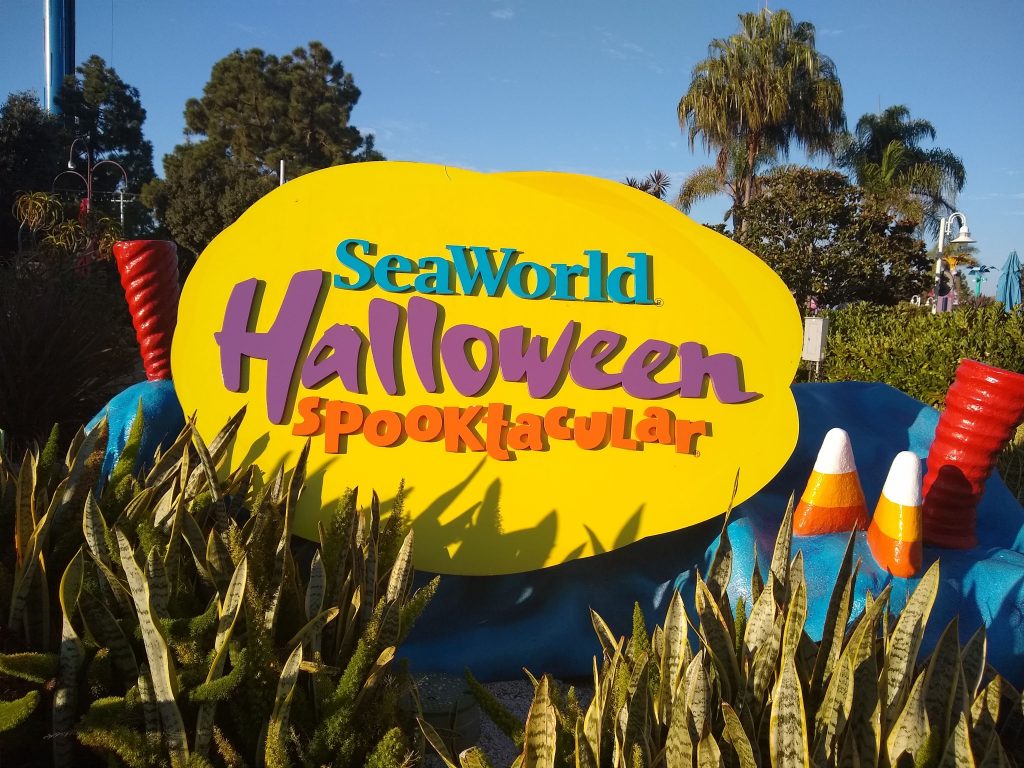 Halloween Spooktacular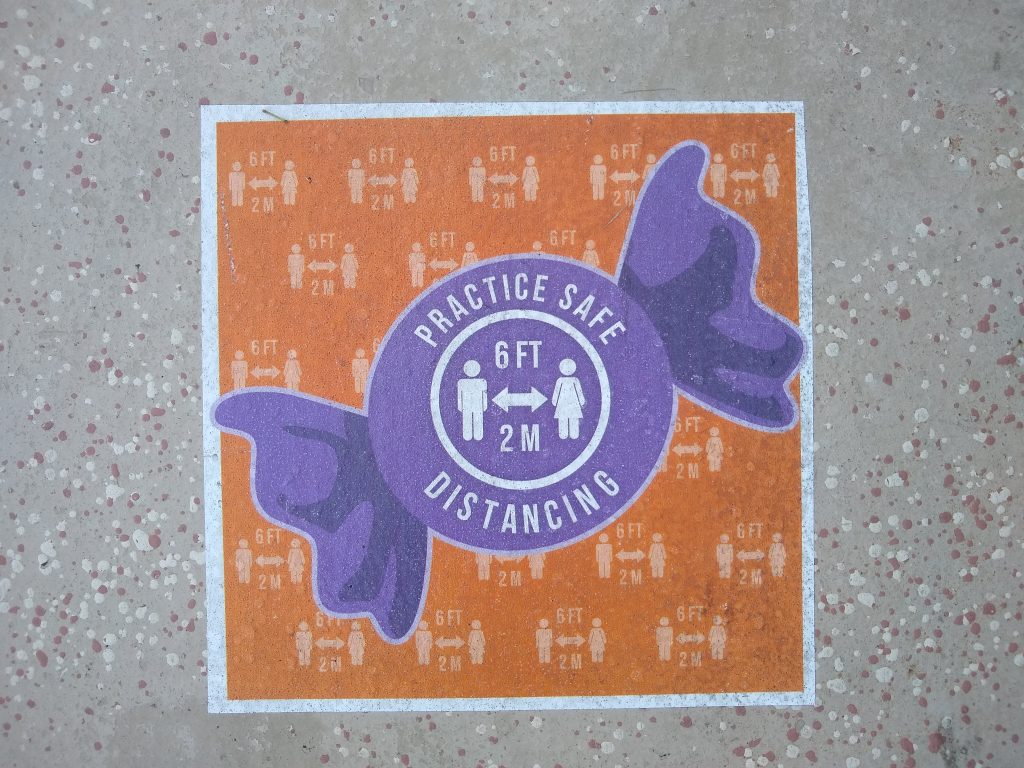 One of the hallmarks of Halloween Spooktacular is the trick-or-treating booths spread around the park. To protect both children and employees, SeaWorld came up with an ingenious idea – a chute that delivers candy right into your treat bag! On busy weekends, the lines for the candy stations tend to get quite long, so SeaWorld has also placed social distancing markers to make sure that families have enough space between each other while waiting in line. Something to note is that in order to prevent contact between individuals, SeaWorld is requiring that guests purchase their candy bags inside the park, which can be found at all merchandise locations. Pass Members receive up to 50% off the assortment of Halloween-themed reusable bags.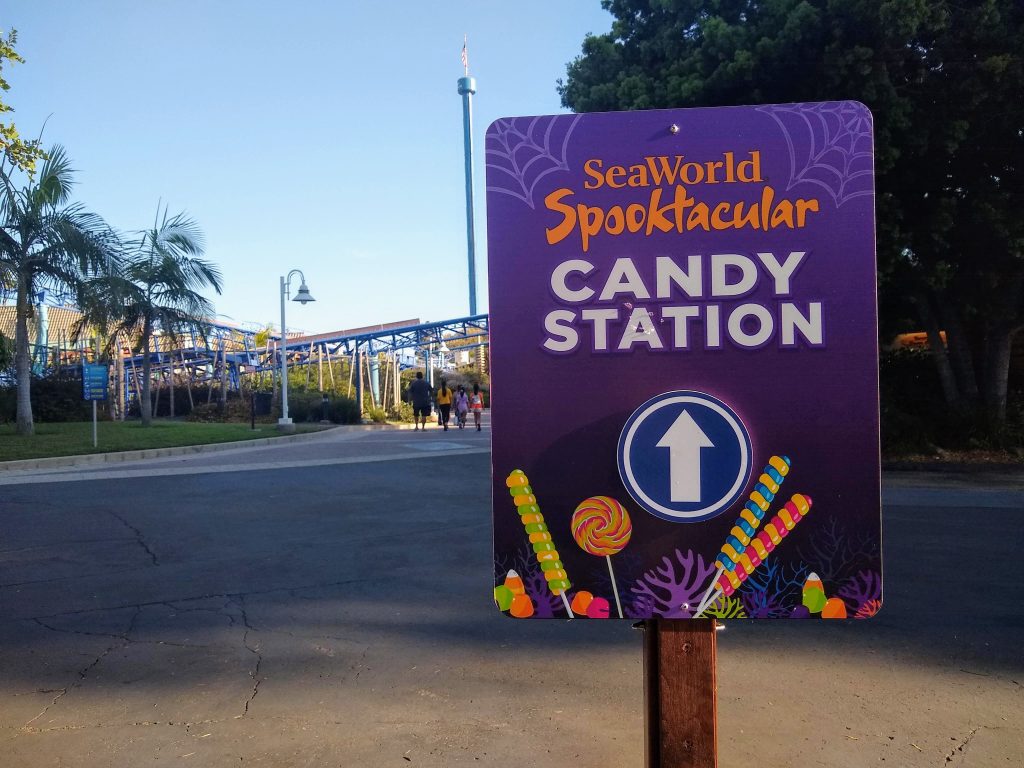 SeaWorld also put together the Monster Mash Dance Party in the Explorers' Reef area of the park by the SkyTower. Kids can stand in circles drawn on the ground to make sure that everyone is dancing and having fun at a safe distance. Families can safely dance and celebrate together at the all-new Sesame Street Halloween Dance Party and capture photos with their furry friends dressed in festive Halloween costumes on colorful parade floats. The Sesame Street area is located by Wild Arctic and the Penguin Encounter.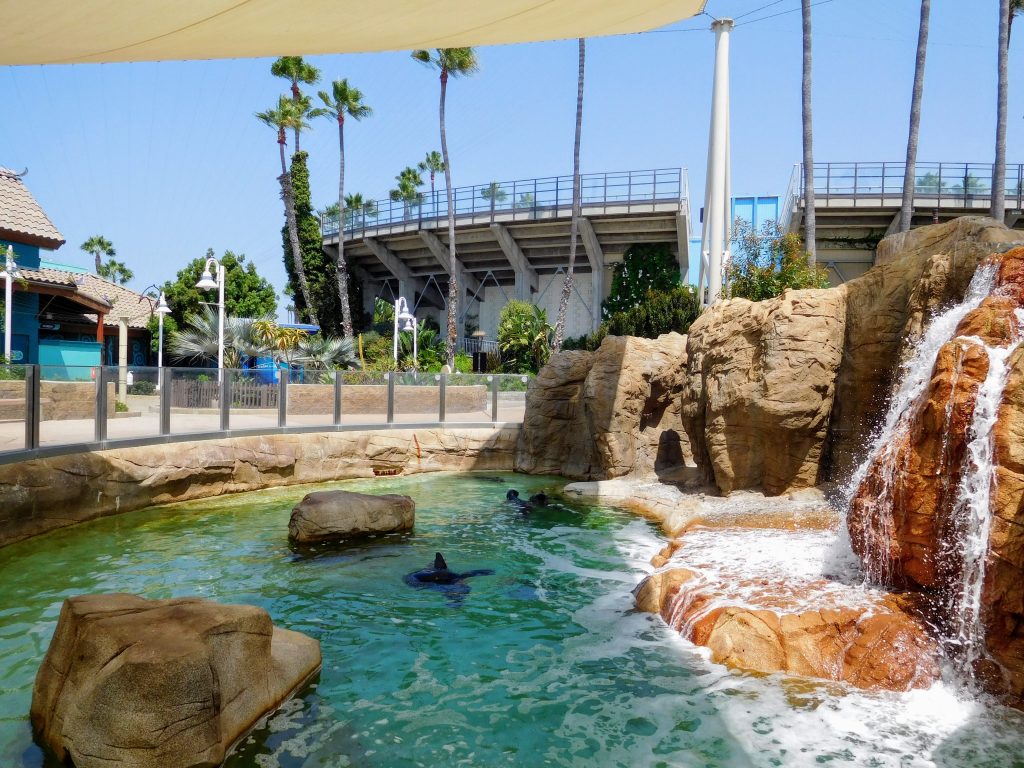 Animal Exhibits
San Diego County is currently in the Red Stage of California's tier system, which means that indoor zoological exhibits are permitted to open at 25% capacity. Unfortunately, this means that the lines for the Shark Encounter, Penguin Encounter, Turtle Reef, and Wild Arctic can get very long at peak times of the day, especially on weekends. SeaWorld has also placed markers on the ground for individual parties to stand on while in line for the exhibits. Lines seem to be at their longest on weekend afternoons, so it's best to get there early or stay late if you really want to see all of the park's animal attractions.
In addition to the indoor exhibits, the park also has many outdoor animal enclosures, including the Orca, Dolphin, Sea Lion, and Bat Ray exhibits. One lesser-known exhibit is at the back of the park by the Bayside Amphitheater. You can actually see sea turtles without having to go to Turtle Reef! There's also a section of the Shipwreck Reef Café dining area where you can sit close to these amazing and unusual reptiles.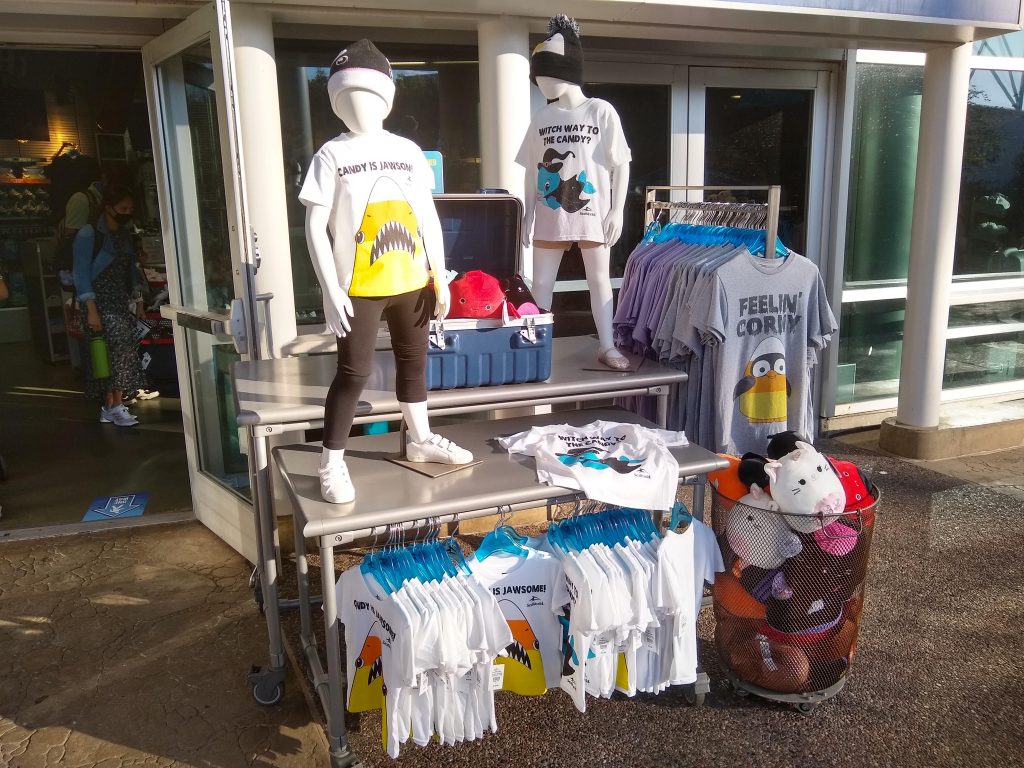 Dining and Shopping
SeaWorld's core restaurants are open with Fall-themed meals and desserts! Each restaurant's menu can be found here. Food is pre-made and served in disposable containers. Tables and chairs have been spaced out or clearly marked to ensure social distancing, and we often saw employees cleaning tables in between uses.
The park's stores have been modified to reduce indoor crowding – stickers on the ground say where guests can enter and exit so that people move through the store in one direction.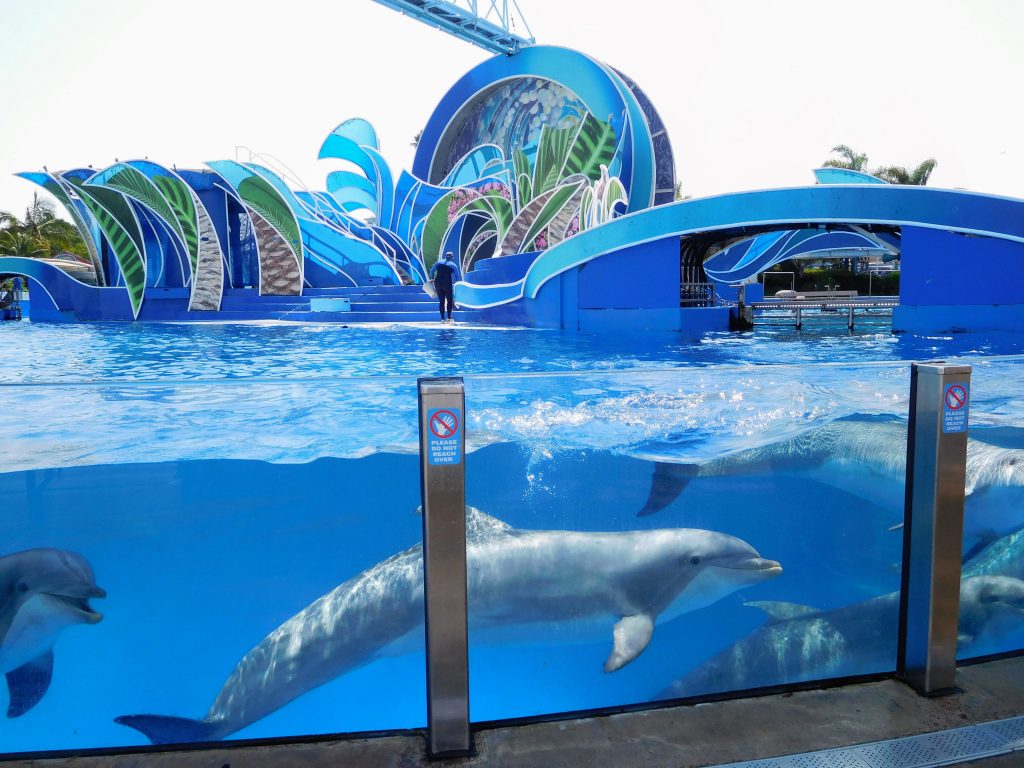 Shows
SeaWorld's signature shows – Orca Encounter, Dolphin Days, and Sea Lions Live – are all back and have many showings throughout the day. Six-foot markers have been placed along the seats to make sure that you and your family are at a safe distance from everyone in all directions. At the conclusion of each show, sections of the amphitheater are dismissed at different times to facilitate social distancing. Unfortunately, however, some people choose to ignore the directions given at the end of the shows and leave anyways, which can create a back-up of guests at the exits of the amphitheater. However, if everyone does their part to exit in a safe manner, the exit process doesn't take more than a few extra minutes.
Face Coverings
To quote SeaWorld's website, "Face coverings are required for guests 2 and older. Guests are not required to wear them while eating and drinking, or in designated relaxation areas of the park. Face shields are not an acceptable face covering, and will not be allowed for entry into the park." Check out more of SeaWorld's answers to frequently asked questions here. Overall, mask-wearing at SeaWorld is very well-enforced. On average, we saw more than 90% of people wearing face masks. Given the park's wide walkways, it's very easy to stay a safe distance from people who have taken off their masks for whatever reason. SeaWorld has a team to enforce the park's safety guidelines, and for the most part, they do a very good job at reminding people to keep their mask up when not eating or drinking. The park has also set aside many areas for guests to rest without their masks. Some areas include the Mission Bay Theater, SeaWorld Rescue Plaza, and Riptide Rescue. There are obvious signs to tell guests where they can take their masks off.
Overall, SeaWorld does a very good job of enforcing its face-covering requirements. Adherence to the safety measures is much better than we've seen at most malls and outdoor venues. SeaWorld could improve by not allowing people to walk around the park with their beverages in-hand and their mask down. Many of the theme parks in Orlando have implemented a similar requirement to reduce the number of people walking around the park without a mask.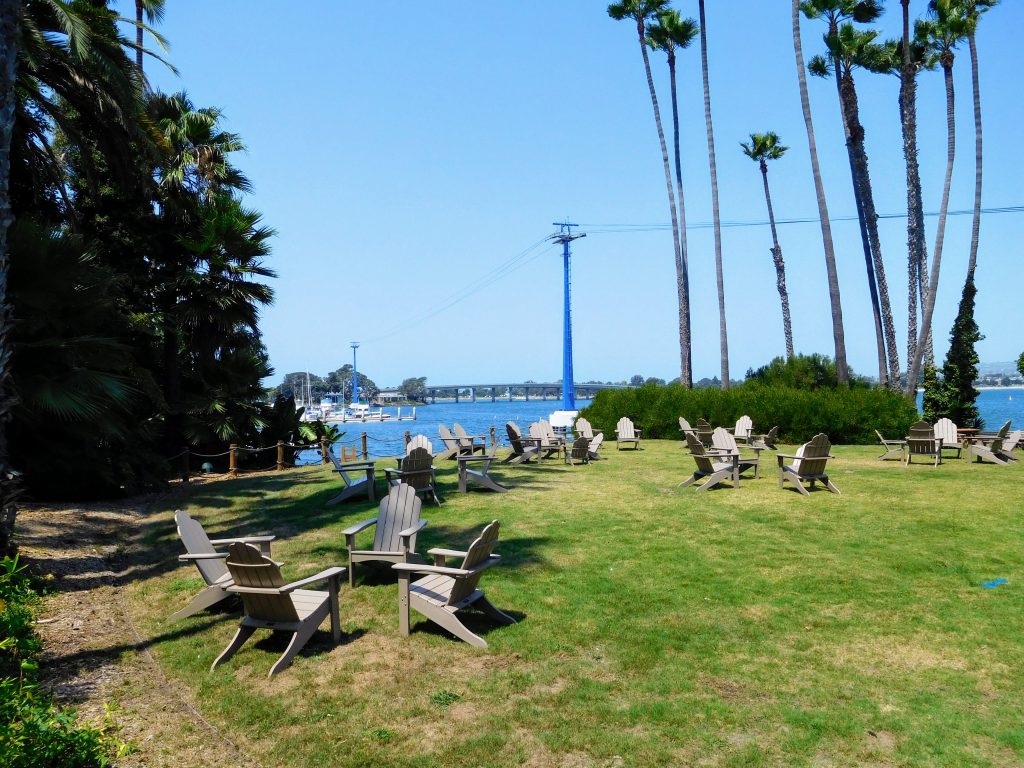 In Conclusion
SeaWorld San Diego has put on a safe and fun event as they reopen to the public with only animal exhibits. The park is checking everyone's temperature, putting social distancing markers wherever a line may form, providing hand sanitizer all around the park, and frequently disinfecting surfaces. However, like with any public place, the experience of someone on a certain day is determined by the other people that visit the parks. On some days, mask compliance was almost perfect and there were no issues whatsoever. On others, we noticed people disregarding instructions, congregating by the exits of shows, and not paying attention to the six-foot markers in line. If you are able to, we highly recommend visiting the park on a weekday. There are fewer people, more space at the shows, and shorter lines for the animal exhibits. If you visit on a weekend, just keep in mind that you may not be able to see everything in one visit. Regardless of when you visit, there are always areas of the park where you can stay distanced from others. The pathway at the back of the park is rarely crowded and you also get a great view of Mission Bay!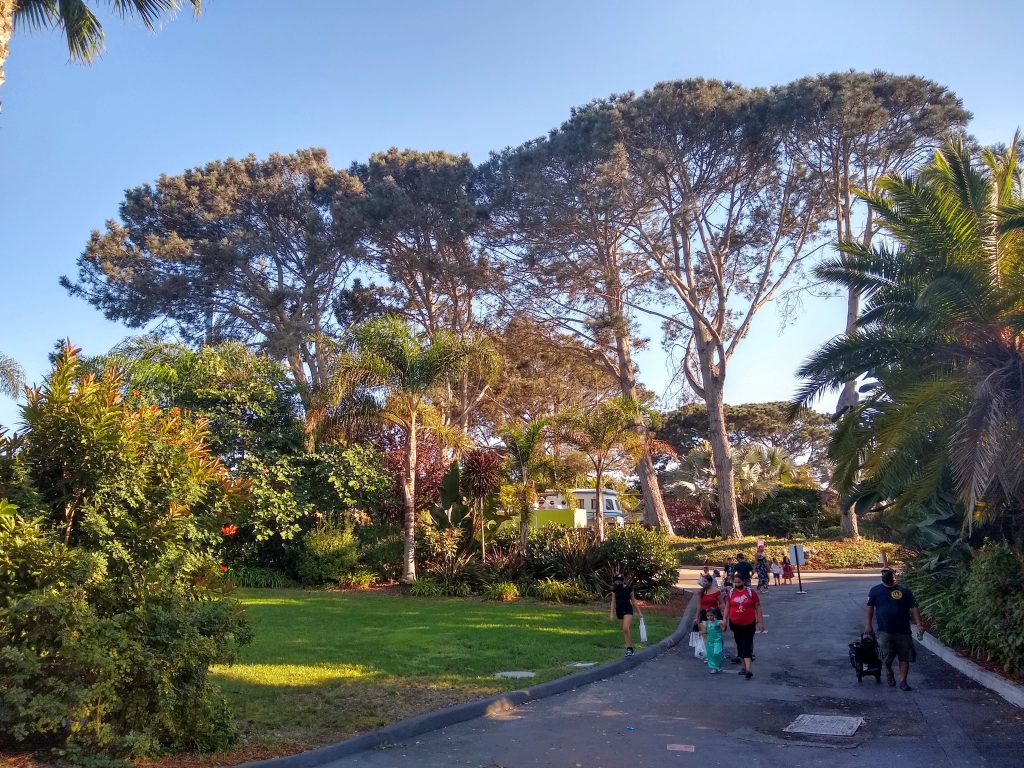 If you choose to visit any theme park or zoo during the pandemic, we urge you to please abide by the rules. The park is trying to provide a fun and safe experience, and people who disregard the rules make it harder for everyone to have a good time. SeaWorld has been very responsive to guest feedback, and every week we've visited, they've made new changes to enhance the guest experience, particularly in the lines for indoor animal exhibits. We are really glad that SeaWorld has found a way to open to the public as a licensed and accredited zoo, and we hope that they continue to enforce and improve their safety measures so that families can enjoy the beautiful park.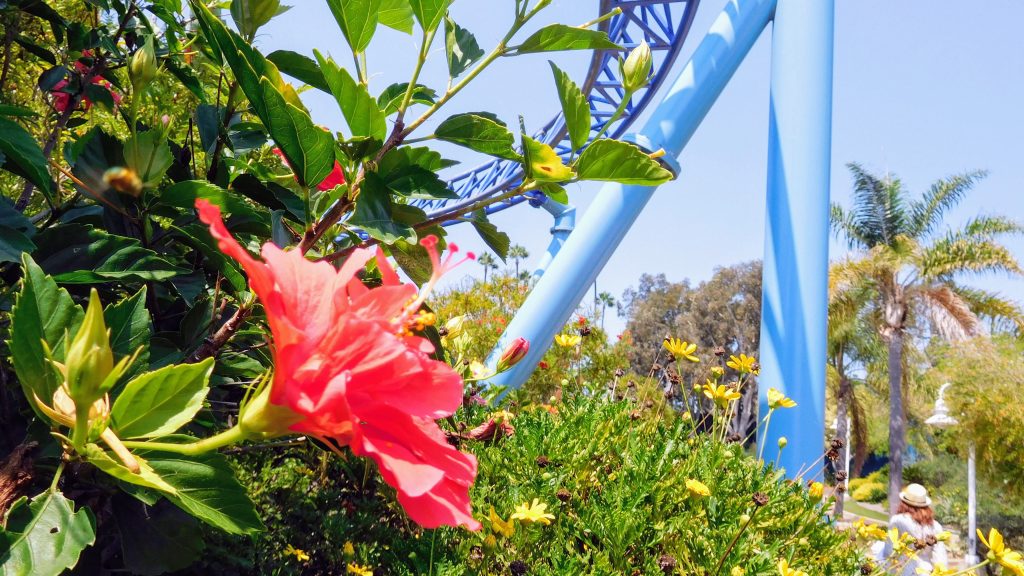 Where to Buy Tickets
Annual Pass Members and Fun Card Holders get free admission to Spooktacular and other seasonal events like SeaWorld's fan-favorite Christmas Celebration coming back again in November. The new "Best Benefits Ever" include unlimited admission for the rest of 2020 and all of 2021, FREE parking, up to 50 percent off in-park purchases, access to special rewards and Pass Members will be among the first to ride the park's all-new Emperor, California's tallest and fastest floorless dive coaster opening in 2021. Guests can also "pay for a day" and get a 2021 Fun Card good for unlimited admission (blockout dates may apply) for the rest of 2020 for FREE and all of 2021 for the price of general admission.
For more information, park hours and to purchase tickets, visit SeaWorldSanDiego.com. All ticket purchases help to fund wildlife rescue and rehabilitation efforts, habitat protections, and ocean health initiatives. Follow SeaWorld San Diego on Facebook and Instagram for the latest park updates and information.
Stay tuned for more from SeaWorld, and be sure to get social with us on Facebook and follow along with us on Twitter @BehindThrills for the latest updates!
For our latest theme park videos please be sure to subscribe to us on YouTube!