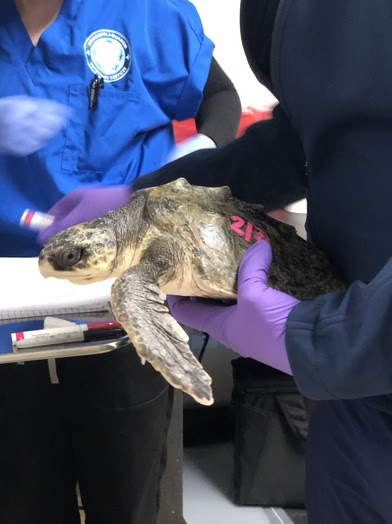 Forty-five endangered Kemp's ridley sea turtles made their trip from Cape Cod, MA to Mississippi today after becoming ill and stranded due to the annual cold-stun event that occurs between November and January each year. This year is particularly bad for turtles and is on track to have a record number of sea turtle strandings. This effort is made possible through a collaboration between The National Oceanic and Atmospheric Administration (NOAA) Sea Turtle Stranding and Salvage Network, Turtles Fly Too, Mississippi Aquarium, Institute for Marine Mammals Studies Inc. (IMMS), MS Department of Marine Resources (DMR) and US Fish and Wildlife Services (FWS). The transport contained 45 endangered Kemp's ridley sea turtles, 25 of which will be going to Mississippi Aquarium and the remaining 20 will be brought to IMMS.
The cold-blooded turtles became trapped when their southbound migration was delayed, forcing them to stay in waters that cooled down gradually as the season progressed. When the turtles were discovered on the shore, the long exposure to cold water caused them to become lethargic and stop eating regularly.
"This cold-stun season has been demanding. Turtles Fly Too has transported almost 500 of the over 800 stranded sea turtles to locations in the south. Securing pilots is becoming challenging due to the volume of flights," said Leslie J. Weinstein, President of Turtles Fly Too, a nonprofit with over 350 "Turtle Fliers" that sign up to fly endangered species and other compassion flights throughout the United States.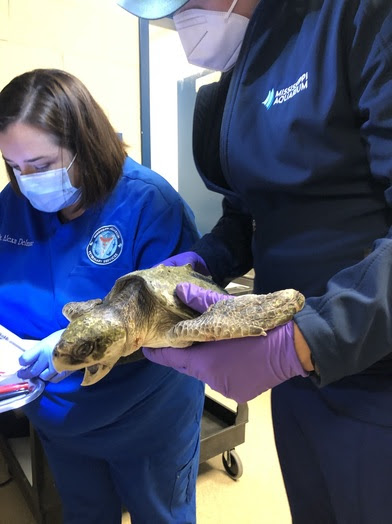 The Mississippi Aquarium Veterinary team will conduct thorough medical exams on the turtles to assess their needs and best recovery plan moving forward. Once the turtles have been rehabilitated and receive all the medical care required they will be released in the Gulf of Mexico. This rehabilitation process can take a few months for a full recovery. The time of release also depends heavily on the gulf waters warming up prior to releasing the turtles.
"Mississippi Aquarium is extremely excited to be able to help save endangered sea turtles," says Alexa Delaune, DVM Mississippi Aquarium Vice President of Veterinary Care. "We will be providing the best veterinary care possible to each individual turtle, so they have the best chance of being released back into the Gulf. This project directly aligns with our mission of conservation at Mississippi Aquarium. We are so thankful to all of our partners who are making it possible for us to help these sea turtles."
About IMMS: The Institute for Marine Mammal Studies ("IMMS") is a 501(c)(3) non-profit organization established in 1984 for the purposes of public education, conservation, and research on marine mammals in the wild and under human care. Located in Gulfport, Mississippi, IMMS has been an active participant of the National Stranding Network since its inception. IMMS is the premier stranding organization in the Mississippi-Louisiana-Alabama region of the Gulf Coast with the capability and expertise to care for sick and injured marine mammals. IMMS serves as an important educational outlet for the Mississippi Gulf Coast, incorporating programs for conservation, education and research of marine mammals and their environment.
About Mississippi Aquarium: Mississippi Aquarium, a nonprofit 501(c)(3) organization, is a premier institution delivering an awe-inspiring experience that supports animal research and conservation. Mississippi Aquarium is committed to animal welfare and the majesty of the gulf and beyond. The Aquarium sits on 5.8-acres and contains over 80,000 square feet of indoor and outdoor exhibits connected by landscaped walkways with plants that represent all the physiographic regions of Mississippi. For more visit msaquarium.org
Press release and images courtesy Mississippi Aquarium
Stay tuned for more theme park information, and be sure to get social with us on Facebook , Instagram, Twitter @BehindThrills for the latest updates! For our latest theme park videos please be sure to subscribe to us on YouTube!