Keep your eye on the Velocicoaster next time you take a stroll around the Islands of Adventure theme park at Universal Studios Resort in Orlando, Florida. The new Intamin-built roller coaster has been seen making daily test runs during park operating hours.
The attraction is one of the main sights you now see when walking into the amusement park, the black-supported black-tracked steel ride takes over as the tallest roller coaster inside Islands of Adventure and is front-and-center of attention.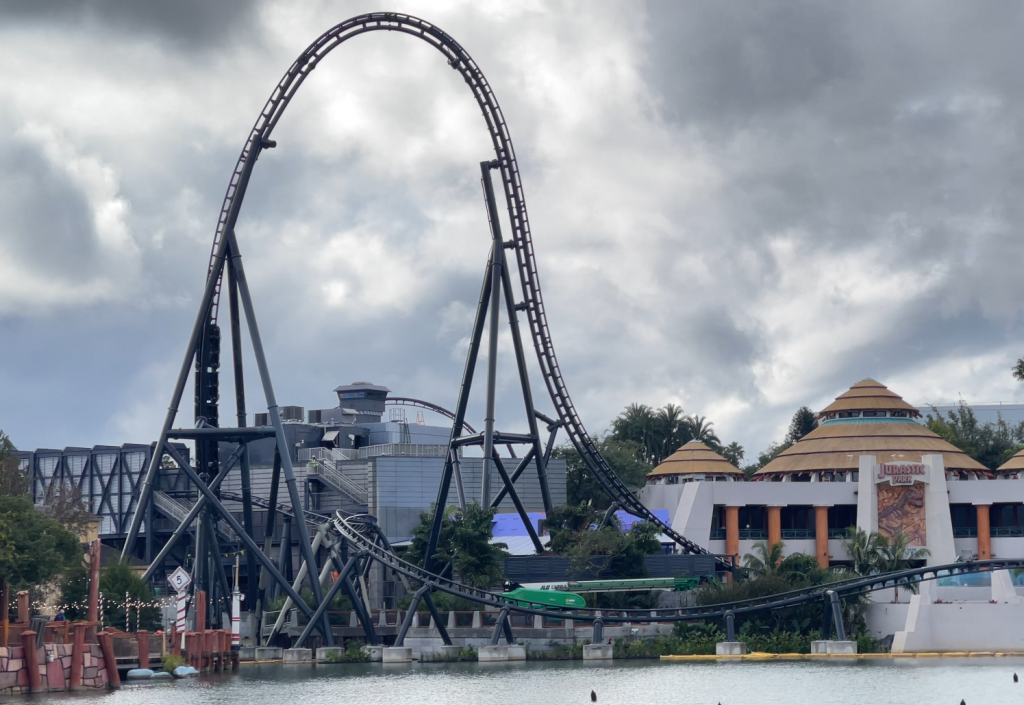 "Get ready for a new species of roller coaster. Speeding through the jungle, rising high above the terrain, it's the Jurassic World VelociCoaster. Board your vehicle for a high-speed dash through the park's raptor paddock. You'll feel the rush of the hunt as you race alongside these nimble predators, twisting and soaring above the land and water. The Jurassic World VelociCoaster is coming Summer 2021 to Universal's Islands of Adventure." -Universal Orlando
Testing footage from early this week can be seen below with multiple angles of the ride traversing through its signature elements, including a Tophat, a 100 foot-long Stall, and a Barrel Roll.
An exact opening date for the Velocicoaster has not been set by Universal Orlando, but they have stated Summer 2021. The ride reaches a top speed of 70 mph in 2.4 seconds and is manufactured by Intamin Amusement Rides. Hagrid's Magical Creatures Motorbike Adventure is also manufactured by the Liechtenstein-based company.
Trains for the attraction were also revealed recently by Universal Orlando, as teased in the video below:
Be sure to get social with us on Facebook and follow along with us on Twitter @BehindThrills for the latest updates!
For our latest theme park videos please be sure to subscribe to us on YouTube!
Also follow AmusementInsider on Twitter and Youtube for the latest updates regarding the Velocicoaster!