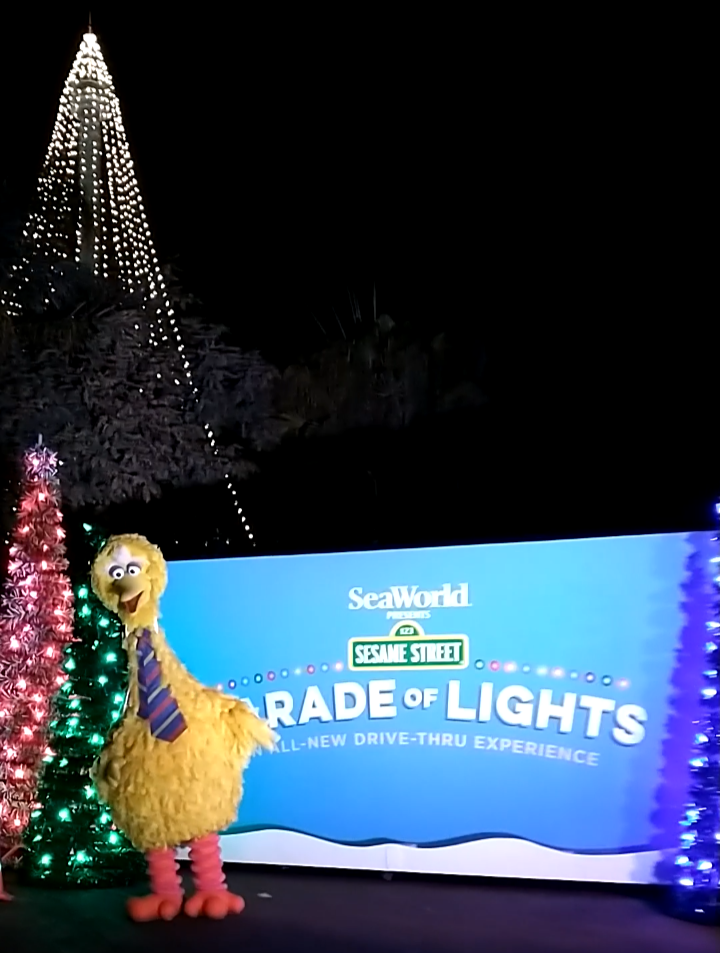 Southern California has been under Stay-At-Home order for more than a month, which has forced many entertainment venues to close down or radically change their operations. SeaWorld's latest special event, Sesame Street Parade of Lights Drive-Thru Experience, lets you drive through the park to see festive lights and your favorite Sesame Street characters.
Entering The Park
Before attending the Sesame Street Parade of Lights Drive-Thru Experience, all guests must make a reservation. You can make a reservation at SeaWorld's website here. The event costs $49.99 per car, while passholders pay half-price. You can also pre-purchase snack-pack add-ons to enhance the experience, and passholders also get a very significant discount.
When you arrive at the park, your ticket will be scanned at the front gate and you will follow a series of signs to the merchandise area. There you can buy toys, snacks, and drinks. On the night we went, they were selling the park's famous smoked turkey legs and they were DELICIOUS.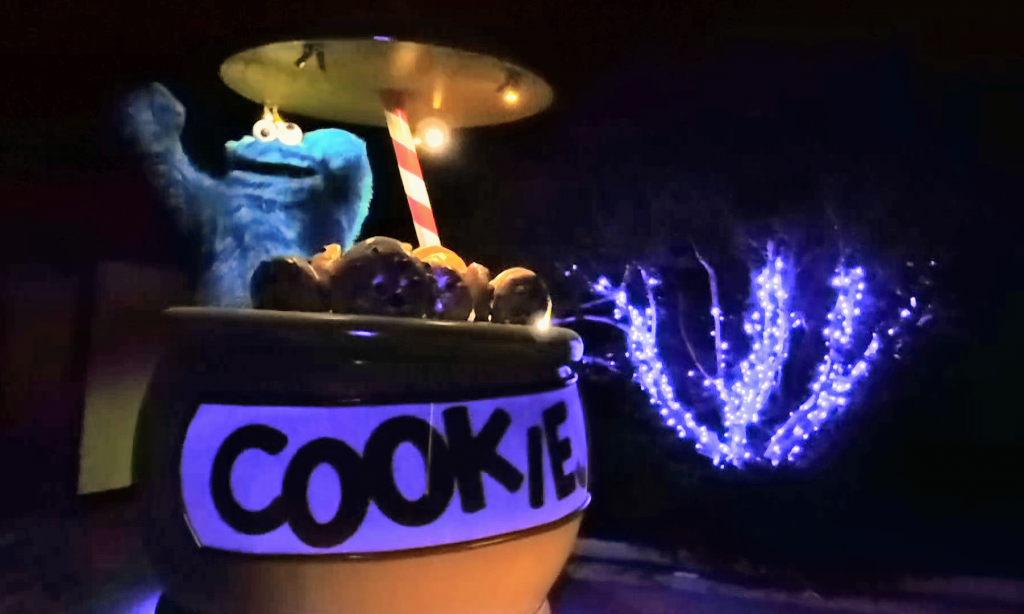 The Drive-Thru Experience
After leaving the merchandise area, your Sesame Street adventure begins! You enter the park by Orca Encounter and immediately come face-to-face with Big Bird! As you wind down the pathway, you see the giant 160-foot Skytower, adorned with warm white lights. As you drive around the SkyTower and through the rest of the experience, you'll meet other Sesame Street characters like Oscar the Grouch, Grover, Cookie Monster, and of course, Elmo! Character areas are distributed between both sides of the car, so if one character is on the left side of your car, the next will likely be on the right. This way, everyone in the car will be able to see the same amount of characters.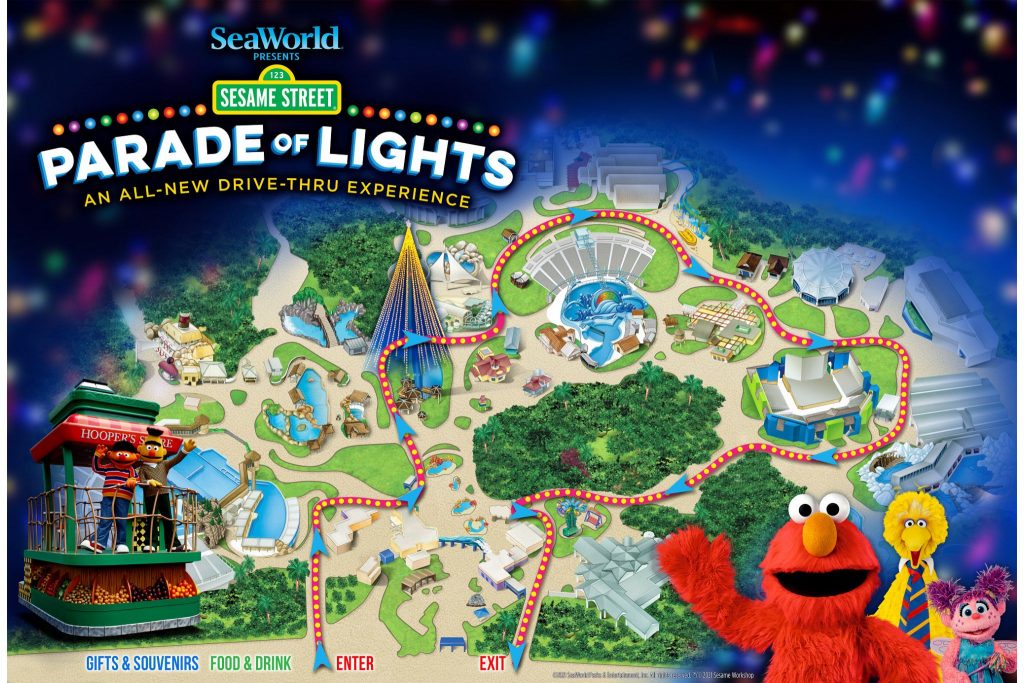 Driving through the park is very easy as there is plenty of space between cars to maintain a constant 5 mph speed. All of the Christmas lights that you may have seen during Christmas Celebration are there, and they have added additional decorations to create a really festive and happy atmosphere that you can't find anywhere else in San Diego. It's pretty much like being able to drive through the park as it was during Christmas, which is super cool – you probably won't have this opportunity again!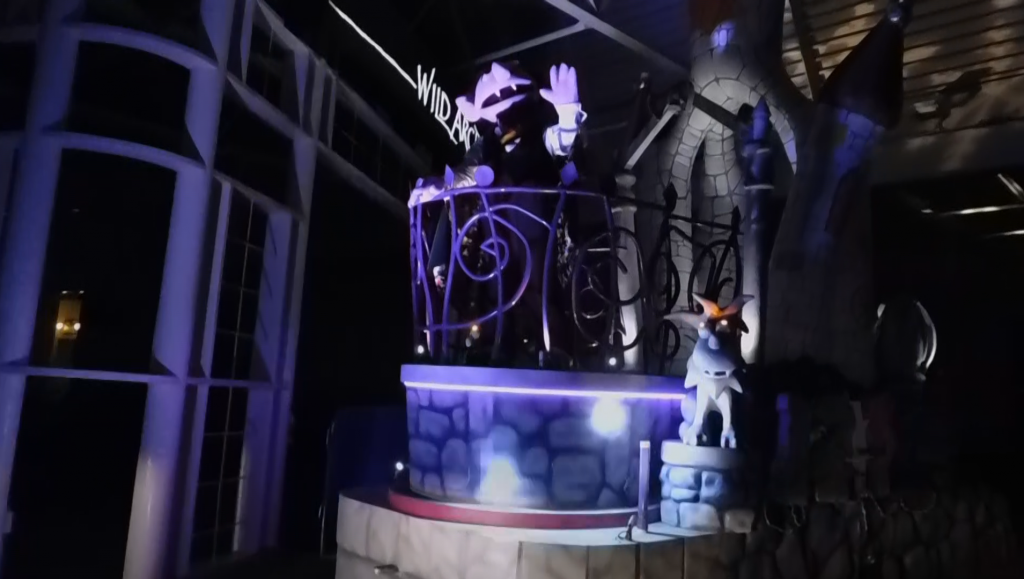 The tour ends under everyone's favorite light show tunnel. You turn into the Sesame Street village and say goodbye to Elmo as you leave the park. The experience takes around 20 – 25 minutes from the first Sesame Street character to the exit.
The Sesame Street Parade of Lights Drive-Thru Experience is a must-do event because there will probably never be another experience like this at SeaWorld in the foreseeable future. The Christmas spirit still lives on at the park, and being able to drive underneath the SkyTower brings back feelings of nostalgia. The park takes safety very seriously and requires face coverings when interacting with SeaWorld ambassadors.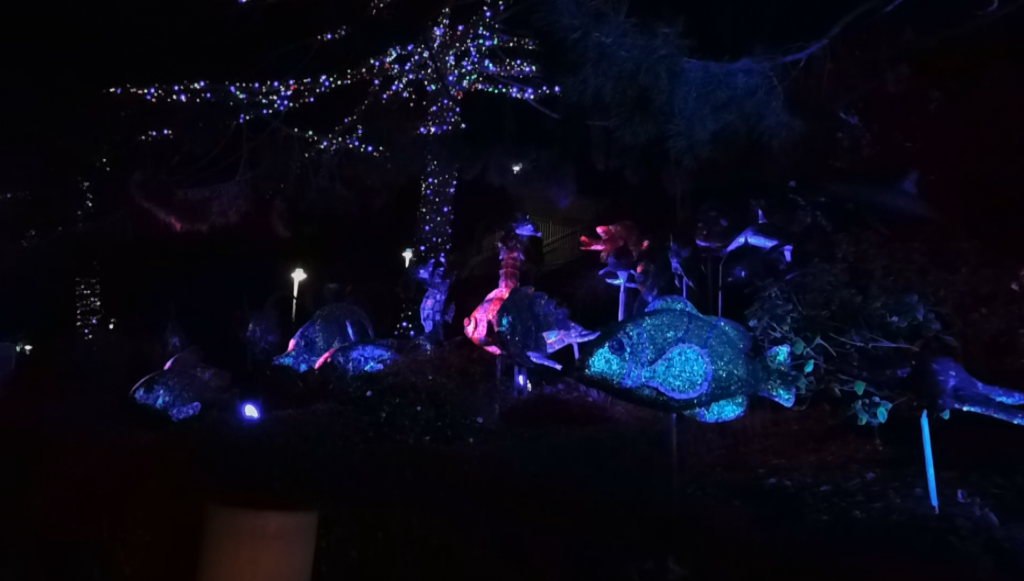 The price point for this event is relatively high, but it makes sense since it's one of the only family-friendly nighttime activities to do during the current lockdown. Definitely don't expect anything too spectacular as far as lights or decorations go since they're essentially the same as Christmas, but there are a few notable additions such as the light tunnel under Electric Eel. But if you or your kids love Sesame Street, it will be 100% worthwhile. It's also worth bringing hot chocolate or purchasing some at the park – if you're really into Sesame Street, the merchandise tent sells branded bubble blowers, capes, plushies, and more!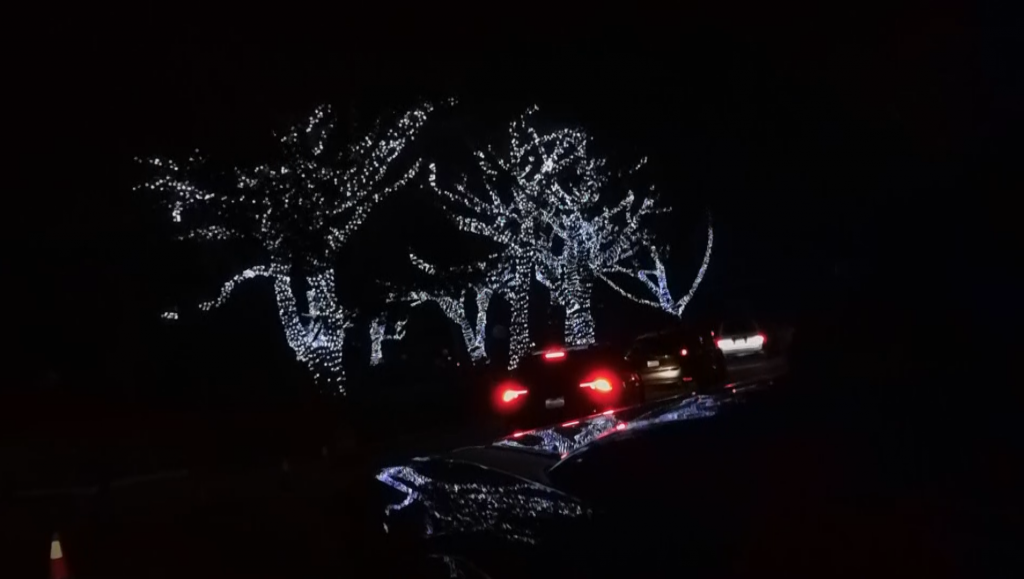 Stay tuned for more from SeaWorld, and be sure to get social with us on Facebook and follow along with us on Twitter @BehindThrills for the latest updates!
Disclaimer: SeaWorld provided Behind The Thrills with a free ticket to this event. It did not influence our review in any way.