Howl-O-Scream is SeaWorld's San Diego's newest and boo-est event, running select dates now through October 31st. This separately ticketed experience starts at 7 p.m. and runs late into the night – sometimes even up to 1:00 am on some dates. For a full list of event dates and park hours, check out the Howl-O-Scream website here. Park visitors adventure through three petrifying haunted houses and six scare zones, and no one is safe with four eerie roaming hordes moving throughout the park. Amid the horrifying mayhem, guests can enjoy nighttime rides on three exhilarating coasters, marvel at twisted acrobatics and contortions during the Vampire Circus show, dance the night away at steam-punk themed dance club, and partake in spirited libations at three creatively creepy themed bars.
We had the opportunity to check out the first night of Howl-O-Scream, and we're bringing you the top five tricks and tips to help you make the most of your time at the event! Overall, we highly recommend visiting. The three haunted houses are very well put together, and the scare zones are elaborately themed. Although it is the first year of this event in San Diego, it definitely didn't feel like it.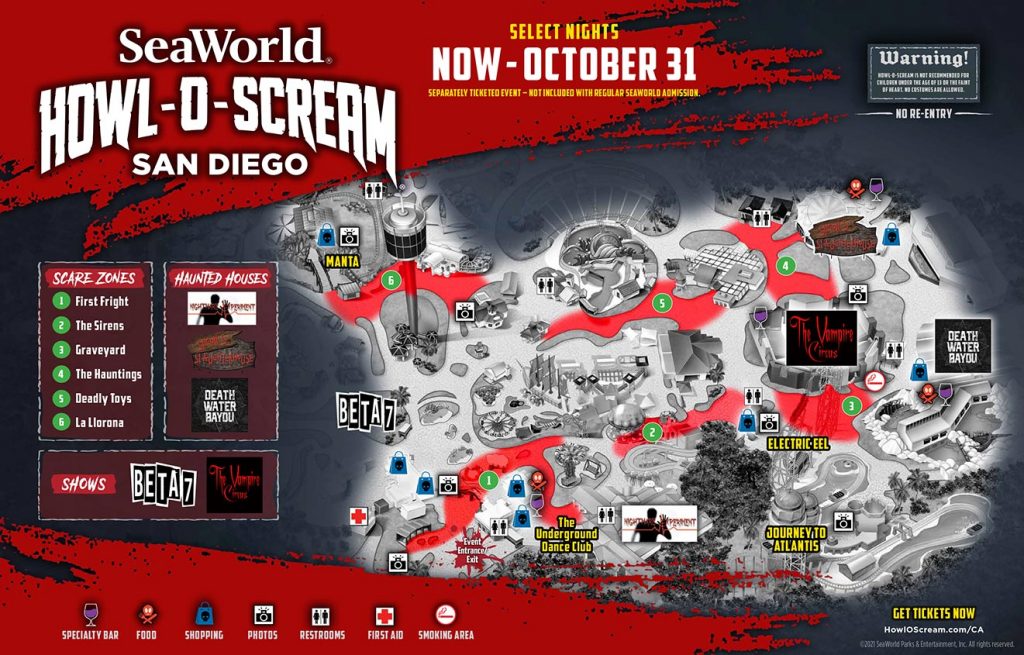 5. Plan the Order of Houses
Howl-O-Scream San Diego features three haunted houses – Nightmare Experiment, Simon's Slaughterhouse, and Death Water Bayou. It can be tough to decide which attraction to visit first, but we recommend visiting Simon's Slaughterhouse or Death Water Bayou first. The line for Nightmare Experiment will be significantly longer due to its proximity to the front of the park, so if you go to the mazes at the back of the park first, you'll be able to experience the Nightmare Experiment with a significantly shorter line later in the night.
For those who want to make the most of their night, Quick Queue passes are available for both the haunted houses and roller coasters. Check out the Howl-O-Scream website for a full list of upgrades!
The first house I would recommend visiting is Simon's Slaughterhouse, which is located by the Nautilus Pavillion, not too far from Death Water Bayou at Wild Arctic. This house is the most intense one in terms of storyline, but there are fewer opportunities to get jump-scared than at the other two houses. As you can imagine, there are a lot of bloody and gory scenes in this house, but I would consider this a good "starter" house because it is fairly well-lit. Once you exit the house, you'll enter Simon's Screamatorium – a bar where you can find "The Bloodiest Mary" and "Vomit Shots."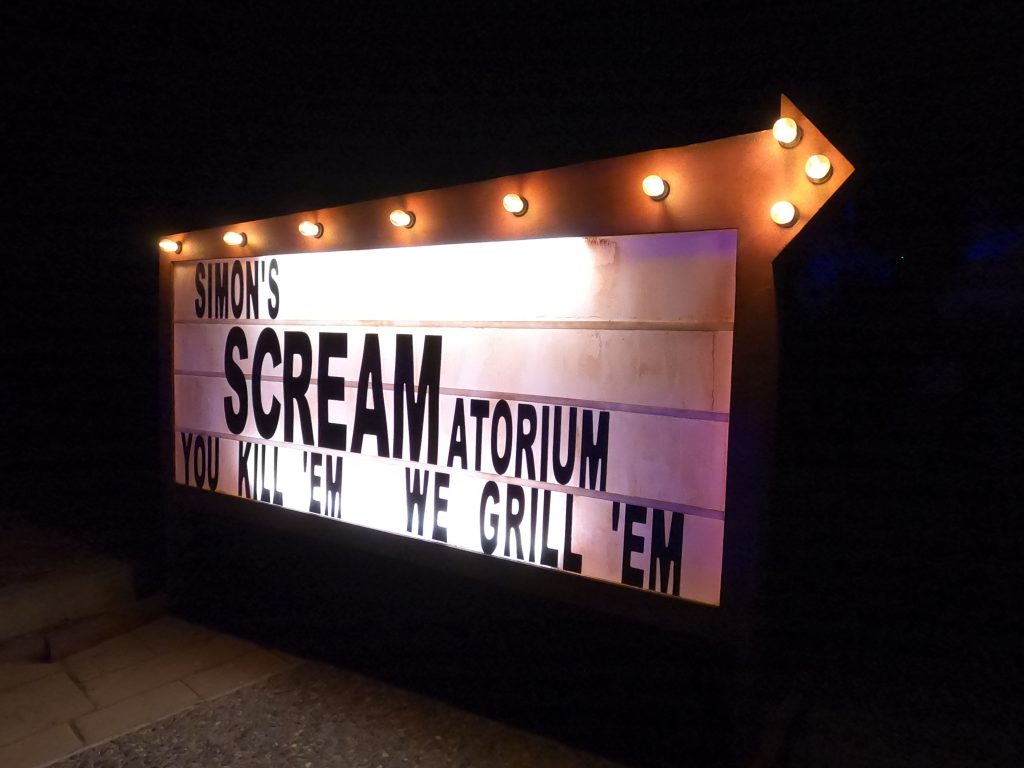 Next, I would venture to Death Water Bayou, which is a quick walk from Simon's Slaughterhouse. Death Water Bayou is themed to a haunted swamp, complete with gravestones, voodoo dolls, and the spirits of prior mortals who couldn't escape the Bayou Witch's house of cursed horrors. The strengths of this house include the multiple opportunities for scares, including scare actors that look just like mannequins, a columbarium with jump-scare panels, and a room where you can't see the floor beneath you! This maze is great, but we've saved the best for last.
Nightmare Experiment is our favorite maze by far because of the variety of scares. Simon's Slaughterhouse and Death Water Bayou mainly rely on scare actors, but Nightmare Experiment utilizes both scare actors and technology to create a frightening nightmare scenario. Out of the three houses, this house seemed to have the best variety and number of scares. Even people in our group who were unphased by the other two houses were caught off-guard by certain elements that really make this house unique.
SeaWorld's haunted houses are great not only for their props and storylines, but also because of their operations team. Other Halloween events sometimes make you feel like there is a constant "conga line" of guests going through the houses, but the SeaWorld team is really fantastic when it comes to making sure that you get an individualized experience. You feel like you are the only people going through the maze at a time. All the mazes take a solid five or six minutes to walk through, so you leave feeling satisfied that the wait was worth the experience.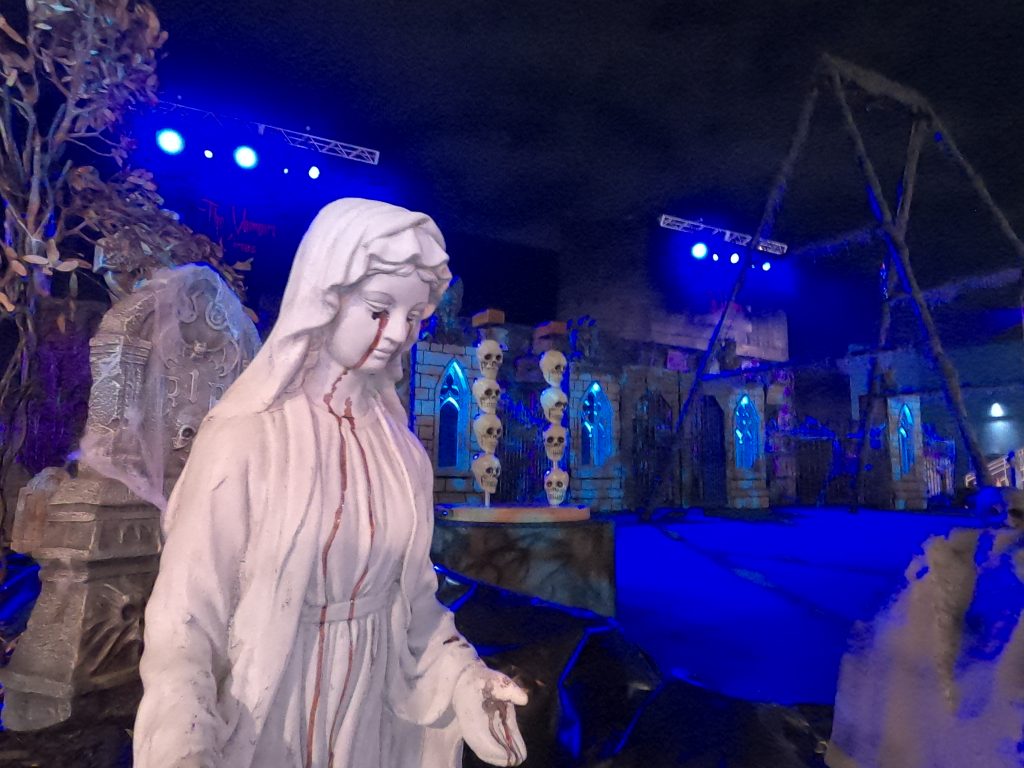 4. Catch the Circus!
In addition to the haunted houses and scare zones, one of the distinctive offerings at SeaWorld San Diego's Howl-O-Scream is the Vampire Circus, a performance set in a twisted fantasy universe where chaos and craziness give way to a haunted celebration. Guests are immersed in a spirited journey through an abandoned cemetery where an extraordinary circus comes back to life. The show's intricate set is nothing short of fantastic, and the acrobatic acts are truly mesmerizing. The show runs quite long – around 45 minutes – so make sure to grab snacks and a drink before sitting down. Make sure to watch both this show and the Beta 7 rock band, but I would definitely prioritize this show if I had to choose between the two.
3. Ride Coasters in the Dark
One of the great things about Howl-O-Scream is that there's so much more to do than just get scared. All of the park's major roller coasters – Manta, Journey to Atlantis, and Electric Eel – are open throughout the event. And the best part is that the lines are virtually nonexistent. On a Friday night, Manta and Journey to Atlantis had no more than a 5-minute wait. Electric Eel reached a maximum of 20 minutes at one point in time but usually hovered around 5 minutes as well.
2. Swim with the Sirens, Tango with the Toys
Howl-O-Scream's six scare zones cover most of the park, and our favorite zones were The Sirens and Deadly Toys. The Sirens is located in the Ocean Explorer realm of the park, which is where you arrive after going through the light tunnel. Sirens, pirates, and other marine creatures haunt this realm, and there is a really interesting surprise once you get to the end of the area! Dealy Toys is located behind Dolphin Amphitheater – the theming pieces and detailed costumes really make this area unique. There's even a large dollhouse where a scare actor showcases her demented "toys." Other scare zones include First Fright at the front of the park, the Graveyard by Electric Eel, La Llorona by the Skytower, and The Hauntings in between Simon's Slaughterhouse and Death Water Bayou.
In the event that you don't like being scared on the pathways, there are "No Scare Necklaces" available for purchase at the park's gift shops. These necklaces alert scare actors that you do not wish to be scared, but cannot be used inside the haunted houses themselves. This might be a good option if you are chaperoning kids or if you want to just watch other people get scared!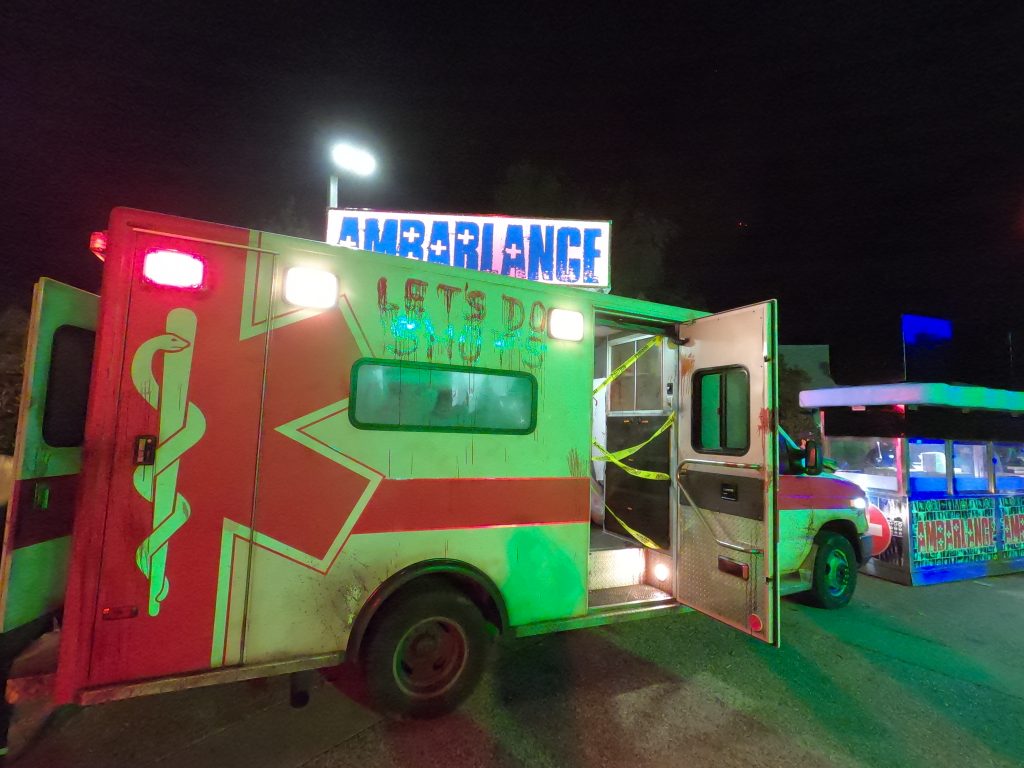 1. Invest in an Unlimited Admission Ticket!
Given all of the haunted offerings at Howl-O-Scream San Diego, one of the hardest things to do is to see everything in one night! Even if the park is open until 1:00 am, you might find yourself rushing to see all the haunted houses, scare zones, and shows. If you like to visit houses multiple times or just spend a whole night riding roller coasters, we'd highly recommend purchasing the Unlimited Admission Ticket, which costs less than two single-day tickets to the event. That way, you don't have to worry about missing a maze or not seeing a show.
Overall, SeaWorld San Diego's Howl-O-Scream is incredibly impressive for a first-year event. We were not expecting to see the elaborate theming pieces like the ambulance and human-sized smoker. Hopefully, this event's success will mean that more haunted houses come to the park next year. We had an amazing trip on the first night of the event, and we'll be visiting many more times in the coming weeks!
Stay tuned for more from SeaWorld, and be sure to get social with us on Facebook and follow along with us on Twitter @BehindThrills for the latest updates!
For our latest theme park videos please be sure to subscribe to us on YouTube!
For more information about Howl-O-Scream San Diego, including tickets, visit the official website by clicking here!