2022 is set to be a record-breaking year for the theme park and entertainment industry. Innovative and record-breaking attractions are set to debut across the country, and we're going to highlight something new coming to the North American thrill market every week! Come along with us as we learn about some of the brand-new theme parks that will be opening in just a few months!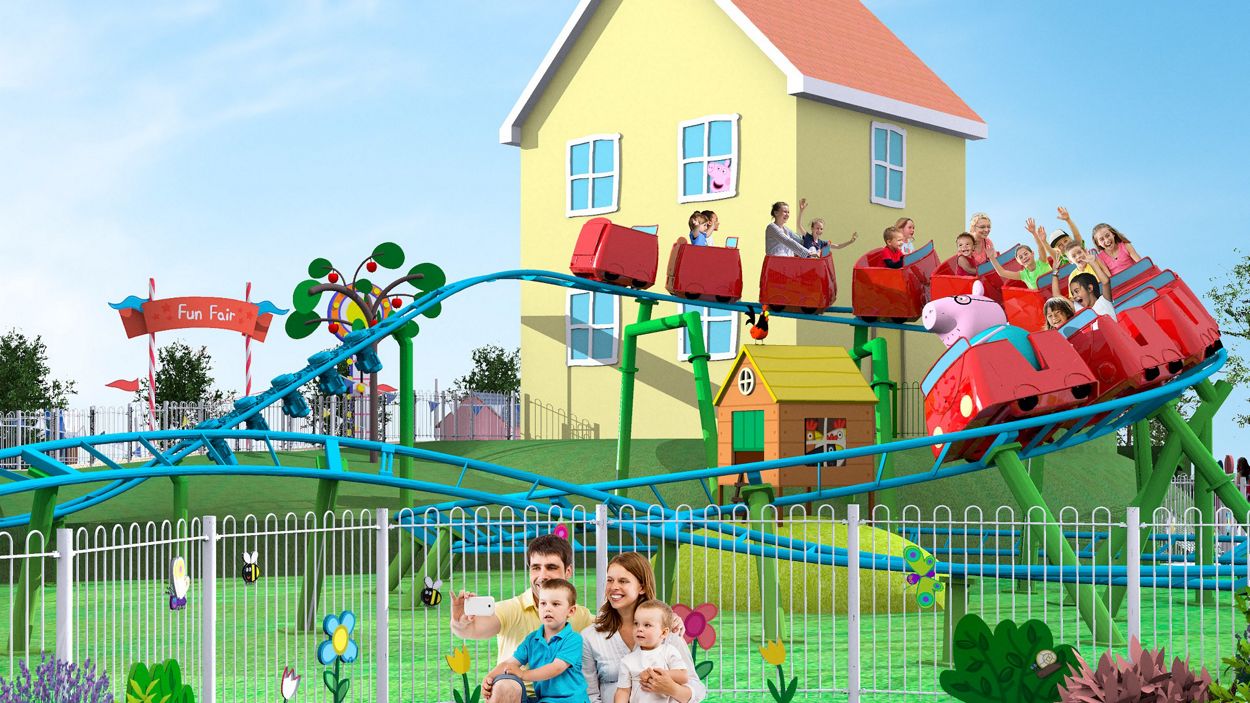 The world's first Peppa Pig Theme Park will be opening steps away from the Legoland Resort on February 24, 2022. The park will feature six rides, six themed playscapes, and a water play area to create an 'oink-tastic' experience. The most notable ride in the new park is Daddy Pig's Roller Coaster, where children and their parents will take a ride with Daddy Pig in his recognizable red car and go on an unexpected adventure when Mr. Bull's "digging up the road" sends you on a curvy exploration of Daddy Pig's new short cut! According to the park, this family-friendly thrill ride is the perfect first roller coaster for brave "little piggies!"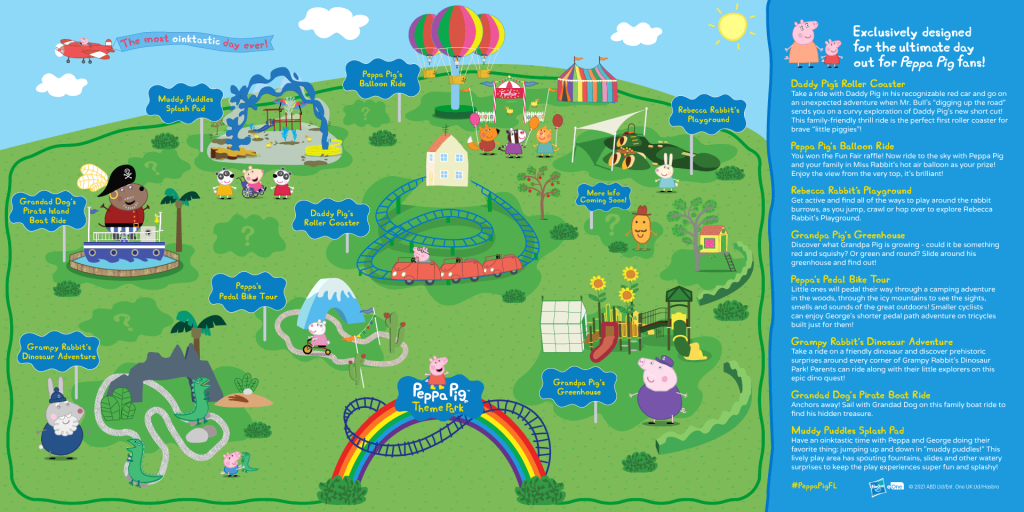 Other rides that you can experience at the Peppa Pig Theme Park when it opens next years include Peppa Pig's Balloon Ride, Grandad Dog's Pirate Boat Ride, Grampy Rabbit's Dinosaur Adventure, Mr. Bull's High Striker, and Peppa's Pedal Bike Tour and George's Tricycle Trail. Check out the map above for detailed descriptions of each of the rides! For more information about the Peppa Pig Theme Park at the Legoland Florida Resort, check out the park's official website here, and click here for ticket and annual pass information!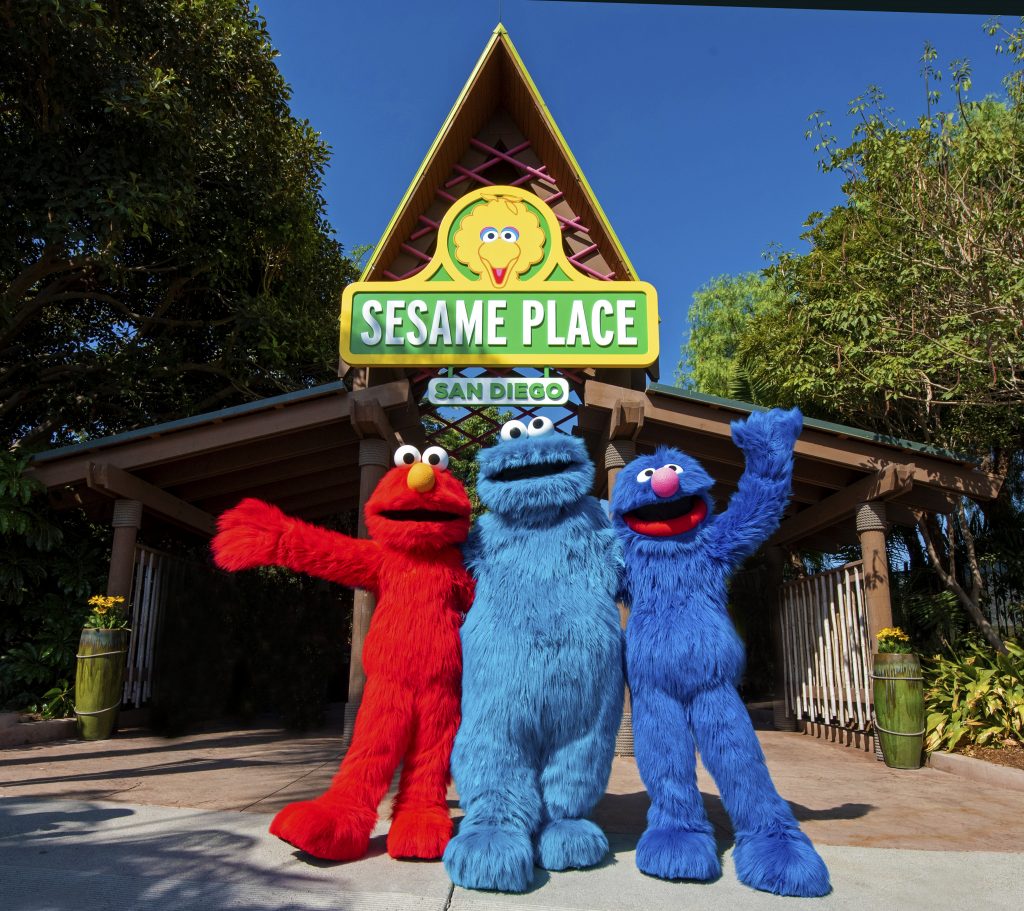 On the other side of the country, another amusement park themed to a popular children's show will be opening — Sesame Place San Diego in Chula Vista, California will open its gates to the public in March 2022. The new theme park is just a few minutes' drive south of SeaWorld San Diego, and will be located on the old site of the Aquatica waterpark. This theme park will be a combination of a traditional "dry park" and a waterpark. The new 17-acre Sesame Place will be the second location in the country and the first located on the West Coast. It will also open as a Certified Autism Center.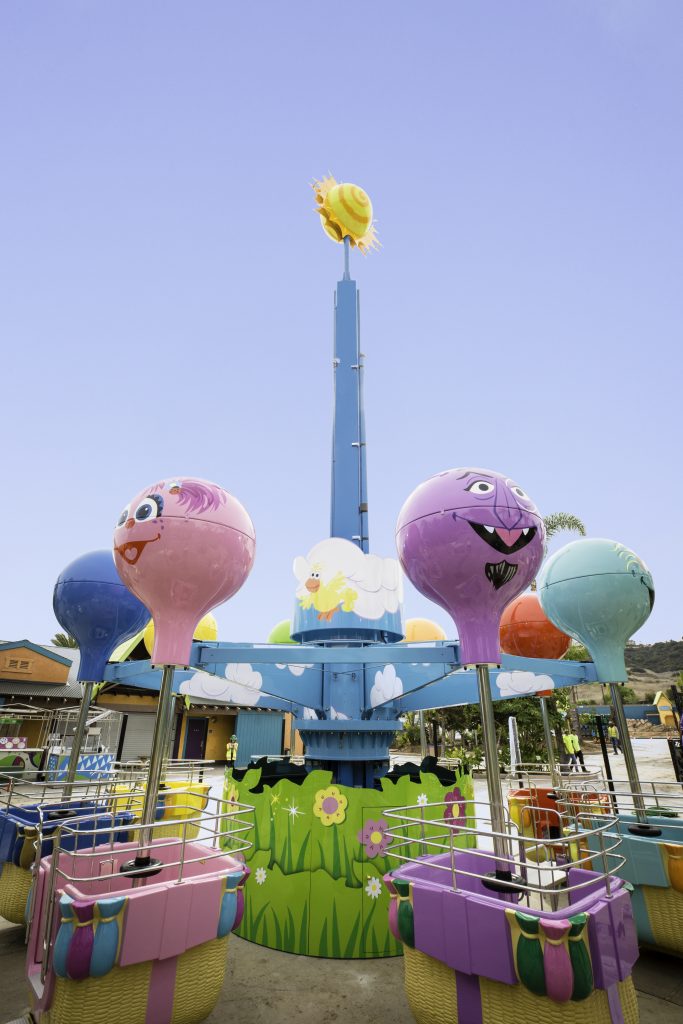 Like Peppa Pig World, Sesame Place San Diego will open with a host of family and children's rides. Super Grover's Box Car Derby is a family-friendly coaster full of fun hills, big turns, and mini-dives. Some other rides at the park include:
Elmo's Rockin' Rockets let kids hop in one of Elmo's rocket ships as they fly up, down, and all around on an imaginary trip through outer space
Sunny Day Carousel, a cute, colorful, classic ride that's perfect for all ages
Cookie Climb puts kids in a cloud of cookie crumbs as they pull themselves to the top of Cookie Monster-themed towers and hang on tight for a giggling ride back down
Abby's Fairy Flight, a family swing ride themed after everyone's favorite fairy-in-training
Rosita's Harmony Hills lets kids of all ages climb, crawl, and create beautiful 'música' as they play on the rolling green hillsides
Rub-A-Dub Sub invites kids to buckle up and get ready for a bubbly adventure aboard Ernie's toy submarine; the S.S. Duckie goes around and around both forward and backward, bringing smiles to everyone on board
Sesame Street Soar & Spin lets guests choose their favorite furry friend's balloon and go up high for a bird's-eye view of the park
The park will also feature an interactive Sesame Street Neighborhood complete with the iconic 123 Stoop, where kids can play in a world that plays back through immersive physical and digital character experiences. According to Sesame Place, the park's 11 water rides will not initially open with the park, but will open in time for Memorial Day Weekend. Guests will have exciting ways to engage with Sesame Street characters, including a live character show, an award-winning daily parade, one-of-a-kind photo opportunities, and hugs from everyone's favorite furry friends. For more information about Sesame Place San Diego, check out the park's official website here, and click here for ticket and annual pass information!
We're extremely excited to visit these new parks when they debut early next year! Will you be visiting either of the new theme parks debuting in 2022? Be sure to get social with us on Facebook and follow along with us on Twitter @BehindThrills for the latest updates!
For our latest theme park videos please be sure to subscribe to us on YouTube!