Adventure Island, Busch Gardens Tampa Bay's sister water park, invites you to 'splash' into 2022 with 2 brand new attractions and a whole lot of upgrades and improvements. We were lucky enough to be invited out to see all the brand new changes coming this Spring and to get a behind the scenes look of what guests can expect.
Two new attractions will be making a splash at Adventure Island, just in time for spring break! Guests can race down an all-new dueling water slide, Rapids Racer, featuring the world's first dueling saucers. Wahoo Remix, formerly Wahoo Run, will also re-surface as a new experience, with exciting first-of-its-kind ride elements for Tampa's Island Paradise!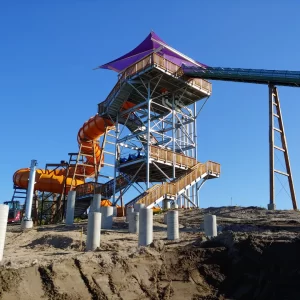 Wahoo Remix, formerly know to the public as Wahoo Run, will be the parks first water slide to feature synchronized light and sound elements. Riders will enjoy waves of water and sound as they splash to the beat with ultimate party vibes. Tunnels that were once dark will now glow and groove and with brand new family sized rafts, Wahoo Remix is sure to deliver an all-new, high energy, raft ride that the whole family can enjoy!
Rapid's Racer is a side-by-side racing experience featuring six different dueling elements and complete with low walls to encounter your opponents through this side-by-side racing experience. Riders will grab a 2 person raft before racing through the high speed tunnels, twists and turns, before swirling through the world's first dueling saucer elements in this exhilarating journey.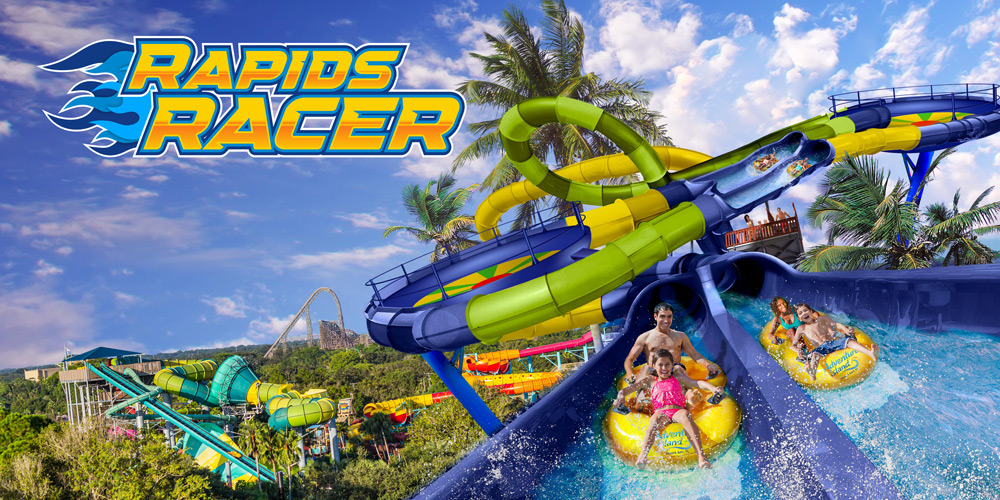 The park will be experiencing it's biggest transformation in it's 42 year history. In addition to the two new slides, the entire front entrance will be transformed. Upon walking up, guests will be greeted by a waterfall and a modernized, larger entrance plaza, complete with a new, large marquee sign welcoming guests to the park. "What we're doing is we're totally elevating the experience for guests," Adventure Island vice president Brandon Thom said. "It's not just one new ride, it's not just one record-breaking thing, it's the entire experience of Adventure Island."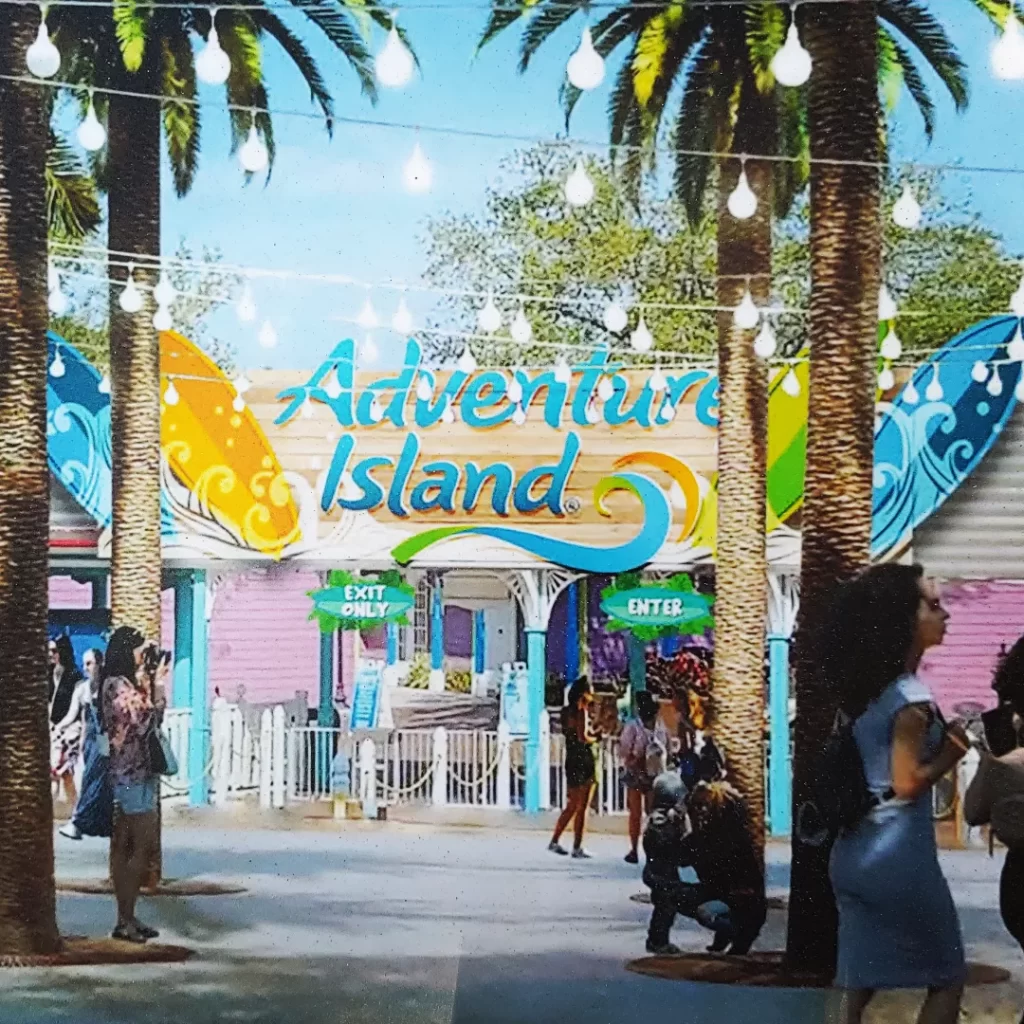 Once inside the park, guests will notice the new and improved beach next to the wave pool, Endless Surf. The whole area has been transformed by adding more natural shade and landscaping, while keeping the same amount of seating, to help the guests beat back the summer heat. For those who prefer to lounge in luxury, the cabana's near Endless Surf, have been upgraded to elevate the guest experience.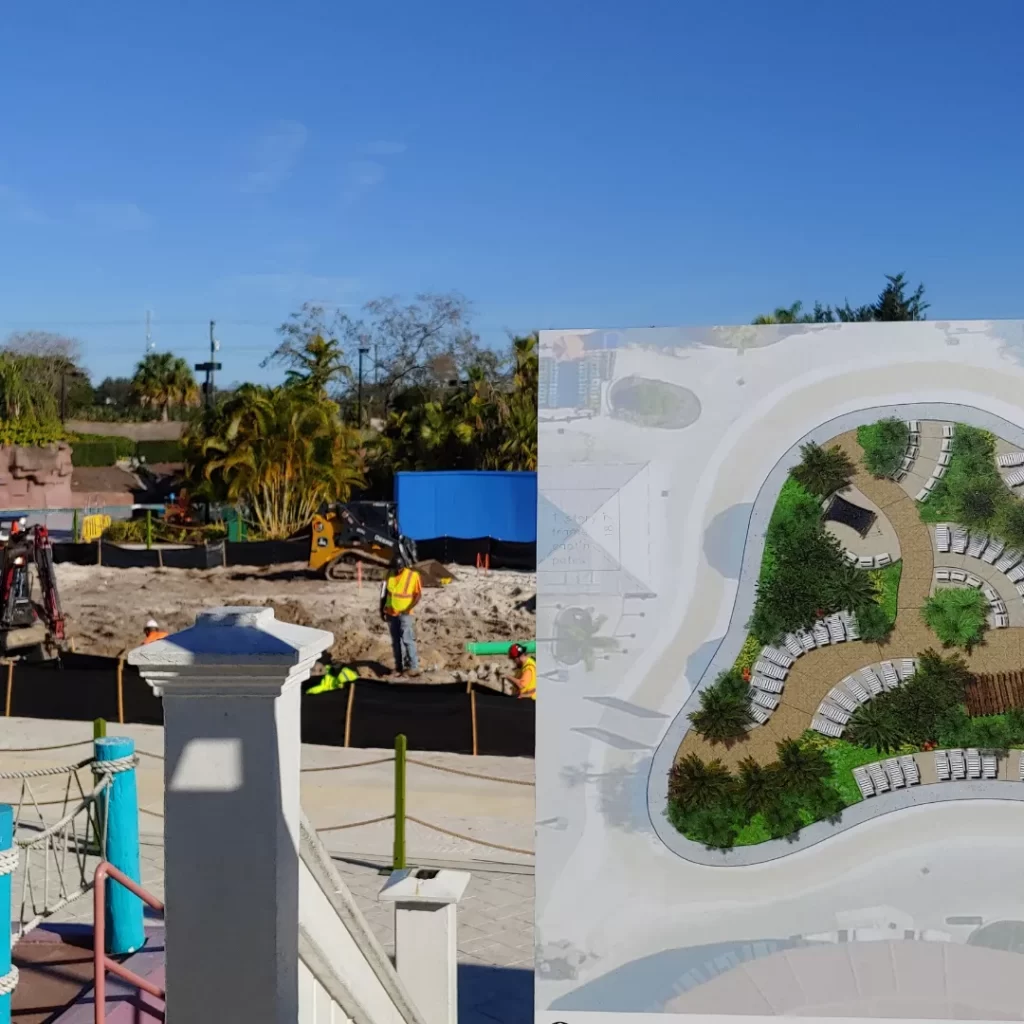 Guests can choose to venture beyond the island with a new immersive experience, Virtual Reality Snorkeling Experience. Guests can 'dive' into a new world by choosing from three virtual excursions that will transport them to places beyond the pool. This upgrade experience suspends participants in the pool for 5-minute adventures complete with video, audio and sensory elements, including synchronized bubble and jet effects.
Adventure Island opens for the season on March 5th.
Want to know more about all the changes happening in the Busch Gardens family of parks?? Stay tuned to Behind the Thrills for more theme park information, and be sure to subscribe on YouTube or get social with us on Instagram, Twitter or Facebook for the latest updates!