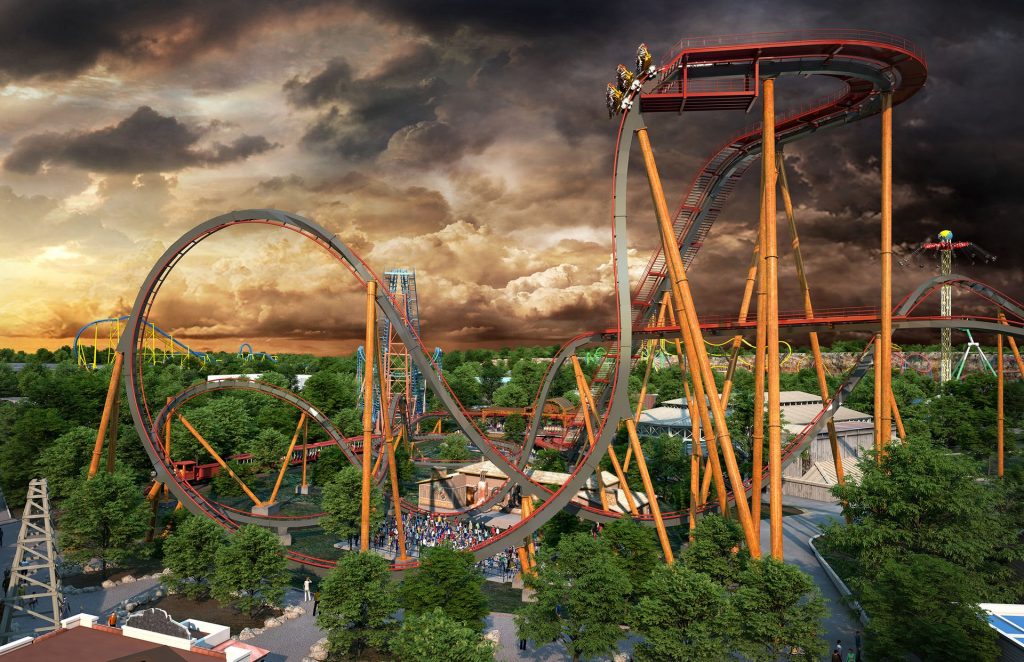 Dr. Diabolical's Cliffhanger, the newest roller coaster under construction at Six Flags Fiesta Texas in San Antonio, TX, has reached a major milestone. The ride's lift hill is complete, meaning that the tallest point of the roller coaster has been constructed. According to images posted by park president Jeffrey Siebert, the summit of the coaster's lift hill stands as an adrenaline-pumping addition to the park's skyline.
Key features of Dr. Diabolical's Cliffhanger include:
Three sleek trains with three rows of passengers, seated seven across;
2,501 feet of soaring track;
Thrilling anticipation while the ride vehicle pauses in a face-first cliffhanger hold before plummeting 150 feet;
Spectacular, beyond-vertical, 95-degree first drop;
A second 75-foot, near-vertical drop;
An Immelmann inversion, during which riders enter a half-loop, followed by a half twist, then exit the element traveling in the opposite direction making a 180-degree turn;
Four intense elements, including an extreme airtime hill, wild-banked turn, high-speed spiral, and 270-degree zero-g roll;
Speeds of up to 60 mph;
Immersive steampunk theming that tells the story of Dr. Diabolical's plot to harvest fear; and
Dr. Diabolical's Cliffhanger is a custom-designed roller coaster created by Bolliger & Mabillard.
Riders must meet the 52-inch height requirement. Dr. Diabolical's Cliffhanger was announced during the FT92 Fan Event, and will debut in the summer of 2022 during the park's 30th Anniversary season. It will be located in the Crackaxle Canyon Screampunk District.
For more information about Dr. Diabolical's Cliffhanger, and all the exciting events planned for the 30th Anniversary season at Six Flags Fiesta Texas, visit https://www.sixflags.com/fiestatexas/new-experiences