7 Most-Thrilling Attractions in Yas Waterworld Abu Dhabi
Water parks are designed to cool down guests while giving them an exciting, fun time. Because
of this, if you're planning to spend a day at an aquapark, you need to prepare yourself to go on
the most thrilling slides, rides, and attractions to get the most from your visit.
As the top water park in the UAE, Yas Waterworld Abu Dhabi is home to several of the most
thrilling attractions in the United Arab Emirates. Some of them even hold world records,
making them the most exhilarating and unique rides and slides you can go on in your life.
Heart-Pumping Rides and Slides in Yas Waterworld Abu Dhabi
When you've psyched yourself up sufficiently to experience the most exciting, adrenaline-
pumping rides, slides, and attractions in Abu Dhabi, make a beeline for the following:
1. Dawwama
Imagine sitting on a round inflatable tube with five of your friends or family members
and dropping into a 20-meter-long tornado funnel at heart-pumping speeds.
However, don't expect a straight fall into a splash pool. The bumps, shakes, and
oscillations will make you hold your breath or scream out loud as you plunge through
the funnel.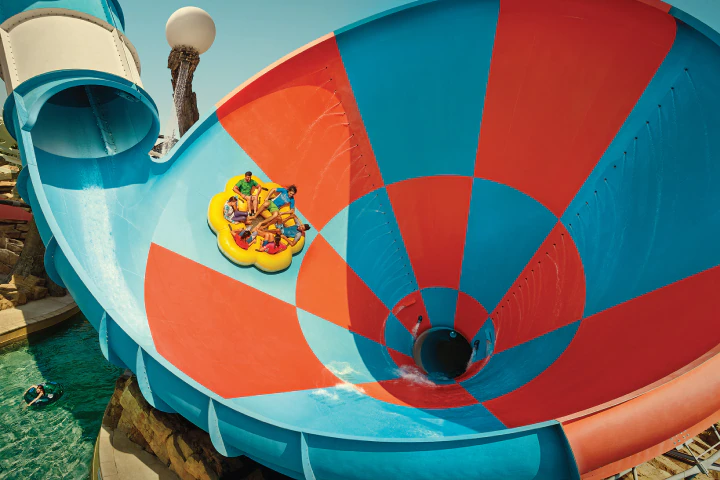 You'll experience all these at Dawwama.
Dawwama presently holds the world record for the largest six-person tornado water
coaster. Because of this, the thrill you'll experience at this ride will definitely be
intense and out of this world.
It is a must-try ride for all adrenaline junkies and thrill-seekers.
2. Falcons Falaj
Falcons Falaj is another exhilarating water slide that you can go on with your friends or
family.
On the longest six-seater water coaster in the world, you and your group will board a
hydromagnetic-powered raft to ride through an exciting watercourse full of heart-
dropping drops and turns.
The high-speed ride with unexpected twists, turns, and drops is designed to make you
scream your lungs out and keep you on the edge of your raft seat.
Falcons Falaj is worthy of being included in Yas Waterworld Abu Dhabi's roster of
extremely thrilling attractions.
3. Liwa Loop
Long waterslides are always fun, exciting attractions in water parks. But if you're going
down the slide standing up then falling through a disappearing floor instead of the
regular sliding action, you can expect an exhilarating experience that you won't forget
forever.
In Liwa Loop, you'll step into a capsule and wait for the floor to disappear. You'll then
drop straight down into a high-intensity looping waterslide.
The Liwa Loop is the first freefall drop waterslide in the UAE and the Middle East. It is a
must-try attraction for all thrill-seekers and anyone who wants to try an adrenaline-
pumping experience.
This waterslide is not for the faint of heart, so proceed with caution.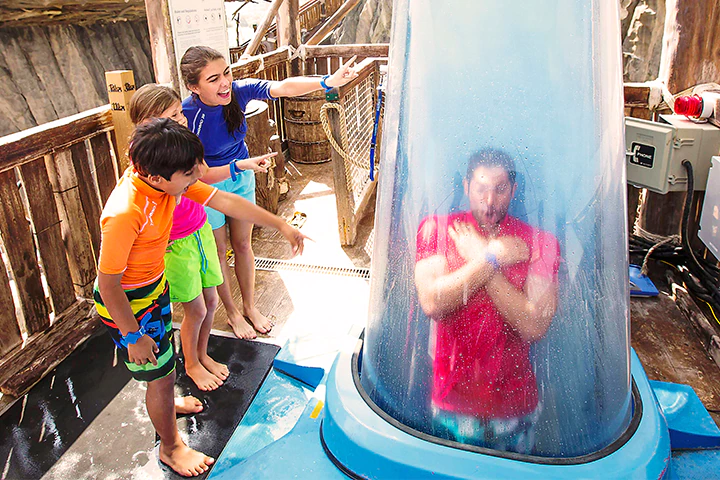 4. Bandit Bomber
The Bandit Bomber is a suspended roller coaster that takes you through the water
park.
While on this ride, you'll get incredible views of Yas Waterworld Abu Dhabi and other
attractions in Yas Island, including Warner Bros. World Abu Dhabi, the most popular indoor amusement park in the UAE, and Ferrari World Abu Dhabi, the only Ferrari-
themed park in the world.
However, this attraction doesn't only give you a thrilling aerial ride; you can also join
interactive water fights with your fellow riders on the roller coaster and other park
visitors on the ground.
While the roller coaster is in motion, you and your fellow riders can shoot targets that
activate specially designed ground effects, such as water jets and water cannons.
If you're looking for an interactive experience in Yas Waterworld Abu Dhabi, the Bandit
Bomber won't disappoint you.
5. Jebel Drop
Jebel Drop is another water slide that will give you an adrenaline-pumping experience.
Jebel Drop is Yas Waterworld Abu Dhabi's tallest vertical drop water slide. When you
reach the platform, you'll get a fantastic view of the entire park before dropping down
at a heart-stopping speed.
And as you zip down the steep water slide, you'll enjoy more incredible views of the
water park.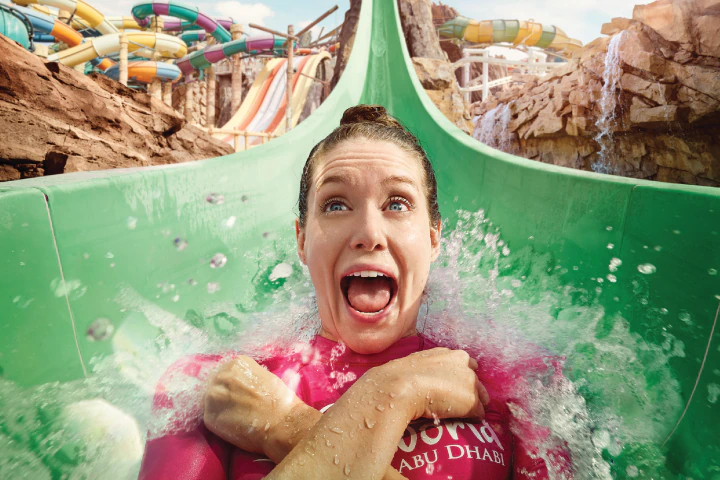 Like the Liwa Loop, this attraction is something you shouldn't miss if you're a true-blue,
super thrill lover.
6. Hamlool's Humps
Water slides are abundant in Yas Waterworld Abu Dhabi. Although you may think they
offer the same experience, you're in for the slide of your life on Hamlool's Humps.
The long trek to the platform will be worth your while since Hamlool's Humps is a water
slide like no other. It features three massive humps that will make you feel like you're
flying when you hit them.
Aside from the humps, you'll also go through several crazy twists and turns. At the
speed you're going, you'll definitely be shouting at the top of your lungs before hitting
the pool.
Hamlool's Humps is another attraction that offers guests an extreme adrenaline rush.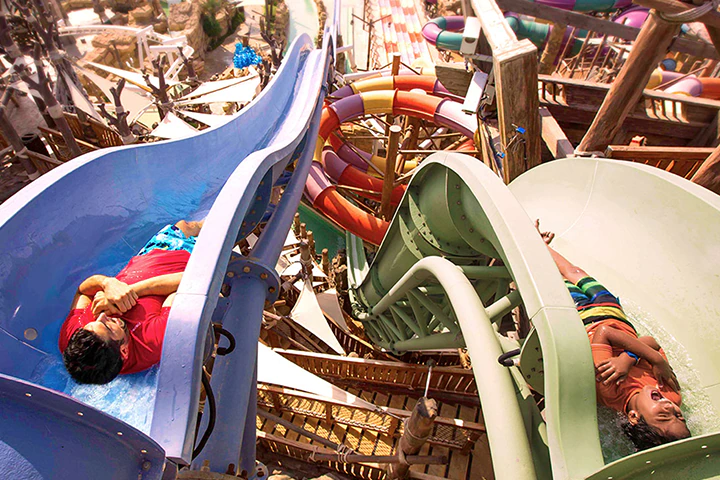 7. Bubbles Barrel
If surfing gives you an adrenaline rush, you'll get your fill at Bubbles Barrel, the world's
largest artificial surfable sheet wave.
Bubbles Barrel allows you to surf on high waves while staying in the same place. Its
pumps release around 7,000 liters of water a second, creating wild, roaring torrents of
swirling water.
This sheet wave is also perfect for guests who prefer to bodyboard instead of surf.
Bubbles Barrel makes surfing more accessible and a 365-day sport for serious surfers.
If you want to spend the day experiencing various heart-pumping, adrenaline-packed water
rides and activities, head to Yas Waterworld Abu Dhabi.