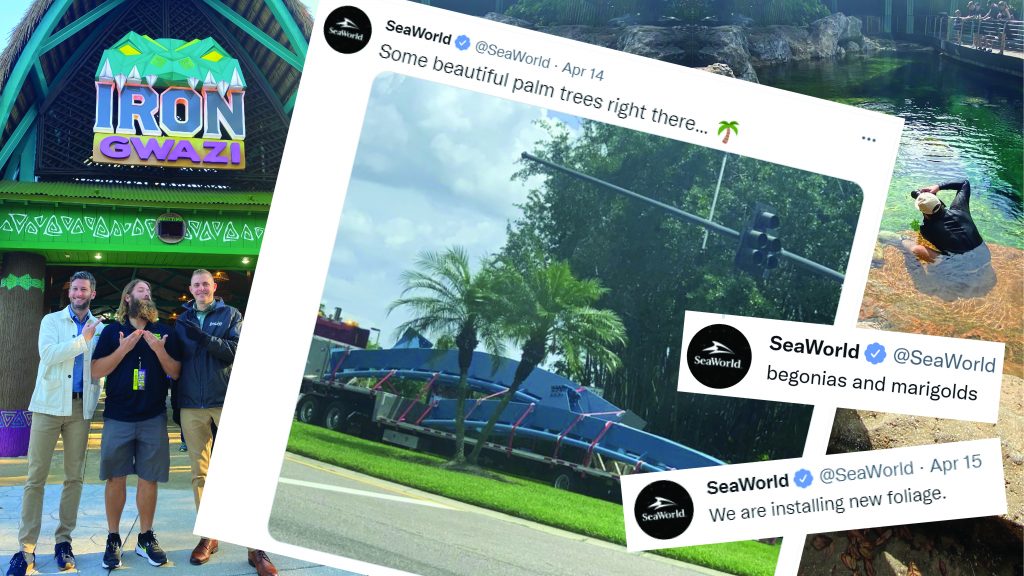 Terrains are changing at SeaWorld Parks & Entertainment. Over the last few months, the company's parks across the country have opened an assortment of record-breaking thrill rides. But for many theme park enthusiasts, just following SeaWorld on Twitter can be a roller coaster ride in and of itself. You don't know what to expect – you might get a cute dolphin photo, a reminder to redeem your passholder benefit, or they might throw you for a loop with an 'out of the blue' announcement. Josh Greenberg, Corporate Director of Social Media and Digital Consumer Engagement for SeaWorld Parks & Entertainment, sat down with us to give us a behind-the-SEAS look at the work he and his team have been doing over the last two years.
According to Greenberg, his passion for communication started "way back in the days of AOL Instant Messenger when I'd go out of my way to have the most finely tailored away messages set while stepping away from the computer. That, or working to craft the perfect first text for friends looking to make inroads with their crush." While studying Political Science at the University of Florida, he refined his ability to combine public relations with creative communication. "Digital communications always felt like it came naturally to me and I'm thankful to be in a profession where being myself…simply put…just works," Greenberg said.
While working for a large communications firm, Greenberg served as a lead advisor to SeaWorld's communication team. In 2020, he was recruited by SeaWorld to oversee social media strategy, content development, and execution for all 12 company parks. Under Greenberg's leadership, SeaWorld added a TikTok channel and a podcast to its existing arsenal of Instagram, Facebook, Twitter, and YouTube accounts.
Greenberg says that while social media is a constantly evolving landscape, many things hold true – "I've always held one principle dear to my heart – that social media should be social. I remember the first time a brand engaged with me online and I remember that feeling of 'omg, the company is talking directly to me as an individual. This is crazy.' People want to be heard by the brands they love. They want to be a part of a community. It's just translating human nature into our digital lives."
Over the last two years, SeaWorld's social media presence, with Twitter in specific, has shifted from a traditional brand account to one that engages with almost every reply. "My goal has always been to make our fans feel unique and that we're talking to them as individuals," Greenberg stated. "I think the best tweets need to be eye-opening, honest, and hyper-relevant to drive a conversation with our fans."
This honesty has led to a lot of memorable tweets over the last few months for SeaWorld's followers, or as Greenberg calls them, the #SeaWorldSquad. Here's how Josh describes one of his all-time favorite posts from the Busch Gardens Tampa Bay Twitter:
"The social team had been dying to talk about Iron Gwazi for years, but unfortunately, the ride had been delayed. As expected, we started to see lots of chatter from fans who so badly wanted the ride to open, with some of our fans going so far as creating accounts like, 'Is Iron Gwazi Open?' and continuing to tweet, 'no.'

I love it when our community realizes that we like to have as much fun as they do and like to get in on the jokes wherever we possibly can. Again, this is a community that sometimes feels like a family and sometimes family will rib on each other.

In the background, we had been paying attention to the chatter and on opening day, took a screengrab of the account and just posted 'yes' – to confirm we were in fact open and ready for business. We loved seeing the positive response from the account owner afterwards."
And then there's the infamous April 14 tweet in which the SeaWorld account posted a picture of what they call a "landscaping project." Despite our repeated questioning, Greenberg would not budge – "Oh, you mean our landscaping project?" Greenberg joked. "This was all built rather 'organically' and the team has been keeping a close eye on the conversation in order to get fans to join in on the fun. Over the course of the past couple of months, we've been preparing the area, and it's clear and visible to those viewing from Sky Tower. It's truly going to be a magnificent landscaping project and I think you'll be delighted once you see the hedges and flowers going in."
SeaWorld's PR department quickly realized that fans would soon see the "landscaping" arriving at the park, so they decided to own the conversation around the beautiful new addition. "Who knew so many fans would love a picture of palm trees? Mind-blowing really…but we do appreciate our fans' love of horticulture." Greenberg quipped.
Historically, theme park brand accounts have been reluctant to fuel any sort of non-official speculation. But according to Greenberg, the entertaining aspect of theme parks should carry into social media as well. "My goal is to generate a significant amount of conversation around our brands and this approach did just that. I believe it may have been SeaWorld's highest performing tweet of all time," he added. "Some may have raised their palm to the approach – but this landscaping effort is definitely top of mind right now for the theme park community and with coaster enthusiasts."
SeaWorld's strategy of connecting with fans is certainly bold. Whether it's publicly roasting the Universal Orlando Resort on Twitter, encouraging followers to do remote work from the Glacier Bar, or bringing loyal fans' questions to animal care specialists, SeaWorld's done it all. We asked how other departments within SeaWorld Parks & Entertainment react to his team's spur-of-the-moment posts: "The team at SeaWorld really does exist at the crossroads of trust and forward-thinking. No one is ever super uncomfortable with the unique approach I take to social here at the company. Ever. I never get panicked calls or emails questioning the approach. Seriously," Greenberg said sarcastically. He notes that social media can create memorable experiences for park visitors: "I absolutely love seeing our fanbase share their experiences at SeaWorld while they connect with friends they've met through the hashtag and through engagements online. #SeaWorldSquad is a global family and I can't even begin to tell you the sheer volume of amazing individuals I've met and befriended through our wonderful communities," he said.
While SeaWorld has absolutely transformed its role in the online theme park fandom, Greenberg says that he still has a lot in store:
"My vision is to develop the most compelling content we can by channel, significantly grow our fanbase across all environments and drive a deep understanding of the value our parks provide to guests, because that value is immense.

I believe we've transformed our presence in a lot of ways through primarily organic means and connected with a wide range of new fans through the activation of new channels. That said, in today's day and age organic efforts can only take us so far from a reach standpoint.

I can't give away all my secrets, but we'll continue to prioritize and increase the tools and tactics to ensure that vision is achieved. At the end of the day though, the vision can only be achieved through a focus on the brilliant basics. We will not sacrifice any of the efforts and wins we've secured to date.

I'm thankful for all the loyal fans we have across our channels who actively encourage others to follow along. If you aren't following, you should join in.

There's a lot of fun coming in the future."