The park I've always wanted to visit and the fifth stop of our 100 hours of driving around Europe is Europa Park. This theme park in Rust, Germany features a big collection of coasters, flat rides, dark rides, and shows, and nearly every single one has been manufactured by Mack Rides. It's their theme park and proving grounds and they go above and beyond to showcase their products in the best way they possibly can.
Notable Attractions:
Silver Star: The large Hyper Coaster seen from the parking lot and entrance road, this B&M is one of the few non-MACK manufactured rides at the resort.
Blue Fire: The largest MACK and one of the most popular roller coasters at Europa.
Euro-Mir: A spinning roller coaster with multiple large, mirrored towers.
Eurosat – CanCan Coaster: An indoor attraction the was recently rebuilt, very smooth and great for all ages.
Wodan Timbur Coaster: A GCI roller coaster, another star ride at the park not manufactured by MACK.
Arthur: A multi-sensory powered coaster with rotating seats and a dark-ride setting.
Voletarium: A large, flying theatre, IMAX-style attraction.
Pirates of Batavia: This is a boat ride that takes visitors on a journey through a pirate-infested world.
Matterhorn Blitz: This is a bobsled-style roller coaster that takes riders through a series of twists and turns.
Europa Park has other smaller rides such as haunted mansion-style and smaller coasters for all to enjoy, a list very long it cannot all be listed. There's a lot of shows and attractions for every age at this theme park.
Tickets: Approx. $55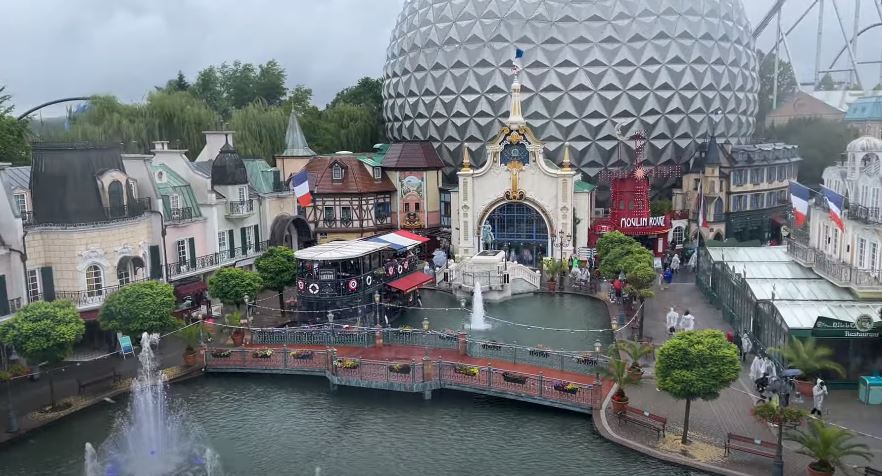 The park entrance features a German style village with endless restaurant and shopping options, some dark rides, and top notch Disney-quality theming. This park is massive and overwhelming, so we walked through a few other areas of the park right off the bat, France features a large geometric dome with one of the signature roller coasters inside the park, as well as a beautiful courtyard area lined with more shops and restaurants. Transitions between areas of the park are sharp and disguised in way that once your into the next themed area, the surroundings change quick. Buildings are multi-use between lands, meaning one side is a Swiss building when the other is France, but you would never know, it hides them perfectly and makes use of space in ways that no other amusement park does. The Swiss themed area of the park is surrounded by the best looking bobsled coaster in the world, weaving around trees through a layout that is impossible to make out.
Our first ride of the day was a Haunted Mansion-style attraction, it was well themed and what you can expect from a ride of this nature. Fast boarding and no line throughout the day, so ride it whenever other lines are long. Next, and the first coaster we stumbled upon, Euro Mir. Modeled after a Soviet Russian Space Station, this spinning wild mouse-like ride is a must-do. A catchy soundtrack is one that is sure to stick with you, and a lift hill experience that is unlike any other has the entire train in a excited mood before anything has even happened on the ride. While the ride is one that could use some updated trackwork, it's views and mirror-silo's make it one of the most recognizable coasters in the world.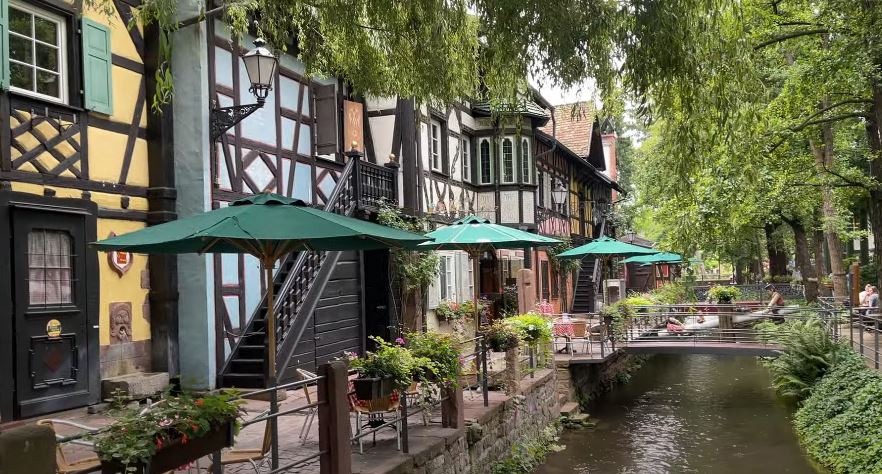 Europa Park gets busy, so I've been told visiting during the off-season is your best bet, there is a free skip the line system in the app, but with limited rides and limited use we never got it to work, plus Europa's incredibly fast operations, queues with 1,000 people in them keep moving and the high capacities eat through lines quite quickly.
The Scandinavian Village features a fun raft ride and again some of the best theme park food out there. You won't get too wet in these rapids so they're definitely recommended, and quite fun since they send out a bunch of rafts at once, so you may even get passed while out of the course and bump a bit. Little quirks like the exit bridge from the ride are exactly what makes this such a special place (seen above).
Blue Fire was next as we wandered around, likely the most popular coaster at the park, reaching a 40-60 minute wait for most of the duration of the busy day. This launched ride has now been cloned all over the World, but this is the first and the one that fits in just right with the park. Rockwork around the ride area and a refreshing layout make this a must-do in the park.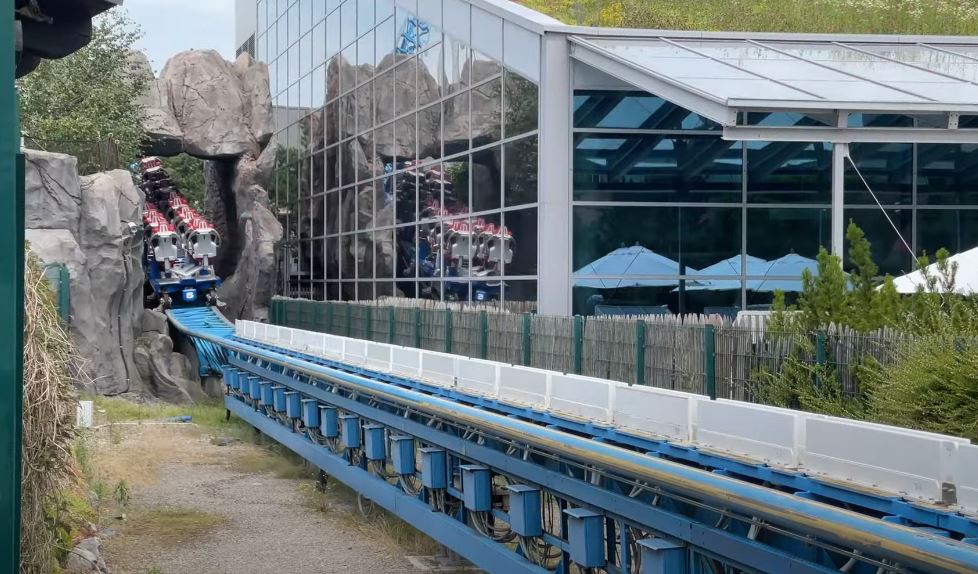 Next door is a Great Coasters International-manufactured wooden coaster named Wodan Timbur Coaster. The smoothest of its kind and a fast-paced layout make it one of the highest-rated wooden coasters in Europe. It's on the short side and while not my personal favorite GCI creation, it's still a must-do. Plenty of terrain use and pathway interaction hide parts of the layout, and the queue is long and likely one of the best.
Watch the video version for great visuals:
https://www.youtube.com/watch?v=H-GsknSfAxw
Atlantica Super Splash is another wet ride, and one of the water coasters. Again, not too wet and worth your time, but a short layout and not one that we bothered going on again. It's refreshing and the wait time is shorter than other attractions because of its simplicity.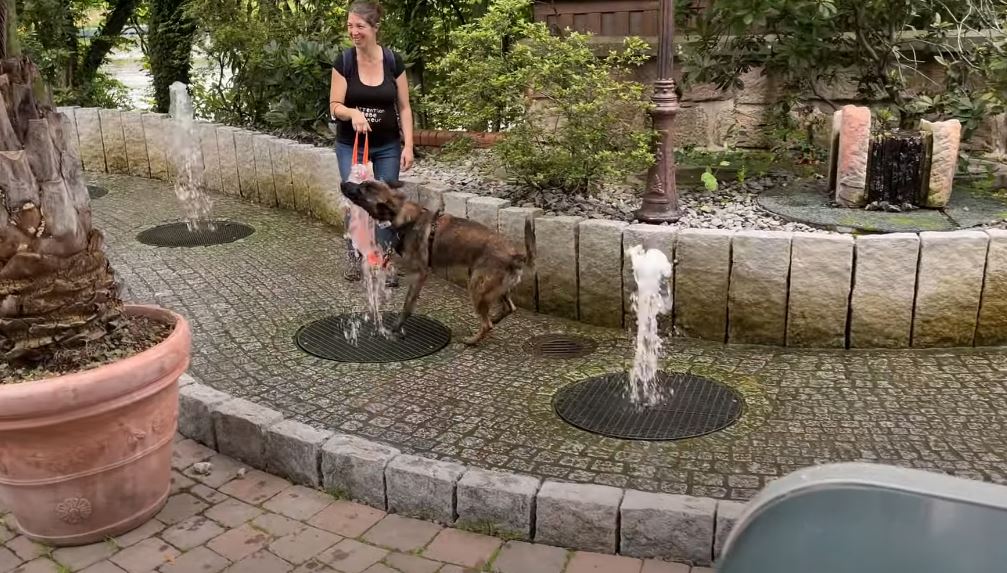 Europa is filled with little secrets and walks within the park, and that's why it's so important you take your time here. Walk into a building or store you normally wouldn't go into, take a trip into different bathrooms, push some buttons and explore.
A large indoor space houses a dark ride-coaster combo called Arthur. This original MACK ride system is still quite rare, and the storyline itself is confusing to me and I literally had no idea what was going on. It smelled like honey at the end and it was awesome.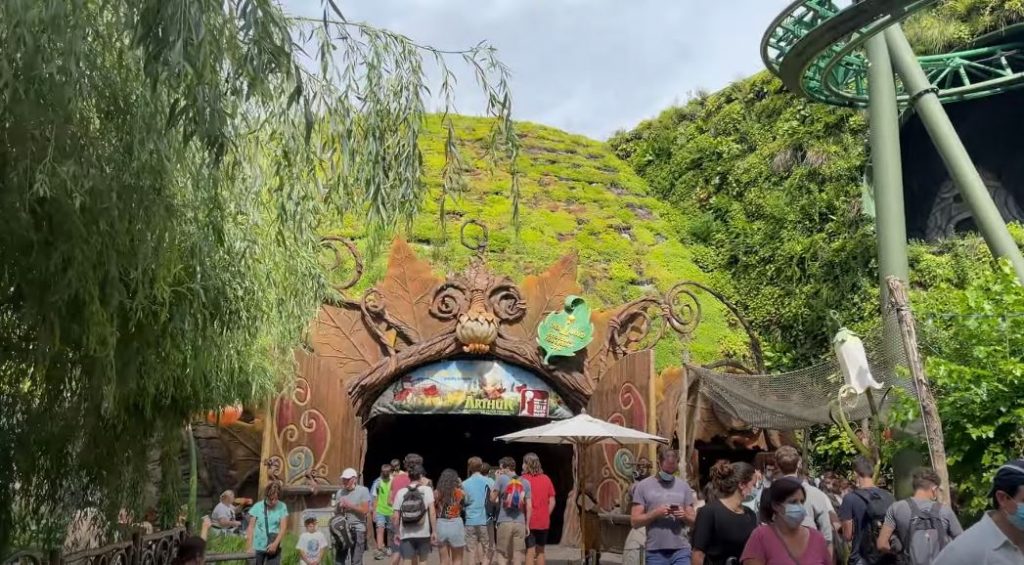 A larger water coaster, Poseidon, is one that Mack has retracked a bit to create a smoother experience. It has minimal theming along the layout compared to the other attractions in the park. It was a one and done for us, but it's a nice long water coaster.
It was easy to get lost here, but we went on a few more dark rides and a buzz lightyear type shooting game before moving on and finally getting on eurosat cancan coaster. The first major attraction you see in the park, the EPCOT-like ball has one of the best attractions of the whole park. Don't miss this Space Mountain-like ride.
Silver Star is the coaster you can see from outside the park and one that is manufactured by Bolliger and Mabillard. This hyper coaster isn't the best version of itself, but it features some exciting moments like the drop off the mid course brakes, and the awesome turn through the trees at the end. And it's not like you cannot love a B&M hyper. They're always some of the most comfortable and fastest, and zero-g airtime is still pretty damn fun. This is showing its age as it's one of the oldest Hyper coasters out there, and it will be exciting to see what Mack eventually decides to do with this plot of land, time will tell.
Day one was finished and it was clear when visiting in July or August why this is a place that you need to spend multiple days at. We hadn't hit close to half the rides yet.
The next day we would ride the wild mouse, "Matterhorn Blitz," a fun-themed coaster that is for sure worth going on. Smooth ans fast through many near-misses. The bobsled, "Schweizer Bobbahn" is located nearby. Another example of one of the better quality-themed bobsled out there. Smooth and these style rides are always fun for everyone.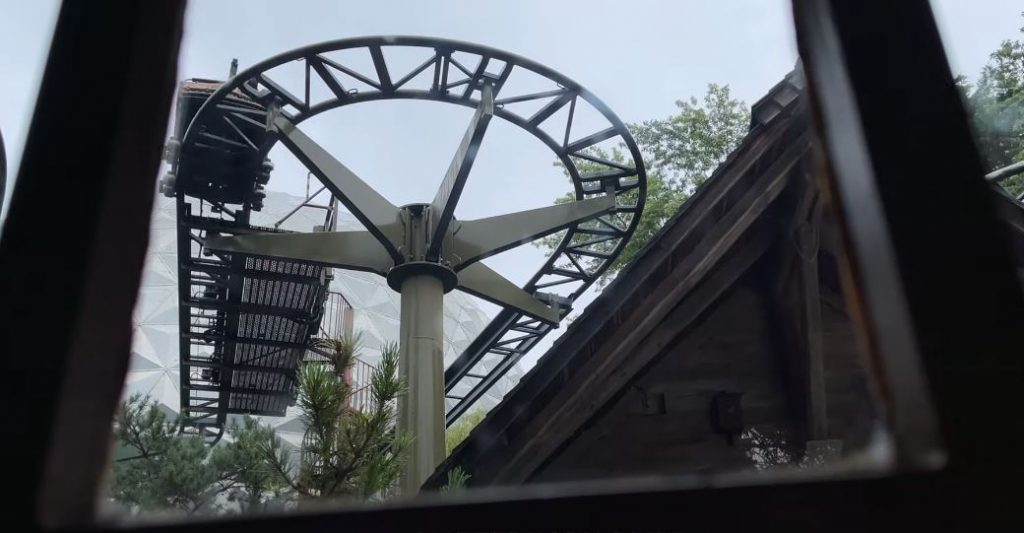 The park has plenty of family coasters as well, like Pegasus and Alpenexpress Enzian, which takes place indoors and outdoors, and does a couple of laps around the layout.
Europa Park has an amazing collection of rides. There's likely no stand out attractions that will be on your top ten list, but the park really isn't about that. Nothing is the best, but collectively, it's fantastic. the sheer amount of rides and attractions mean that there's something for the whole family. Mack is also redoing many of the older rides in the park to bring them up to date & make them smoother and more fun, most are good and well updated with only a few really needing a major redo.
Recommended Stay: 2+ Days
The overwhelming size of Europa make this a 2-day visit minimum theme park. I would have been happy with a whole week to really take in the restaurants and hotels, but I do like to take my time and for most people I believe 2 or 3 days here is what you should aim for. If your seeing shows and taking time to eat at the sit down restaurants, then a longer stay is the way to go. Lines can get long. We were able to re-ride a few coasters, but a lot of them were one-and-done for us because of the lines and quality elsewhere. The kids area in Ireland is your best-bet for low crowds at a sit down establishment, a pub tucked into the back corner of this lesser-traveled area.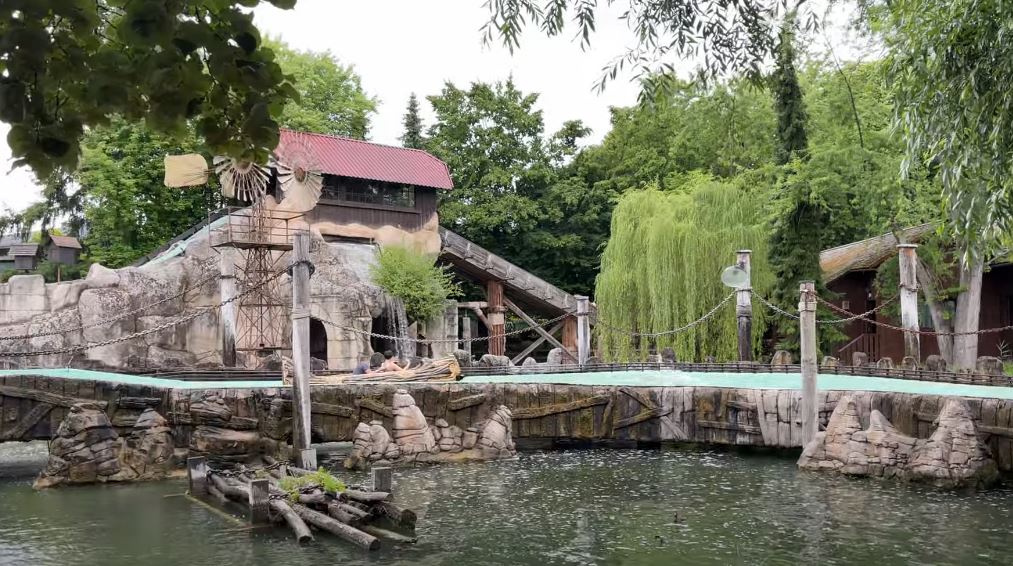 Just a note, this park does not let you choose your row at all attractions. So if you're hoping to get a back row ride on everything, it may take a few visits.
Europa is one park that you want to just walk into random areas because it is filled with weird hidden walkthroughs and attractions hidden behind small signs and unassuming entrances. Even the bathrooms here are themed in a manner that would blow you away if seen in an American theme park.
After two days here we learned that the middle of the day is better for the front of the park for lines, Voletarium is great to check off the list mid-late day.
Follow us to TRIPSDRILL in the next Trip Report by clicking here.
Follow Austin & AmusementInsider over on Instagram & Twitter, and Subscribe on YouTube to keep up with all the latest!
Link To Our Full Schedule:
https://docs.google.com/document/d/125IM-hy8MW4erYCGnOP6NE1TmY6usQhVWvJ2hqX43Ls/edit?usp=sharing