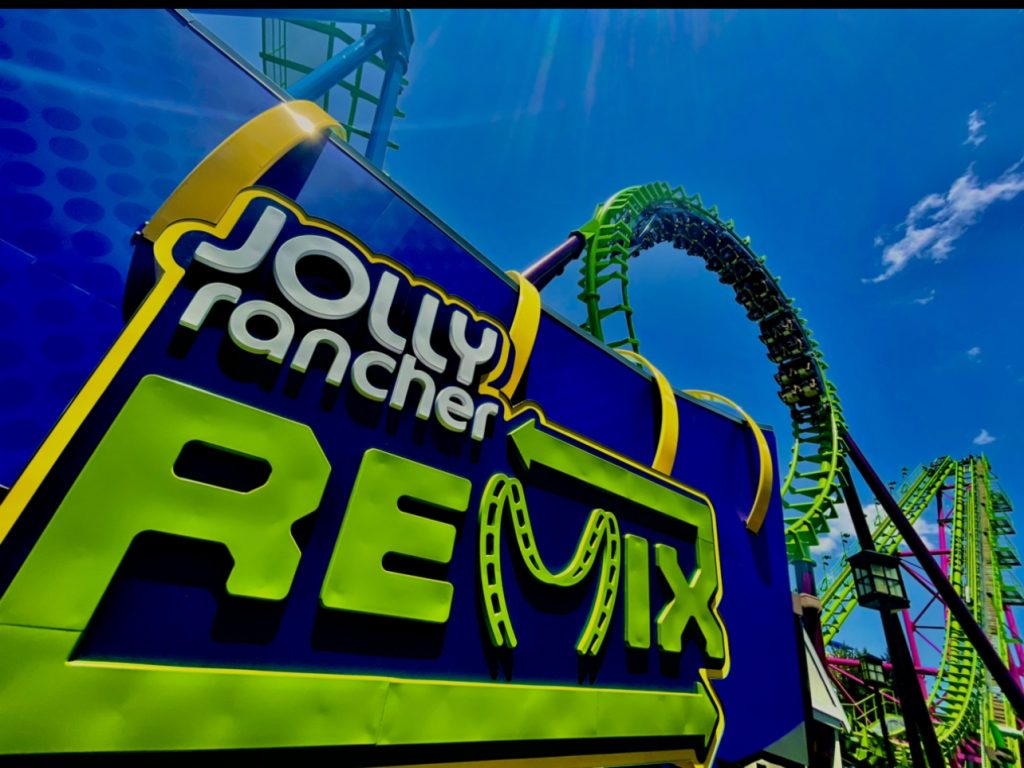 Last year Hershey park added a brand new attraction to the front of their park: a B&M Hyper coaster called Candymonium. This seems to be the year of the Boomerang Revival! This is the second "Boomerang Makeover" I have seen this year -we will talk about the other later. Hersheypark just gave their boomerang a big make over with a Jolly Rancher Remix theme – new paint job, and a tunnel. They also got a new entrance, and a new flat ride to compliment the area. Let's talk about the experience this new area provides!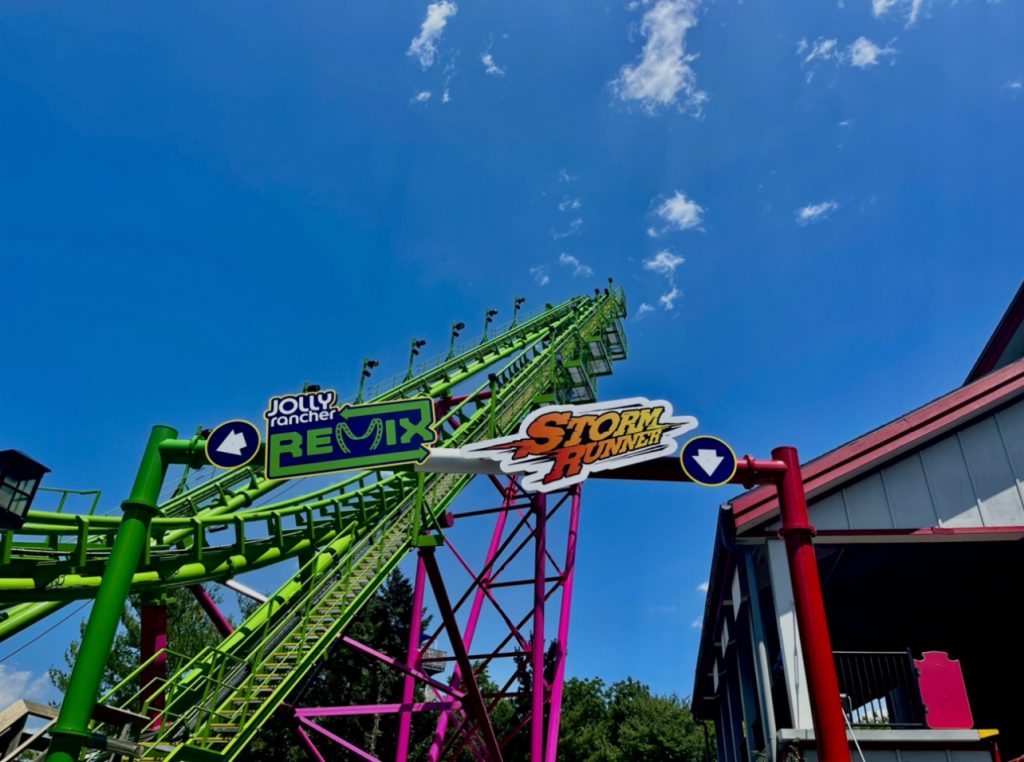 You now enter Jolly Rancher Remix – the Boomerang from further down the path. It's entrance is directly next to Storm Runner's. Walking toward the ride you pass the tunnel that was added immediately following the first round through the Cobra Roll. The entrance provides a great walk past the ride and a teaser of what's to come – but let's pause there for a moment, because as you get to this area you may have noticed something new sitting in front of the Boomerang!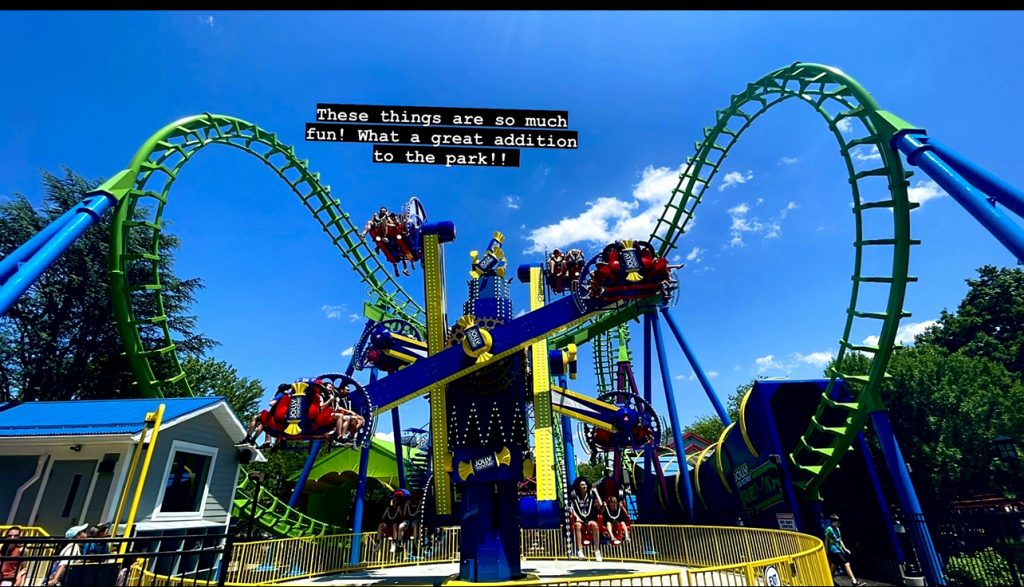 THIS! This is the real star of the show. This is the new for 2022 MIX'D Flavor by Jolly Rancher. These Zamperla flat rides – titled a Nebulaz – were first showcased at IAAPA 2019. Flat rides are generally not my first draw. This weird device though? Ton's of floating airtime with a weird near miss feeling as the cars seem to barely clear each other! These are a lot of fun, and are starting to pop up more and more at parks and entertainment centers! THIS is the must do attraction addition to the area. As an added bonus, there is a set of lights on them, that make it a lot of fun to photograph: I did not see Hershey's at night, but I can imagine the contrast of the green coaster behind it with long exposure photos would be fun. Here's a long exposure I took during IAAPA: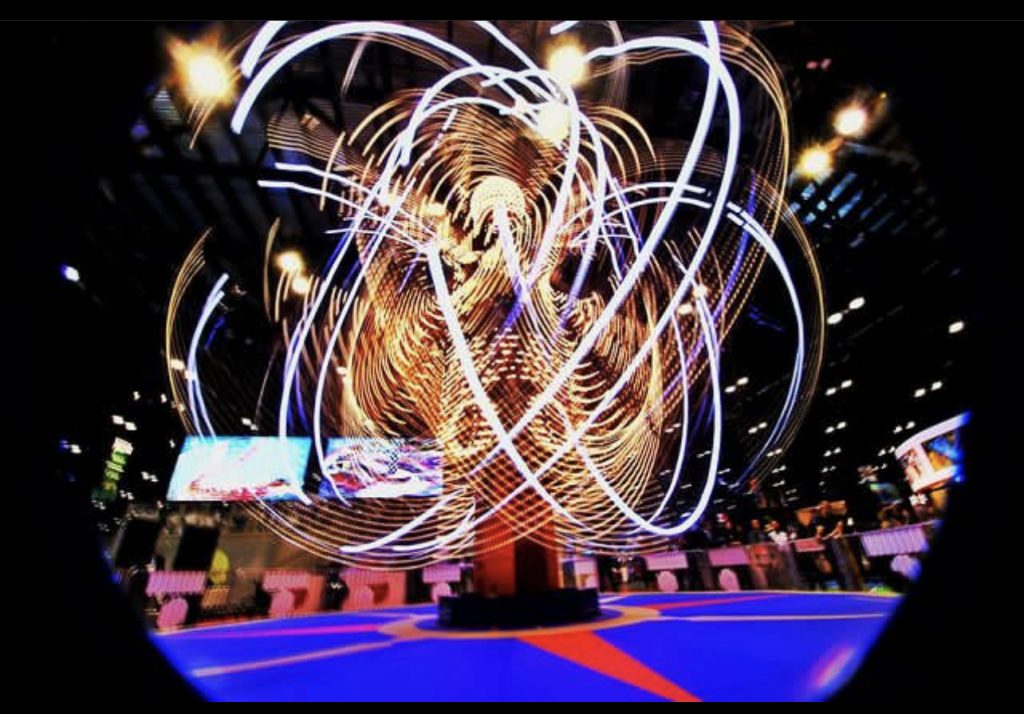 Now – back to that Boomerang REMIX. That tunnel – as you walk in you might notice fog billowing out from it. That holds a little secret within it. You get into the station and are flanked by giant Jolly Ranchers suspended in the air – clearly showcasing the theme of the ride. The train features a new paint job, and some new audio tracking. Lights flash, as music picks up and finally a color is shown and the announcer screams out the flavor – grape, blue raspberry, watermelon, green apple, and cherry. Now your classic Boomerang experience gets a bit remixed. Up the hill you go as normal, and dropped back through the traditional boomerang course you go. This time however, when you finish that cobra roll you get hit with a light fog that has a hint of scent to it – matching the flavor called out in the station earlier in the ride. I got to experience the grape, and the green apple "flavor" and it is certainly a nice twist. While this is still the classic boomerang ride that tunnel gives it a little bit of life – and it's also worth noting that the ride features the Vekoma Style vests instead of the hard over the shoulder restraint.
Those restraints do bring me to my one wish though – apparently Six Flags Fiesta Texas is getting the brand new Vekoma style trains with the lap bar. This will probably provide a new level of comfort to a boomerang – and this is what I meant by "it seems to be the year of the Boomerang Revival!" We will have to see how those trains effect that ride though, to know if that is something worth doing for a ride that age. We only have one picture – from Roller Coaster Rodeo – talking about those trains, and no more information to date: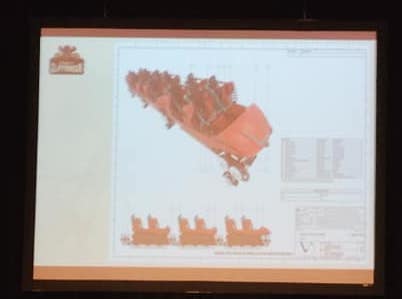 Overall the theme for the new area is FANTASTIC – the vibrant coloring works well, the scent's on the ride are noticeable but not overpowering, the color and lighting add a good touch, and the new flat ride stands out as a stellar experience! I would certainly recommend a visit to the area – after all, they also have that brand new entrance with a WONDERFUL new B&M Hyper coaster if a Boomerang Remix isn't enough to excite you! Read about that here: https://behindthethrills.com/2020/07/hersheypark-the-sweetest-thing-since-chocolate/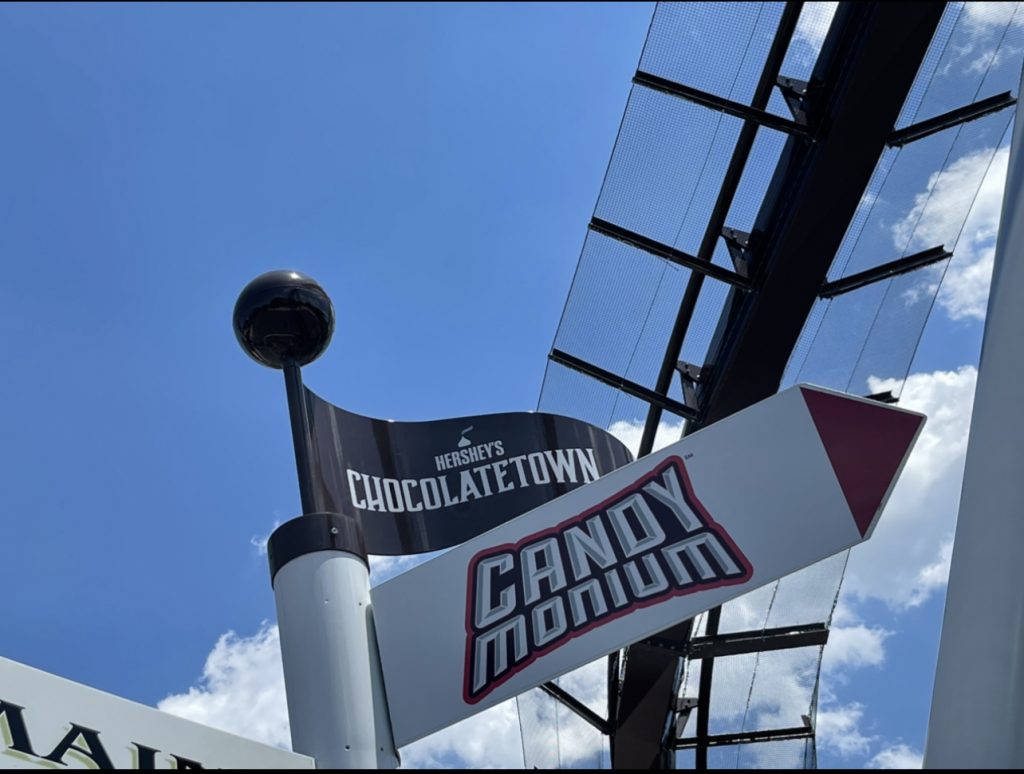 Stay tuned for more theme park information, and be sure to get social with us on Facebook , Instagram, Twitter @BehindThrills for the latest updates! For our latest theme park videos please be sure to subscribe to us on YouTube!
Justin Landers is 31 year's old and owns Just Shoot Light Multimedia Productions, a freelance photo and video company involved in the theme park industry since 2013. You can find him on Instagram at @Inverted_Therapy and @Just_Shoot_Light and on YouTube or Facebook.