Dollywood's long-awaited announcement for 2023 is finally here! Dollywood's largest-ever park expansion, Wildwood Grove, is getting even bigger! Debuting in the spring of 2023, Big Bear Mountain will be the longest coaster at Dollywood, taking guests of all ages on an unforgettable family-friendly expedition in search of the Big Bear. It's also the amusement park's largest single-attraction investment ever. Circling Wildwood Grove on 3,990 ft. of track, this roller coaster is a first of its kind at Dollywood with onboard audio, including music and announcements from Ned Oakley himself.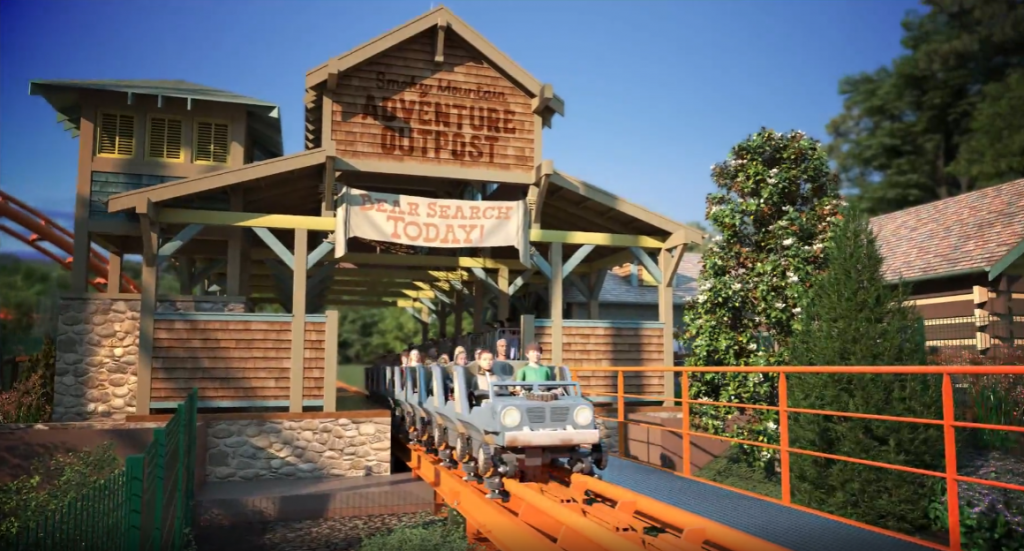 "When we built Wildwood Grove we thought we need to put something fantastic there with indoor and outdoor activities" said Dolly Parton, "There's this huge bear that's been roaming these hills for years… For the first time next year you can join an adventure to search for the big bear."
Dolly's hometown is very important to her, "We've been having a lot of fun seeing the park grow."
According to legend, Big Bear is a massive black bear who has been roaming through Wildwood Grove for as long as anyone can remember. While no one has ever seen him, telltale signs regularly appear in the hills surrounding the Grove. Dollywood guests are invited to join Wildwood Grove's resident wilderness explorer, Ned Oakley, on an adventure to find Big Bear. From his base camp—located just a stone's throw from the Grove's Hidden Hollow—Oakley takes adventurers for the rides of their lives in his specially-outfitted, "four-wheel drive SUVs."
"It's almost time to venture into the Smokies for an unforgettable adventure aboard Dollywood's largest attraction. Ned Oakley, Wildwood Grove's resident wilderness explorer, knows a thing or two about this hidden land and is setting up the Adventure Outpost Base Camp, located just a stone's throw away from the Grove's Hidden Hollow. Here, you'll join Ned in his specially-outfitted, four-wheel drive SUVs for the ride of your life in search of the Grove's most storied and elusive inhabitant, Big Bear."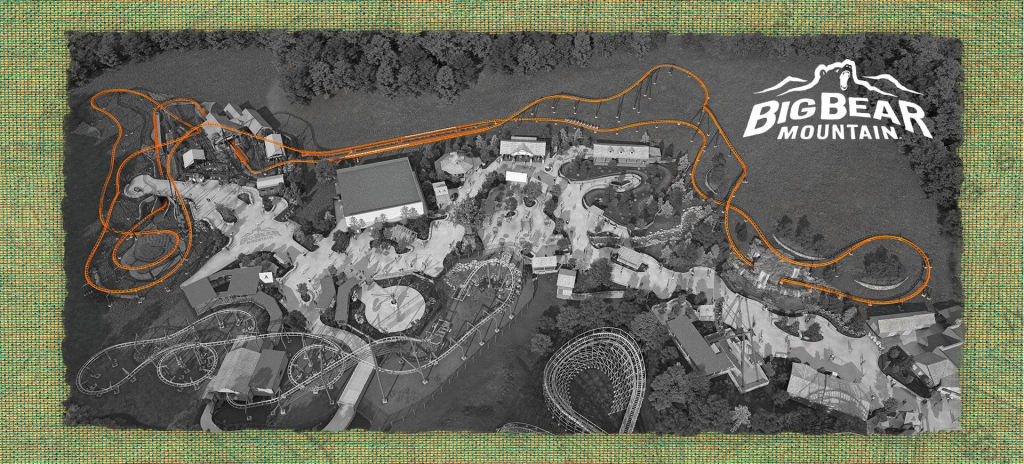 The ride is the longest coaster at Dollywood at 3,990 ft. Features a ride duration of 100 seconds, and seats 20 passengers per vehicle. The roller coaster travels at 48mph and is 66 feet high, but because it is built on a hill the overall height difference is larger. The height requirement to ride Big Bear Mountain is 39-inches.
"Big Bear Mountain is an exciting ride that really is going to be a game changer for us," said Eugene Naughton, President of the Dollywood Company. "Not only is it the largest coaster we've built, but it includes features—like on-board audio—that are new for our company. Big Bear Mountain also expands the footprint of Wildwood Grove and serves as another monumental step in the ongoing investment plan Dolly and I announced in June 2021. She's keeping me busy. Now that we've announced Big Bear Mountain, I'll start working on the next projects she has lined up for me!"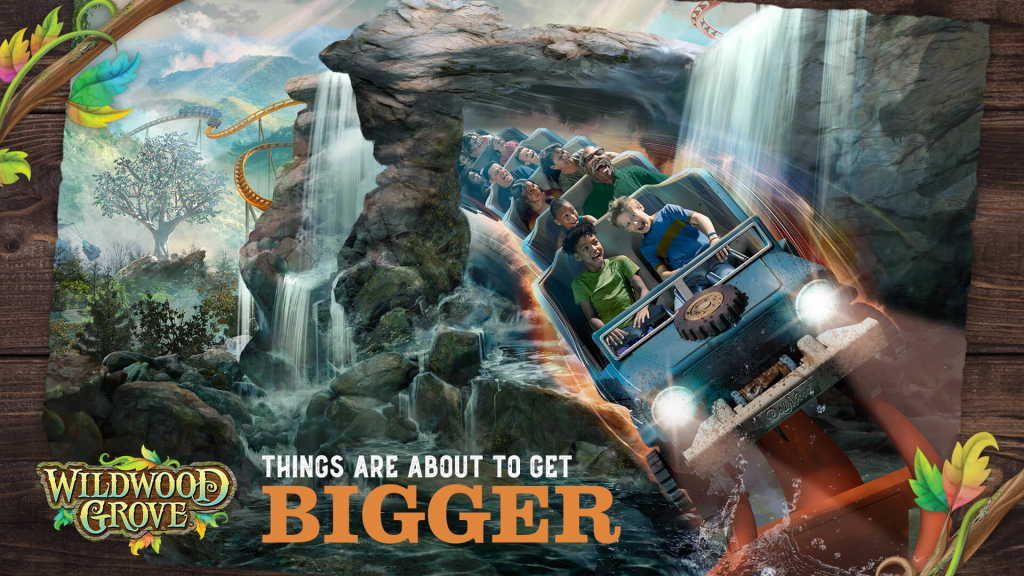 Big Bear Mountain joins the eleven other attractions of Wildwood Grove to continue the story of this hidden land just beyond the hollow log. As Dollywood's newest land grows in size, so does its charm, making it an even more wonderful place for families to have fun, relax and be together surrounded by the beauty of the Smoky Mountains. Continue your adventure and discover all the stories of the Grove. Explore Wildwood Grove here.