It's our favorite time of year again! Haunt season has begun! In the theme park industry that means haunted houses, scare zones, and special food. This year Hersheypark is joining in the fun in a way they haven't done since 1998! Haunted houses have returned to Hersheypark as Dark Nights have fallen over the chocolate town. With a visit on opening night – Sept. 17, 2022.
In the daytime there are family friendly events – trick or treating, character meet and greets and more – but as the darkness settles in on Hershey something more frightening begins to appear…
So, how does Hersheypark do with their first step back into horror? Well, the houses really stood out as a wonderful surprise for what is essentially their first year doing a haunt, or at least their first year doing a haunt in almost 15 years! That's a long time for a reset, but let's take a closer look:
The park features 4 haunts and multiple scare zones. There are also those wonderful coasters Hershey is known for – Storm Runner, Skyrush, Fahrenheit, of course their new Candymonium coaster and the remodel of their Boomerang. The park fills with fog and you get to experience some of these wonderful coasters in pitch black as they turn off the lights on select rides. 
There are also multiple scare zones through the park – creatures roaming through the fog. The scare zones were the part of the event I feel could use the most love in the future – set pieces seemed few and far between in the zones (except for midway mayhem which was loaded and worth a walk through twice.) There also seemed to be a lack of scare-actors in the zones, I am not sure if this is a hiring struggle, early season beginnings, or just what to expect – but I would LOVE to see them receive more attention to detail in the future.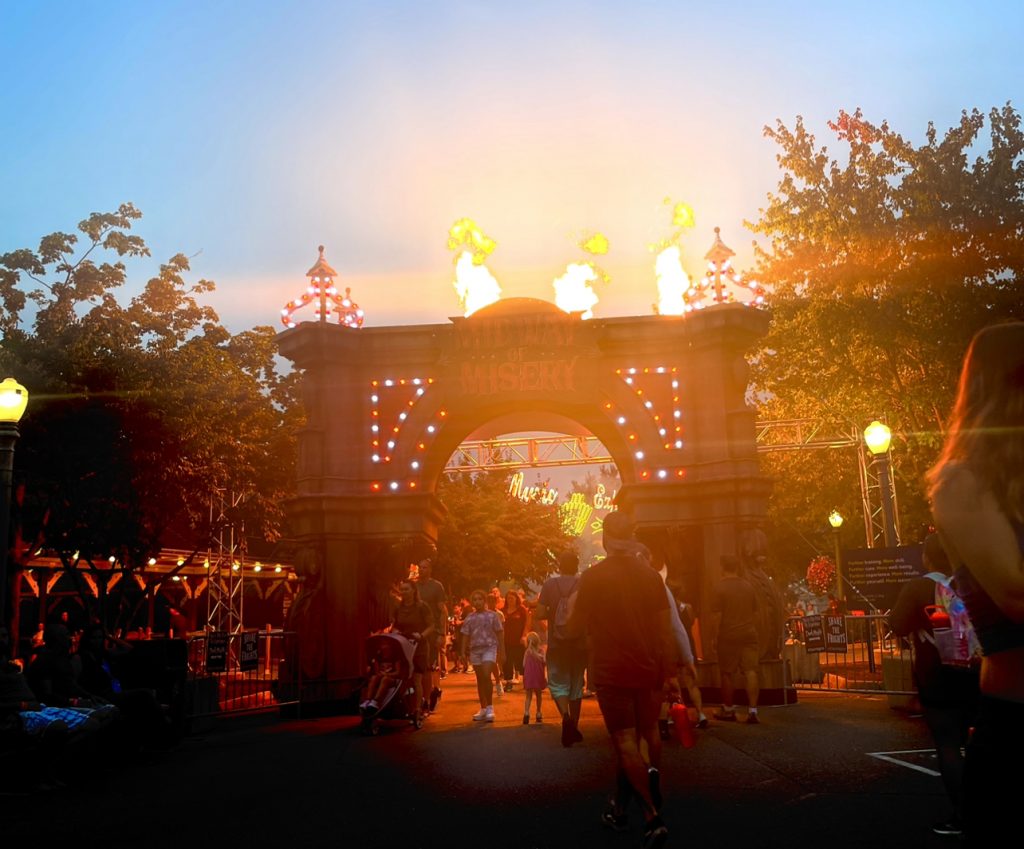 The houses? Well, there's four. The park certainly has room to add more in the coming years, especially as with only four there were long lines through the night. Most houses were showing an hour + wait for most nights, with some of them hitting 90+ minutes at points through the night. I would HIGHLY recommend using the Fast Track (express) system for this event. The four houses they did provide however – were extremely impressive! Each house features a small pre-show and the attention to detail in storylines through the houses was evident and amazing to see. They also had some extravagant sets that really stood out!
Let's take a brief look at each of the four houses:: In order from my favorite to least favorite;
Haunted Coal Mine:
Ok; THIS is a cool concept. It's a coal mine – obviously, which you got from the title. One thing to know about Dark Nights is that each house has a small pre-show, something I felt added to the longer lines as this requires pulsing of crowds. Usually event's try this pulse method until they become larger – like Halloween Horror Nights has – then it becomes a Congo line that never stops through the house instead. Each have their merits, and while I prefer the intimate nature of a broken up line it really does add to the wait for a house. Coal mine however? Made it worth it in some ways:
The house starts with a group going into an "elevator" and the door closes behind you. Some effects make it appear that you are going down – down down down down down….until you stop. Then surprisingly, the door behind you opens -the same one you came through – into a different hallway. This effect is really well done, and an unexpected surprise to start the house! Over all the house theme was strong, with a great set – something that rings true through most of the night.
Twisted Darkness:
This house is based on a tarot card reading, but mostly the house feels carnival themed, as you go through a chaotic carnival where the carnies are out to get you. The opening scene where the woman is reading your tarot is absolutely incredible with a glass ball showcasing crazy scenes in a very unique effect. The ball sits on the table, with images flashing across the inside of it. Another gorgeously designed set and the scares are visceral and in your face.
Creature Chaos:
Ok; so, one thing I have to give Hersheypark credit for: They did a FANTASTIC job of utilizing what they had in the park for house locations. Most haunted houses have a "facade" or front of house when you go in – but what if instead of building a facade, a park just used what existed? The idea behind this house is that a dangerous and deadly creature escaped from a side show and is on the loose. What makes the facade interesting here though? Well, the fact that it isn't. I also don't necessarily qualify this as a haunted "house" so much as a haunted "trail." The entire house is outdoors, EXCEPT for the fact that it starts with you walking into a stadium. This stadium is clearly normally used for daytime shows during their non-haunt season. The stage is filled with props, and a scare actor telling you about his creatures as you walk in front of the stage, bleachers to your left. At the end of the stage, an empty cage – broken on the far side, that you see as you walk past, outside – into the trail. Overall I felt this was the weakest set – it being an outside trail, BUT it was an incredible use for the space! It was unique for a facade, and that made me love it.
The Descent:
This house is based on terror filled tunnels below Hersheypark. The set here was better than Creature Chaos, but overall it felt like the weakest house for me. This house was also the one I waited longest for, and it seemed that was the case for everyone around me. This particular houses pre-show seemed to cause a lot of backup with the pulsing, which surprised me, based on the fact that the Haunted Coal Mine house in theory should have had the worst back up. Over all, this house was my least favorite – still decent, but I would have taken a second trip through coal mine over this if I had to pick between the two.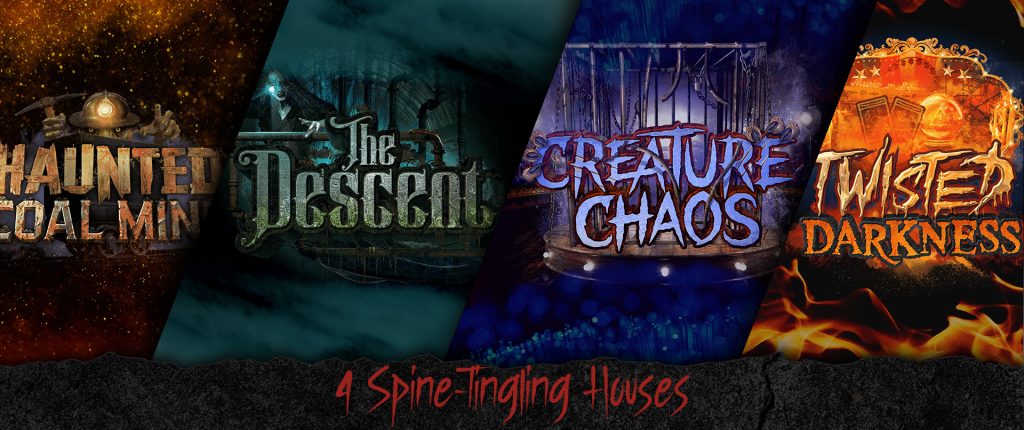 Of course, a haunt event wouldn't be anything without some special food items. Hersheypark is a park based on candy and food, so of course of course OF COURSE there would be specialty food items. Some of the items included things like "black buns" for Pulled Pork sandwiches and burgers, speciality "toxic Mac and cheese" "Frightful fries" and more. During my visit I had the pulled pork sandwich, which was good, but the real stand out item was the Sinful Cinnamon Bread. I'm a sucker for cinnamon bread – with it always being mandatory on visits to Silver Dollar City, Dollywood, Kentucky Kingdom, and anywhere else that I can get it – including Hersheypark. This version is a bit different from their normal Cinnamon bread though, and honestly, might be my favorite version of Cinnamon Bread I've had. It's a bit more gooey and fluffy than the normal Cinnamon Bread Hersheypark offers. I wish they would make this version a year round thing!
The event over all is FANTASTIC. I am beyond thrilled to see another park adding some frights to their nights. Last year we saw Seaworld Orlando and San Diego take that plunge into darkness with Howl-O-Scream, joining Busch Gardens Tampa and Virginia's event. Of course, we have Halloween Horror Nights at Universal Orlando and Hollywood, and there's Knottscary Farms, plus all the other horror events at Cedar Fair parks across the country. Six Flags has Fright Fest at their parks across the chain. Hersheypark has quickly risen toward the top of my list of favorite parks in the country though, and so it's good to see Hersheypark joining in on the Dark Nights.
Dark Nights runs weekends through October 31. You can find more information at: https://www.hersheypark.com/darknights/attractions.php 
Stay tuned for more theme park information, and be sure to get social with us on Facebook , Instagram, Twitter @BehindThrills for the latest updates! For our latest theme park videos please be sure to subscribe to us on YouTube!
Justin Landers is 31 year's old and owns Just Shoot Light Multimedia Productions, a freelance photo and video company involved in the theme park industry since 2013. You can find him on Instagram at @Inverted_Therapy and @Just_Shoot_Light and on YouTube or Facebook.