**THIS IS NOT A SPONSORED AD, We received NO compensation for this article, Justin and Freddy paid out of pocket for their camp site, with the only discount applied being the one provided to all Holiwood Nights guests – Screenshot of bill attached! (I only say that because I am about to rave about how great this place was for so long that half of you are going to say they paid us) Just like when we visited CEDAR POINT'S CAMPGROUND this was all on our own dime.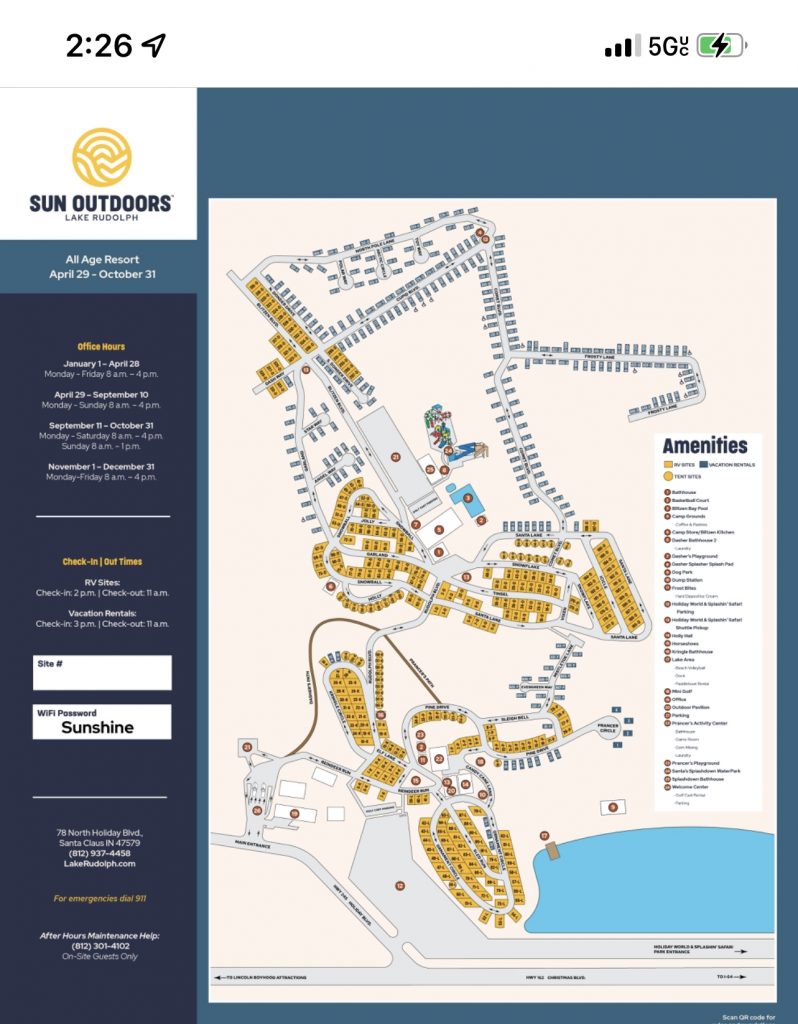 This year when visiting Holiday World for their famous Holiwood Nights event I opted to stay in the Campground with the RV. I got a spot that was near the lake that features the famous Raven turn around and had plenty of shade. Pulling in Thursday morning I had no idea the treat I was in for.
Lake Rudolph used to be owned by Holiday World. It is now owned by a Campground company called Sun Outdoors. I had never stayed there when the park was managing the campground, but I doubt it was much different before than it is now.
As a full time RV traveler I have stayed in MANY campgrounds – some gorgeous, some not so great, others that make me wish I had kept driving. Lake Rudolph? Makes me wish I had kept staying. I pulled in on Thursday afternoon, with a check out of Sunday morning. Thursday was a set up then rest day, Friday and Saturday would be spent at Holiday World and Holiwood Nights, Sunday morning we would pack up and head to Kentucky Kingdom for a quick visit.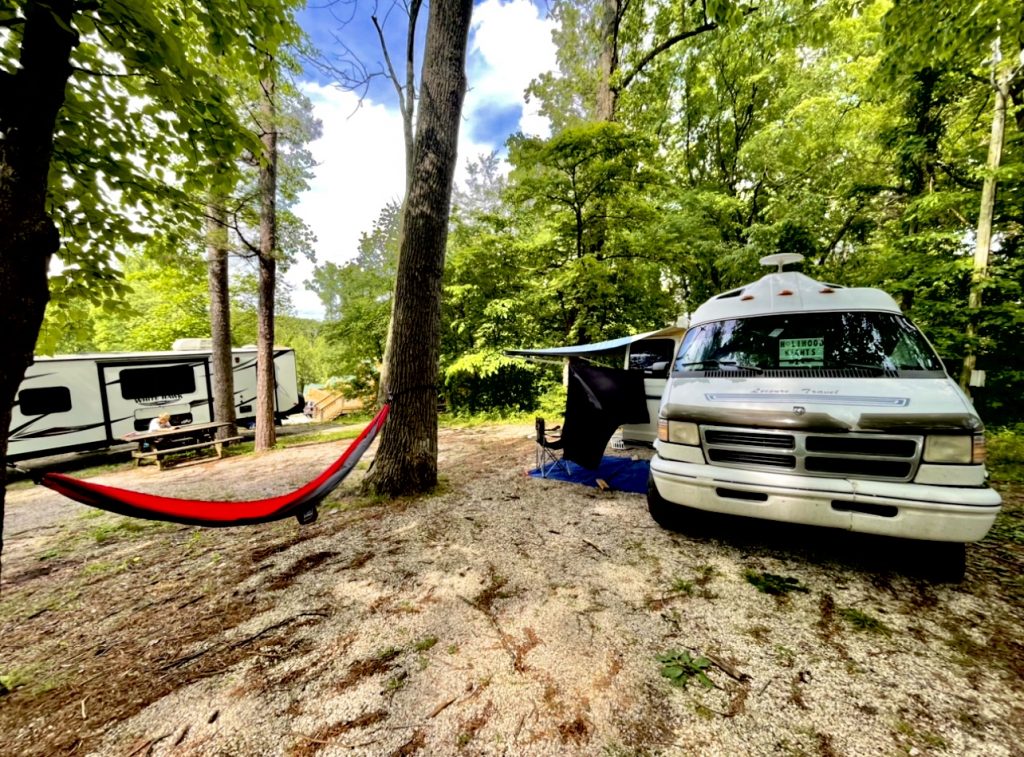 I got to the campground early – about 11:45 am – well before check in. I pulled up to the gate, and the guy politely informed me my site was all set and ready to go, gave me a map, and off I went – on an adventure. I got LOST. I am REALLY good with directions and maps, with experience using land navigation. I'm gonna be honest though: I was lost LOST… The roads in the campground are a little hard to follow, and I ended up in the back of the park. This provided a wonderful opportunity for me to explore the entire campground though, and I have to say – I was impressed. The grounds were gorgeous with lush trees and paved paths. Every site looked large and spacious.
Upon finally locating my spot I backed in – then pulled out, then backed in again, then repeated that process for about 15 minutes trying to get level – a game anyone who drives an RV knows! Finally I got settled and realized maybe it's time for me to invest in some leveling blocks, but being in a class B smaller RV they usually just aren't needed. I was able to get the RV to level out. We had chosen a spot without a gravel pad due to price, and for anyone who does this route – bring leveling blocks! A bigger RV would have needed them for sure. I put out the RV canopy, collected up some firewood – plenty of firewood, laid out a tarp and a few chairs and sat down to relax. After about 10 minutes my neighbor came over and offered me a beer! Hospitality at it's finest. I returned the favor of offering one back, he declined – as he ran a brewery it turned out! Sounds like a lucky supply choice on his part. Another 20 minutes later and a man pulled up on a golf cart. He kindly asked if I needed anything, had any questions, or concerns. He was a polite groundskeeper just making rounds – he mentioned if we noticed any poison or bugs to let him know and he would come spray – we saw no poison ivy/oak but there are of course lots of bugs as to be expected… it's camping. The polite stop by was completely unexpected though. This was the kind of hospitality I wasn't prepared for but so glad to have been shown!
In the afternoon I walked down to the lake and took some photos of the Raven. I hiked a trail, and explored the grounds. In the evening I cooked dinner, had a shower, and settled in for the night. There was a gorgeous sunset to watch, and you could see a light haze in the air from all the campfires – including mine. In the morning I got up and was ready for my day at the park no driving necessary! I could see The Raven from a less than 2 minute walk after all how far could the park be? My buddy Freddy had arrived to join me at the campground in the AM. We set up his bed in the RV – fun fact – he is the first person to use the second bed since getting the RV and said it was not the most comfortable – but comfortable enough. We walked over to the lake and followed the trail down and past some campsites. This made me realize exactly what site I want next year, but that's my secret and you'll just have to go visit the campground yourself to make your decision!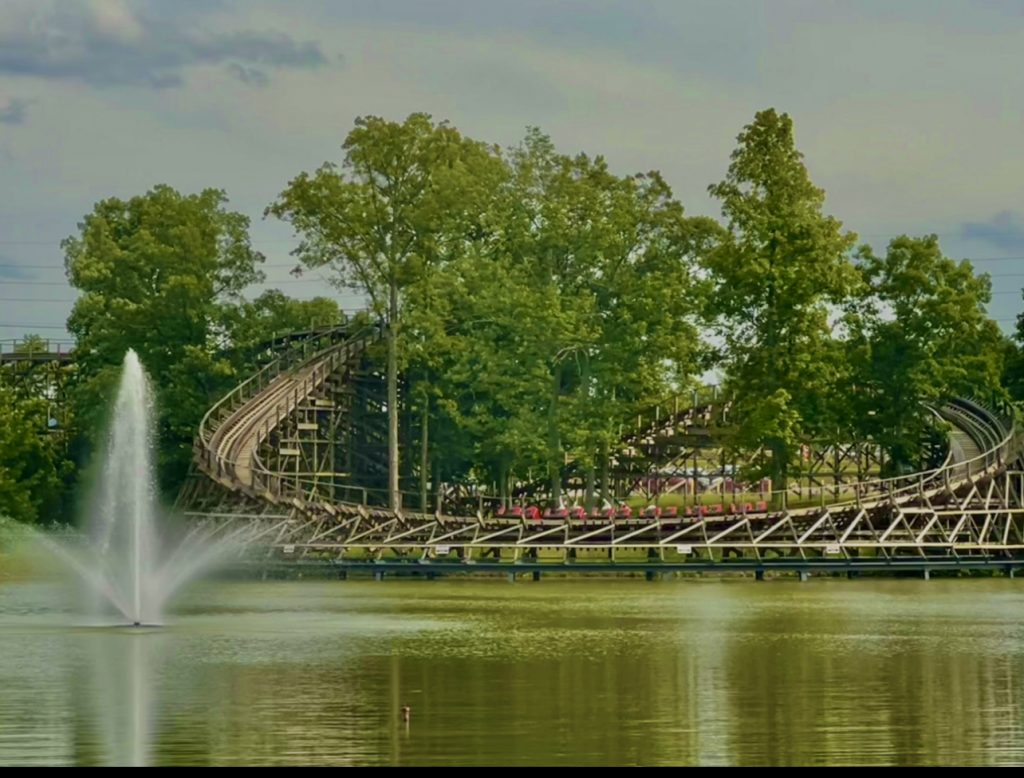 After a 5 minute walk from our site we came upon a gate that led to the lower lot at Holiday World called The Raven Lot. We walked another 5 minutes and we were at the front gate and headed into the park! 10 minutes from campsite to park entrance with shade and a gorgeous view the whole way! If you are in the back of the campground, or even where we were you can easily get a shuttle that runs so frequently you wouldn't even need to think about a schedule. It stops at multiple places in the campground.
Mid-day we headed back to camp. We walked out of holiday world, and boarded a shuttle immediately. We had invited some friends over for snacks – and hopefully s'mores in the evening – except we had nothing to make s'mores. No graham crackers, no marshmallows, no sticks, no chocolate. Exiting the shuttle at the store that was only a 3 minute walk from our site, and between our site and the park entrance, a quick shopping trip was needed. The store was surprisingly extremely well stocked. I would not be surprised if you could show up with a tent, a paid for reservation, and 150$ and get EVERYTHING you needed for a few days. We grabbed all the s'mores supplies and a few other things here and there. Lake Rudolph's store saved our campfire!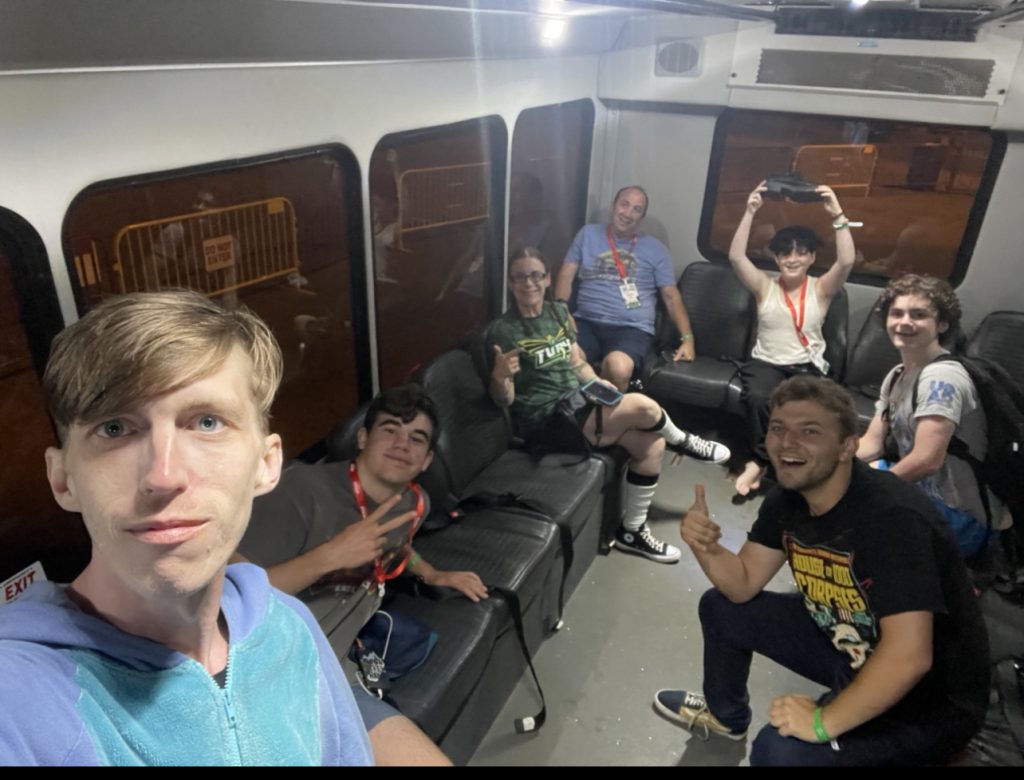 While walking on day 2 we were passed by a shuttle that we knew we could take, but realized with our distance this was the better move – except that the shuttle driver stopped, opened his door, and picked us up. Right there, midway on the path through the gate. I promise that WILL NEVER happen at Disney or Universal. You better be at the bus stop, and on time! Here? anything to help someone anyway they can! Sunday morning as we were packing up that same gentleman who stopped by on Thursday morning stopped by to ask how my stay was. He was "just" a grounds keeper, but he was beyond friendly courteous and it seemed willing to go out of his way if we were to need anything – which we fortunately didn't because everything was already as planned and laid out!
If you don't have an RV they have cabins and they have camp sites that are for tent's as well as "RV's" that you can rent that are permanent in place at sites! You can have as luxury or as rough of a camping experience you want. We even saw a camp site set up by the small creek that clearly had no power with multiple tents at it. There's options for any kind of experience you chose to have! The campground is also LOADED with activities even if you are not visiting Holiday World. We saw mini golf courses, paddle boats, a small water park, basketball courts, playgrounds, and an activity center. One of my biggest wishes was I had more time to just explore the campground itself. I did manage to do one of the hiking trails on Thursday afternoon, but there was so much to explore, do and see. Time is the one thing there's never enough of.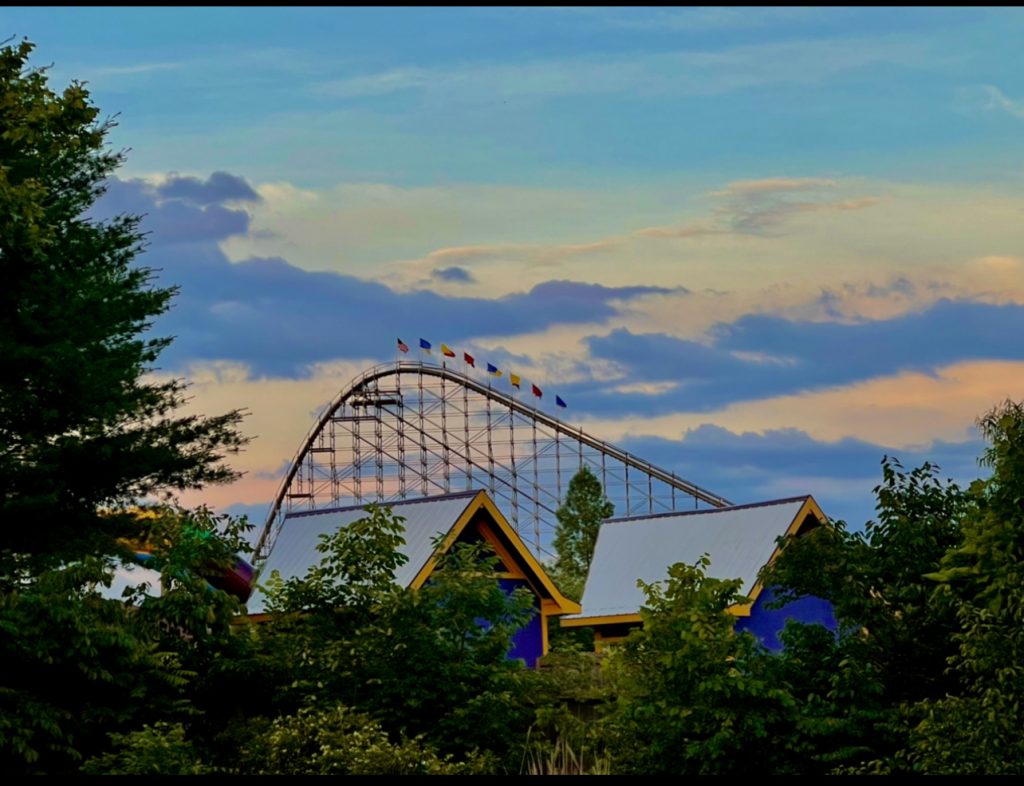 It is a very rare thing for absolutely EVERYTHING to be as perfect as possible during a camping trip. Usually there has to be something somewhere along the lines that break up that perfection. This trip was one of pure bliss though! Every detail was absolutely perfect, the campground was gorgeous with shade and tree's all the way through (and I know because I accidentally saw it!) and the staff was beyond accommodating and generous. The park was so close we could hear the coasters while sitting at camp. It was everything you could want in a camping and theme park combined experience! If you haven't been to Holiday World, or you have and are considering going back – I can't TELL you where to stay, but I can tell you where I will be. Find me at Lake Rudolph in a site that's walking distance to the best wooden coaster collection in the country – if not the world, and the friendliest theme park staff in the country – if not the world! In fact, I think I am starting to see a pattern in Santa Claus Indiana….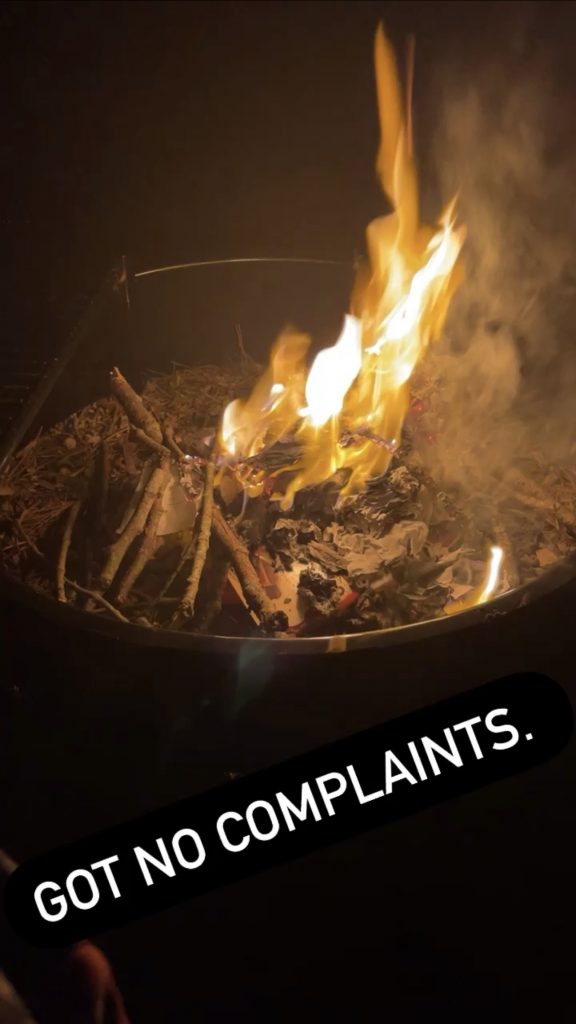 If you are going to Holiday World I know where I would stay. In the end it really was the most convenient and a wonderful campsite. The grounds are gorgeous, the campsites are large and have plenty of amenities, and the park is as close as you could be without camping inside of it (which isn't an option, but uhhh should be?) It's worth the visit! Plan an extra day or 2 outside of the park so you have plenty of time to explore the campground, and I promise you'll be glad you did!
Holiday World and Lake Rudolph Resort are located in Santa Claus Indiana, midway between Six Flags St. Louis and Kentucky Kingdom. You can visit Lake Rudolphs website here: https://www.sunoutdoors.com/indiana/sun-outdoors-lake-rudolph and Holiday World's website here: https://www.holidayworld.com
Stay tuned for more theme park information, and be sure to get social with us on Facebook , Instagram, Twitter @BehindThrills for the latest updates! For our latest theme park videos please be sure to subscribe to us on YouTube!
Justin Landers is 31 year's old and owns Just Shoot Light Multimedia Productions, a freelance photo and video company involved in the theme park industry since 2013. You can find him on Instagram at @Inverted_Therapy and @Just_Shoot_Light and on YouTube or Facebook.