Tripsdrill is a charming theme park located in small-town Germany that is perfectly balanced between a nature park and thrill rides. There are many humourous rides and quirky themes here, no major dark rides, a limited selection of flat rides, a rapids ride, and a flume. It's a perfect mix for a smaller, spread-out amusement park like Tripsdrill. Lots of grass space, and plenty of little obscure stops along pathways to keep your interest.
Notable Attractions:
G'sengte Sau: Gerstlauer's first roller coaster. Great for the whole family.
Hals-uber-Kopf & Volldampf: A pair of Vekomas intertwined with eachother.
Karacho: Gerstlauer's first "Infinity" coaster model with lap bars!
Mammut: A wooden roller coaster. The Mammut was the first wooden roller coaster completely designed and built by German companies.
Badewannen-Fahrt zum Jungbrunnen: Do not miss this special Log Flume.
Rasender Tausendfüßler: Another coaster fit for the whole family. Great fun.
Tickets: Approx. $40
We started our day at the new Vekoma Hals-über-Kopf, it's the only of its kind in the World, a Suspended Thrill Coaster model. It inverts with just lap bar restraints, uses the terrain, and intertwines itself with the shuttle coaster family ride, Volldampf. These intertwining coasters are brilliantly designed where the shuttle coaster actually goes up into the station of the inverted one. It's an amazing effect and some of the best use of space for two coasters I've ever seen. You can walk around and under the rides as they go all around you and they will duel every so often.
Hals-über-Kopf is so smooth and filled with negative G's. The build quality is nice and it just feels good to ride, super fun, not intense; but not everything should be. I want to see more of these, especially in the USA, and I'm curious what other inversions they could put into this coaster type. Maybe they're not marketable in the mindset of American parks, but these just speak for themselves once you ride the new generation of this company. The Family Boomerang, Volldampf, is also a fun ride for all.
Next up we went on a quite funny drop tower, Doppelte Donnerbalken, located next to Hals Uber Kopf, with a fun little surprise at the end. They're small but pack a nice little burst of adrenaline and they duel with each other when both sides are running.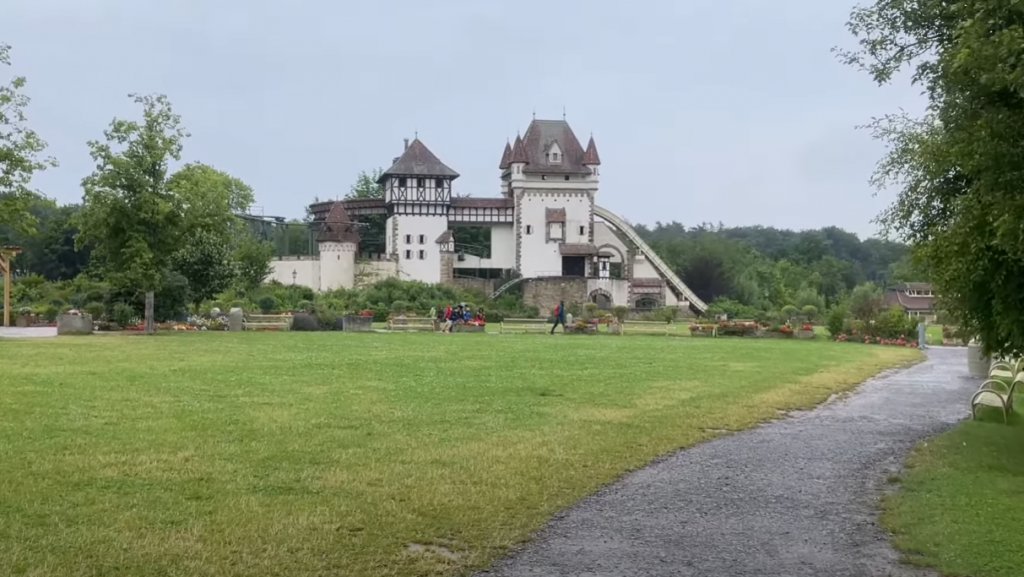 We walked across the park to the other collection of major rides that the park has. A couple water rides and a few more coasters around a large field make for a really nice setting. Honestly one of the coolest areas of any park, so much to look at and I just want to picnic here. What a location, nothing like this anywhere that I've seen.
The Gerstlauer coaster, Karacho, is very visually pleasing, with a nice dive around the pathway and other intense elements, making it one of the best of its kind in the world. Lots of speed, smooth, and a nice amount of theming in the queue and on the trains. And, an extra special animatronic at the exit of the ride. I personally prefer The Vekoma invert a bit more, so it would be where I spent the end of the day to ride that as many times as I could.
The log flume was next, Badewannen-Fahrt zum Jungbrunnen, which was a great surprise and very fun. One of the best log flumes ever. Theming top notch. Pretty hilarious ride just like everything in this park, it's surprising. A must-ride.
Watch The Video Version for Added Visuals:
A Gerstlauer bobsled coaster called G'sengte Sau was next up on our list. These are wild-mouse-like coasters. They're all over Europe and they're once again a coaster model that is just missing over in the USA. They're smooth, have fun elements, and are always themed quite well at every park. This particular bobsled runs right along the terrain, creating a nice effect when viewing it from the queue and on-ride. It's the same layout as the model at Djurs Sommerland in Denmark, but you would never know that. For the small footprint, this is an amazing coaster, like all the attractions at this park it's also a must-ride.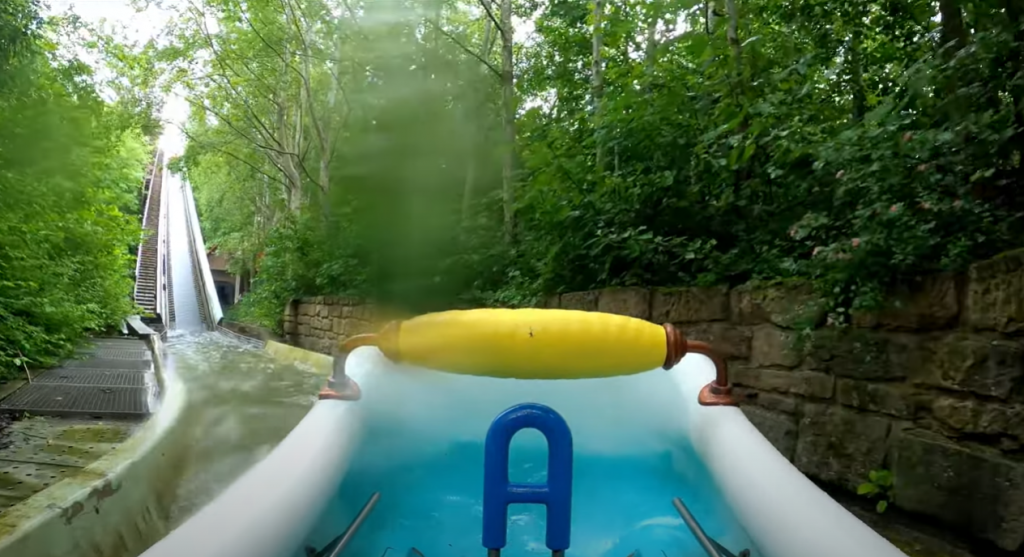 The wooden coaster Mammut was next, famous for the stunts that have taken place on this coaster, it is also the first wooden coaster in Germany that was designed, manufactured, and built by all German companies. The most famous stunt being one where a man used inline skates to ride around the track. This Gerstlauer wooden coaster isn't anything too thrilling and doesn't have many forces, but the theming and layout is interesting, and the ride itself is smooth and comfortable.
Tripsdrill is filled with all sorts of quirks, like a museum with all sorts of models of all the rides and other interesting pieces. You can see Karacho, the Log Flume, and a bunch of other high-quality models likely used in the actual design process. I can't repeat it enough, you must go into every building here when visiting, there are things that I've even missed on my visit, but more reason to return. They have a nice indoor/outdoor funhouse attraction that is good fun as well. Make sure to show your park ticket at the park's main gift shop for a free gift when visiting, I believe it is a tasting glass and wine but not 100%, once again it's something we just forgot to do.
Another not to miss coaster, Rasender Tausendfüßler. It's one you might miss because it's just a family Tivoli model, however, it's one of those rare rides where the entire coaster train comes together in a way like no other. You can skim the grass with your hand, everyone is excited as you pass through the station, and it's just one of those experiences that you cannot leave Tripsdrill without doing. It encompasses the energy of the whole park in just this one ride, really a ride that everyone can get together on and have a great time, and I couldn't think of a better way to end this park.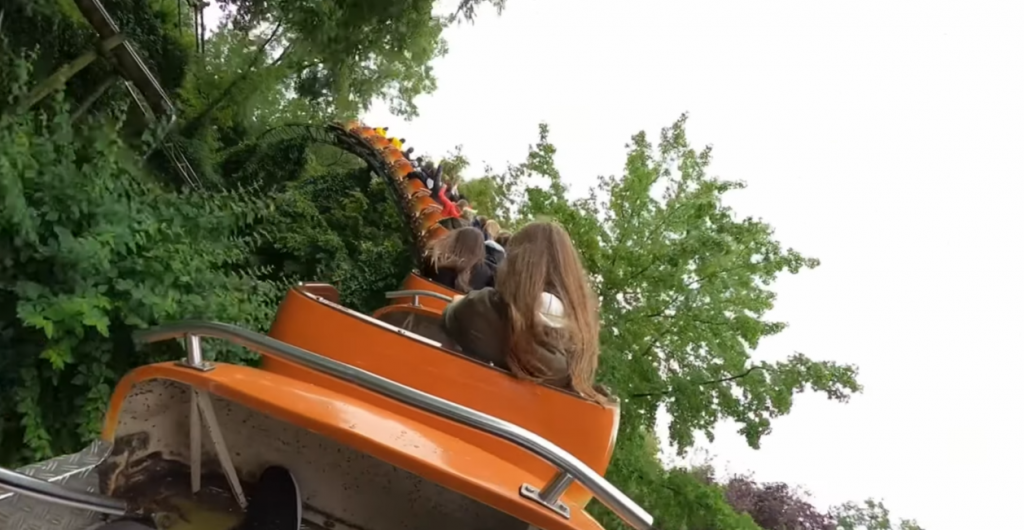 For a rainy and miserable day, this park was full of joy and is one that I will 100% include on a return trip to Europe.
When visiting make sure to start at the back of the park, Karacho and Mammut first, they carried the longest line. Make your way around the park from there, finally ending with Hals-über-Kopf and Volldampf.
It was time to get back in the car and drive to the one and only, Expedition GeForce, putting Holiday Park on the map for coaster fans around the World, this has been rated number one by quite a few, so how would it rank for us?
Days Recommended Length of Stay: Full Day. Half Day is possible if you only care about the coasters and pair with Holiday Park if it is open late.
Recommended for: Families with Children, Roller Coaster Enthusiasts, Teens, Adults, Seniors
Follow us to HOLIDAY PARK! Next!
Follow Austin & AmusementInsider over on Instagram & Twitter, and Subscribe on YouTube to keep up with all the latest!
Link To Our Full Schedule:
https://docs.google.com/document/d/125IM-hy8MW4erYCGnOP6NE1TmY6usQhVWvJ2hqX43Ls/edit?usp=sharing