Take a ride on this incredible coaster at night with the lights through the incredible TRON canopy!
The newest attraction in Magic Kingdom® Park takes Users on a thrilling race through the digital frontier aboard two-wheeled Lightcycles. Sponsored by ENTERPRISE!
The ride's trains are designed to look and feel like the iconic light cycles from the Tron movies, and riders are seated in a forward-facing position as they zoom through the neon-lit track. We can tell you that it's one of the best attractions in the park! The attraction starts off with a high-speed launch, propelling riders through a series of twisting turns and inversions. The ride's unique layout includes sections where the coaster tracks split apart, creating the illusion of riders racing alongside each other. The coaster's special effects and lighting add to the immersive experience, making riders feel like they are truly inside the world of Tron. It's a great addition to the park! The roller coaster incorporates cutting-edge ride systems and special effects to create a one-of-a-kind experience.
Enterprise is thrilled to continue its collaboration with Disney Parks and Resorts and help shape the future of Tomorrowland at Magic Kingdom® Park as presenting sponsor of TRON Lightcycle / Run.
Now open at Walt Disney World® Resort, TRON Lightcycle / Run is one of the fastest coasters at any Disney theme park in the world and masterfully blends thrills with speed, visual effects, music, and a one-of-kind system to create an experience like no other.
---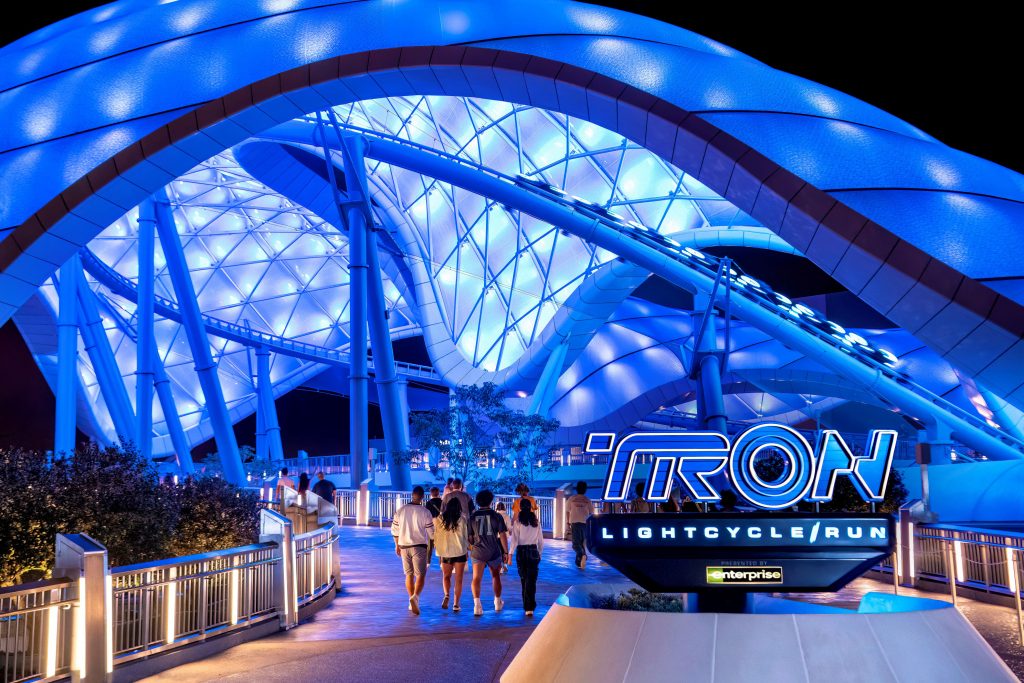 ---
Guests, also known as Users, are digitized into a mysterious game world. As members of Team Blue, they board high-speed Lightcycles for a thrilling race through a dark, computerized world, facing off against a fierce group of Programs known as Team Orange.
"As a global leader in providing solutions to help move people and goods more seamlessly, Enterprise jumped at the chance to serve as the presenting sponsor of this innovative and groundbreaking attraction," said Kyle Sanborn, Vice President of Global Brand Strategy and Marketing Activation at Enterprise Holdings. "No matter the need – from business and leisure travel to trucks and replacement rentals, vehicle sales and exotics, even custom solutions for business and fleet programs – the Enterprise team is up for the challenge. Intuitive and flexible, we strive to adapt with you as your needs evolve – now, and into the future."
Enterprise branding has been incorporated throughout the attraction experience including on the marquee sign, in ambient signage, in the entry queue and instructional signage, and at the attraction's post-show space. After competing in an epic race and returning to Tomorrowland, Team Blue Users are introduced to a bold new race team being welcomed in the post-show space presented by Enterprise: Team Green. Serving as a centerpiece is Team Green's one-of-a-kind, powerful and state-of-the-art Lightcycle. The latest and most-advanced iteration to join the competition, this formidable vehicle has been exported from the Grid into the real world. As it awaits its turn to race, its engine revs with pulsating green lights – creating an incredible photo opportunity.
---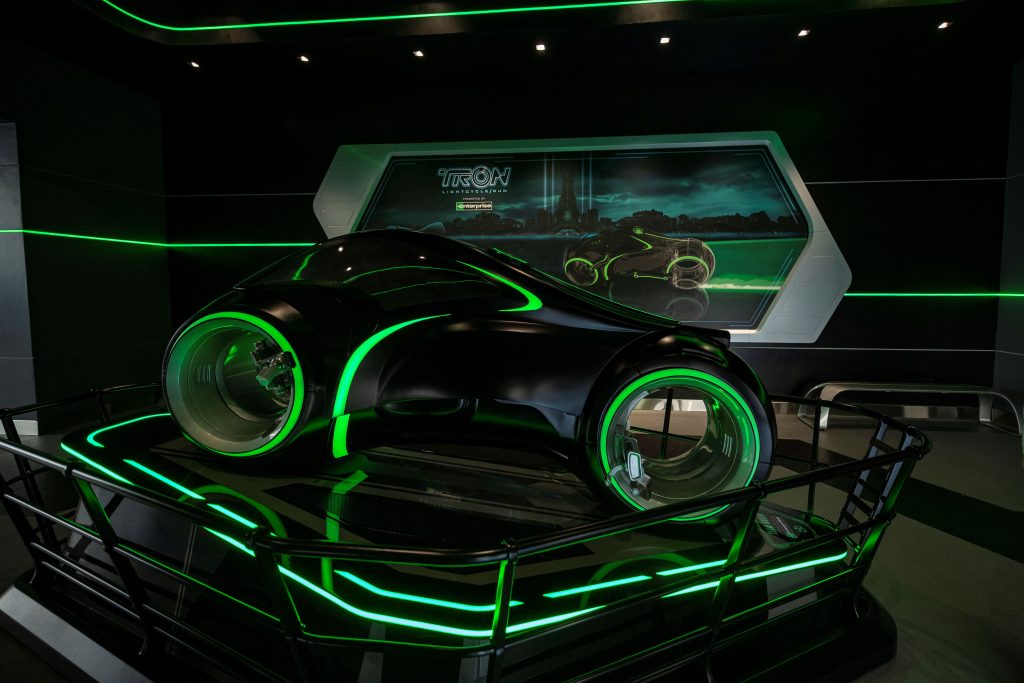 ---
Enterprise adopted TRON's Team Green moniker to showcase a range of programs throughout the post-show space that embody the competitive advantage and shared vision of Enterprise Holdings, which is constantly innovating to deliver an exceptional experience to meet customers' unique travel needs and preferences. Stories about the 12 team members of Team Green will rotate throughout the display in the post-show space, providing returning Users an opportunity to learn more about Team Green on future visits to TRON Lightcycle / Run.
"When you ride with Team Green, you're supported by a collective of more than 80,000 global employees linking you into one of the largest transportation networks in the world," said Sanborn. "Empowered to help you succeed, Enterprise is here to help you understand and harness the power of our latest advancements. Our people, vehicles, and infrastructure are a gateway to emerging and advanced technology."
"Enterprise and Disney share a dedication to incredible guest experiences," said Erika Shen, Vice President of Alliance Management at The Walt Disney Company. "We were delighted to build upon our existing relationship with Enterprise through an elevated sponsorship opportunity of TRON Lightcycle / Run. Our collaboration on the post-show space which embodies Enterprise's innovative vision, tells the story of their brand, and showcases a one-of-a-kind Lightcycle for guests to see."
---
Enterprise is in a multi-year alliance relationship with Disney Parks & Resorts, and is the Official Rent-A-Car of Walt Disney World® Resort, Disneyland® Resort, Disney Vacation Club®, Disney Cruise Line® and Aulani, a Disney Resort & Spa®. In addition to serving as the presenting sponsor of TRON Lightcycle / Run, Enterprise signage and support can be found at Walt Disney World® Resort and Disneyland® Resort locations, including:
The Luigi's Rollickin' Roadsters attraction in Cars Land at Disney California Adventure Park
The Tomorrowland Transit Authority PeopleMover at Magic Kingdom Park
ESPN Wide World of Sports Complex on the courtesy shuttle carts onsite at the property
runDisney® Events at Walt Disney World Resort – Enterprise is an official sponsor of runDisney and has race-day branding at events including Walt Disney World Marathon Weekend, Disney Princess Half Marathon Weekend, runDisney Springtime Surprise Weekend and Disney Wine & Dine Half Marathon Weekend.
For more information about TRON Lightcycle / Run, visit DisneyWorld.com/TRON.