It's no secret that SEAS wants to get into the hotel business. Investor calls dating all the way back to November of 2015 have mentioned potential resort locations at several of the SeaWorld and Busch parks, but so far nothing has come to fruition other than a few partnerships with existing 3rd party hotels.
The above slide in particular shows the locations SeaWorld Orlando was considering at at least one point in the past – with potential locations near all three of their Orlando parks. While this slide is outdated and their strategy has likely changed a bit, it's clear that SEAS is still interested in entering the hotel business.
Over the past year, SeaWorld CEO Marc Swanson has made several statements during investor calls about the ongoing development of hotel projects. In the most recent May 9th, 2023 investors call he offered these new details:
On the hotel front, we also continue to make progress with our plans that we discussed last quarter. And as we communicated last quarter, expect to have our first hotel open in 2025 followed by our second hotel in 2026. We are working on design and planning for those two hotels, and on site selection for additional hotels across our portfolio.
While no specifics were given about where these two hotels might go, we believe we may have identified their locations thanks to two recent permit filings with the Orange County Government – and unsurprisingly, it looks like both of them may be heading to Orlando.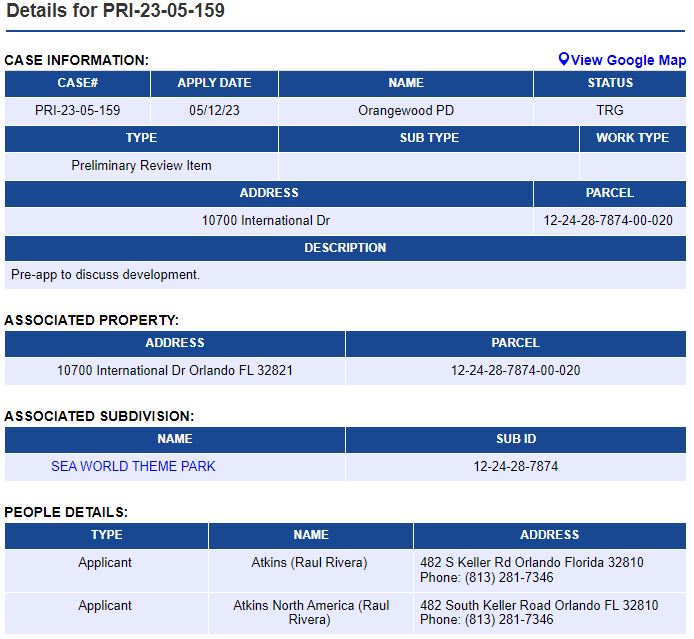 On May 12th, 2023 two Preliminary Review Items were filed with the Orange County Development Review Committee for two new projects codenamed Starboard and Canopy. Details are still scarce, but what we can gather so far is that SeaWorld is working with Atkins, a global design, engineering and project management firm, to develop two parcels of land – one behind SeaWorld Orlando and the other behind Discovery Cove.
As you can see, both locations would make rather ideal locations for on-site resorts. The location behind SeaWorld Orlando is currently used as BOH parking and has a couple of small support buildings, but we suspect those could easily be relocated elsewhere. The parcel behind Discovery Cove is completely undeveloped and was even one of the proposed resort locations from way back in 2015. Due to its small size, and the fact that existing infrastructure won't need to be relocated, we suspect that this may be the resort targeted for a 2025 opening. A small boutique resort located on-site at Discovery Cove is definitely a unique way to get started in the resort business, but it seems like a great way to entice guests to book a multi-day stay to visit all three of SeaWorld Orlando's parks.