SeaWorld Orlando 2023 Guide, Visiting After COVID, Theme Park Tips, Ride Reviews, When to Visit/Ride, Mask Requirements.
SeaWorld Orlando is open 7 days per week. Reservations are not required to gain entry into the park. Patrons are no longer required to wear a mask in the park.
Jump to:
Interactive Map
About SeaWorld Orlando
Best Times to Visit the Park
Days Needed at SeaWorld Orlando
Discount Tickets
Top Tips & Tricks
Notable Attractions, Exhibits, Shows, & Reviews
Where to Eat in the Park
Hotels Closest to SeaWorld
---
Interactive Map
Check out the Google Map above to see the locations of rides, attractions, and shows. Save this page to navigate your way around the park while inside. This map also shows the locations of some of SeaWorld's 'Official Hotels' closest to the main gate, off-site restaurants and services, and the I-RIDE Trolley stops.
Printable Theme Park Map. Print this map before heading to the park, and mark certain locations that you think are must-visits during your day so you don't forget anything.
---
About SeaWorld Orlando
The 200-acre SeaWorld Orlando marine zoological theme park opened in 1973, and today features oceanariums, marine mammal exhibits and shows, as well as aquatic-themed thrill rides and world-class roller coasters. The killer whale and dolphin shows have evolved into more natural, educational experiences, and SeaWorld's signature combination of big-budget thrill rides blended with animal habitats and interactive exhibits continue to be popular today.
In addition to being well-known for its theme park, SeaWorld is recognized the world over for its animal rescue and rehabilitation program. Its first rescue team was formed in 1964 with the opening of their first park in San Diego, California. Since then, over 37,000 animals have been rescued by the organization. SeaWorld Orlando is particularly well respected for its Manatee rescue and rehabilitation.
---
Best Times to Visit the Park, Crowd Levels, Crowd Calendar
Before you plan your trip, take a look at the 'Crowd Calendar'. To get the most out of your visit, go during one of the lower expected crowd-level periods. SeaWorld is a park that handles crowds well thanks to its large show spaces and is our highest suggested park to visit on Holidays such as New Years' Eve and July 4th. CHECK OUT OUR MORE DETAILED "ORLANDO CROWD CALENDER" HERE FOR MORE SPECIFIC DATES.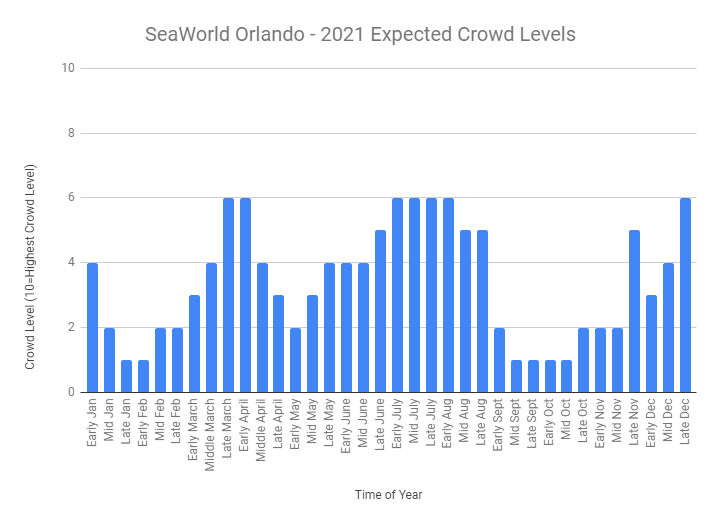 Monday-Thursday are the times to visit if you are hoping to experience the theme park with lower crowd levels.
---
Days needed at SeaWorld Orlando: 1 Day
At SeaWorld, everything can be completed in a day if planned accordingly. If you stay for a second day, it's a great park to just take in the atmosphere or visit the waterpark across the street. You can eat on the lagoon, walk around and explore new food options, shop, check out the many bars, re-ride the incredible lineup of coasters and water rides, and see any shows you may have missed.
---
Discount Tickets
Tickets purchased from SeaWorld are more expensive at the gate, so be sure to purchase your tickets in advance. Check the SeaWorld Official Hotels listed at the bottom of this guide for package deals that include tickets, 'Quick Queue', dining at the park, and hotel stays. If you're considering coming for the holidays, check out the Christmas Celebration Package. For more ways to save on tickets, visit our list of 5-Ways to Save on SeaWorld Tickets.
---
Top Tips
We try and dig deeper than other guides with specific tips about getting around the park the fastest, where to head first, and what rides are something that you personally will enjoy or not.
Our SeaWorld Page: Top 10 Tips and Tricks for Getting the Most Out of Your Day at SeaWorld Orlando, are the best things to remember, and essential to making the most of your vacation!
A good rule of thumb is to start in the back of the park and make your way forward if you are visiting on a weekend; and if visiting on an off-season weekday, start near the front and make your way around the park clockwise.
"Manta" may open before park official opening, so be sure to arrive to the park early and get on this first if there's no wait!
Suggested Family Schedule for Monday-Thursday, show schedules and times may slightly change throughout the year, some shows are listed multiple times in case one is missed.
10:00-11:00
Dolphin Cove (Exhibit)
Stingray Lagoon & Feeding (Interactive Exhibit)
Manatee Rehab & Turtle Trek (Exhibit)
11:00
Dolphin Adventures (Show)
12:00
Sea Lion High (Show)
12:00 – 1:45
Antarctica: Empire of the Penguin (Exhibit)
Mako (Roller Coaster)
Pacific Point Preserve (Sea Lion Feeding)
Shark Encounter (Shark Feeding)
2:15
Dolphin Adventures (Show)
Manta (Roller Coaster)
3:30
Sea Lion High (Show)
2:30 – 4:15
Infinity Falls (Water Ride)
Sesame Street Land (Kids Area)
Wild Arctic (Exhibit)
4:30
Orca Encounter (Show)
SeaWorld Orlando is a Certified Autism Center (CAC). Team members are trained to support individuals on the autism spectrum and those with special needs. Guests that are in need of a quiet retreat will find two 'quiet rooms' located in the park. Details regarding accessibility to rides, ride restrictions, medical and physical restrictions, assistance animals, and accessibility throughout the park in general, can be found in the SeaWorld Orlando Accessibility Guide. If you have additional questions or concerns, call (407) 545-5550 or email SEAguestcorrespondence@SeaWorld.com.
---
2023 Event Schedule, SeaWorld Orlando
Unlike other theme parks in Florida, SeaWorld has continued to offer events to guests while still maintaining social distancing in the park. This makes it one of our most recommended theme parks to visit in the Orlando area at the moment. SeaWorld offers a concert series, beer festivals, food fests, holiday celebrations, and more. Most special events take place during peak-season, but the open pathways and large park area allow guests to be spread out well.
Kids Weekend, Sesame Street: Weekends Late January. Fun activities, photos with characters, and more in this family-friendly celebration.
Elmo's Birthday Celebration, Late January – Early February. Celebrate Elmo's Birthday with meet and greets, DJ's, photo opportunities, and more.
Seven Seas Food Festival: Weekends, February – May. A celebration of flavors, cuisines and cultures. Local craft beers, live music from recognizable names, and more. FULL MENU AND DONT-MISS FOOD ITEMS.
Electric Ocean: May – September Locals of Orlando's favorite show returns. When the sun goes down, the night comes to life with electrifying dance music, colorful lights, and fire + fireworks!
Craft Beer Festival: Friday – Sunday, August – September. Beer lovers will enjoy taste-testing over 100 domestic and local craft brews. Bring your foodie friends along because the SeaWorld chefs have prepared more than 20 delicious culinary bites for this event.
SeaWorld Spooktacular: September – October. A family-friendly event with trick or treating, Halloween characters, and more.
Howl-o-Scream: September – October. SeaWorld gets scary after dark. Themed bar experiences, shows, and haunted houses.
SeaWorld Christmas Celebration: November – December. Holiday traditions, shows, shopping, entertainment, and fireworks!
---
Attractions & Reviews
Roller Coasters
Are you looking for more in-depth information and reviews on each of the SeaWorld Roller Coasters? Wondering if you'll be able to handle a specific ride? Check out more information and In-Depth Reviews of SeaWorld Orlando's Roller Coasters.
Manta: Glide like a Manta Ray when you ride the only flying roller coaster of its kind in Florida, on one of the smoothest tracks in the world.
Mako: Orlando's tallest and fastest hypercoaster lives up to its name, reaching speeds up to 73 mph and heights of 200 feet. This roller coaster offers one of the most-smooth experiences ever!
Ice Breaker: Now OPEN! Ice Breaker is a compliment to the existing Wild Arctic attraction. SeaWorld's first launch coaster has a reverse launch into the steepest beyond-vertical drop in Florida.
Kraken: Orlando's only floorless roller coaster has seven inversions and travels at speeds up to 65 mph while passengers' feet dangle freely above the track.
Journey To Atlantis: This water flume hybrid coaster tells the legend of a trip to the fabled city of Atlantis, then purges the travelers from its gates and plunges their transport vehicle into the water below.
When to ride each coaster and beat the crowds can be found on our page strictly dedicated to the roller coasters of SeaWorld Orlando.
Other Rides
Infinity Falls: Hang on to your raft as world-class rapids send you rushing through chutes and turns before descending down one of the tallest drops of its kind into turbulent whitewater. You will get at least slightly wet, you may get soaked.
Antarctica: Empire of the Penguin (Simulator Ride): Closed. (Habitat open)
Flamingo Paddle Boats: Peddle your way around SeaWorld Orlando's large central lake on a Flamingo Paddle Boat. Rides are $6 per person for a 20-minute ride.
Sea Carousel: Choose to ride on a manatee, dolphin, walrus or colorful sea creature while listening to the sounds of the sea on this carousel.
Sky Tower: This 400-foot landmark has been in operation since SeaWorld Orlando's opening day in 1973. The tallest observation tower in Florida allows visitors a birds-eye view of the park as well as the surrounding Orlando area. There is an additional charge of $6 for riders age 3 and older.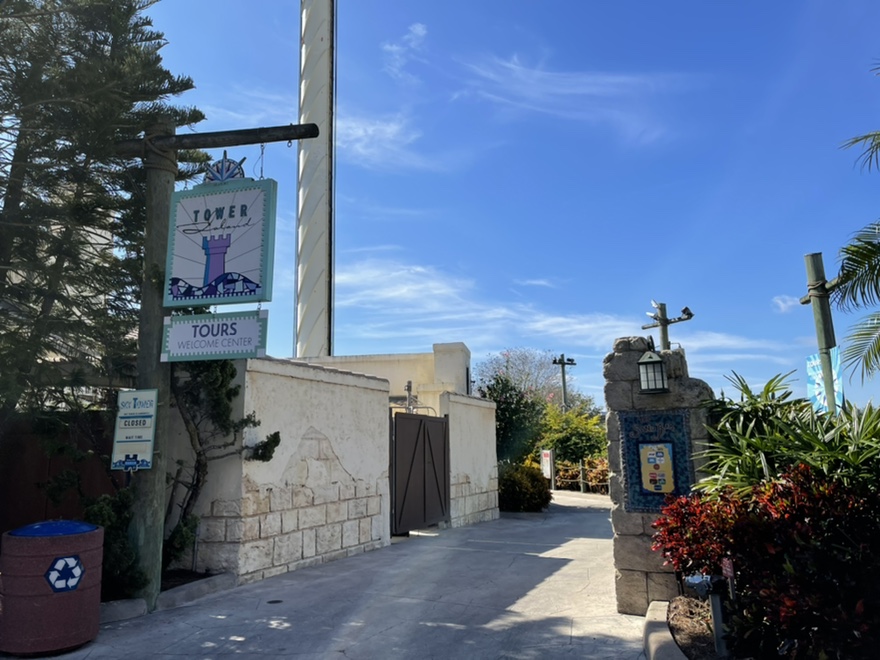 For The Kids
Sesame Street Land: Voted Best New Amusement Park Attraction. Appealing to the youngest of guests, it's the only area of the park that's not devoted to marine life. Meet and greet the real-life, furry, Sesame Street characters, take a photo on the stoop at apartment building 123, knock on Oscar's trash can, and attend storytime at Big Bird's nest. There's also an award-winning parade and six kid-friendly rides for pint-size thrill-seekers: Abby's Flower Tower, Big Bird's Twirl 'N' Whirl, Cookie Drop, Elmo's Choo Choo Train, Rubber Ducky Water Works, Slimey's Slider, and Super Grover's Box Car Derby.
The Animals and Habitats
Wild Arctic Habitat: Visit a wonderland of ice and icy water, belugas, and walruses. A well-themed exhibit worth a visit!
Antarctica: Empire of the Penguin (Habitat): Walk into the frozen continent to watch and learn about 5 different species of penguin: king, gentoo, Adélie, chinstrap, and rockhopper. The wait can get long for this habitat, so visit EARLY!
Key West: Purchase trays of fish to feed the sharks in Shark Shallows, toss fish to the Sea Lions and Seals at Pacific Point Preserve, or hand feed a stingray at Stingray Lagoon.
Stingray Lagoon & Feeding: Despite their name, stingrays are one of the most docile species to inhabit the oceans. At Stingray Lagoon more than 120 rays, some with wingspans up to 5 feet, spend warm days gliding through their 40,000-gallon habitat's peaceful waters. You're able to reach out and touch them as they swim by.
Pacific Point Preserve: Watch California sea lions and harbor seals swim and play among the waves, or bask in the afternoon sun. There's nothing like having a seal barking at you for more fish! Worth feeding them for a really awesome memory.
Shark Shallows and Shark Encounter: Touch a small shark and feed several species in the Shallows, then walk below through one of the world's largest underwater viewing tunnels. Experience an up-close look at prehistoric predators whose ancestors dominated the sea over 450 million years ago.
Dolphin Cove: This 700,000-gallon lagoon, is one of the largest interactive dolphin pools in the world, where you can see dolphins play and jump above the water, or see them gracefully swim in the underwater viewing area. Guests can pet the dolphins here.
Turtle Trek Aquarium: A 342,000-gallon naturalistic aquarium designed to showcase rescued sea turtles.
Manta Aquarium: The Manta Aquarium invites you to share in the magnificent underwater world of rays. A unique 360-degree pop-up aquarium puts visitors right in the center of the undersea activity.
Dolphin Nursery: Remodeled a few years ago to give park guests better views of the dolphins, some guests are fortunate enough to watch the birth of a dolphin here.
Manatee Rehabilitation Area: Park visitors have the unique opportunity to visit the 5-acre Manatee Rehabilitation Area where ill, injured, and orphaned manatees and other marine animals receive veterinary care and recuperate, with the hope of being released back into the wild. All park guests are invited to step behind-the-scenes and catch a glimpse of the manatees and other marine animals currently being rehabilitated by the Animal Rescue Team at SeaWorld. Peek behind the scenes at the incredible pumps and systems used for the tanks.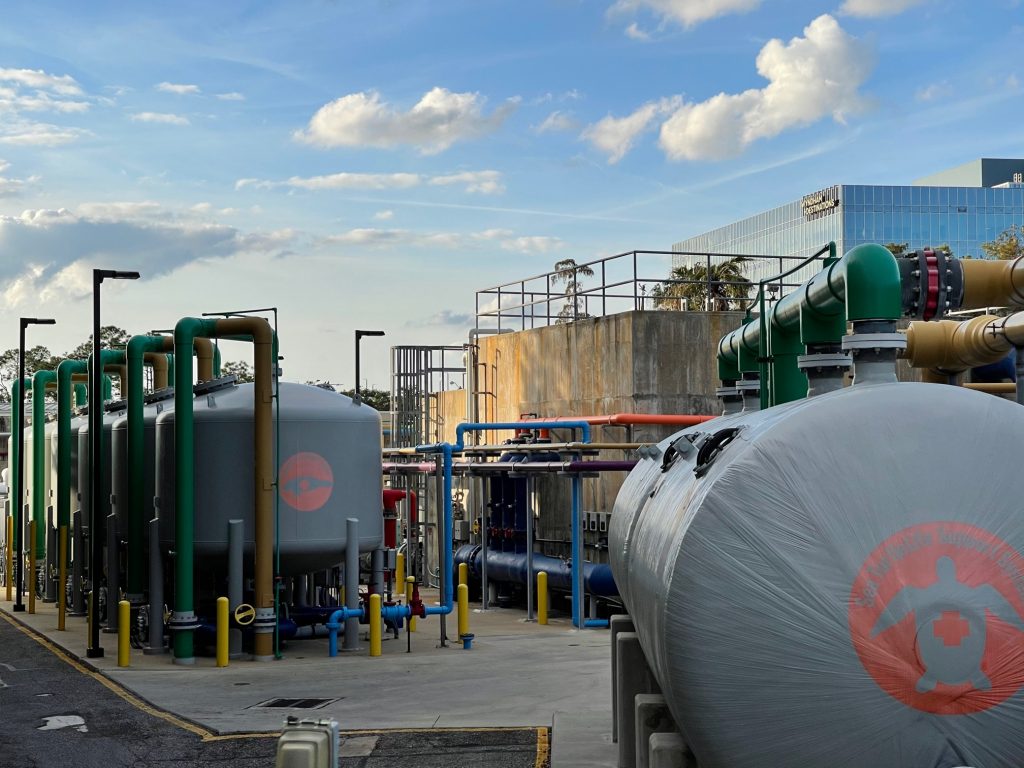 Animal Tour Upgrades: Up-Close Tours and Animal Encounters are available for an additional charge and last approximately 20-30 minutes. Each Tour and Encounter varies, depending on the the type of animal (dolphins, beluga whales, sharks, killer whale, penguins, walrus, and sea lions), and may include feeding, participating in hands-on care, a training session with keepers, and photo opportunities at some, but not all.
Exclusive Tours: The 4-hour Private, 6-hour Elite, and 8-hour Ultimate VIP Tours are a collection of SeaWorld experiences and immersive family fun. Each tour includes a personal VIP guide, preferred parking, expedited park entry, Quick Queue Unlimited, animal feeding and a photo, dining, reserved show seats, and animal encounters.
Shows:
Orca Encounter: SeaWorld updated its main attraction in 2020 and named it Orca Encounter. Guests are treated to an educational experience featuring behaviors the whales exhibit in their wild habitat, their role in the ocean ecosystem, and the importance of conservation.
Dolphin Encounter: Who doesn't love seeing high-flying dolphins and hearing their squeaky sounds? Five charismatic bottlenose dolphins and their trainers deliver an entertaining and educational show set to lively Caribbean music.
Sea Lion Show: This show is always a must-see. Two fun-loving sea lions, Clyde and Seymour, are amazing performers with antics that never fail to bring smiles and laughter from the audience.
---
Where to Eat and Drink inside the Park; Dining and Quick Service Restaurants at SeaWorld
CURRENT BEER MENU, Flamecraft, Waterway, Glacier bar
Check our Interactive Map for menu options. Hours of operation are fluid. Please check the SeaWorld website for current updates.

Beer, Wine, and Liquor at SeaWorld: Looking for the best place to find delicious IPA's? Local draft beer selections? Frozen mixed drinks? Where you can drink on the lagoon? Check out our full SeaWorld Drinking Guide (COMING SOON.)
Sit Down Dining Options:
(Listed beginning with our most favorable choices and what we feel is the best quality and bang for your buck)
Sharks Underwater Grill and Bar: This full-service restaurant lives up to its name with a one-of-a-kind atmosphere, specialty drinks, world-class entrees, and a kids menu. Recognized among the best restaurants in Orlando for its one-of-a-kind atmosphere. Reservations may be requested by calling 1-888-800-5447. On many days reservations can only be made inside the theme park. *Note that everyone in your party must be present to be seated. There is an indoor bar if you would like a place to grab drinks as you wait for your entire party.
Dine With Orcas: This outdoor eatery is all about the experience of seeing killer whales up close. Stay after the main show as there's more to come. Be warned, if you're sitting close to the glass, you may get a little splash. Food options are limited and due to COVID-19, it's no longer a buffet.
Quick Service Options:
(Listed beginning with our most favorable choices and what we feel is the best quality and bang for your buck)
Expedition Café: A food-court-like setting is why we rank this highest, there's plenty of options for everyone and indoor and outdoor seating available. The quality of food is not at the highest level, but if you have a large group this is the easiest location to keep everyone happy and lines move relatively quick. If you're looking for better food, check out some other options below. *All-Day Dining Deal participating restaurant.
Voyager's Smokehouse: If you love barbeque, this is the place to eat. Texas-style brisket, St. Louis-style BBQ ribs, and chicken is slow-smoked over genuine hickory wood. Wine, beer, and hard seltzer is also available for purchase here. *All-Day Dining Deal participating restaurant.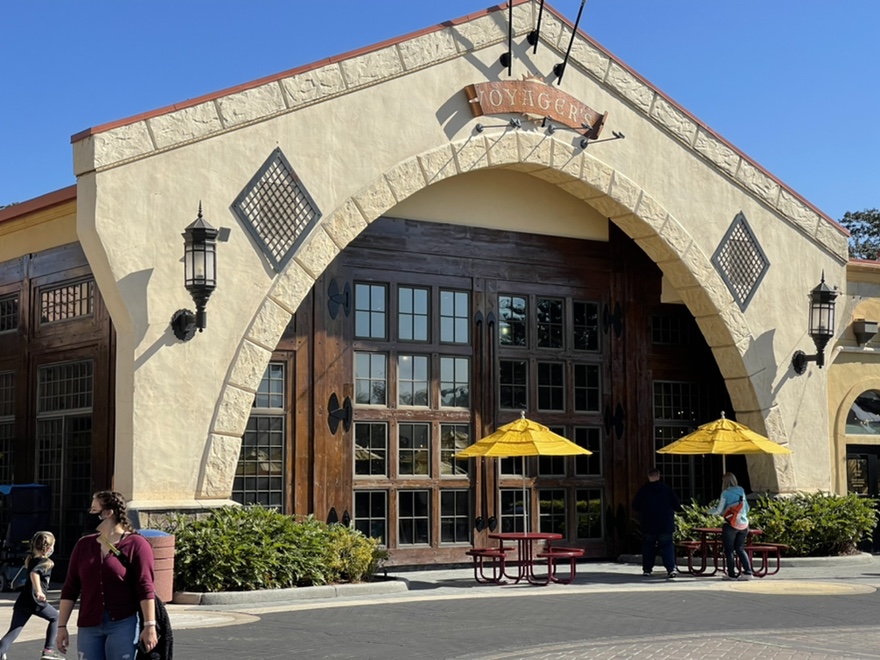 Eats on the Street – Sesame Street Food Trucks: We rank this so highly because we've never waited in line here and the food options are unknown to many guests; the Grilled Cheese is quite good and the chicken fingers are fresh compared to other locations. It's a great place to grab a bite on a busy day, located right in the middle of Sesame Street.
Lakeside Grill: Burgers and Impossible Burgers. Fish Sandwiches. Kebabs. Located right on the water for one of the best locations to eat. *All-Day Dining Deal participating restaurant.
Waterway Grill: Waterway Grill has a walk-up bar with plenty of local beer options and frozen specialty selections. Food options are limited and somewhat bland, but if you like rice and beans, check this place out. The atmosphere is very open and airy. *All-Day Dining Deal participating restaurant.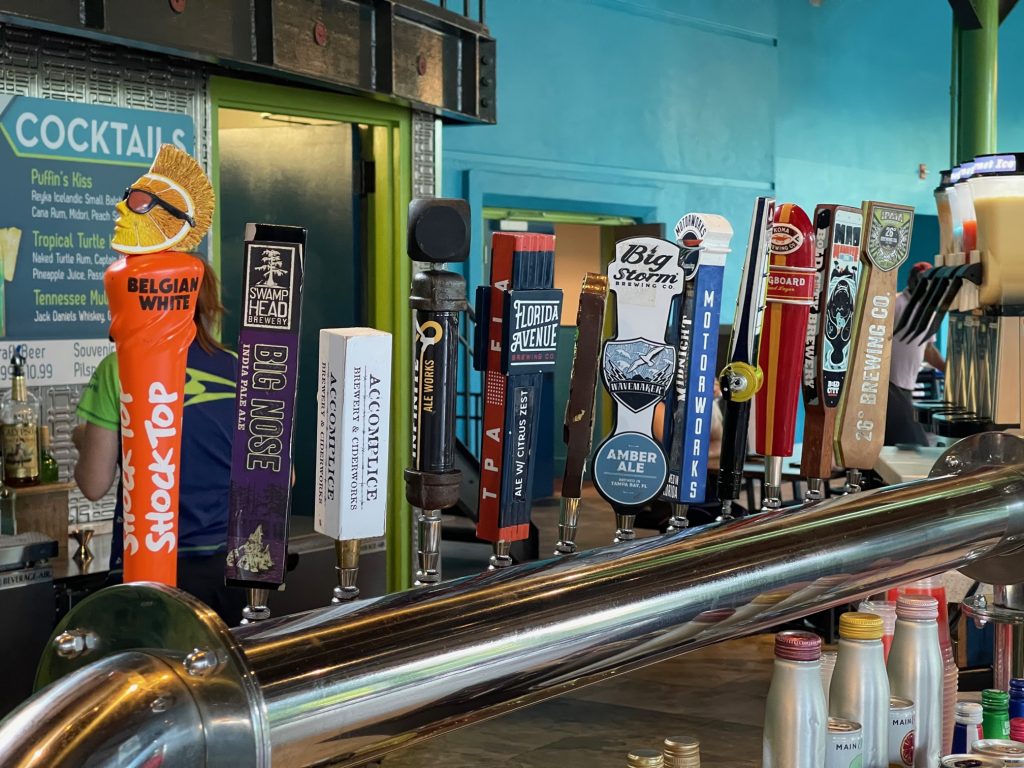 Flamecraft Bar: A Bar right on the lagoon, service can sometimes be slow and seating is minimal so eat early or late, but the small menu's food options are tasty compared to the other quick-service options.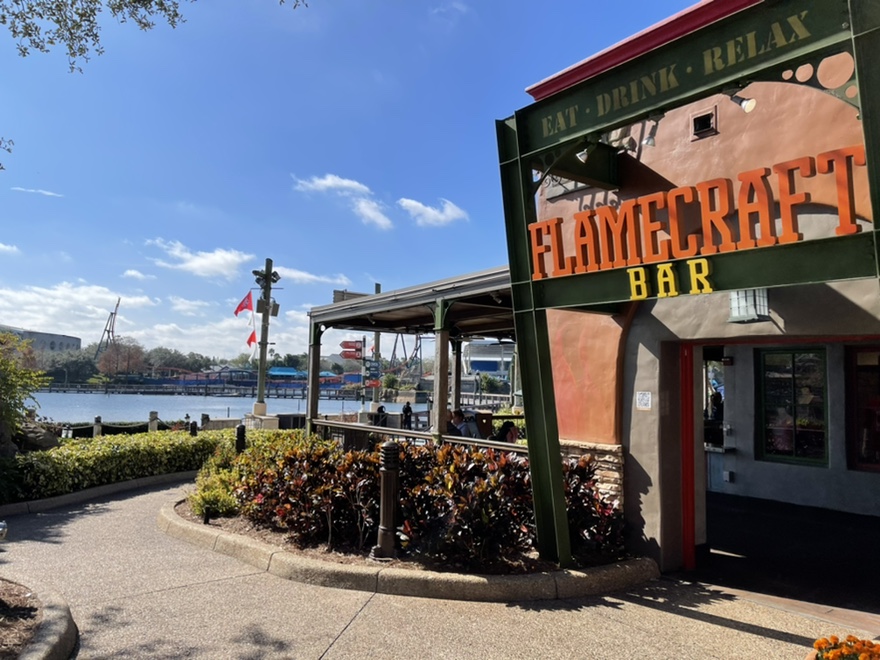 Mama's Pretzel Kitchen: Pizza pretzels, burger pretzels, and more, these are quite filling for the price and they're tasty too. *All-Day Dining Deal participating restaurant.
Seafire Grill: Chicken Wings, Chicken Burgers, and Chicken Wraps. *All-Day Dining Deal participating restaurant.
Glacier Bar: With ice-cold beer, frozen drinks, Coca-Cola Freestyle®, and sports on multiple big screens, this shaded bar is the coolest place in Orlando to take a break and has some food options that are quite tasty.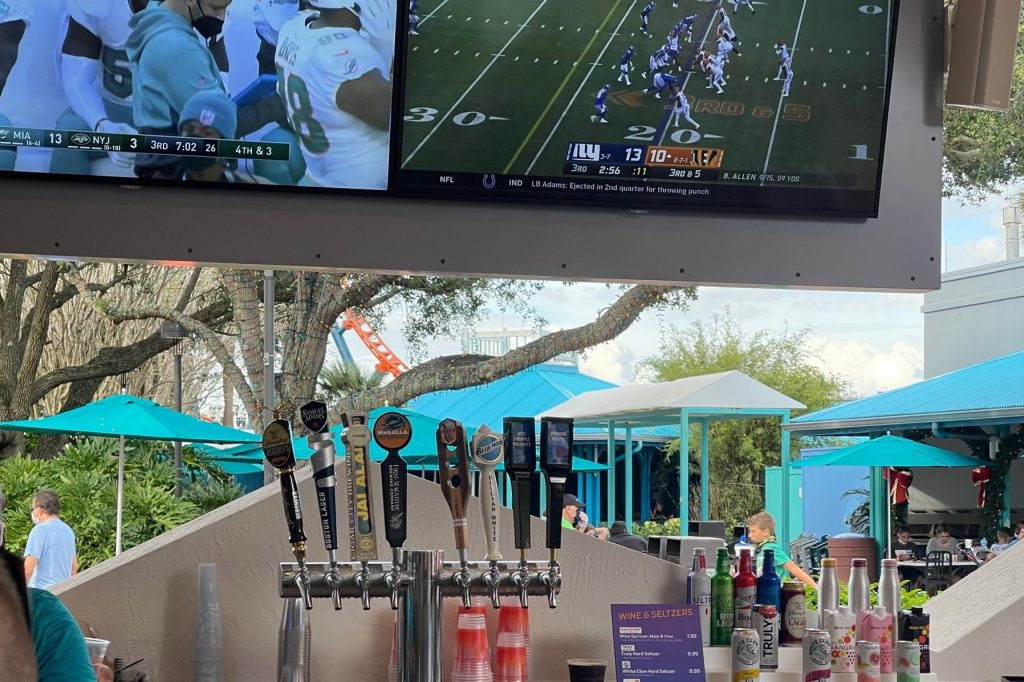 Captain Pete's Island Hot Dogs: Featuring Nathan's Hot Dogs and Chili Cheese Dogs. *All-Day Dining Deal participating restaurant.
Altitude Burgers: Pizza, Burgers, and chicken fingers. We found the burgers to be dry and other food options limited. This eatery has a long line around the Orca showtimes, so avoid it around those times. *All-Day Dining Deal participating restaurant.
---
Where to Stay; SeaWorld's 'Official Hotels' Closest to SeaWorld's Main Gate
Hilton Garden Inn at SeaWorld $
6850 Westwood Boulevard, Orlando, Florida 32821
1-407-354-1500
★★★ Recommended – Best Bang for Your Buck
Smoke free with designated outdoor smoking areas. Free Wi-Fi. Free continental breakfast. Free parking. No resort fee. Cancellation policies may vary depending on the rate or dates of your reservation. Two pets per room are welcome (no weight limit specified), $50 fee (service animals exempt from fee). $75 fee for late check-out (based on availability and time of check-out). Check-in 4:00pm, check-out 11:00am.
Amenities: on-site dining (limited), fitness center, pool. Standard guestrooms offer king or two queen beds, microwave, mini-fridge, coffeemaker, work desk, and 42" HDTV. Studio rooms are also available with king bed and sofa sleeper.
Tips: You can see the fireworks from some guest rooms; ask if there's one available for the room type you're interested in.
Renaissance Orlando at SeaWorld $$$
6677 Sea Harbor Drive, Orlando, Florida 32821
1-407-351-5555
★★★★ Highly Recommended
100% smoke free. 24-hour cancellation policy. No pets allowed. Service animals welcome. Free Wi-Fi in common areas, $19.00 fee guest room Wi-Fi access. $30 resort fee. $28 self-parking fee. Check-in 4:00pm, check-out 11:00am.
Amenities: on-site dining (limited), resort spa, fitness center, pool and kids splash zone. Connecting rooms available. Standard guestrooms offer king with sofa sleeper, or two queen beds. One-bedroom studio rooms are also available with king bed and sofa sleeper. All rooms contain mini-fridge, coffeemaker, work desk, and 49" TV.
Tips: If you book a standard guestroom with two queen beds, you may want to ask about rooms with a balcony. Available with a view of Orlando, or the 10-story atrium. (The atrium can be quite noisy.)
DoubleTree by Hilton at SeaWorld $$
10100 International Drive, Orlando, FL 32821
1-407-352-1100
★★ Not Recommended at this time.
Certified Autism Center. 100% smoke free. Free Wi-Fi. Free continental breakfast. 72-hour cancellation policy. Two pets per room are welcome, $30 fee (up to 50 lbs. total and service animals are exempt from fee). $20 resort fee. Secured self-parking is $12. $50 fee for late check-out. Check-in 3:00pm, check-out 11:00am.
Amenities: on-site dining (limited), 24-hour fitness center, 2-pools, playground. Standard guestrooms offer king or two queen beds, microwave, mini-fridge, coffeemaker, work desk, and 42" HDTV. Studio rooms are also available with king bed and sofa sleeper, and one-bedroom suites with kitchenette.
Tips: Recent issues with service at this hotel may be due to insufficient staffing. Stay in 'The Tower' if you can.