Soundstage 44, formerly Murder She Wrote and Herc and Xena, was a rumored house location for Universal Orlando's annual Halloween event, Halloween Horror Nights. Just a week or so ago, Universal Orlando suddenly filed permits for demolition on the Soundstage. Unless Universal has plans to take guests through rubble and ruins in a house this year, it's safe to say a house in Soundstage 44 is dead in the water.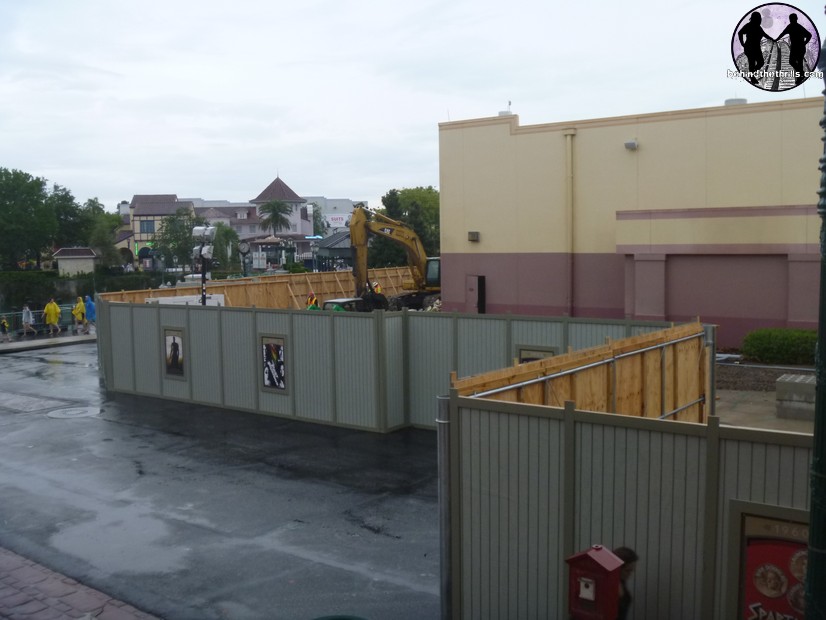 Demolition has started on Soundstage 44. We were at the park just yesterday evening before park closing. Looking at some photos from today, Universal is in a rush to get the building down. The soundstage isn't completely gone.. yet, but at this pace, it will probably be gone by the end of next week.
httpvh://youtu.be/iQiA7_PGVPo
Here's a couple shots from last night that we were able to capture:
[flickr-gallery mode="photoset" photoset="72157630258052394″]
The construction walls take up a big portion of the front of the park. It wraps around from Shrek alley all the way around to the other side, right up to Monster's Cafe. The old Donkey meet and greet area looks like it will be torn down as well, and possibly moved to a more permanent location.
So, what's the deal with the demolition? Some say Universal is building Transformers, and some say they plan on building another show area to accommodate a large-scale production. We've even heard something about a year-round haunt. At this point, it's too early to tell. Stay tuned for more information.
For more information about Universal Orlando, visit the official website.