What to do at Area 15, best times to visit, and what are the best activities and exhibits?
What is that ominous-looking, large, grey box seen from I-15 off the strip in Las Vegas?
Area 15. A modern-art complex that targets your imagination with several upcharge experiences. An immersive entertainment venue, one that feels as if you are walking into an alternate universe, an experiential world, one that simply "does not exist."
Inside: Bars, Exhibits, & Rides
Top Activities in Area 15
---

A building that clearly plays off the unknown and mysterious the first time you see it. Once inside there is nothing familiar; everything is quite alien. A bit distressing; it can feel weird or overwhelming the first time you walk in. This open space is lined with specialty shops, bars, and attractions where you're meant to explore or wander around in sub-realities.
Entry into Area 15 is free but does require an entry pass if you do not have an experience already booked. Parking at Area 15 is also free. During busy hours the parking lot may not accommodate enough cars for every guest, so if you are visiting on the weekend or at night prepare to arrive early or via Rideshare or Taxi. Guests must be 21+ after 10 pm.
---
During weekdays, visit after 2:00 pm to make sure that all activities are open. This is a building where a bit more energy and people inside make the visit that much better. Visiting after 5:00 pm on weekdays is usually fine, and around 2:00 pm on weekends and holidays.
Inside Area 15

; Bars, Exhibits, Rides

What to do in Area 15?
"Minutes from the Strip. Miles from the ordinary."
Area 15 is filled with bars, shows, activities, and exhibits that are mainly meant for exploration and widening your imagination. Reservations are recommended for activities, especially during weekends and holidays. Tickets can be purchased right at the entrance to most attractions. Prices at Area 15 as well as the length of each experience are also listed below.
---

Bars and Restaurants:
Emporium, Arcade Bar: Cost: Free entry, prices vary based on games and drinks. Reservations not required. Approximately $25-$30 for a drink and games for 45 minutes.
This Arcade features full bars, two stories, and a wide selection of new and old arcade and skill games. It can be found in the far corner inside the Area 15 building.
---
The Beast: Cost: Around $40 per person with alcoholic drink.
Presentation like you've never seen and food and drinks for everyone. Todd English serves up specialty Tacos, Burgers, Dogs, Wings, Pizza, and more.


Dueling Axes: Cost: Prices range from $35-$40 per person per hour. Reservations recommended but not required.
An Axe-throwing bar and lounge. Rent out a bay for you and your friends to throw axes. You can order food from other venues and have it delivered if you wish.
Five Iron Golf: Cost: Prices range from $50-$100 per hour per bay, up to 6 golfers. Reservations recommended but not required.
Five Iron Golf is an indoor virtual golf bar and restaurant. The indoor courses allow you to play a full 18 holes on your favorite courses from around the World.
Oddwood: Cost: Drinks are $12-$22 each.
This bar in the middle of Area 15 is great for people watching. The open-space cocktail bar features a large LED tree with 5,000 leaves that glow in every color imaginable.
---
Exhibits & Experiences:
Art Island: Cost: $0. Approximately 10 minutes recommended;
A free art gallery outdoors. Located in the middle of the parking lot, the pieces come from Burning Man and Coachella.
---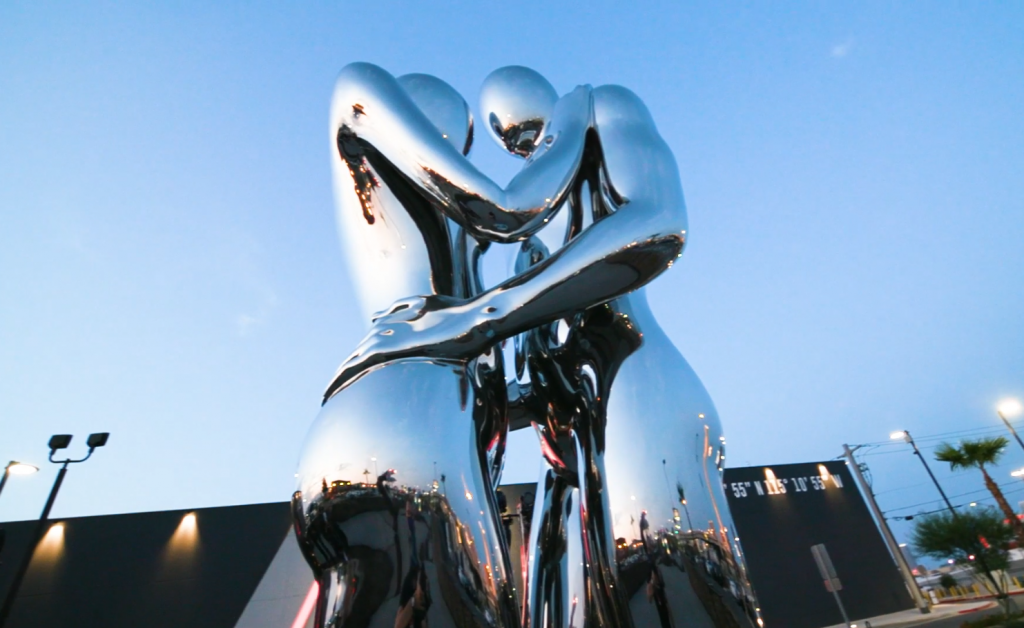 Omega Mart Meow Wolf: Cost: $49-$55, drinks additional. 1.5-2 hours recommended.
The most known attraction at Area 15 is Omega Mart. This art installation is built for exploration and creativity. Housing a bar, hidden areas, and multiple exhibits within, it's worth your time if you are planning to visit Area 15. Learn more about Omega Mart.
Lost Spirits Distillery: Cost: $89, includes 4-5 tastings. 2 hours recommended;
Our personal favorite activity within Area 15, and one of the best things we've done in Vegas considering the price tag. Distillery Tour/Speakeasy/Tasting Experience. Read our article on the Distillery here on what to expect.
---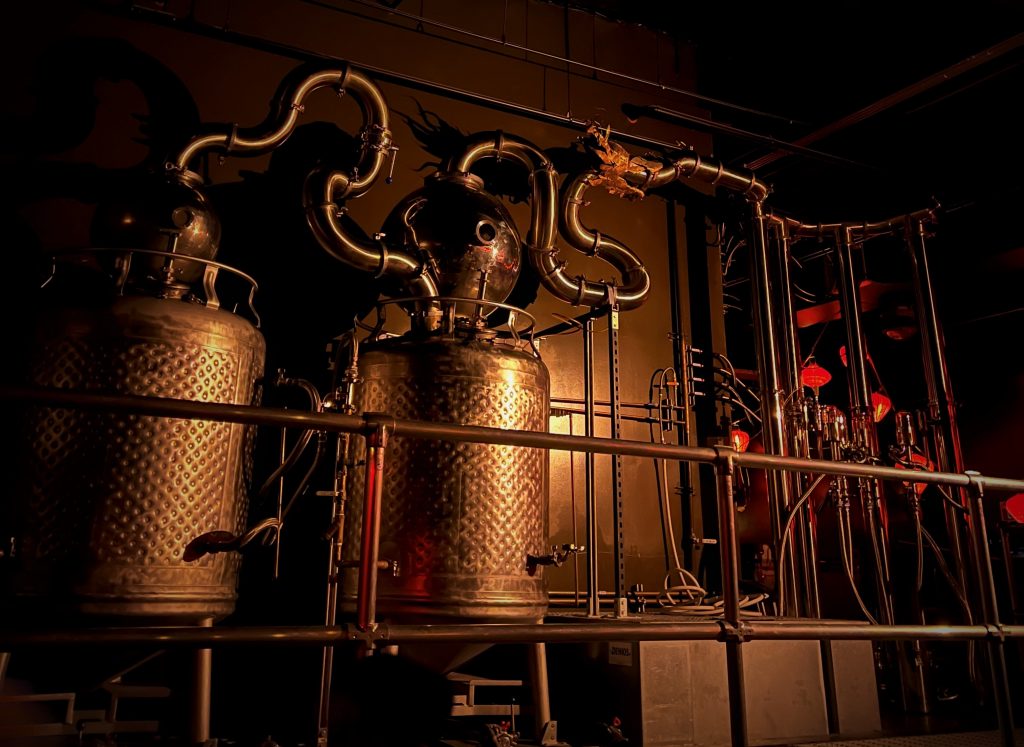 Wink World: Cost: $18-$20. Approximately 15 minutes long;
Created by one of the founders of Blue Man Group, this psychedelic art installation is unlike others. Custom music for each room and a funhouse-like vibe is what you can expect. Mirrors and lights make for infinity rooms like you've never seen before.
The Portal: A projection room that houses special events as well as "The Immersive Experience" of Van Gogh and Klimt.
---

Van Gogh: The Immersive Experience: Cost: $35-$40. Approximately 35 minutes long;
Step into the famous paintings of Van Gogh using a multi-projection-filled room. It's 360-degree Van Gogh on 15,000 square foot screens with unique lights and sounds.
Klimt: The Immersive Experience: Cost: $35-$40. Approximately 35 minutes long;
Step into modernism featuring the colorful palette of Gustav Klimt. Meet the artist like never before, storytelling and cutting-edge technology delivering a light and sound spectacular of the artist's most brilliant work in a 360-degree experience.
Museum Fiasco: Cost: $18. Approximately 15 minutes long;
Similar to Wink World's infinity rooms, this immersive audiovisual installation explores space, time, and perception through sound, light, and mirrors. Explore the limits of human perception.
---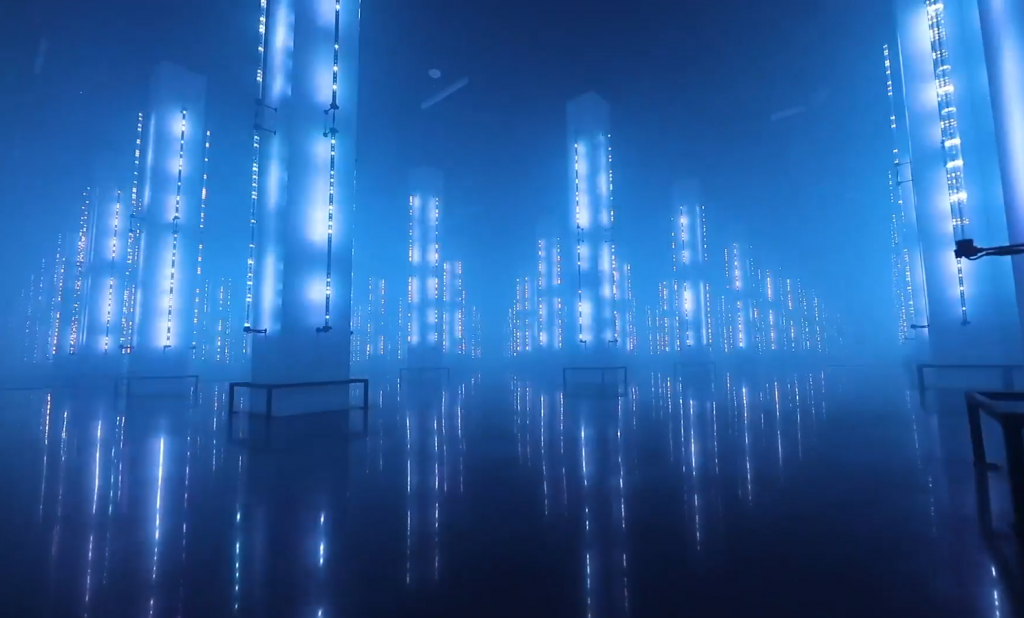 Virtualis: Cost: $55-$60. Approximately 30 minutes long;
Free-Roam VR. You actually move about a space in this VR experience. Full-body tracking immerses you into an entirely different Universe. Scent, heat effects, and more make it one of the most real Virtual Reality's out there.
Particle Quest: Cost: $8.00. Approximately 30-45 minutes long;
Augmented reality. Takes place inside the building using a headset/screen. "Once you put on your Particle Quest Mask, you'll discover a world of surreal nano-particles triggered by the art and architecture all around you. Grab your crew and follow the particles as they help you discover the mysterious origins of AREA15."
---
OZ Experience: Cost: $120 for a group of 2-4. Approximately 45 minutes;
Free-Roam VR & Seated VR rides. "The 35-minute game can be played with 2, 3, or 4 players, split into two teams: Ranger Team and Support Team. Everyone will get to travel through multiple locations to explore the cockpit, the oxygen garden, the hangars, and the spacewalk. Both teams will have to work together to navigate obstacles in order to solve the mystery and get safely back to Earth!"
Seated VR Ride lasts 3 minutes.
Brainstorm: Cost: $5. Approximately 2 minutes;
"Move, touch and engage to light up Brainstorm's reaction centers, which respond to your thoughts, hopes, and dreams."
---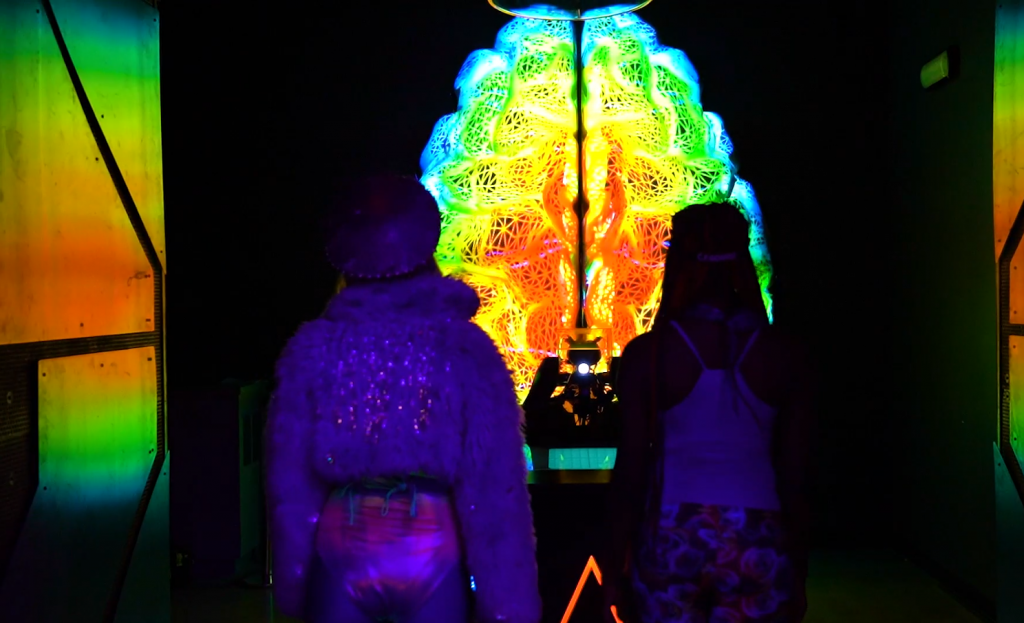 Rides:
Liftoff: Cost: $18-$35. Some packages include drinks. Located outside, this 'floating' bar lifts you above Interstate 15 to give you incredible views of the Vegas Strip and surrounding mountains. Just a small seatbelt over your lap makes this quite the ride, one you might need a drink for! Good thing it's also a bar. Reservations are not required but recommended.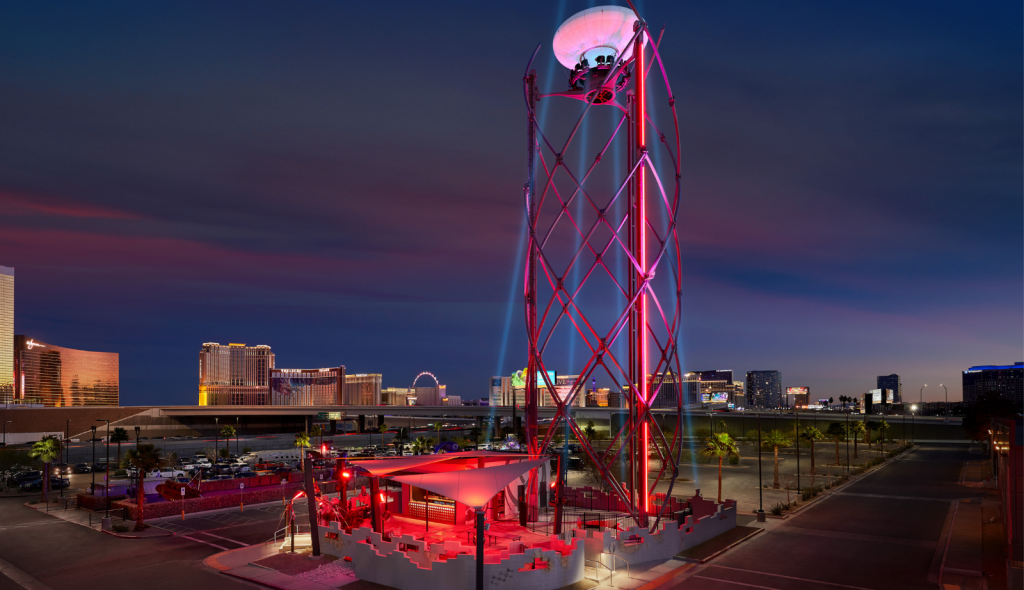 Haley's Comet: Cost: $18. A Dual-Track zip line hanging from the ceiling. Ride this roller coaster-like ride where you can race against a friend.
---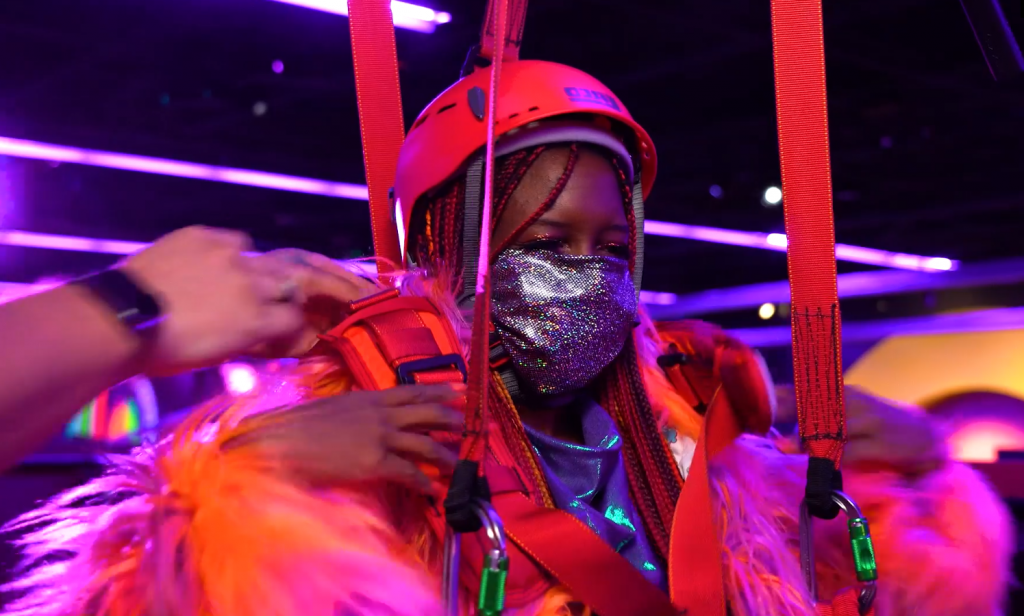 Birdly: Cost: $13.50. "Birdly mimics every aspect of the avian experience: from the wind beneath your wings to a bird's-eye view of some of the richest landscapes in the digital world. Take a spin through the skies above New York or get a feel for prehistoric worlds."
Our Top Rated Activities at Area 15
4. Virtualis-VR
The best version of VR out there. Tracking is more accurate and immersive than others.
3. Emporium: Arcade Bar
Arcade Bars are always a good time. This arcade has classic arcade games, foreign games, and classics like Skee Ball and Billiards. It's a great collection of games that can keep you busy for a while!
2. Meow Wolf: Omega Mart
Just when you think you've discovered all that Omega Mart has to offer, there's always a little bit more to it. We spent 90 minutes here and felt that we could've spent more time. It's a fun couple of hours and the quality of the "store" is excellent, plus the exhibit is abstract, interesting, and has lots of entertaining things to experience. Employees are fun to interact with and you could look at all the custom pieces of art for hours and still find something new. Read more about the experience here.
1. Lost Spirits Distillery
The star and not-to-miss attraction at Area 15 for us, this one-of-a-kind Distillery Tour meets the atmosphere of a Speakeasy. With good company, the experience can easily last over 2 hours. We recommend arriving an hour before your tour and having a drink or two at the bars inside of Area 15. Lost Spirits has a variety of short shows and acts, you must be 21 to enter. Considering the price of alcohol at a bar in Vegas plus the entertainment, the value of the tour feels good compared to everything else in Area 15. Read all about the experience here.