Theme parks are fantastic. They immerse you in a whole new world, a place that takes away the outside problems and gives your mind an escape into a magical existence. Often times theme parks tend to lean toward and focus on either young adults up, or the whole family. Often times younger children are left with a sliver of a park. Examples for instance – when you visit Cedar Point theres a small camp snoopy children's area, or Busch Gardens Tampa theres the small Sesame Place play area for kids flanked on both sides by behemoth sized coasters.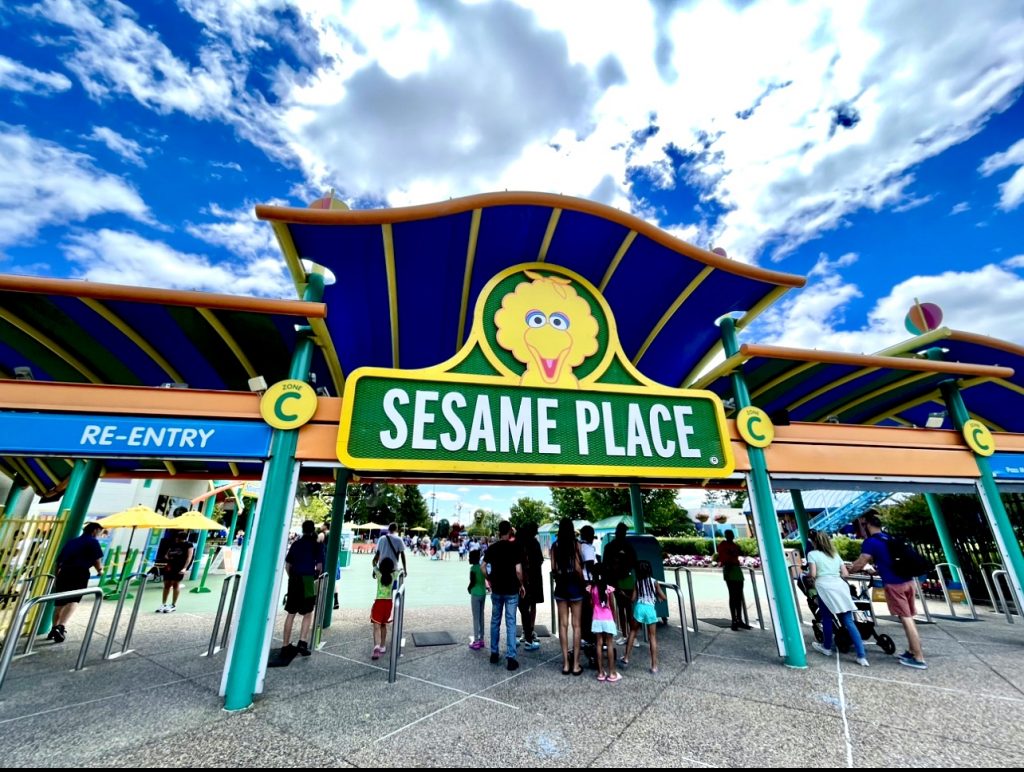 It's rare to find a park that is FOCUSED for kids. They do exist, but more often there is a section inside of a much larger park that is corralled into a corner away from everything else going on. Busch Gardens Tampa Sesame Place is a great start point for children but it's small and the entire section will only provide a small amount of entertainment for children. Busch Gardens and the SEAS properties clearly saw this side of the market not receiving much love – so in 1980 they built a park for children. It was the first dedicated park with an Autism Center, and in 2018 they went to a year round calendar. July 30th they will be celebrating their 42nd year in operation. Sesame characters are licensed by the SEAS parks and this is the biggest showcasing of that property. Compared to the small sections inside Busch Gardens or Sea World this entire 17 acre park is dedicated to Sesame Street and making sure children have fun!
When I arrived in Philadelphia I wasn't sure what to expect of Sesame Place – an entire area dedicated to Children entertainment. Passing through the area on my way from Knoebles and headed to Six Flags Great Adventure, I decided to stop by. I have 3 nieces, and a nephew, the oldest being 12 – and as a theme park writer and enthusiast I was curious how this child focused theme park would be for them. They of course are not with me on this trip, but I wanted to see if it would be worth bringing them here for.
I got to the parking lot and made the walk into the park. The entrance is a giant Sesame Place sign. As soon as you walk in the park you are surrounded by buildings that flash your memory back to childhood. In the back of the park there is a replica of the actual Sesame Street road that they film the show on. There are characters singing and dancing in the street, and the outside world starts to fade away.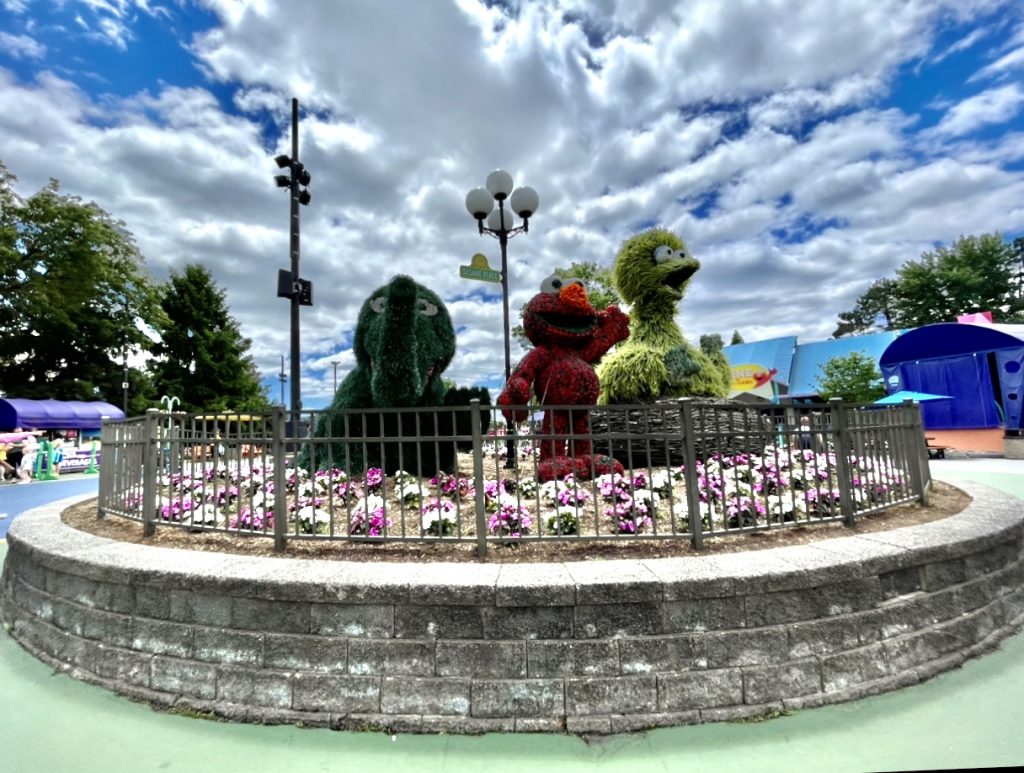 There is a waterpark that I believe would be the most exciting draw for the whole family – some of the slides looking to provide more of a thrill than the rest of the lineup. Raft's and slides combined with a lazy river means there is something for everyone in the water park. There's also a giant Rubber Ducky watching over the park – one of my favorite things I saw on this visit.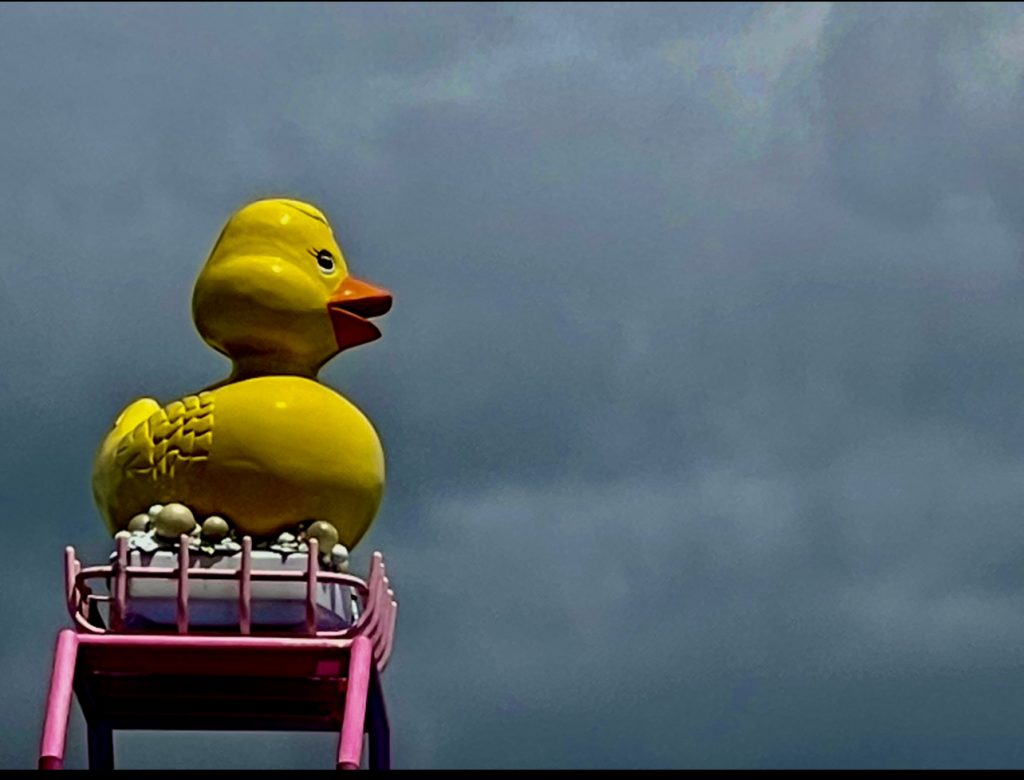 The park also features two coasters – a family style metal coaster by Vekoma and a wood family Gravity Group Coaster. The family Vekoma coaster was what you would expect: a mild introduction to coasters. The gravity group coaster was a surprise though – Gravity Group is responsible for some monsters of a coaster – including The Voyage at Holiday World, easily the best wood coaster I've ridden. They also are responsible for Kentucky Flyer, another family style wood coaster over at Kentucky Kingdom, so this should have come as no surprise to me – but Oscars was incredible! There were little unexpected pop's of airtime throughout what appeared to be a mild ride from the outside looking in. This alone made my stop worth the visit!
Both coasters are at the front of the park, so I was curious what other rides I may find. As my day went on and I walked through the park I found a small section of childrens flat rides, showcasing that there really is plenty to do. A Carousel, and a train, a small drop tower, playgrounds, and so much more. Their newest attraction is a family friendly ride called Big Bird's Tour Bus which is a flat ride that goes in a circle upward, but not extremely tall or fast – a great way to start the step of getting children into bigger rides! I also noticed multiple auditorium and stage areas throughout the park where there is a clearly decent number of rotating shows.
There were also a large number of food options throughout the park, including a character buffet. You can dine with Elmo and friends, however the park recommends you make reservations in advance for the Character meal as it does sometimes fill up. If space is available you can buy day of. If reservations are full there is also new for the 2022 season a Mac and Cheese Restaurant called ABC EATS, showing the park is expanding between their new ride and restaurant.
Overall this park is a GREAT option for families with young children. There are a good selection of rides for kids, a decent sized water park, and a great way for the whole family to get out for a day. I had a good time walking around the park and fully believe my nieces and nephew would love the park – I guess I am going to have to bring them out one time to find out! One of my favorite features of Sesame Place is that beyond being fun for children there is a lot of educational opportunities throughout the park.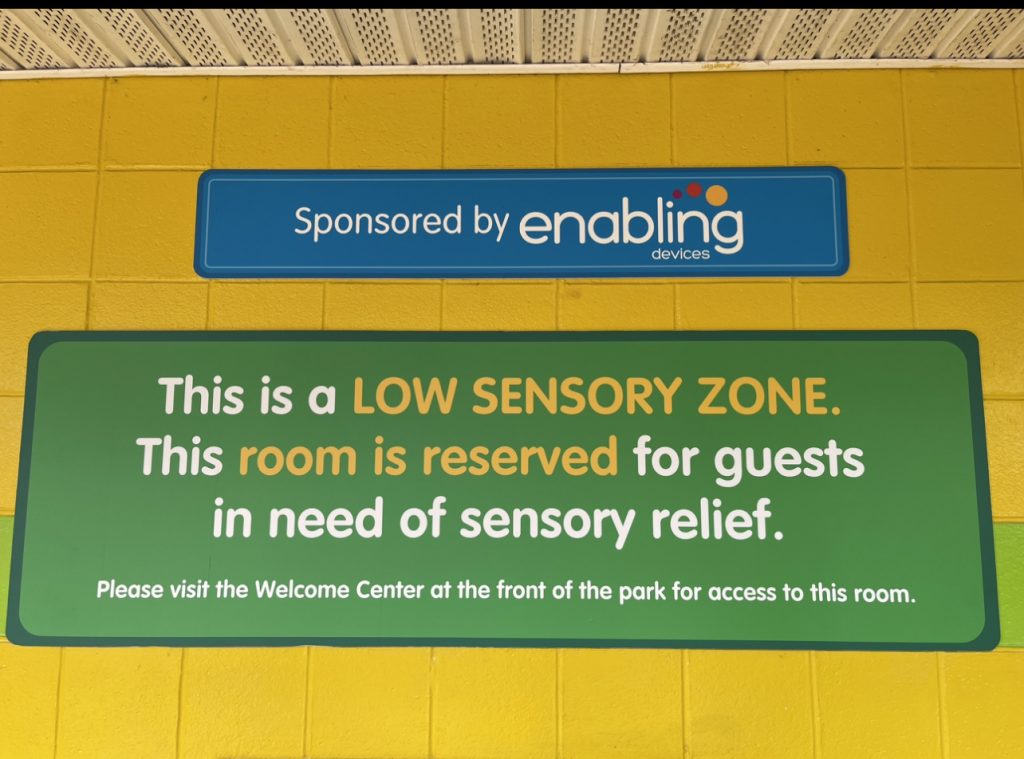 If you have younger children and are looking for a park that has a smaller entry price and a bigger draw for kids Sesame Place is near the top of my recommendations list! Tickets and park information can be found here: https://sesameplace.com/philadelphia/
Stay tuned for more theme park information, and be sure to get social with us on Facebook , Instagram, Twitter @BehindThrills for the latest updates! For our latest theme park videos please be sure to subscribe to us on YouTube!
Justin Landers is 31 year's old and owns Just Shoot Light Multimedia Productions, a freelance photo and video company involved in the theme park industry since 2013. You can find him on Instagram at @Inverted_Therapy and @Just_Shoot_Light and on YouTube or Facebook.
*Note* Sesame Place provided our entry for the day, but we received no financial compensation for this review, and Sesame Place had no control over the review. The opinions expressed in this article are those of the writer (Justin Landers) without outside influence.