Just one day after Halloween, it's beginning to look a lot like Christmas at Busch Gardens Williamsburg as the park starts the dash to ChristmasTown, the annual holiday celebration returning to the park for it's fourth year! This year will see the return of several family favorites, as well as the addition of an all new experience as the park completely transforms one of it's areas into a winter wonderland.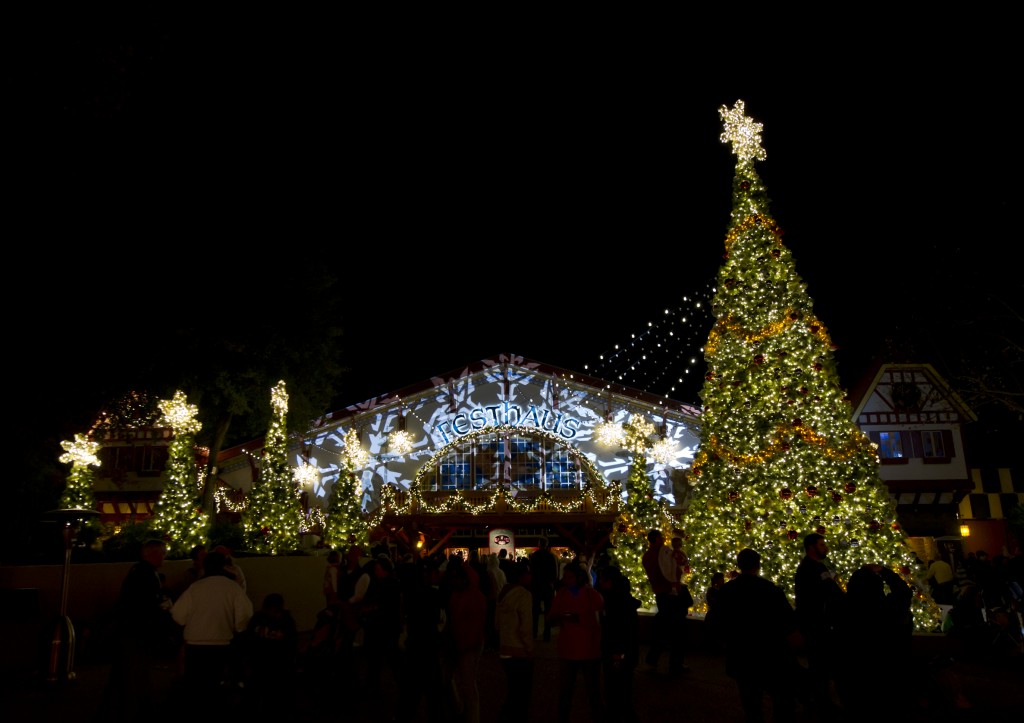 With several holiday favorites returning to ChristmasTown, Busch Gardens is pulling out all the stops this year and is expanding the celebration even further as they take over the Festa Italia section and turn it into a piece of old fashioned Americana. Taking it's queue from the mid 20th century Christmas celebrations and traditions in America, the whole area will feel as if it's been shaken right out of a Norman Rockwell painting. Here's what you can expect to see in Holiday Hills:
Reindeer Run
Have a rockin' retro ride with the little ones aboard a sized-down sleigh that isn't sized down on fun.

Snowman Summit
The winter wind will flow through guests' hair as this ride spins them to smiling around a snowman and dazzling lights.

 

Jingle Junction
Hidden in the beautiful Holiday Hills, guests can climb aboard one of Busch Gardens' three steam-powered locomotives at Jingle Junction. Bundle up with the family to enjoy a 20-minute trip through more than 200 acres of lush landscaping with stops in Scotland, New France and Holiday Hills.

Peppermint Twist
No trip to Holiday Hills is complete without a ride on Peppermint Twist. These antique teacups are perfect for the entire family as guests control the whirling, twirling pace around Santa Claus at Busch Gardens' special version of this classic ride.

Frosty Friends Photos
Storefront windows glisten during the holidays, decked out and ready for a photo, step inside our own retro version with the Frostiest of Friends.

The Stocking Stop
Take home a holiday gift, ornament for the Christmas tree or a souvenir to make this a Christmas Town experience never to be forgotten.

Dasher's Diner
Christmas is a wonderful time for tasty holiday treats and a family feast. Dasher's Diner will feature many Christmas goodies including an old-fashioned, home cooking inspired buffet and other holiday treats. This warm and welcoming environment will bring guests back to a simpler time.

 
In addition to the all new Holiday Hills, ChristmasTown will bring back favorites such as Polar Pathway, Penguin Palace, and more! In addition, the park will have several of it's world class coaster open, weather permitting. Guests can brave the all new Verbolten, the family classic coaster as well as Mach Tower and other classic family rides.
Here are a few fun facts and figures on what it takes to bring ChristmasTown to life:
Six million Christmas lights adorn the 100-acre park
Eight-five percent of the lights used at Busch Gardens Christmas Town are energy saving LED lights
More than 1,500 fresh-cut Christmas trees are placed throughout the park's pathways and hills
The fresh-cut Christmas trees are turned into mulch at the end of the season and used in the park's planters and flower beds
25 miles of cables provide power
The park is wrapped in more than three miles of garland
More than 700 wreathes and artificial trees decorated inside areas, doors and windows
800 lit snowflakes and stars twinkle
20,000 Christmas ornaments are carefully placed on the trees
900 window candles and luminaries light the night sky
ChristmasTown is a separate ticket event, and is not included with regular season passes. The event takes place on select nights in November and December, and opens at 3p.m. nightly.
For more information, including tickets, visit the official ChristmasTown Williamsburg website!