All is one. It's a motto that Hard Rock Cafe lives by, and they live it large at the world's largest Hard Rock Cafe at Universal Orlando. The Hard Rock Cafe in Orlando has one of the largest collections of rock n roll memorabilia in the world, which is fitting for the world's largest Hard Rock. When they say All is One, however, it's something that they take seriously. Hard Rock Cafe is the one place where rock n roll lives, so it's the one place where everyone can be treated like rock stars. To prove the point, they have a very special VIP tour that is open to everyone! There's no fee, no special arrangement, and the things you get to see are every rock n roll lovers dream. It's a good way to waste time, but as was once said…Time you enjoy wasting, was not wasted.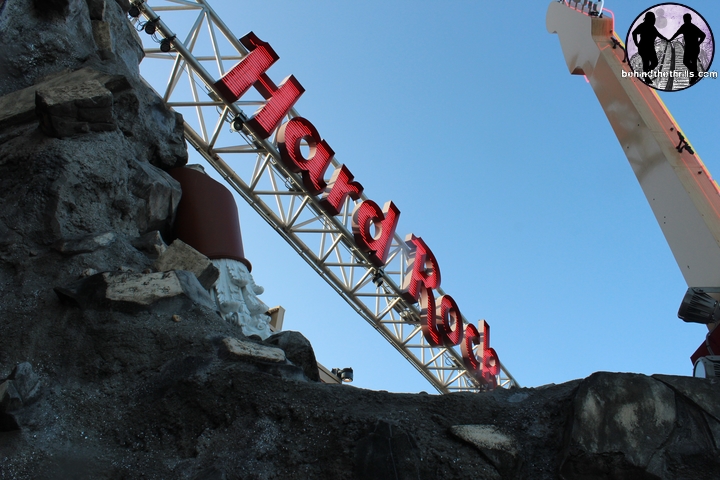 Hard Rock Cafe is one of the coolest places to eat at Universal Orlando…or anywhere for that matter. They bring out the rock star in everyone. Even more, they treat everyone like a rock star. There is a special host in the cafe that helps to bring the noise to it's maximum level, and it's the job of the V.I.B.E. host to make sure that your visit is as enjoyable as it can be.
We follow @HardRockOrlando on Twitter and were told about something special. What is that something special? It's proof that All is One is alive at Hard Rock Cafe.
We had no clue what we were in for, but we did what we were told and were taken on a very special, magical, mystery tour.
Hard Rock Cafe gives tours of it's facilities, and it's something you just have to see to believe.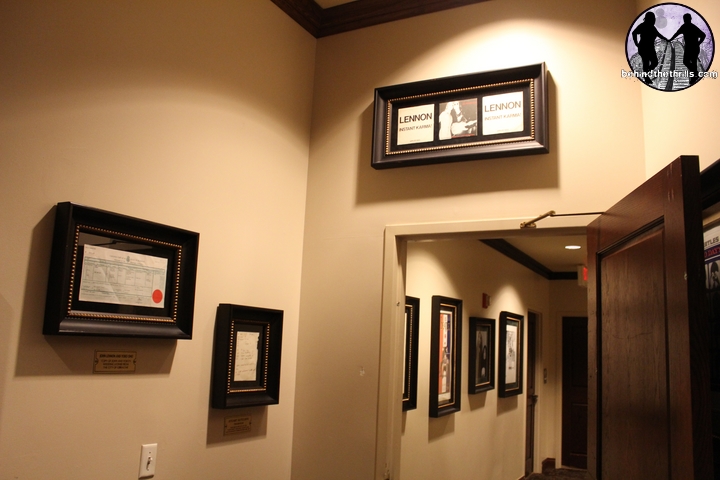 You start off in what looks like a plain hallway. It's Hard Rock Cafe, so there's some kind of Rock history to it, and this is a big one. You are standing in The Beatles' Hallway. This hallway is filled with tons and tons of memorabilia. From album covers, and personal notes, to John and Yoko's marriage certificate.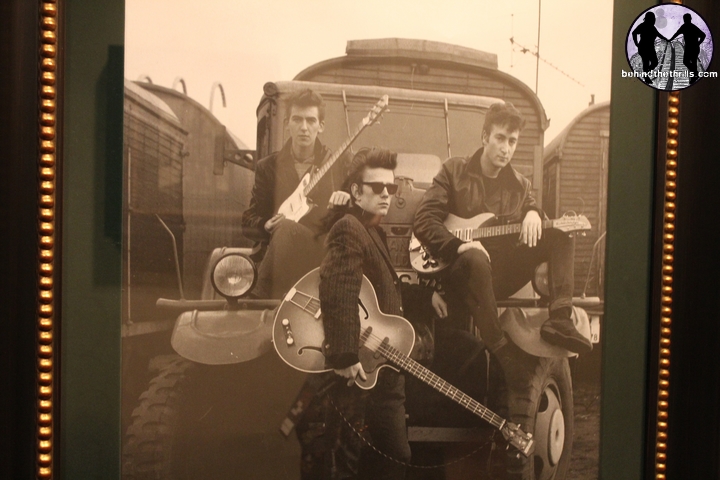 You even see pictures of the lads before they were the fab four. Bonus points if you can name these three gents. The room is just chock full of memorabilia from the arguably biggest rock band of all time. Our VIBE Host, Lauren was just so full of information and trivia, that I've forgotten half of what she said.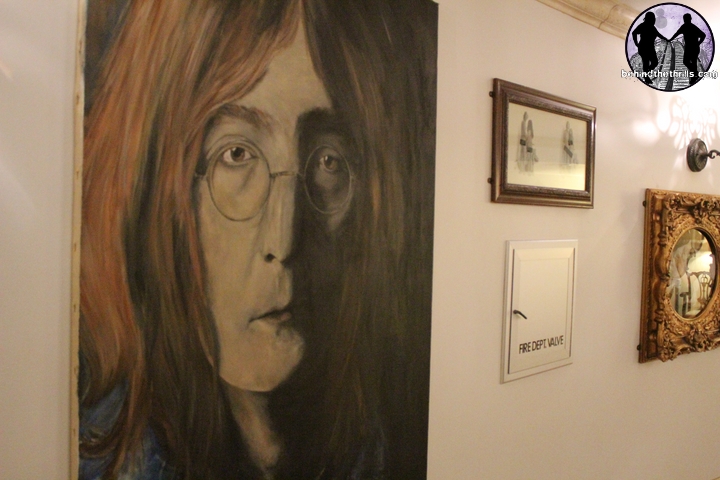 Just when you think that you've had all the Beatles mania you could handle, you go through the door and there you are face to face with the man himself. John Lennon was a legendary musician, and a revolutionary thinker. He was taken way before his time, but his legacy of music, peace, love and art lives on in the world, and at Hard Rock Cafe in Orlando.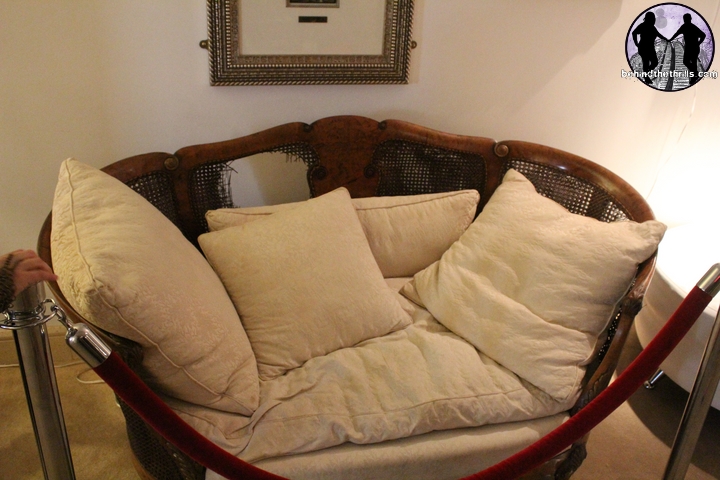 The cafe touts one of the largest collections of personal items belonging to John Lennon and Yoko Ono in the world. Half the items were either donated by Yoko herself, or purchased at auctions. one prize possession is the chair in which Lennon wrote most of the songs for the Beatles and his solo career. This was an actual item from his New York apartment, that Yoko Ono gave to the cafe.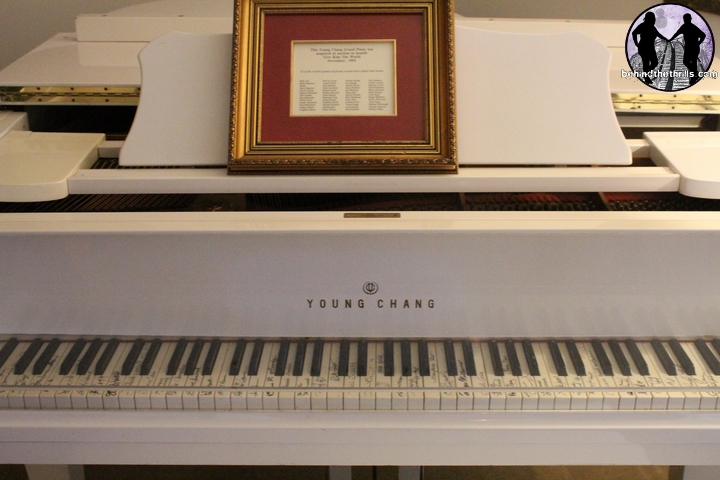 When it came to iconic pieces that the cafe couldn't get their hands on, they improvised. The famous white piano that John Lennon owned is not in the cafe, but they did something just as good. They purchased the same make and style piano, removed all the keys and sent them off to famous piano players all around the world. The remarkable thing is that they all came back signed. You have tons of music royalty from Stevie Wonder and Little Richard on one piano.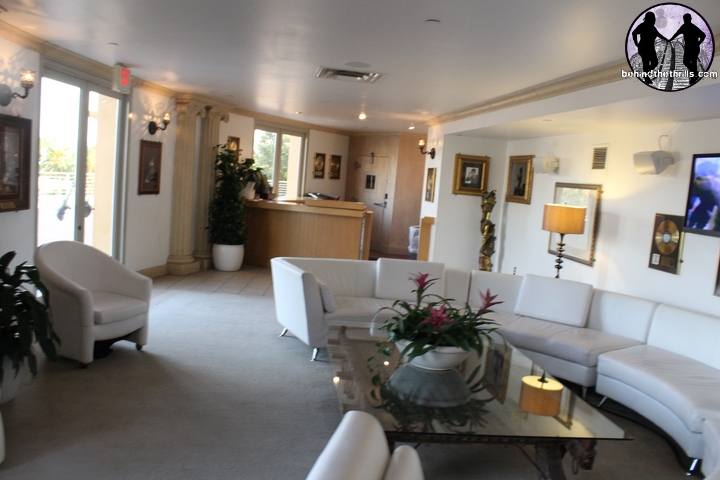 With only one exception, the Lennon Room is an exact replica of the apartment that John and Yoko had in New York. It's very authentic, down to the coffee table and type of furniture. The room is used not only to give VIP tours, but when musicians come into town, this is where they generally hang out before and after the performances.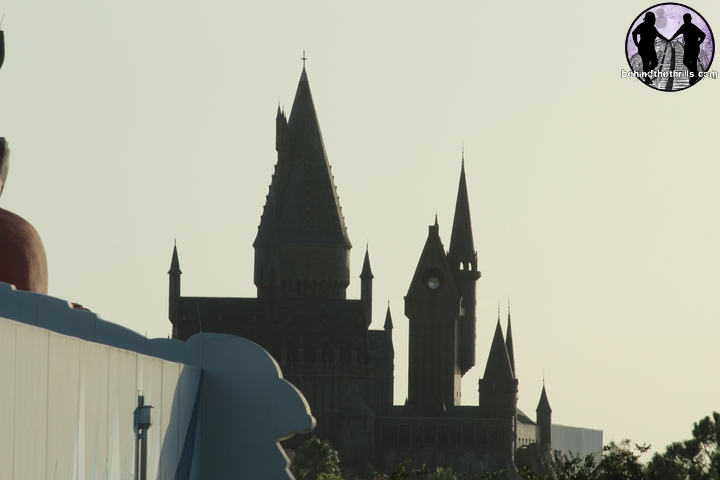 The tour wraps around the back of the cafe and you are given one hell of a view of a certain castle at Islands of Adventure. It's the best view in the whole complex of The Wizarding World. In fact, the view from the Hard Rock is so good that all the commercial, and promotional shots of Hogwarts is done from the roof of The Hard Rock Cafe.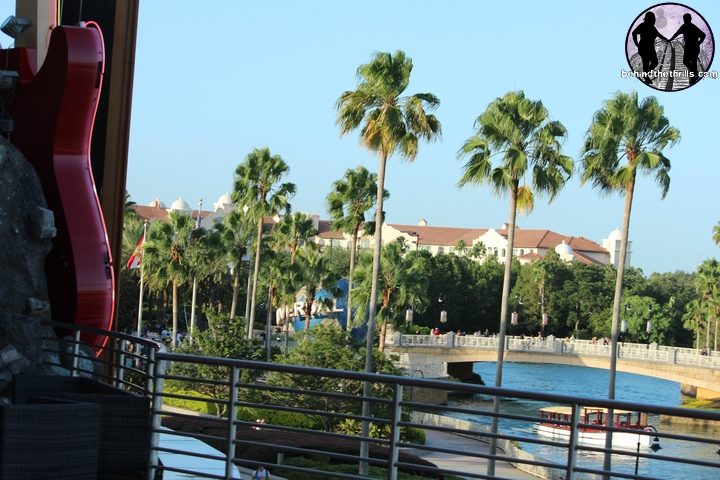 Speaking of great views, you can catch a glimpse of the Hard Rock Hotel which was designed to look like the Eagles cover for Hotel California.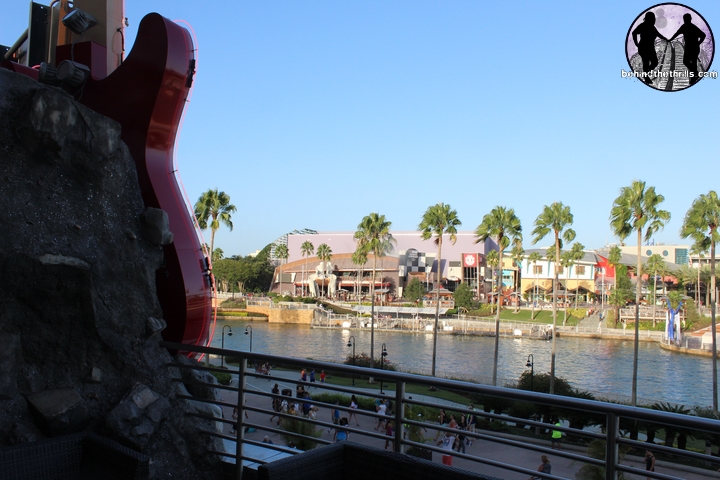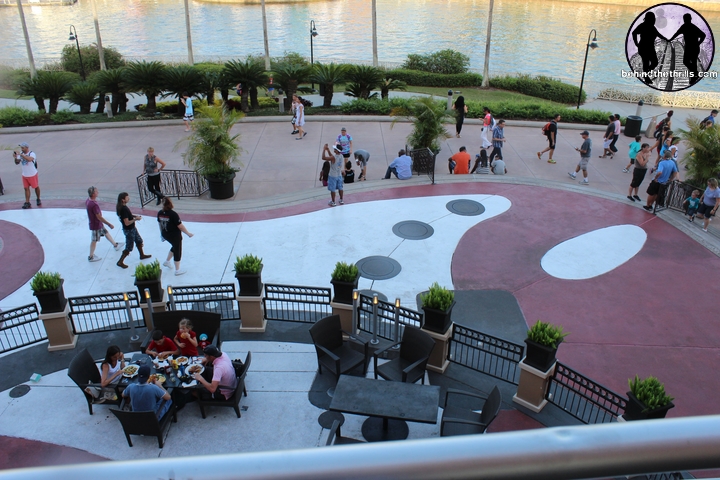 You also get a great view of CityWalk and Islands of Adventure. You are literally right next to the iconic giant guitar and Hard Rock Cafe sign. If you look down you might notice the ground is painted like a guitar. The guitars body is the patio, and the pathway is the guitars neck. This is in honor of the original Hard Rock Cafe that was shaped like a giant guitar. That was demolished just a few years ago to make room at Universal Studios Florida.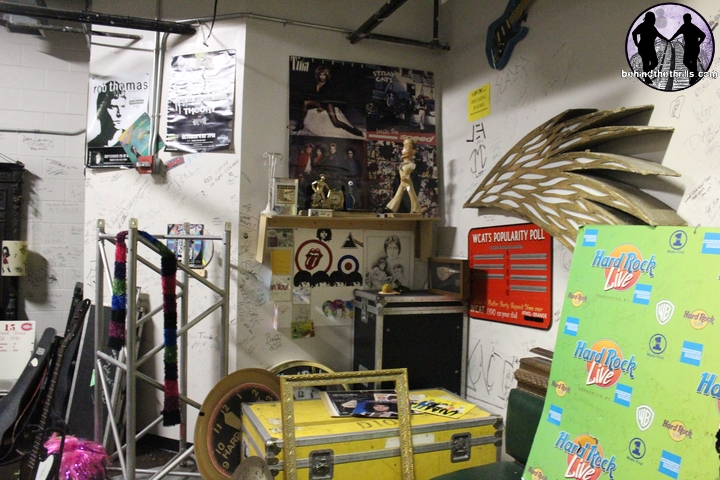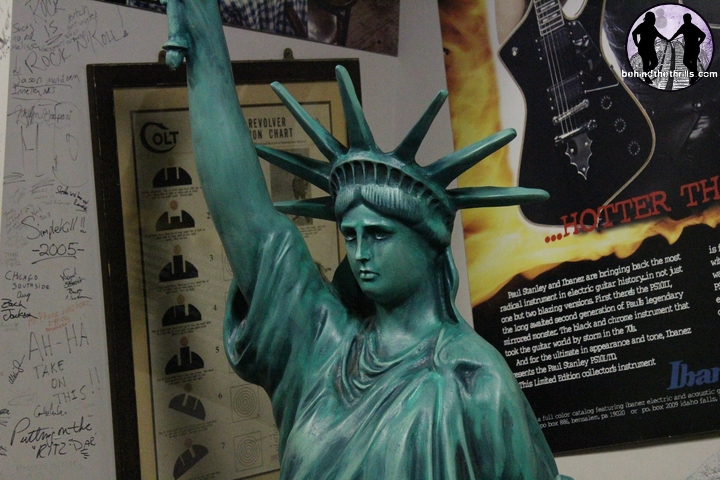 The final stop on the tour is the Attic. Now the attic is something special. Because rock stars hate to be filmed, and because there are no cameras in this room, they all like to hang out after the show in the attic. The really cool thing is that some of the things that they use for the show are left behind. We were able to sit in an electric chair used for one of Alice Cooper's shows, see some props used for Penn&Teller, and the walls…well the old saying is if walls could talk. These walls do talk with thousands of signatures, drawings and names. The only problem is that no one knows what belongs to who! Still, it's a great ending to a cool tour.
Check out even more pictures from the coolest tour in rock:
If you can't see the slideshow, click here!
Our host Lauren was extremely amazing, and made us feel like true VIP's. She knew all there was to know about Hard Rock, and even a little more. Hard Rock Cafe has been and remains one of the coolest restaurants in Orlando. They've recently added some really amazing dishes to the menu, so if it's been a while since you've been, you need to go again.  As we said the tour is open to everyone, and most of all it's free! However, we're not going to tell you how to get it, we're going to leave it to you to find out how to experience this amazing tour, but we will give you a hint.
Follow @HardRockOrlando on Twitter, and before your next time dining at Hard Rock Cafe at Universal Orlando, send them a tweet. They'll tell you how to make it happen.
Stay tuned to us here, and follow us on Twitter @BehindThrills as we challenge the Local Legendary!
For more information about Hard Rock Cafe at Universal Orlando, visit the official website by clicking here!