Universal Orlando announced earlier this year that The Wizarding World of Harry Potter is coming to Universal Studios Florida in 2014. Very few details regarding The Wizarding World of Harry Potter – Diagon Alley have been announced yet. They've been kept secret, locked away from all but the Wizards at Universal, safe from Muggle eyes. However, the time to unlock the secrets is getting closer, and we just might hold the key to unraveling the mystery.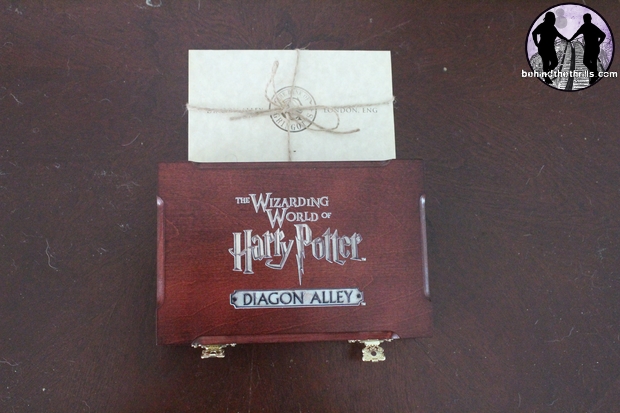 Today, we received an Owl carrying a mysterious package from Universal Orlando. Inside the package we found a key to open Gringotts Vault No. 722, and instructions on how to open our vault. Universal Orlando has locked the full details of The Wizarding World of Harry Potter in Vault No. 722 and they are ready to share that information with the world.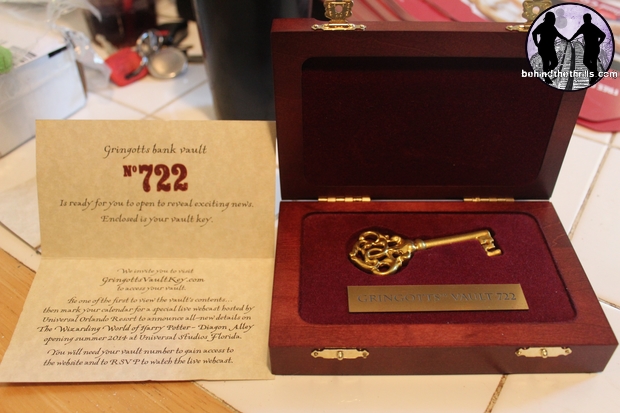 Following the directions, we were taken to a very special website where we unlocked vault 722, and got a very special message about The Wizarding World of Harry Potter-Diagon Alley from none other than Fred Weasley himself, James Phelps:
While the video doesn't reveal any secrets, it does tell us some very important dates. January 23rd, 2014 will be the date when all is revealed, and Muggles are allowed to see the details of what will be opening at Universal Studios Florida when the Wizarding World of Harry Potter-Diagon Alley opens. The other important thing we learned is that the date on the official opening will be Summer 2014. Originally it was scheduled for Spring, but that seems to have been pushed back a little. Summer officially starts June 21st, so it's very likely we will see that date as the grand opening.
What we know thus far
While details are very scarce, we do know a few things about The Wizarding World Diagon Alley.
Diagon Alley will take place in both the Muggle world of London and the Wizarding World of Diagon Alley. There will be facades that take guests to familiar places in both worlds, though unless you enter the Wizarding World, Diagon Alley will be completely hidden from your view.
The main attraction will revolve around Gringotts Wizard Bank. Nothing official has been released, but rumors say that it will be an indoor roller coaster that will feature a horizontal drop, and a fire breathing dragon.
The main dining area will be themed to The Leaky Cauldron, which is the first place that all wizards see when they arrive at Diagon Alley.
The Hogwarts Express will take guests from Diagon Alley in London at Universal Studios, to Hogsmeade Village at Islands of Adventure. The train will be more than just a train ride, and will take guests on an adventure through the Scottish Countryside….allegedly.
Other rumors include an expanded Ollivanders wand shop, Knockturn Alley for the dark wizards among you (complete with Borgin and Burkes) and even Weasley's Wizarding Weezes. With the announcement being made by James Phelps, it's highly likely that we will see the Weasley twins make a huge impact in the new area.
The Wizarding World of Harry Potter-Hogsmeade opened in 2010 at Universal's Islands of Adventure and changed the way that theme parks immersed guests in the story. It has changed the theme park world, and has become the new standard for theme park attractions to strive to. It has boosted attendance at Universal Orlando so much, that the entire resort is undergoing a massive expansion in all aspects of the area. A new hotel will also open in 2014, as well as an all new line up at the resort's entertainment district, CityWalk.
Here's a video that talks about some of the details from Creative Director Mark Woodbury:

See more from our package delivered today, and the secrets held within!

2014 is shaping up to be the biggest yet for Universal Orlando! Be sure to stay tuned for all the fun!
Be sure to follow us on Twitter and follow along with us on January 23, 2014. We will be tweeting from the live webcast announcement and sharing details of The Wizarding World of Harry Potter – Diagon Alley with our followers.
*Update 12-19-13
It appears that Universal is getting ready to kick the teasing of Diagon Alley into high gear with a series of new videos. 2014 will be the end of vacation as you know it.
Empty rooms, empty slides. Very ominous, and very curious.
Get social with us!
Follow us on Twitter @BehindThrills and like us on Facebook @BehindThrills.
Need to get tickets? Click the banner below to get your tickets today!