Legoland Florida made an eco-friendly change to the park in celebration of Earth Day. Yesterday morning, on Earth Day, Legoland held a celebratory moment which announced a brand new partnership between Legoland and Tampa electric. Adrian Jones, the General Manager of Legoland Florida was joined by Bruce Narzissenfeld, vice president of Marketing, Customer Service, Business Development and Fuel Operations for Tampa Electric to announce the partnership and a special green initiative.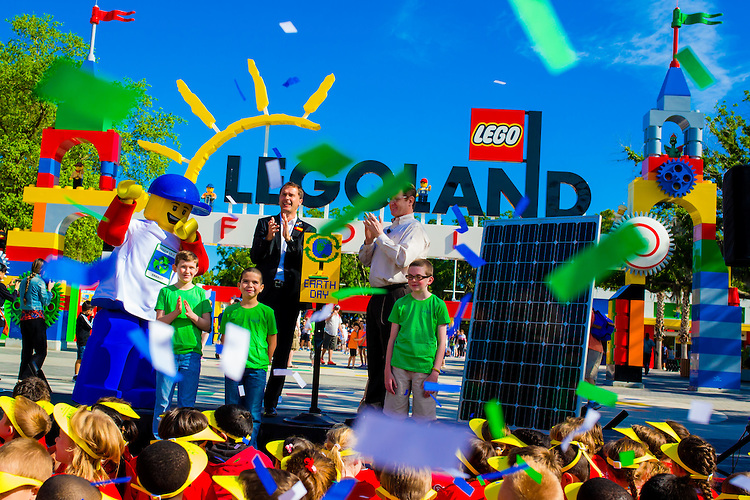 The focal point of the announcement was that Legoland Florida would run entirely on renewable energy on Earth Day. The park running on renewable energy for the day is equivalent to planting six acres of trees or removing three cars from the road for an entire year. Although the announcement focused on the park running entirely on renewable energy for the day, the partnership also resulted in Legoland Florida installing 30-kilowatt solar array panel on top of the Imagination Zone attraction venue. The Imagination Zone of Legoland will continued to be powered by renewable energy.
"This is a partnership built on doing the right thing for the environment," said Narzissenfeld. "Together, we'll teach the next generation about the benefits of investing in renewable fuels like the sun to produce electricity."
Video: Legoland Florida and Tampa Electric announce partnership

In June, Legoland Florida will be installing a brand new 6-foot interactive display Lego Earth model that will educate guests about Solar Technologies. Outside of Imagination Zone, guests will be able to affect the rate of rotation on the Lego Earth model through the use of tactile solar panels. There will also be an interactive zone that will feature Lego mini model communities running on renewable energy.
Since Legoland Florida opened in 2011, they have made a consistent effort in conservation. Some of their efforts include:
The park recycled nearly 60 tons of bottles and cans in 2013, along with 176 tons of cardboard

Throughout the park, guests can find over 180 recycled-made benches, with each made out of 800 recycled milk jugs

Each of the park's 310 trash cans (consisting of both waste and recycle only at a 1-to-1 rate) are made out of 330 recycled milk jugs

LEGOLAND Florida has map recycling stations to avoid the waste of park maps that guests can acquire at the beginning sections of the park

The LEGOLAND Water Park holds 26 benches and 88 trashcans made entirely out of recyclable materials
For more information about Legoland Florida, visit the official website by clicking here.
Get social with us!
Follow us on Twitter @BehindThrills and like us on Facebook @BehindThrills.
Need to get tickets? Click the banner below to get your tickets today!