We've heard tons of rumors already, and it's only May. But speculation always starts early for Universal Orlando's Halloween Horror Nights. Of the rumors we've heard, we haven't really gotten anything in the way of really solid evidence…well, okay maybe it's all but been confirmed that Penn and Teller will be there. But other than that, nothing really major has leaked out. Universal has gotten amazingly good at keeping secrets. However, that doesn't stop us from speculating.
Back a few weeks ago we learned from Screamscape that Universal was looking at a number of popular horror properties to make into mazes for this year's event. One was True Blood, the other was The Walking Dead. Both are extremely hot properties right now, and both are set to make big returns this television season. But haunted houses? Well, stranger houses have been made. It was something that I was ready to toss aside until I saw this:
Walking Dead merchandise in the stores. Now, we've seen way too many items in these stores come and go. Hell, at one point they were selling Star Wars merchandise.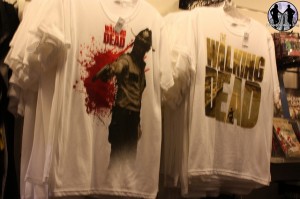 It's most likely a case of the shirts being a coincidence. Until we saw something else. People buying the shirts, and buying a few of them. The Walking Dead is a marketable franchise with a comic series from which the show is based. There's also a video game in the works, as well as more merchandise coming. The point is, this series sells merchandise which is always a plus when you're talking about making an attraction about it.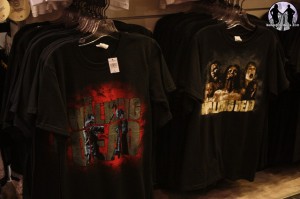 Now keep in mind that this is pure speculation, and nothing but sheer rumor. Until Universal Orlando announces that it will be happening, we will say that it's not and all of this is purely an overactive imagination.
Still, it does make one wonder. What could we see as the theme of the event this year? Could we see yet another return to movies, or perhaps we will get houses based off of horror TV shows. The Walking Dead and True Blood are definitely contenders, but what other TV shows could be seen? Maybe Dark Shadows, since there is a movie coming out about it. Maybe even The Munsters, since Universal is doing a completely new reboot of the series called "Mockingbird Lane". Maybe we'll even see Twin Peaks or Tales from the Crypt….okay, so maybe those are all too old to be doing anything with, but you do have to wonder. What do you think we'll see this year? Let us know in the comments below.
For more information about Universal's Halloween Horror Nights, visit the official website!