It's not an uncommon occurrence to see your favorite stars at your favorite theme parks. Actually it is. Very rarely do we get to glimpse today's stars enjoying their favorite coasters, rides and attractions. Fact is, they are stars so they get the VIP treatment, so while they are there, they do not get seen. When they are, they tend to attract bigger crowds than the attractions themselves. Today we have two sightings, one courtesy of Universal, and one courtesy of good timing.
America's Got Talent has been taping recently at Hard Rock Live, and Nick Cannon has been one of the judges. His wife, Mariah Carrey (that still gets me) and her daughter were able to sneak in some relaxation time at Universal Orlando during taping.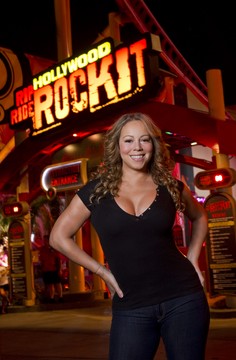 Also recently at the park was Quinton Aaron award winning star of the critically acclaimed "The Blind Side" with Sandra Bullock. This was a case of the man being more of an attraction than anything at the park, as he was mobbed in front of Bubba Gump's on Saturday.
He was there for the better part of an hour taking pictures and signing autographs, and really seemed to be a very down to earth guy. The best guess was that he was there for the Flo Rida concert, or for the many tapings happening in the park such as the Family Fued with host Steve Harvey.
Then of course there's my favorite actor, seen here accepting an award at one of the bars. You may know him from his starring roles in "I was a fat drunk bastard" or "Diary of an A-hole". You can catch him this summer in his biggest role to date "Jelly Roll: The Movie"