This is the time of year that I absolutely love. We are getting the first teases and glimpses of haunt season. A few weeks ago we were given a teaser page for Howl O Scream. Today we were given the dates, prices and teaser for Halloween Horror Nights in Orlando. This year HHN celebrates it's 20th year and according to the site this fall will see a "new era of darkness". Darkness. There's more to this teaser than at first meets the eye.
We are greeted by a horned demon on the front page as the eerie music plays. This demon is named Nightmare, and in the world of Halloween Horror Nights he is a minion of Darkness. Who is Darkness? Well he's a very imposing figure that has been around Halloween Horror Nights since the "Crypt Keepers Night of the Living Dead Parade". I'm not 100% sure on all this information, and I'm going by memory and internet which is corrupt at best, so I apologize if this isn't the case. But Darkness has been a staple of HHN lore for quite some time.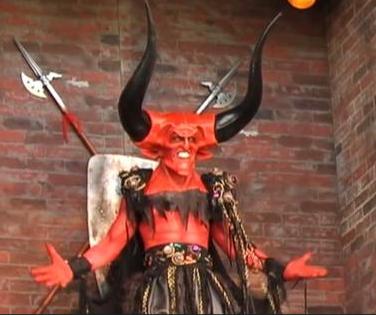 Of course he has been around HHN lore for a while. Back during HHN 16 he was the MC for the show "The Arrival" in which Storyteller, Jack, Caretaker, and the Director were all brought back from the dead. He's been instrumental in the history of the event, especially being a menacing figure and a work of make up masterpiece. Unlike most of the other characters in the past few years, Darkness has always been done using practical make up effects, prosthetics and stilts.
So "A New Era in Darkness" could mean that Darkness will reign supreme and be the "father" of this whole twisted family tree. And back to the family tree. Other sites have great pics of trees and rocks in the backstage areas.This lends itself to the whole "family tree" theory. But where does Darkness fit into this? And if this is truly an era in Darkness…where does the tree fit in? So many questions and we are still a long way off from this riddle. Sure it sounds crazy, but if something seems completely unlikely and batnuts insane, there's a good chance that it will be the idea that flies out of left field and grabs you, because you weren't expecting it.
But think of this Darkness has no story. He has no beginning and no end. Darkness is blank. From what people tell us, Darkness only appears when the story ends. And after all the last time we saw him was when he brought the icons back from the dead. So maybe this is the end of our Icons? Maybe their story is ending this year. And hence, a new era of Darkness begins.