Universal Orlando announced back in March that Jimmy Neutron would be closing permanently on August 18th to make way for a brand new attraction. Today, Universal Orlando held a live webcast for select media to announce what attraction they would be replacing Jimmy Neutron with as well as "high-tech enhancement" for another attraction.
Jimmy Neutron's Replacement:
Universal has been dropping fans various hints (click here to see all the hints) getting us thinking about what's coming next. Lots of hints some what related back to Despicable Me, like the shadowing from Coup's hand as he writes on plans and the banana next to those plans, as well as the elephant walking into Neutron's queue.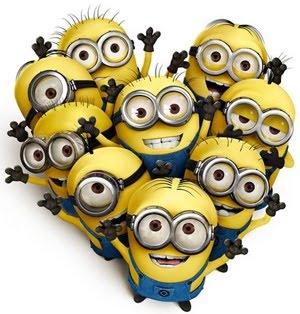 The rumors were all true, and I must say I'm really excited about the new attraction. The last of the UORhints really pointed toward it, and yes, Despicable Me will be replacing Jimmy Neutron.
Despicable Me was one of the most popular films of 2010. The ride will open in 2012 and will incorporate the same 4K High Definition film that is going into The Amazing Adventures of Spiderman.
"The 'Despicable Me' attraction is the latest example of how we tap into pop culture's most compelling stories and turn them into extraordinary theme park entertainment," said Mark Woodbury, president of Universal Creative.  "This is a perfect fit for Universal Orlando, and we can't wait to bring this one-of-a-kind experience to life."
The audience will be transformed into minions, so we'll see everything through the eyes of the minions. The ride will take us through Gru's home and his secret laboratory. At the end of the ride, guests will be able to take place in an interactive dance party inspired by the minions.
[flickr-gallery mode="photoset" photoset="72157626757394470″]
Directly after today's annoucement, the minions started their own dance party outside the arches at Universal Studios.

Spider Man:
We've already heard folks talking that Spider Man has implemented digital 3D in several scenes. The ride will utilize 4K HD, the sharpest High Definition picture out there. Universal will be adding new details to the film in the ride, but they'll be leaving it up to guests to find those details.
This will be completed and ready for 2012, even though you may already see a few scenes here and there with this feature.
"Guests will not believe their eyes when they experience the new Amazing Adventures of Spider-Man," said Thierry Coup, senior vice president of the Universal Creative Studio.  "We are talking about a larger-than-life environment and the HD animation will make it even more remarkable than it has been.  It will seem brand-new."
Here's a few screen caps from today's announcement:
[flickr-gallery mode="photoset" photoset="72157626632733287″]