Tropical Storm Debby has made plans of her own for a Florida theme park vacation, and none of those plans include a Fastpass.  The fourth named storm of the 2012 season has dumped tons of rain on Central Florida, and has spawned high winds, and even tornados in some areas. The slow and uncertain track has caused some theme parks to alter operating hours, and some to close altogether.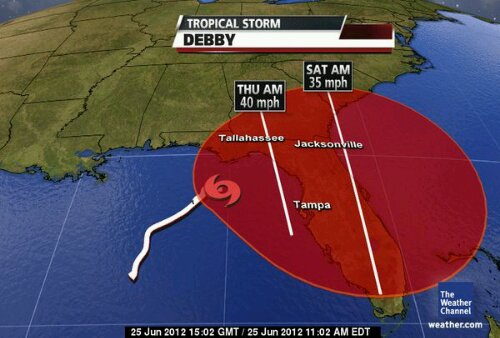 As of the 1p.m. advisory on Monday June 25th, tropical storm Debby has had a slight shift in path, which now makes the entire state of Florida a potential target. As early as Friday the effects of Debby could be felt as buckets of rain were dumped in Central Florida.
As you might expect, this has affected the bustling summer season at Florida's many theme parks.  Yesterday Busch Gardens Tampa, the park closest to Tropical storm Debby, closed at 6p.m. instead of their normal summer operating hours of 10 p.m.
Here's a list of closings and hours for today:
Busch Gardens Tampa- Closing at 6p.m.
Typhoon Lagoon-Closed
Aquatica Orlando-Closing at Noon
Legoland Florida-Closing at 5p.m.
Legoland Florida Waterpark-Closed
SeaWorld Orlando-Closing at 5p.m.
As of right now all other parks and waterparks are open for their current operating hours. We will update the list as we learn more.
For more tropical storm Debby park information, be sure to follow us on Twitter.
Stay safe everyone.