It's spring in Central Florida! Time for fun in the sun, theme parks, hot weather and a return to afternoon storms. Sunday, however, a strong line of storms tore through the Orlando theme park area wreaking havoc in some of the area theme parks.  Trees were broken, construction walls were toppled and signs were ripped to shreds. The storm hasn't stopped crowds in town for Spring Break. In other words…Florida's seen worse.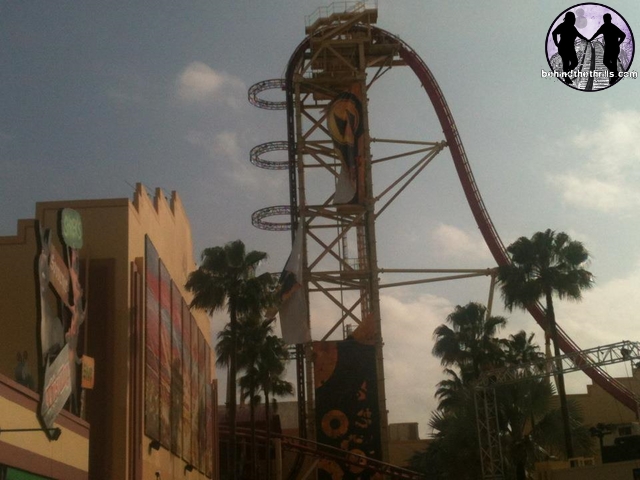 Universal Studios Florida had reports of a nearby tornado as banners were torn halfway off of Hollywood Rip Ride Rockit, the park's huge signature coaster.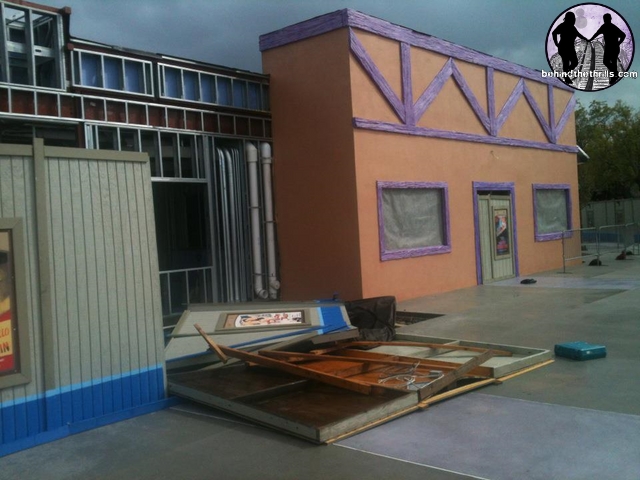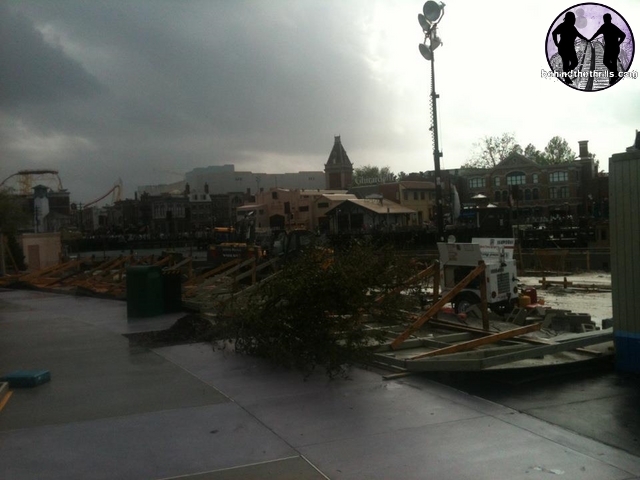 Construction walls toppled over near the Simpson's attraction where crews are busy building what is believed to be a Springfield themed area. Rumors say that the area will house a Moe's Tavern, Krusty burger and other Simpson's themed shops.
Trees were also toppled by the storm. Reports from people at Walt Disney World's Hollywood Studios said that huge trees were down near Tower of Terror. Lightning was said to have struck one of the monorails at Disney, as well as the top of Hogwarts Castle in the Wizarding World of Harry Potter at Universal's Islands of Adventure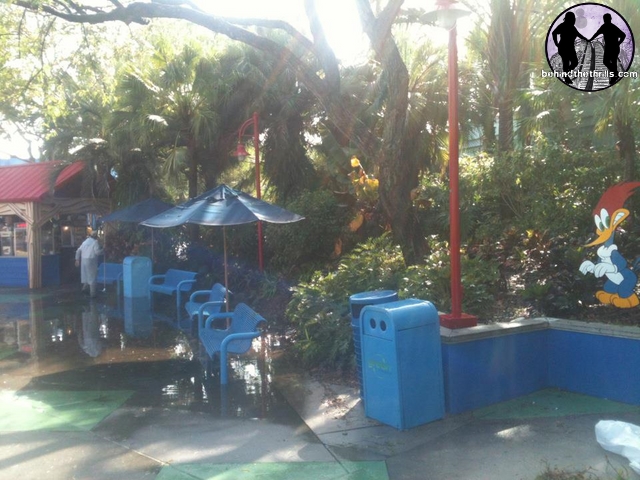 Local weather reports say that over 2 inches of rain were dumped in the area in a matter of minutes. Surrounding the theme parks, over 100 intersections were without power as almost 30,000 Florida Power and Light customers were without power heading into Sunday night. The airport reported wind gusts at 86 mph. At the theme parks, things were a different story. Almost immediately crews went to work at Universal Orlando to clean up the mess, stand up walls and clean things that were made a mess by the storm. By later evening, there was no sign that a storm had even gone through.
Fans of the theme park were singing praises on Facebook and Twitter
"Big props to the Universal Team Members for cleaning up the mess right away and getting most of the rides back up and running in a timely manner!" said a fan through Facebook.
Spring Storms are not uncommon in Florida, and as spring melts into summer they become even less uncommon. However, that doesn't mean that you have to cancel your plans, just adjust them for the weather.
Here are some of our Spring Break tips when bad weather comes knocking:
Get to the park early-Most of the time the rain comes later in the afternoon. Enjoy the sun during the day

Don't leave-Rain tends to chase the big crowds away for a while. Most storms last no more than an hour, with most averaging about 20 minutes. Find shelter in a restaurant or in line for a ride. As the rain comes, the lines will tend to dwindle
Get inside-Lightning in Florida is a real problem. Theme parks like Universal will shut down all rides that are outside or go in the air as lightning approaches. That should be your queue to find shelter inside a building. Standing under a tree or metal awning doesn't cut it.
Pack light-Try to keep from taking anything with you that will get wet. In fact, try to keep things simple just in case big storms roll through
Poncho-If you forget rain gear, or you tend to say to heck with it..A poncho can be purchased at most theme park stores. They make for a good quick, cheap rain coat, and can double up as protection from the water rides later in the day!
This spring break, stay dry and keep safe!
For more information about Universal Orlando, visit the official website by clicking here!