Puny Earthlings! Once Universal Orlando completes the all new Simpsons area-Springfield U.S.A. it will be destroyed! Muwhahahaha! Well, don't blame us, blame the dastardly galactic duo of Kodos and Kang. They are readying for their invasion of Springfield with an all new ride that will top off the entire Springfield area. In fact, construction all over the resort is moving forward, despite the impending alien invasion. We must go forward, not backward. Upward, not forward. And always twirling, twirling, twirling towards freedom.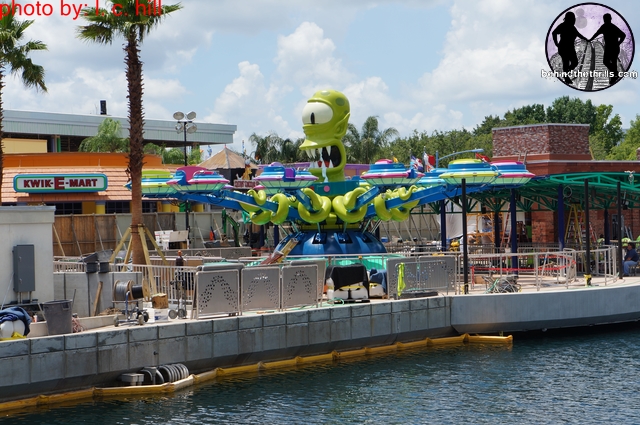 The all new Zamperla flat ride will take riders on a mission to destroy Springfield as the maniacal monsters twirl you until you hurl. The ride will be a highly themed flat ride in which riders board flying saucers and will include the voices of the aliens from the show as they try to destroy Springfield. The riders will trigger certain effects by motion sensors, as well as voice responses.
We were able to check out the very cool, yet disturbingly creepy action of the ride as it tested a few days ago:
The way the ride moves is very fluid, and the alien peering out over the fence with his eyeball moving back and forth just flat out looks cool. If you're intimidated by the name, don't be. As you can see it's a standard flat ride that takes riders up and down as they spin in a circle. Other rides like this include Dumbo, and right next door at Islands of Adventure with One Fish Two Fish in Seuss Landing.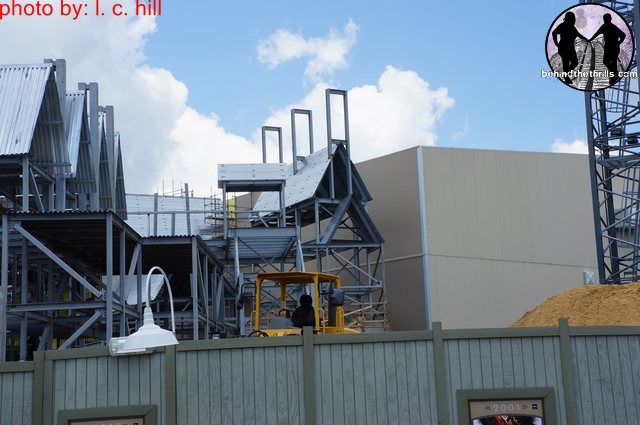 Meanwhile the Wizarding World of Harry Potter continues to build momentum as more and more buildings take shape.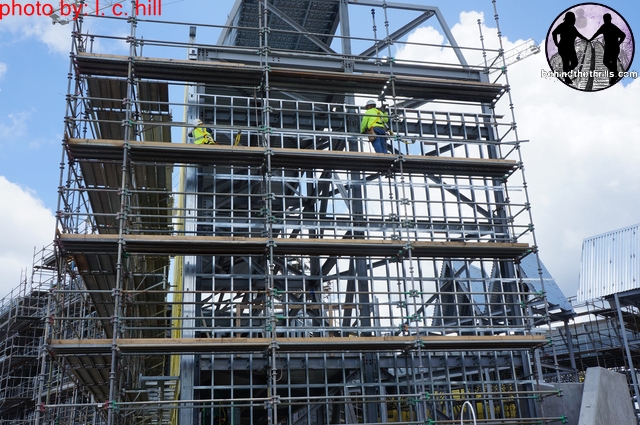 Workers continue to build the Wizarding World, working their own magic as they create an entire new world in which Muggles from all over the world will experience new adventures. The new area will focus on Diagon Alley, and will include a Gringott's indoor coaster. It is said to be the largest dark ride experience in the park, with rumors of massive scenes and never before seen affects. The area will also be home to the Hogwarts Express, which will take riders from one area of the Wizarding World to the next.
Transformers:The Ride 3D is a certified hit at Universal Studios. The all new attraction has been garnering 90-120 minute waits and more since it's grand opening last week. The park knew that guests would be lining out the door for the attraction, so they covered as much of their queue area as possible, keeping guests out of the heat.
Transformers uses crisp, photorealistic 3D technology to bring the world of Robots in Disguise to life in the ultimate battle to save humanity.
Meanwhile, next door at Islands of Adventure, the Wizarding World of Harry Potter construction looks to be moving along at firebolt speed, with what we are told is a new train station. The station will be the Hogsmeade station that brings guests to the Wizarding World where they can experience Hogwarts and get a swig of Butterbeer.
Take a walk around with our video construction tour:

Universal is taking their guests to new levels with all the new attractions. Browse through even more pictures in our slideshow:

There is no word on exactly when the all new Simpsons area will be open, but there is a tentative date of "later this summer". The Wizarding World of Harry Potter is scheduled to open in 2014, with no time frame of when in 2014, though the thought is that it will debut in time for the busy long summer season. The Simpson's Fast Food Boulevard is currently open on a daily basis, and is serving hot fresh Krusty Burgers, Flaming Moes and Duff Beer!
For more information about Universal Orlando, including tickets, visit the official Universal Orlando website by clicking here!