Summer in Florida is supposed to have a little wet weather. Usually by the end of August it's expected, and usually welcome to have a day of soggy weather. However a tropical storm the first week of June? That doesn't spell out a great forecast for the rest of the summer! Unfortunately that is the case as Tropical Storm Andrea developed on Wednesday and began the ritual soaking of the entire state of Florida. Thursday the storm shut down theme parks in Central Florida, as the weekend approaches the storm barreled north and shut down theme parks across the east coast.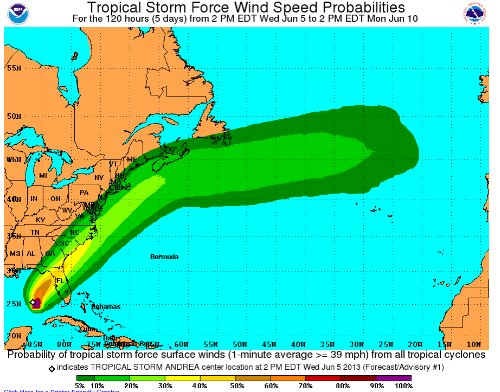 Hurricane season starts June 1st and goes all the way to November 30th. While hurricanes and storms this early in the season are uncommon, they do happen from time to time. If your summer plans include a theme park vacation to Florida, and a Tropical Storm or a hurricane pops up, don't fret, your plans may be safe.
While all theme parks take their guests and employee safety very seriously, the majority of all storms that affect the Orlando area just produce wind and rain. Because of that, most theme parks remain open.
On Thursday Tropical Storm Andrea will bring loads of rain and winds. Because of it there will be some parks that are closed.
Here's a list of parks that are closed on Thursday. The list will be updated throughout the day as more parks close or reopen:
Thursday
-Weeki Wachee Springs Bucanner Bay will be closed
-Aquatica Orlando will be closed
-Lowry Park Zoo will be closed
-Adventure Island at Busch Gardens Tampa will be closed
-Blizzard Beach at Walt Disney World will be closed
-Tornado Watch in effect for theme park areas until 10 p.m. Thursday evening
-Legoland Florida waterpark closed
-Main phone lines at Legoland Florida down. Call 1-866-225-2444 for park information
-Winter Wonderland mini golf at Walt Disney World is closed
-Busch Gardens Tampa will close at 5p.m.
-Legoland Florida will close at 5p.m.
-Disney Quest is closed due to reaching capacity, due to crowds avoiding the rain
-SeaWorld Orlando will close at 5p.m.
Friday
-Busch Gardens Williamsburg will be closed
-Water Country USA will be closed
-Quassy Amusement Park will be closed
-Ocean Breeze Waterpark will be closed
-Kings Dominion will be closed
Now if you're thinking that a tropical storm or heavy rainstorm is a reason to stay away from a park or cancel your theme park trips all together you might want to reconsider. During the wet weather is probably the beat time to enjoy theme parks if you don't mind being damp all day. While we don't recommend going out in high and dangerous winds and situations, if a theme park remains open, it's a safe bet that things aren't going to be dangerous.
Here's some tips on how you can enjoy parks in the rain:
Take a poncho-Poncho's are full body raincoats. They keep the majority of your clothes dry and you can take them on rides
Wear flip flops or sandals-If you wear sneakers, or closed toe shoes, expect to walk around with wet feet all day
Ride closures-Some rides may be down due to lightning and strong winds. Check signs at the front of the park before making plans. Coasters generally tend to stop operation if lightning is within 30 miles of a park, and the rule of thumb is that you should remain indoors for 30 minutes after the last lightning flash
Shows and indoor attractions-Parks like Magic Kingdom, and Universal Studios have a huge array of shows, and indoor rides. Head to those parks, and wait for the shows. Check out shows and indoor rides that you normally wouldn't
Eat often-Find a nice restaurant to settle down in and wait out the storm
Characters and parades-A lot of Central Florida parks have character meet and greets and parades. Dyring torrential downpours a lot of outdoor shows, parades and characters will be cancelled. Look for characters meeting guests indoors in spots where they normally aren't
Watch the feeder bands-Feeder bands are the strips of storms that swirl around the center of a storm. They will provide a few minutes of drenching rain, wind and possible lightning, but will also give you breaks inbetween
Be safe-Take your time in the rain. Watch for slick surfaces and just enjoy the light crowds! If things get too bad, leave and come back later.
Stay tuned here for the latest information about theme park closures in Central Florida.