Summer is nearing and that means many things. School will be ending soon, many theme parks are already open, and there's plenty of thrills to go around at your local theme park. The Travel Channel has announced they are bringing back the popular TV series, "Insane Coaster Wars" and "Xtreme Waterparks". While both shows relate directly to the amusement industry, the shows have entirely different focuses. Insane Coaster Wars focuses one some of the wildest roller coasters, while Xtreme Waterparks focuses on some of the craziest waterslides. With high-end technology, the Travel Channel is able to put viewers in the rider's seat for fun and adrenaline packed thrills. Insane Coaster Wars and Xtreme Waterparks will both debut on the Travel Channel on June 9th beginning at 8:00pm ET/PT.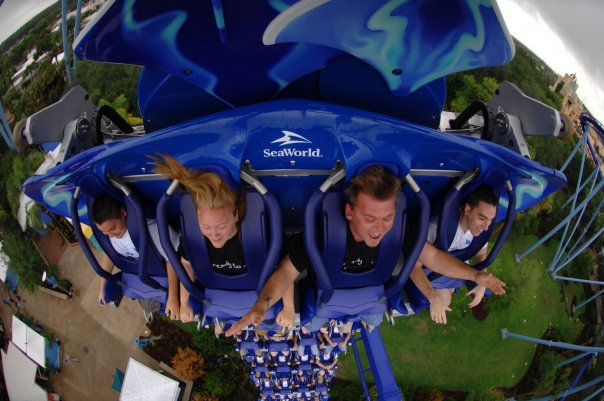 Xtreme Waterparks
Xtreme Waterparks returns for another season beginning Sunday at 8:00pm ET/PT. It will take viewers on an adrenaline filled ride on the wildest and most over-the-top and exhilarating water rides in the world.
In the premiere episode, take a trip to Caneva Waterpark and a ride on the slide that reigns as Italy's most terrifying – with a vicious drop that takes your body from 0-60 mph in 0.3 seconds! Then, head to the top of the Rocky Mountains in Vail, CO to see what happens when you give four brothers dish soap, a big old hill and a whole lot of plastic. After that it's off to the Jersey Shore to visit a ride that will scare your tan off. Finally, it's off to the ski town of Tignes, France at the base of the Alps to experience a 40-feet-per-second, headfirst drop like no other.
This season, Xtreme Waterparks will feature water rides in:
Blue Bayou in Batron Rouge, LA
White Water Center in Charlotte, NC
Raptor Reef in Cour d'Alene, ID
Schlitterbahn in Galveston Island, TX
Hurricane Harbor in Jackson, NJ
Splish Splash in Long Island, NY
Kahoma Ranch in Maui, HI
Wave House in San Dieo, CA
SeaWorld's Aquatica in Orlando, FL
Wet & Wild in Orlando, FL
Vail, CO
Ocean Breeze Water Park in Virginia Beach, VA
Water Country USA in Williamsburg, VA
Funtown Splashtown in Saco, ME
Kalahari Water Park in Sandusky, OH
and more!
http://www.youtube.com/watch?v=xaVDq95DAKs
Insane Coaster Wars: World Domination
Insane Coaster Wars will return for a new season on Sunday, June 9 at 8:30pm ET/PT. Insane Coaster Wars features some of the most thrilling, terrifying and scream-inducing rides. In each episode, four coasters will go head-to-head for the highest number of points, which is based on rider's votes.
The premiere episode features an epic head-to-head clash between four unique roller coasters from around the world. At Abu Dhabi's Ferrari World, burn rubber at a top speed of 149 mph in 4.9 seconds on Formula Rossa – the world's fastest. Go faster than a speeding bullet and drop over 200 feet on Superman Ride of Steel at Six Flags America in Maryland. Take a Himalayan expedition and try not to shriek on Europe's tallest coaster with Shambhala at PortAventura Park in Spain. And fly at the speed of fear on Tatsu at Six Flags Magic Mountain in California – the World's tallest, fastest and longest flying coaster. Fans at each park have voted – see which one rises to the top!
This season, Insane Coaster Wars will feature roller coasters from:
Six Flags Over Texas in Arlington, TX

Six Flags America in Upper Marlboro, MD
King's Dominion in Doswell, VA
Six Flags Great America in Gurnee, IL
Hersheypark in Hershey, PA
Six Flags Great America in Jackson, NJ
Cedar Point in Sandusky, OH
Six Flags Magic Mountain in Valencia, CA
Busch Gardens in Williamsburg, VA
and more!
http://www.youtube.com/watch?v=-ExO6nlxx9Q
Be sure to tune in to Insane Coaster Wars and Xtreme Waterparks  on the Travel Channel this Sunday!
For more information about the Travel Channel, visit the official website by clicking here.