Flying Turns at Knoebels is the Elenore for coaster fans, the unicorn, unobtainium. It's the one coaster credit everyone wants, but the coaster that remains just out of reach. The coaster has been eternally pushed back from the original opening date to the point that most coaster fans have lost hope of it ever opening. Could it possible that Flying turns could be gearing up for an opening? It's a longshot…but hope has raised it's head once again.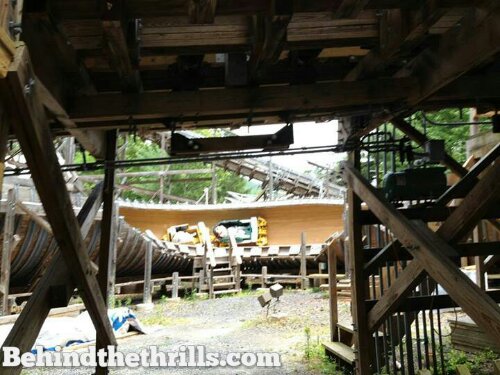 Flying Turns is a wooden bobsled coaster at Knoebels, designed to be like the original coasters from the 1920's. The coaster doesn't have a defined track like traditional coaster, instead the coaster is ridden on a bobsled style chute that allows the coaster to take wild turns and roam the whole span of track. The cars go side to side on the chute, giving a feeling of being out of control. The style of track guarantees that no two rides are the same.
The coaster was originally scheduled to open in 2007, but several issues and redesigns have made the park delay the coaster indefinitely.  There have been times when the park was confident they would be able to open the coaster, only to have something go wrong and delay it further.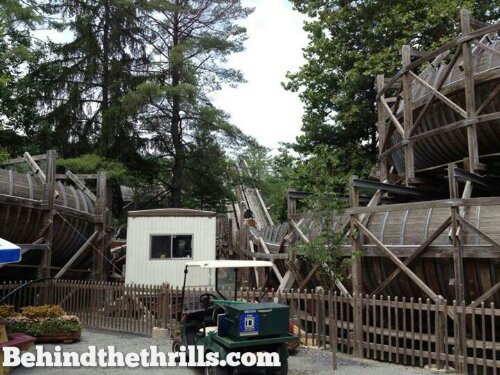 These pictures were sent in by Matt Palmer who saw the coaster make a few runs with water dummies in the trains. The trains also had the Flying Turns logo on them. Water dummies are used to test the coaster and are meant to simulate human riders. While it's no guarntee, it is a good sign that Knoebels could be ready to open the coaster. Wisely, the park is choosing to stay quiet about it, not wanting to get fans excited, only to have something else happen.
This isn't the first time the coaster has tested, but it is the first time with logos and dummies. It gives hope. Hope, however can be a fickle beast.
Stay tuned for any more information about the opening of Flying Turns!
For more information on flying turns including tickets visit the official website by clicking here!