Busch Gardens Williamsburg is taking guests' taste buds on an adventure around the world this summer with savory flavors and crisp wines through the return of their annual Food & Wine Festival. This year's Food & Wine Festival is bigger than ever with more choices to sample, more countries to sample from, and two additional weekends to keep the sampling going. The Food & Wine Celebration is already in full swing, but with a three weekends left of the event, there's still plenty of time to make it out to the park and experience everything the event has to offer.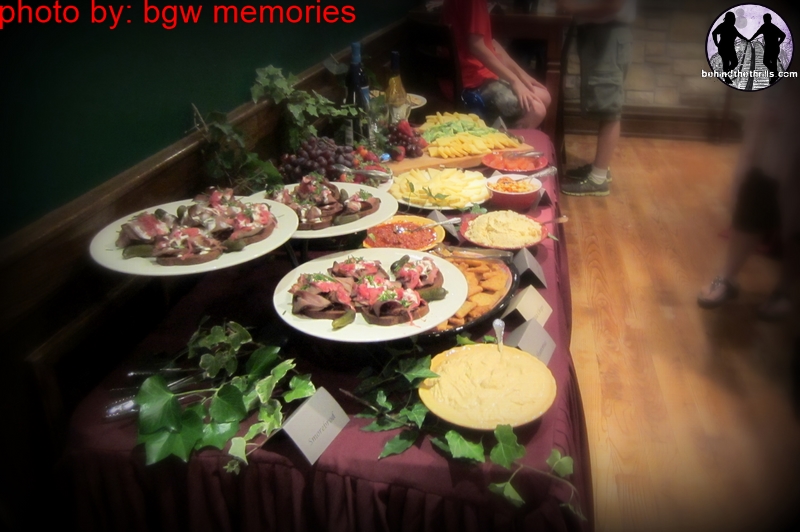 Get your taste buds ready because Busch Gardens is prepared to take them on the adventure of a lifetime!
New this year for Food & Wine:
Event is two weekends longer
The event has grown to outside of Europe to include the Caribbean and other countries
Two new booths this year – Southwest Kiosk and a Caribbean Kiosk
A variety of new menu items among the new and the existing booths
Austria Kiosk was removed, but popular menu items moved to the Germany Kiosk
Full Menu Line Up
[expand title="Expand to see the full menu line up"] 
American Southwest
Menu
Chicken Mole Adobo: Southwestern Marinated Chicken with Chili Chocolate Sauce
Fish Taco: Chili-Spiced Tilapia with Red Cabbage Slaw & Sweet Pepper Salsa
Sonoran Spice Pork: Chili-Spiced, Rubbed Pork Tenderloin with Jicama-Chayote Slaw, Sweet Pepper, Cilantro & Lime Salsa
Chocolate Lava Cake: Fudge Brownie Cake with Molten Ancho-Spiced Chocolate Filling
Beverages
Beer: Harpoon UFO Big Squeeze Shandy, Shiner Bock, Sweet Josie Brown Ale
Wine: Bloom Riesling, Rockbridge Pinot Noir
Belgium
Menu
Belgian Beer Pairing Sampler: Belgian-Style Chocolate with Orange Essence, Coriander Toasted Hazelnuts & Edam Cheese
Huis Van Lum Chocolate Wafel: House of Lum's Rich Chocolate Walnut Brownie Waffle with Berry Compote
Wafel Met Waterzooi: Belgian Yeast Waffles, Topped with Chicken Stew
Beverages
Beer Flight: Leffe Blonde, Hoegaarden, Stella Artois, Wittekerke
Canada
Menu
Cheddar & Lager Chowder: Sharp Cheddar & Canadian Lager Chowder with Smoked Paprika Oil
Macaroni & Cheese with Peameal Bacon: Creamy Mac & Cheese with Cornmeal-Crusted Canadian Bacon
Venison Sausage & Corn Porridge: Wood-Fired Venison Sausage & Creamy Polenta with Apple Cider & Caramelized Onions
Pumpkin Caramel Mousse: Crème Brûlée-Style Custard Flavored with Pumpkin & Caramel
Beverages
Beer: Buckshot Amber Ale, Moosehead, Wyder's Dry Pear Cider
Wine: Château Lagrange Red Bordeaux, Ice Wine, Louis Laurent Vouvray
Caribbean
Menu
Jamaican Jerk Chicken: Jerk-Marinated Chicken Drumsticks with Guava Barbecue & Grilled Pineapple Salsa
Gamba Fritters: Caribbean Fried Shrimp Dumpling with Pickapeppa Dip
Heart of Palm Salad: Palm Hearts with Black Beans, Shrimp & Citrus Cilantro Vinaigrette
Tres Leche con Mermelada de Piña: Sweet Cream Cake with Pineapple Marmalade
Beverages
Beer: Red Stripe
Cocktails: Frozen Buschwacker, Frzen Caribbean Sunset
Coffee & Crêpes
Menu
Asperges et Fromage de Chèvre Crêpe: Asparagus & Goat Cheese Crêpe with Balsamic Glaze
Brie et Marmelade d'Orange Crêpe: Brie Cheese & Orange Marmalade Crêpe with Whipped Cream
Champignons et épinards Crêpe: Roasted Mushroom & Spinach Crêpe with Feta Cheese & Balsamic Glaze
Chocolat de Noisette et de Banane Crêpe: Crêpe Stuffed with Hazelnut-Chocolate Spread & Bananas
Poulet Cordon Bleu Crêpe: Braised Chicken & Ham Crêpe with Swiss Cheese & Dijonnaise Sauce
Beverages
Beer: Kronenbourg 1664, Stella Artois
Wine: Casteggio Moscato, Georges DuBoeuf Beaujolais-Villages, Louis Bernard Côtes de Rhône
Cocktails: Frangelico
Coffee: Starbucks Coffee
France
Menu
Coq Au Vin: Red Wine-Braised Chicken Sten with Rosemary Roasted Potatoes
Château Lagrange Red Bordeaux: Mussels Simmered in Tarragon Cream with a Toasted Baguette
Steak Au Poivre: Peppercorn-Crusted Beef Sirloin with Brandy Cream Sauce
Tomates Farcies à la Ratatouille: Tomato Stuffed with Roasted Vegetables & Topped with Parmesan Bread Crumbs with Extra Virgin Olive Oil
Tartelette Au Citron: Lemon Tartlet
Beverages
Beer: Kronenbourg
Wine: Georges DuBoeuf-Villages, Loius Bernard Côtes de Rhône
Cocktails: Sparking Raspberry
German Beer
Beverages
Beer Flight 1: Beck's, Birburger, Köstritzer, Spaten Optimator
Beer Flight 2: Finch's Beer Company's Secret Stache Stout, Heritage Brewing Company's Kings Mountain, Devils Backbone Brewing Company's Schwartz Bier, Wild Wolf Brewing Company's Blonde Hunny
Germany
Menu
Currywurst: Knockwurst with Curry-Spiced Tomato Ketchup & Roasted Potatoes
Schinken Nudel: Germany-Style Noodle Bake with Cured Him & Cheese
Schnitzelwich: Pork Schnitzel Slider with Sliced Lemon & Caper Sauce
Linzer Torte: Traditional Austrian Pasty of Spiced Cookie Crust with Ground Nuts, Lemon Zest & Raspberry Filling
Beverages
Beer: König Pilsener, Paulaner
Wine: Affentaler Pinot Noir Spátburgunder Rosé, White Hall Gewürztraminer
Greece

Menu
Greek Dip Trio: Served with Pita Chips, Roasted Garlic Hummus, Pasta Elias – Kalamata Olive Puree, Tirokafteri – Feta Dip
Halloumi: Griddled Greek Cheese with Clover Honey & Crushed Pistachios
Souvlaki Tzatziki: Marinated Roasted Pork & Sweet Pepper Skewer with Cucumber, Dill & Yogurt Sauce
Salata: Traditional Greek Salad with Lemon Oregano Vinaigrette & Crispy Pita Chips
Baklava: Sweet Pastry with nuts & honey between thin crispy filo pastry layers
Beverages
Wines: Elios Mediterranean Red, Elios Mediterranean White
Cocktails: Ouzo
Ireland
Menu
Bangers with Colcannon: Irish Sausage with Potatoe Cabbage Casserole & Guinness Brown Sugar Gravy
Irish Cheese Sampling: Sage Derby, Blarney Castle Cheese & Dubliner Cheese with Apple-Raisin Chutney & Cream Crackers
Beverages
Beer: Guinness, Magner's, Smitchwick's
Italy
Menu
Caprese Salad: Fresh Mozzarella, Grape Tomatoes & Spring Mix tossed with Italian Vinaigrette
Italian Cheese Sampling: Asiago, Fontina, Gorganzola, Caprino Fresco
Italian Bites: Proscuitto-wrapped Asparagus, Tomato Basil Bruschetta, Goat Cheese-Stuffed Dried Plums
Tiramisu: Italian Parfait with Sweetened Mascarpone Cheese, Layered with espresso-soaked Lady Fingers
Cannoli: Crispy Pastry Shell filled with Sweetened Ricoatta Cheese & Chocolate Chips
Panna Cotta: Vanilla Cream Pudding served with Strawberries
Beverages
Beer: Peroni Nastro Azzurro
Wine: Enza Prosecco, Octave Vinho Verde
Cocktails: Limoncello
Scandinavia
Menu
Gravad Lax Rarakor: Cured Salmon on a Potato Pancake with Sweet Mustard & Dill Sauce
Kӧttbullar: Swedish Meatballs Braised in Cream Sauce with Lingonberry Jam
Smørrebrød: Open-Faced Roast Beef Sandwich on Dark Rye Bread with Horseradish & Pickled Red Onions
Krumkake: Norwegian Waffle Cone Cookie Served with Hazelnut Cream & Tart Berry Pudding
Beverages
Wine: Ingleside Cabernet Merlot, Ingleside Chardonnay
Cocktails: Frozen Dirty Shirley
Scotland
Menu
Neeps & Tatties: Roasted Turnip & Potato Casserole Topped with Cheddar Cheese
Scottish Egg: Breaded Sausage-Wrap Hard-Boiled Egg with Sweet & Spicy Mustard Sauce
Shepherd's Pie: Lamb Stewed with Port Wine & Rosemary Topped with a Mashed Potato Crust
Scottish Toffee: Fudge-Like Toffee with Almonds & Chocolate
Beverages
Beer: Angry Scotsman, Crabbie's Ginger Beer
Spain
Menu
Chorizo Empanada: Spicy Pork Sausage Pastry Pocket with Cilantro Line Cream
Gazpacho con Ceviche: Chilled Tomato Cucumber Soup with Citrus Marinated Shrimp, Scallop, Ham and Cucumber Salad
Tapas: Paprika-roasted Marcona Almonds, Marinated Olive Medley, Manchego Cheese with Membrillo – Quince Paste
Venera Con Jamón: Scallop wrapped in cured Ham with Saffron Rice & Romesco Sauce
Hazelnut Custard: Spanish Flan Custard with Ground Hazelnuts
Beverages
Cocktails: Pancho Sangria[/expand]
Busch Gardens is also offering a reservation-based tasting adventure along the Rhine River Cruise. During the day, families can make reservations for Wine on the Rhine or in the evening, couples 21 years of age and older can make it a date night and make reservations for Night on the Rhine.  Wine on the Rhine and Night on the Rhine is not included with park admission.
Click here to make reservations for Wine on the Rhine or Night on the Rhine.
The Food & Wine Festival features 55 menu items across 14 kiosks. The event also features more than 71 varieties of Wine, Beer, and Specialty Cocktails. That's enough to keep anyone busy for a few weeks!
More photos of Food & Wine Festival:

If you're unable to view the slideshow, click here.
And a big thank you to our friends over at BGW Memories for the photos!
Remember, there are only three weekends of the Food & Wine Festival left! The Food & Wine Festival will take place at Busch Gardens Williamsburg every single Friday, Saturday, and Sunday through June 29th.
Busch Gardens Williamsburg's Food & Wine Festival is included with park admission. The best way to see the event plus many other great events at the park is with a Fun Card. The Fun Card includes unlimited admission to Busch Gardens Williamsburg now through September 1st. Guests can also add Water Country to their Fun Card for just $25 more.
For more information about Busch Gardens Williamsburg, click here to visit the official website.
Get social with us!
Follow us on Twitter @BehindThrills and like us on Facebook @BehindThrills.
Need to get tickets? Click the banner below to get your tickets today!